2014 Kawasaki Ninja 300 Specs and Review
Disclosure: We may get commissions for purchases made through links in this post.
The 2014 Kawasaki Ninja 300 marked the 30th anniversary of the Ninja series, commemorated with the release of limited-edition models. Interestingly, trims produced that year seemed to have blurred what separates sport from sport-touring motorcycles – given their jazzier graphics and improved comfort design.
The 2014 Kawasaki Ninja 300 is the 2nd-year installment of the Ninja 300, first released in 2013. This sport bike succeeded the 250R and featured an aggressive, full-faired front aesthetic, parallel-twin engine, and slipper clutch assembly. It enjoyed a 5-year run before giving way to the Ninja 400.
Its compact build, practical features, and responsive nature earned it quite the reputation as a pocket sportbike in recent years. At the same time, the same qualities rendered the 2014 Kawasaki Ninja 300 better suited for city roads than track meets. Undecided on how to best utilize the two-wheeler? Read on and learn more about the bike through this article.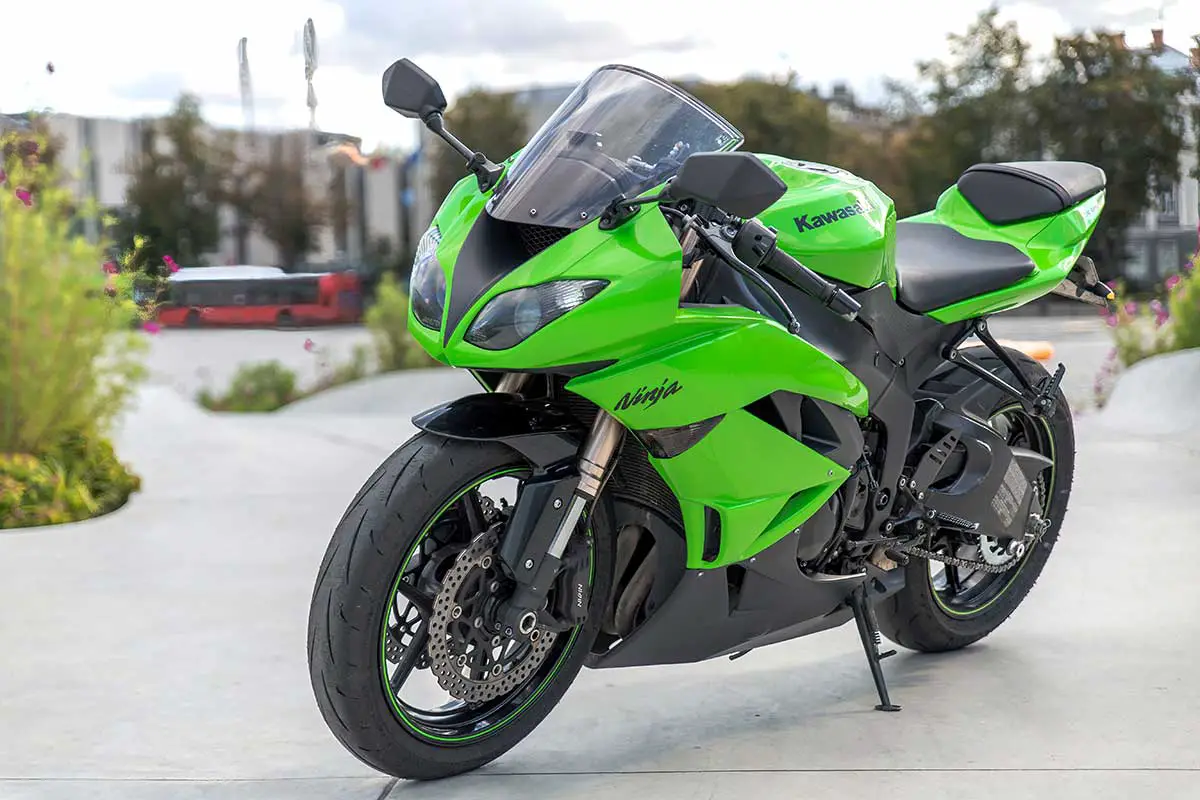 The Kawasaki Ninja Legacy
The 2014 Kawasaki Ninja 300 or EX300 hails from the legendary Ninja series, recognized for offering some of the best sportbikes in the motorcycling arena. It was first introduced in 2012 for the 2013 model and sold in European, Asian, and North American markets.
The 296-cc bike succeeded the 30-year reign of the 250R and preceded the Ninja 400, which launched six years after its inception. The Ninja 300 was sold from 2013 to 2017 in the U.S. and discontinued only in 2019 in India.
Kawasaki could not have had better timing when it first launched the 300-class Ninja in 2013, as it coincided with the EU's new licensing laws containing changes to provisions governing A2-licensed drivers. Instead of the old 33-bhp restriction, the threshold has been put up to 47 bhp. This was great news for both the Japanese firm and excited young riders who were then permitted to use two-wheelers with more power.
By the time the 2014 Kawasaki Ninja 300 came out, the bike had taller gearing, a state-of-the-art slipper clutch, and a slightly smaller gas tank. It was also more comfortable and had better graphics. Four trims were released that year – base, Special Edition, ABS, and ABS SE. The EX300 SE had fancier styling, silver accents on the bodywork panels, tank and tail section, and red wheel stripes.
The ABS and ABS SE trims looked pretty much the same as the SE. On the outside, the Ninja 300 looked every bit like a sportbike. But strangely enough, it became a bigger hit as a daily commuter and can be seen more on B-roads than on the racetrack.
2014 Kawasaki Ninja 300 Specs & Features (SE & ABS Models)
Engine
The Kawasaki Ninja 300 for 2014 shared an identical architecture with the GPX250 (as does its 250R sibling) but with notable enhancements. Displacement was slightly bumped up to 296 cm3, which translates to an 8-hp and 4-point torque increase from its predecessor – distinguishing the EX300 from other 250-class sportbikes.
The change from carburetion to fuel injection or DFI® made for improved fuel economy, throttle responsiveness, and convenience in cold starting. Its rubber-mounted, parallel-twin cylinder engine, featuring open-deck die-cast aluminum cylinders with T-treatment plating, offered excellent mid-range, high-RPM power for dependable highway performance. Ultimately, these improvements translated to the 2014 Kawasaki Ninja 300 top speed of up to 119 mph.
| | |
| --- | --- |
| Engine Type | 4-stroke, parallel-twin, DOHC |
| Cylinder Arrangement | Dual-cylinder, 8-valve |
| Carburetion System | Fuel Injection (EAT-811), 32-mm Keihin injectors w/ dual throttle valves × 2 |
| Engine Cooling | Liquid-cooled |
| Engine Fuel | Unleaded gasoline of at least PON 87/RON 91 rating, containing < 5% MTBE (Methyl Tertiary Butyl Ether), < 10% ethanol, or < 5% methanol |
| Fuel Capacity | 17 L (4.5 US gal) |
| Bore x Stroke Ratio | 62 × 49 mm (2.44 × 1.93 in) |
| Compression Ratio | 10.6:1 |
| Displacement | 296 cm³ (18.06 in³) |
| Horsepower | 39 PS (29 kW) @ 11,000 RPM |
| Maximum Torque | 27 Nm (2.8 Kgf-m, 20 ft-lbs) @ 10,000 RPM |
| Top Speed | 106-119 mph (171-192 km/h) – owner's claim |
| Air Filtration | Polyurethane foam |
| Lubrication | Forced lubrication (wet sump) |
| Engine Oil & Quantity | 2.0 L (2.1 US qt) – w/ filter; 2.2 L (2.3 US qt) – w/out filter; 2.4 L (2.5 US qt) – after disassembly of SAE 10W-40 Kawasaki Performance 4-Stroke Motorcycle Oil (semi/full synthetic) / Alternatives: SAE 10W-30, 10W-50, 20W-40, 20W-50 w/ API grade SJ to SM meeting JASO T903 MA, MA1, MA2 standards |
| Fuel Economy | 3.18 – 4.36 L / 100 km (54 – 74 mpg) |
Drivetrain
Its 6-speed wide-ratio transmission featured a roller-type shift drum and spur gears (14/42T) for maximum durability. A wet, multi-plate clutch assembly (FCC assisted slipper clutch) handled shifting, along with a 520 O-ring chain (view on Amazon) that delivered power to the wheels.
The clutch, in particular, required minimal pressure for lever action, disengaged during abrupt downshifts, and prevented rear-wheel slippage and engine lockup. Coupled with a sturdier chassis, this powertrain setup made the EX300 suitable for both in-city and out-of-town driving. Adding ABS further completed the package.
Clutch
FCC assist & slipper clutch, wet multi-disc type
Transmission Type
6-speed, constant mesh, return shift
Final Drive
Chain drive, L.G.B. R520HPXR; DAIDO DID 520VD2 (BR Model), 106 links
Primary Reduction Ratio
Gear, 3.087 (71/23)
Final Drive Ratio
3.000 (42/14)
Overall Drive Ratio (Top Gear)
7.938
Transfer Gear Ratio
1st – 2.714 (38/14); 2nd – 1.789 (34/19); 3rd – 1.409 (31/22)
4th – 1.160 (29/25); 5th – 1.000 (27/27); 6th – 0.857 (24/28) **Some resources reflect a different 6th gear (0.893, 25/28)
Ignition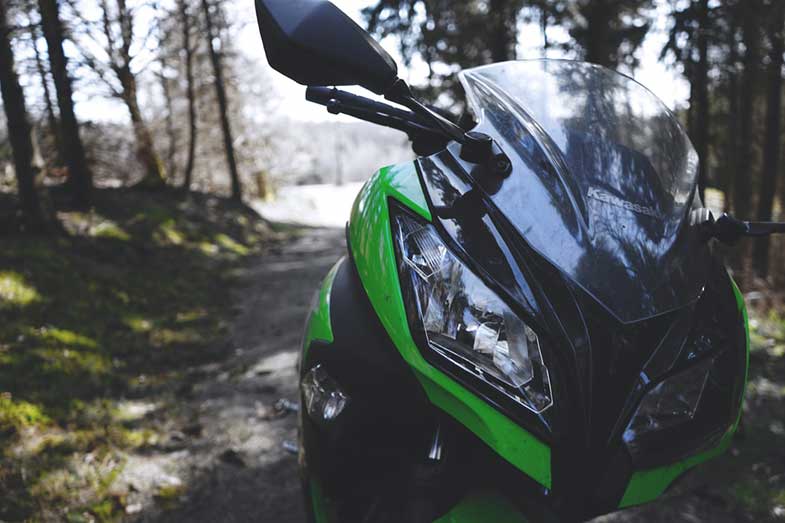 It had a TCBI with a digital advance and an electric start system. A 14 – 14.6V alternator with the below-rated output powered-up electronic accessories. Originally, the EX300 required a sealed FTX9-BS battery. However, it could be difficult at times to look for this exact battery. If so, check with your local auto shop to see if a YT12A-BS battery (view on Amazon) will be a suitable replacement.
Make sure to use any of these manufacturer-recommended chargers – Battery Mate 150-9, OptiMate Lithium 4 (view on Amazon), Yuasa MB-2040/2060, or Christie C10122S – to keep your 12V battery in tip-top shape.
Ignition
Battery and coil (transistorized)
Ignition Timing
10° BTDC @ 1 300 RPM to 31° BTDC @ 7 000 RPM
Electronically advanced (digital igniter in ECU)
Idle Speed
1,300 ± 50 RPM or 1,250 – 1,350 RPM
Spark Plug
NGK CR8E, 0.7 – 0.028 – 0.031 in gap; Torque specs: 13 Nm (1.3 Kgf-m)
Generator
Three-phase A.C.
Rated Output
35V or more @ 4,000 RPM
Fuse
30 Amp (main); 15 Amp (FI, headlight); 10 Amp (meter, fan, ignition, turn signal)
Starting System
Electric starter
Battery
12V 8 Ah/(10 Hr) Slam Furukawa sealed battery, YTX9-BS format
Battery Dimensions
150x87x105 mm
Tires & Brakes
Stock tires consisted of 17-inch bias tires mounted on 10-spoke rims, the design of which takes after the sportier ZZR 1400s. While this tire-and-wheel assembly is as handsome as the Ninja 300's upfront styling, it is also its weakest point and, in many ways, offset the benefits of having an ABS-equipped trim.
Wheel Composition
Chrome, aluminum
Front Tire
Tubeless, IRC RX-01F TL 110/70-17M/C 54S
Rear Tire
Tubeless, IRC RX-01R ZD TL 140/70-17M/C 66S
Off-road/road air pressure (F/R)
200 kPa (2.00 Kgf/cm², 28 psi) / 225 kPa (2.25 Kgf/cm², 32 psi)
Rim Size (F/R)
J17M/C × MT2.75 / J17M/C × MT4.00
Tread Depth Limit (F/R)
1 – 1.6 mm (0.04 – 0.06 in) – AT, CH, DE / < 80 mph (130 km/h): 2 mm (0.08 in);
> 80 mph (130 km/h): 3 mm (0.12 in)
Front Brake Type
Hydraulically operated, 290-mm (11.4 in) discs w/ petal-type rotors
Rear Brake Type
Hydraulically operated, 220-mm (8.7 in) discs w/ petal-type rotors
Fortunately, brakes are not as problematic. Even without ABS, the petal-type rotors with dual-piston calipers on each end provided ample halting power. Because of a $500 difference between base and ABS trims, consumers initially opted for the standard models but preferred ABS-equipped trims towards the end of life of the sportbike.
Suspension
Compared to other 250-/300-cc motorcycles, the 2014 Kawasaki Ninja 300 had a lower ground clearance and a suspension system barely classified as long-travel suspension. The size of the front fork was comparable to any other 250-class motorcycle. Its rear end fared slightly better than the front, complemented by a Uni-Trak® gas-charged rear damper with preload adjustability. However, these gas shocks did not make damping control nor bump absorption any better.
| | |
| --- | --- |
| Frame | Tubular, diamond |
| Rake, Trail | 27°, 93 mm (3.66 in) |
| Turning Radius | 2.4 m (7.9 ft) |
| Ground Clearance | 140 mm (5.51 in) |
| Wheelbase | 1,405 mm (55.31 in) |
| Front Suspension Type, Travel | 37-mm Telescopic fork, 120 mm (4.72 in) |
| Rear Suspension Type, Travel | Swingarm (Uni-Trak®) w/ preload-adjustable gas shocks, 132 mm (5.20 in) |
Dimensions
Even on the bike's second production year, its overall dimensions remained unchanged at 2,015 x 715 x 1,110 mm (79.33 x 28.15 x 43.70 in). Curb weight, however, varied depending on whether the unit was GPS-equipped or not (the former was slightly heavier than standard models). Overall, the Kawasaki Ninja 300 was lightweight, making it easy for nouveau riders to control and maneuver the bike.
Length
2,015 mm (79.33 in)
Width
715 mm (28.15 in)
Height
1,110 mm (43.70 in)
Seat Height (Unloaded)
785 mm (30.91 in)
Curb Weight
EX300A: 172 Kg (379.3 lbs); (BR)* 173 Kg (381.5 lbs)
EX300B: 174 Kg (383.7 lbs); (BR)* 175 Kg (385.9 lbs)
Payload Capacity (F/R)
EX300A: 84 Kg (185.2 lbs); (BR)* 85 Kg (187.4 lbs) / 88 Kg (194.0 lbs)
EX300B: 85 Kg (187.4 lbs); (BR)* 86 Kg (189.6 lbs) / 89 Kg (196.2 lbs)
Exterior
The Ninja 300 comprises a tubular steel frame and plastic body material in Team Green's signature colors. Overall styling takes after higher-displacement Kawie supersport machines – the ZX-6R and ZX-10R. Full fairings, a floating windscreen, and an edgy tail end are but a few of the elements that add to the bike's sportiness.
Its digital instrumentation has an LCD panel that includes an aesthetic six-bar fuel gauge. A neat, two-layer storage compartment hidden under the pillion seat offers more room for riding essentials.
Body Material
Plastic
Seat Material
Vinyl (two-piece)
Front/Rear Fender Flares
Standard
Upper/Lower Fairing
Chain & Fork Guards
Skid Plate
N/A
Stand Type
Kick
License Plate Holder
Standard
Lighting
| | |
| --- | --- |
| Headlight (High/Low) | Semi-sealed beam, 12V 55 W (quartz-halogen) × 2 / 12 V 55 W (quartz-halogen) |
| Parking Light/Stoplight | N/A |
| Brake/Taillight | 12V 21/5 W |
| Flasher Lights | N/A |
| License Plate Light | 12V 5 W |
| Indicator Lights | LED (left/right city, neutral, high beam, oil pressure, ABS, warning) |
| Instrumentation | Clock, tachometer, trip odometer, speedometer, temperature warning light, fuel level warning gauge |
Cost of a 2014 Kawasaki Ninja 300 (EX300)
There is little price difference between standard and special-edition trims of the 2014 Kawasaki Ninja 300. The same is true for its resale value, which falls between $2,755 and $4,988. Pricing-wise, the EX300 is above its same-class counterparts.
However, trouble begins for the sportbike when pitted against higher-displacement bikes with comparable features and capabilities. At this point, choosing a 300-cc and 500-cc wheeler boils down to rider preferences, skill level, and intended application.
| Year – Trim – Model Number | List Price |
| --- | --- |
| 2014 Kawasaki Ninja 300 (Base) | $4,999 |
| 2014 Kawasaki Ninja 300 SE | $5,199 |
| 2014 Kawasaki Ninja 300 ABS | $5,299 |
| 2014 Kawasaki Ninja 300 ABS SE | $5,499 |
Kawasaki Ninja 300 Pros and Cons
The 2014 Kawasaki Ninja 300 is a first-rate sportbike well-loved by many riders (most especially beginners) for many reasons. However, this two-wheeler is not without its share of flaws. To truly have an unbiased appreciation of the bike's capabilities, let us review some of its key highlights and recurrent issues in this section.
Pros:
The EX300 is versatile enough to ride in town, up in the mountains, or on the highway and meets strict Euro 3 emission standards.
Its excellent transmission and slipper clutch design reduce lever effort and back-torque effect, smoothens downshifting, and makes breezing through highways and city roads possible.
Uni-Trak® rear suspension linkage and a beefy swingarm bracket lends to predictable handling and complements the high-tensile steel frame, on top of proving the Ninja capable of taking on rough terrain.
Its highly efficient KAMS (Kawasaki Air Management System) uses a special deflector to redirect hot air coming from the radiator fan to the bottom of the motorcycle.
The redesigned frame is more robust and eliminates flex, thus improving ride quality.
Quick steering and maneuverability are achieved through the Ninja 300's upright riding position, which takes the pressure off the rider's wrists.
Even when hitting redline RPMs on the Ninja, gas mileage stays between 50 and 60 mpg. Cruising and avoiding stop-and-go spots on the road increases fuel economy to 70 mpg (or even higher). These mpg figures impressively match what sportbikes with twice the Ninja's engine capacity have to offer.
The 31-inch seat height caters to both short and tall drivers. To add, its non-intimidating styling and lighter weight have successfully charmed women into purchasing the bike more than its competition.
Optional gel seats in carbon fiber, and Kawi Girl™ finishes improve rider comfort while giving the bike a customized look.
The hinged fuel cap is a nice touch as losing/misplacing gas caps happens even to the best of riders.
Cons:
The Ninja's parallel-twin feels limited when sustaining speeds of 80 mph or more on the freeway. Vibrations can be felt through the handlebars and footpegs, causing riders to go numb after half an hour of cruising.
Stock IRC Road Winner bias tires are dated and tend to restrict the performance needed for traditional sport riding. The said tires wriggle around when cornering – even in the hands of an experienced rider.
The 2014 Kawasaki Ninja 300 has a preference for smooth surfaces, which may work against buyers intending to use it as a weekend racer.
Because of the bike's low ground clearance, even riders with less than 32-inch inseams find their knee almost touching the ground when banking past 35° in a corner.
 The Ninja's sub-par suspension and poor damping control bring about an unpleasant, bouncy ride, making the bike fall behind the competition in practicality and comfort. Furthermore, it only takes a year and a half to get the fork springs very soft. Replacing the fluid does little to help, and only a spring replacement can entirely resolve the issue.
The bike can sometimes feel unstable, with the front end dipping badly when the rider lets off the throttle. Likewise, the high handlebars and upright riding positions do not encourage aggressive riding positions. Not to mention its adjustable 37-mm forks and shocks are built for high streets, not racing circuits.
Its narrow, straight seat is inadequate for any destination that takes more than 45 minutes of continuous driving.
The rear brake pedal and heel plates look flimsy, with the latter appearing more roughed up than it is due to abrasions. Similarly, chain adjusters look cheap, and the clutch and front brake levers are adjustable.
Full fairings are hard to keep scratch-free and can easily crack when the bike is accidentally dropped. Also, decals come off the body panels quite easily, and replacing them costs at least $34 each (sans labor).
Problems & Recommended Fixes
Besides normal wear and tear, the Ninja 300 is not spared from the braking system and power mill problems. This is not to say that these are the only issues known to the motorbike. However, they are the two things that most frequently get affected – and deserve some TLC and a savvy owner:
Brake Problems
Owners have reported in forums that outer brake pads wear out faster than inner ones. This incident is due to several reasons, the most common of which are:
Uneven disc/rotor thickness.
Sticky calipers.
Rust.
Dirt or debris getting stuck between the rotor and brake pads.
Slamming on the brakes too frequently is another probable cause. Other things to look into are the rear brake hose guide and the front ABS sensor.
While slamming on the brakes cannot be avoided (especially if the bike is used as a daily driver), putting some anti-seize on contact points between the brake pad and calipers helps prevent the latter from sticking. Meanwhile, disc/rotor thickness warrant regular visual inspection. For the rear brake hose guide and front ABS sensor, make sure they do not interfere with their respective brake calipers.
Stalling Issues
While changing the carbureted engine into fuel injection improved fuel economy and performance of the 2014 Kawasaki Ninja 300, it also led to irregular engine stalling. Riders observed that this problem occurred whenever they slow down. Luckily, a troubleshooting guide matching this scenario is found in the owner's manual.
The remedial steps entail the same checks one would do on a carbed motorcycle – that is, to identify the problem if coming from the ignition, air intake, or fuel system. The only addition is troubleshooting the ECU and sensors if the first three elements check out.
Wobbly Tires
As established in earlier sections of this guide, the stock rubber proves to be the biggest flaw of the 2014 Kawasaki Ninja 300. The IRC tires just do not meet the purpose they should serve on the sportbike. If you wish to unlock the Ninja 300's full potential, replace the stock tires.
Skip the bargain ones in Walmart and go for same-size Pirelli Diablo Rosso II radials (view on Amazon) – I guarantee you these tires are worth every penny! Doing this will result in a night-and-day difference in overall performance and dramatically improve cornering and render the bike more stable and suitable for aggressive riding outside of town.
About Kawasaki
Kawasaki Heavy Industries Ltd. (KHI), a global leader in industrial engine, all-terrain vehicle, and motorcycle production traces back its humble beginnings to a shipyard in Tokyo. Founded in 1896, Kawasaki brings with it over a century's worth of expertise in these fields and translates that wealth of knowledge into its product offerings – a perfect example would be the 2014 Kawasaki Ninja 300.
Since its founding, the Japanese firm has grown from supporting shipyard businesses to being one of the most respected institutions in heavy equipment, defense, and the automotive industry. At present, Kawasaki continues its commitment to provide customers and businesses with high-performance products and services.
Conclusion – 2014 Kawasaki Ninja 300 Review
In general, the 2014 Kawasaki Ninja 300 makes for an excellent entry-level bike given its low seat height, consistent power delivery, light clutch pull, and overall weight. It is very practical and inexpensive to own and is preferred by many riders over higher-displacement sportbikes like Kawasaki ER-5s, Honda CB500Fs, and KTM RC390s.
When on twisty trails and hitting high revs, many drivers and non-racers find it an excellent ride – with its twin engines' power output that is well within the threshold for beginner riders. It does have a few snags in its tire-and-wheel assembly and suspension – but none that cannot be addressed with the right modifications. A nimble two-wheeler that asks very little but performs beyond expectations, the 2014 Kawasaki Ninja 300 is sure to deliver whether on- or off-road.