2005 Yamaha V Star 1100 Specs & Review
Disclosure: We may get commissions for purchases made through links in this post.
For the 2005 Yamaha V Star 1100, the phrase "more than meets the eye" would be sort of an understatement. Not that the two-wheeler is underwhelming in looks and performance – it is just that it never ceases to surprise even the most skeptic of riders.
The bike's perceived capabilities, comfort levels, overall design, and price point do not seem to give justice to what it actually has to offer.
Otherwise known as the Drag Star, the 2005 Yamaha V Star 1100 is an entry-level cruiser bike and the 7th installment of the middleweight series. The two-wheeler was made available in five customer-centric trims and featured handsome aesthetics, impressive handling, and touring-oriented features.
It may not have won over Harleys as the bike to tick off the 'bucket list,' but the V-Star sure is ahead of the Japanese pack. Moreover, it is an endearing thumper that boasts on-demand, usable torque, and excellent on-road mannerisms.
Looking to make those weekend rides a permanent part of your schedule? Continue reading and discover if the 2005 Yamaha V Star 1100 could be your 'forever motorcycle.'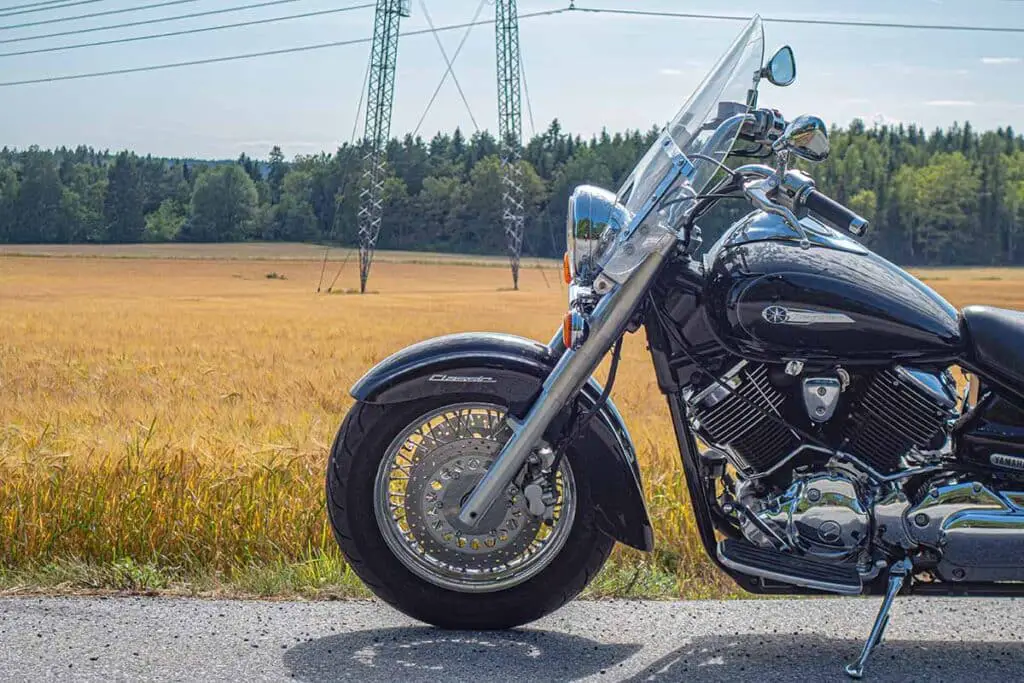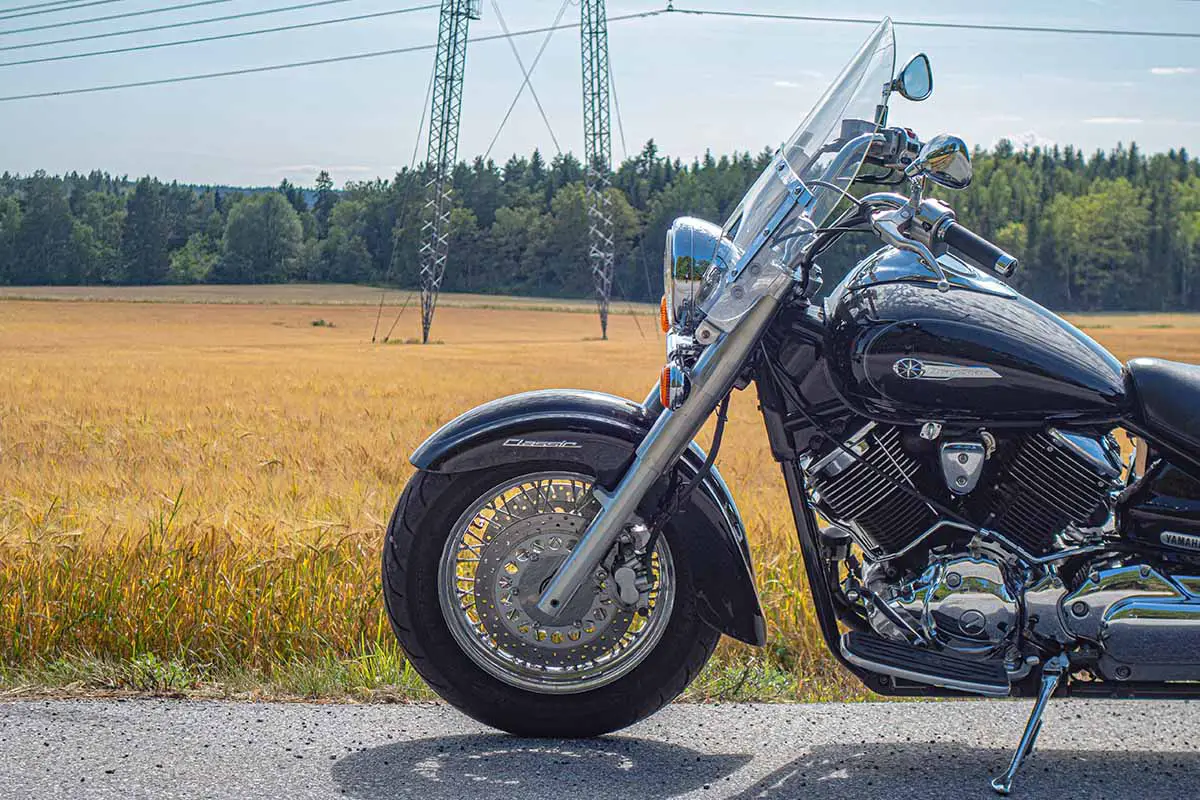 The Beginnings of Yamaha's Drag Star
The 2005 Yamaha V Star 1100 (a.k.a. XVS1100, Drag Star) started as a 400-cc iteration made available in Japan in 1996. This initial iteration was inspired by Yamaha's own Virago 750 – an air-cooled, V-Twin-equipped two-wheeler with a proven track record dating back to the '80s.
Due to its success, the smaller-displacement V Star series grew to include a 650-cc model the year after and a 1,100-cc version in 1998 (launched as a 1999 model).
While the XVS1100 adopted its power mill from the Virago, everything else about the motorcycle has been reworked. This included a new suspension and chassis, replacing the stressed-member engine arrangement and outboard dual shocks of the former.
On a different note, the series maintained a steady but conservative number of trims to keep its loyal following happy. The only exception to this was in 2005 when Yamaha released five amazing V Star 1100 trims instead of the customary two or three.
There is not much to be had about the cruiser bike, although some enthusiasts wished for a fuel-injected version to make the two-wheeler more befitting of its DragStar moniker. Sadly, this never came to pass, as Yamaha discontinued the 1,100-class thumper in 2009 and replaced it with the 950-cc and 1,300-cc V Stars.
2005 Yamaha V Star 1100 Specs & Features
Engine
The Yamaha 2005 V Star 1100 is powered by an oil/air-cooled, V-Twin 4-stroke OHC engine lifted from the firm's GSX-R1100 venerable Virago. It has a bore-stroke ratio of 95 x 75 mm (3.74 x 2.95 inches).
Piston displacement is 1,063 cm3 (64.9 in3), while the compression ratio is set to 8.3:1. Dual flat-slide Mikuni BSR37 carbs, supplemented by a non-woven fabric-element air filter and twin exhausts (view on Amazon), handle the air-fuel mixture.
The stock engine configuration of the V Star 1100 yields the following performance figures:
| Description | |
| --- | --- |
| Top Speed | 110 mph (175 km/h) with built-in speed limiter; 113 mph (182 km/h)* |
| Horsepower | 61.5 hp (45.2 kW) @ 5,750 RPM* |
| Maximum Torque | 85 Nm (8.7 kgf-m, 62.5 ft-lbf) @ 2,500 RPM* |
| Fuel Economy | 35.8 mpg (6.6 L/100 km)* |
| Approximate Tank Range | approximately 160 miles for a full fuel tank |
* courtesy of 
Bikes Wiki
Fuel & Lubrication
The fuel tank capacity is 17 L (4.5 USgal, including a 4.5-L/1.1-USgal reserve) of unleaded gasoline with a minimum Octane rating of PON 86/RON 91.
Fuel variants containing less than 5% MTBE (Methyl Tertiary Butyl Ether) or 10% ethanol with appropriate corrosion inhibitors and cosolvents are permissible. However, gasohol blends containing methanol are ill-advised due to potential performance problems and fuel system damage.
Lube-wise, the XVS1100 has a wet sump lubrication system with the following requirements:
| Description | |
| --- | --- |
| Oil change | 3 L (3.2 US qts.) |
| With filter change | 3.1 L (3.3 US qts.) |
| Final gear oil | 0.19 L (0.20 US qts.) |
For top-tier results, use SAE 10W-30 or 20W-40 Yamalube 4 motor oils meeting JASO T903 MA/MB standards with a minimum API grade of SJ. Same-spec multi-grade oils that may or may not be unspecified in the owner's manual are allowed following changes in ambient temperature and riding conditions.
Choose oil variants without chemical additives, as your choice of engine oil will also lubricate the clutch assembly. Additionally, veer away from engine oils labeled as "Energy Conserving II" or those with a diesel specification of "CD" (or higher).
Drivetrain
A left-foot-operated 5-speed forward constant-mesh manual transmission and a wet, multi-disc clutch assembly send power to the wheels. Meanwhile, a final shaft drive handles wheelspin.
Overall, the bike's powertrain offers impressive low- and mid-range torque – albeit in exchange for a crescendo of pulsation as the two-wheeler shifts to highway speeds from lower RPMs.
Below are stock gear ratios for the 2005 Yamaha V Star 1100 Silverado and Classic models:
| Description | |
| --- | --- |
| Primary Reduction System/Ratio | Spur gear / 1.660 (78/47) |
| Secondary Reduction System/Ratio | Shaft drive / 2.875 (44/47 x 19/18 x 32/11) |
| Transmission Gear Ratio – 1st | 2.353 (40/17) |
| Transmission Gear Ratio – 2nd | 1.667 (40/24) |
| Transmission Gear Ratio – 3rd | 1.286 (36/28) |
| Transmission Gear Ratio – 4th | 1.032 (32/31) |
| Transmission Gear Ratio – 5th | 0.853 (29/34) |
Ignition
The V Star is brought to life by a digital transistorized coil ignition system and electric starter. It also has a triple-phase A.C. magneto for its charging system and a 12V 12 Ah/(10 HR) GT14B-4 battery powering lighting and electronic accessories.
An NGK BPR7ES or Nippon Denso W22EPR-U spark plug with a 0.7–0.8 mm (0.028–0.031 inch) electrode gap and torque spec of 20 Nm (2.0 kgf-m, 14.5 ft-lbf) is responsible for spark ignition.
The OEM-recommended battery format, which can be replaced with a Yuasa YUAM624B4 YT14B-BS Battery (view on Amazon), has assembled dimensions of 150 x 70 x 145 mm (6.12 x 2.75 x 5.75 inches, excluding wire harness and mounting accessories). Take care not to interchange it with the YTX20HL-BS battery format used on the 1,300-cc V Stars (a.k.a. Strykers), as it will be incompatible.
See the below tables for fuse and lighting assembly details:
| Fuse | Wattage |
| --- | --- |
| Main | 30 A |
| Headlight, Carburetor Heater | 15 A |
| Ignition | 10 A |
| Ignition Unit, Backup | 5 A |
| Lighting | Wattage x Quantity |
| --- | --- |
| Headlight | 12V 60/55 W x 1 |
| Front Turn Signal/Position Light | 12V 23/8 W x 1 |
| Rear Turn Signal Light | 12V 21 W x 2 |
| Meter Lighting | 14V 1.4 W x 2 |
| Neutral, High Beam, Oil Level, Engine Trouble Warning, Turn Signal Indicator Lights | 12V 1.7 W x 1 |
Tires & Brakes
Stock rubber comprises 130/90 16MC (67S) and 170/80 15MC (77S) bias tires. These tubeless tires mount on 16M/C x MT3.00 and 15M/C x MT4.50 cast wheels, front and rear, and could be either Dunlop D404s (view on Amazon) or Bridgestone Exedra G702/3s (view on Amazon) depending on trim.
Respective cold-tire pressures for these knobbies range from 225–250 kPa (2.25–2.50 kgf/cm2, 33–36 psi) and are contingent on solo or pillion riding).
Finally, triple-disc brakes with twin-piston calipers measuring 298 mm at the front and 282 mm at the back complete the V Star's tire-and-wheel assembly.
Suspension
Enclosed in a double-cradle tubular steel chassis (33° caster angle, 132 mm/5.2 inches trail) are 41-mm telescopic front forks with oil-damped coil springs and a rear linkage with oil-damped gas shocks. These suspension units offer adjustable preload and rebound damping and wheel travel of 140 mm (5.5 inches) and 113 mm (4.45 inches).
The wheelbase measures 1,645 mm (64.8 inches), the turning radius is 3.4 m (11.1 feet), and the road clearance is 140 mm (5.5 inches). While the lift off the ground can be considered miserly, it makes for the bike's stability and reduced proclivity to tip over.
Dimensions
Overall dimensions are 96.9 x 37.2 x 43.1 inches (2,460 x 945 x 1,095 mm – L x W x H) for Standard and Silverado models, while Custom trims are slightly shorter.
Curb weight falls between 285 Kg (628 lbs.) and 288 Kg (635 lbs.), with bikes released in California being slightly heavier.
Across all versions, the saddle height ranges from 690–710 mm (27.2–28 inches) and can comfortably accommodate riders with different physiques.
The maximum load limit range for the trims above is 200–203 Kg (441–448 lbs.). Conversely, GVWR (Gross Vehicle Weight Rating) is estimated between 485 Kg (1,069 lbs.) and 491 Kg (1,082 lbs.). These figures include a full tank and fluids, combined driver/passenger weight, payload, and any additional accessories.
Exterior
Although all production models of the Yamaha XVS1100 follow the same concept, the label's iterations individually had distinct styling cues, as follows:
Silverado: The trim with the heftiest price tag had studded leather saddlebags and seats with backrest, chromed tank and fenders, and a windshield (view on Amazon).
Classic: This had a blacked-out engine and bodywork, a windshield, studded leather seats and saddlebags like the Silverado, and body-matching tank and front/rear fenders. To add, it was the only version that had a two-tone color scheme in 2005.
Custom: Unlike the Classic model, it sported spoked aluminum rims, exposed front forks, a narrow-profile front tire, and a bobbed rear end. It also had a peg configuration and peg up/down shifter instead of floorboards with rocker shifter pegs.
Midnight Custom: It was similar to the all-black Classic trims but without the windshield and studded accessories. Its front fenders were also trimmed and not encroaching on the front tire. In 2007, its color scheme changed from black to dark magenta.
The V Star's low stance, rounded edges, well-engineered components, and sophisticated simplicity create a balanced yet enticing visual effect. These qualities made the XVS1100 a fitting successor to the highly-acclaimed Virago series and a crowd favorite among enthusiasts and nouveau riders.
Worth of a Yamaha V Star 1100
The list price of the Yamaha XVS1100 ranged from $7,799 to $9,499 throughout its production run, going up by only $1,200 in 11 years if comparing base model MSRPs. The said rate increase is equivalent to less than $110 extra annually – a sensible trade-off for a motorcycle package that gives riders a lot of bang for their buck.
If it were sold brand-new today, the Yamaha 1100 V Star in 2005 would cost approximately $12,300. 
Yamaha XVS1100 Drag Star Pricing (1999 – 2008)
| Year – Model – Trim | List Price | Retail/Trade-In Values |
| --- | --- | --- |
| 1999 Yamaha XVS11L V-Star 1100 | $7,799 | $1,000 – $4,780 |
| 2000 Yamaha XVS1100M V-Star Custom | $7,799 | $1,035 – $4,175 |
| 2000 Yamaha XVS1100AM V-Star Classic | $7,999 | $1,035 – $4,230 |
| 2001–2002 Yamaha XVS11N/C, P/C V-Star Custom | $7,899 | $1,100 – $4,855 |
| 2001–2002 Yamaha XVS11AN/C, PC V-Star Classic | $8,199 | $1,210 – $4,970 |
| 2002 Yamaha XVS11AP/C V-Star Silverado | $9,299 | $1,320 – $5,090 |
| 2003–2004 Yamaha XVS11R/C, S/C V-Star Custom | $7,899 | $1,545 – $2,215 |
| 2003 Yamaha XVS11AWR/C V-Star Classic | $8,199 | $1,760 – $2,315 |
| 2004 Yamaha XVS11AS/C V-Star Classic | $8,299 | $2,035 – $2,675 |
| 2005 Yamaha XVS11T/C V-Star Midnight Custom | $8,099 | $1,670 – $2,200 |
| 2005 Yamaha XVS11T/C V-Star Custom | $8,199 | $1,825 – $2,400 |
| 2005 Yamaha 1100 V Star Classic (XVS11AWT/C) | $8,399 | $1,825 – $2,400 |
| 2005 Yamaha V Star 1100 Classic (XVS11AWT, Two-Tone) | $8,599 | $1,870 – $2,460 |
| 2005 Yamaha XVS11ATT/C V-Star Silverado | $9,499 | $2,035 – $2,675 |
| 2006 Yamaha XVS11V/C V-Star Midnight Custom | $8,399 | $2,155 – $2,835 |
| 2006 Yamaha XVS11V/C V-Star Custom | $8,499 | $2,020 – $2,655 |
| 2006 Yamaha XVS11AWV/C Vstar Classic (Cast Wheels) | $8,799 | $2,110 – $2,775 |
| 2007 Yamaha XVS11W/C V-Star Custom Midnight | $8,499 | $2,365 – $3,110 |
| 2007 Yamaha XVS11W/C V-Star Custom | $8,599 | $2,375 – $3,125 |
| 2007 Yamaha XVS11AWW/C V-Star Classic | $8,899 | $2,465 – $3,245 |
| 2008 Yamaha XVS11XB/C V-Star Custom | $8,699 | $2,605 – $3,425 |
| 2008 Yamaha XVS11AWXB/C V-Star Classic | $8,999 | $2,715 – $3,570 |
(Source: JD Power)
2005 saw the most expensive iterations of the series and the most number of trims released within a year. Unlike the usual two or three iterations, consumers enjoyed five models – from the Standard to the Silverado (that had all the bells and whistles).
The base model was sold for $8,099, while the leather-studded Silverado was sold for $9,499.
2005 Yamaha V-Star 1100 Problems
Despite being an extremely well-balanced two-wheeler, the 2005 Yamaha V-Star 1100 is not without its flaws. Let's cover some of the most prevalent issues associated with the bike in this section:
Slow Turnovers and Other Starting Difficulties
Several V Star owners reportedly had frequent starting issues. While this dilemma may result from several factors, for the V-Star, the root cause is a problematic ignition system or fuel compression.
The propensity of these systems to give out is due to the bike's high-voltage circuit draining the battery quickly, leading to starting failures.
Should you face this situation, examine your two-wheeler and conduct tests to rule out potential faulty starters or wiring problems. Typically, electrical problems are discovered via the battery circuit. Confirm that your battery cables and connectors are tightened to spec.
As for fuel compression challenges, check for worn piston rings, leaking valves, or a blown head gasket. You should not be too worried if your bike's fuel and ignition systems are subject to regular upkeep, frequent servicing, and inspection.
Faulty Air Intake Boot
One of the V Star's design flaws has to do with its air intake boot, which tends to leak or come off quickly without much of a trigger. But the more pressing issue is that you will not be able to tell this is the case until you hear air-popping sounds. So the moment you do, inspect your air intake boot immediately.
Never leave the issue unattended for long, as the unfiltered air that goes through the air intake boot leak is guaranteed to wreak havoc on your power mill and other relevant components. Better yet, be on the offensive by regularly inspecting your air intake boot, even if you do not suspect any problems.
Voltage Regulator Issues
Apart from starting issues, the V Star's high-voltage circuit also contributes to charging system failure and voltage regulator problems. This main culprit aside, a faulty rectifier may also be to blame in this scenario.
Either way, you need to dig deeper by performing a voltage test to see if your voltage regulator, rectifier, or battery is compromised and needs replacement.
Laborious Oil Changes
More of an inconvenience than an actual issue, this situation is caused by the poor location of the bike's oil filter. What should have been one of the easiest things to do on a thumper has become a nightmare for some.
To do a simple oil change, riders must remove the whole exhaust system to access their oil filter (giving some motorheads a reason to intentionally miss out on timely servicing). Thankfully, oil filter relocation kits (view on Amazon) are available to correct this problem.
Ergonomics
Although owners and test riders have no major complaints about the 2005 Yamaha V Star 1100, some felt that Yamaha could improve the bike's comfort and rideability. Below are some items on their wish list:
Wider saddle
Less-confining forward edge of the passenger seat
Improved lean angle
Softer rear suspension (the softest factory setting does not help much with reducing vibrations)
Slightly bigger side mirrors to offset shuddering in the handlebars (view on Amazon)
More accommodating system for accessories
Inclusion of a clock and tripmeter in the dash
Headlamps with better light distribution
About Yamaha
Yamaha Motor Company Ltd. is a Hamamatsu-headquartered manufacturer and one of the Japanese Big 4 to pioneer the ATV and motorcycling industries. Founded in 1909, the firm was originally a division of Nippon Gakki Co. Ltd., a well-known reed organ manufacturer and maker of the first Japanese-made piano.
It was not until after WWII that Yamaha was inclined to repurpose what was left of its production machinery. The firm took a serious interest in expanding the application of its metallurgical expertise.
Fast-forward to today, Yamaha is a global leader recognized for its vast contributions to multiple automotive fields – including breakthroughs such as the 2005 Yamaha V Star 1100. The company has significantly progressed from its musically-inclined origins and continues to further its legacy through life-enriching services and product offerings.
Conclusion – 2005 Yamaha V Star 1100 Review
The 2005 Yamaha V Star 1100 is undoubtedly much more than a Virago rip-off. It may seem puny by many a rider's standards. Nonetheless, it is still one of the most adept and handsome two-wheelers in the cruiser market, even when pitted against newer motorcycles.
In an age where massive size differences and power have become valued points for argument, the V-Star 1100 reminds us that a reasonable rider only needs a well-balanced motorbike to find true happiness.