Honda VTX 1300 Specs & Review: Cruiser Bike
Disclosure: We may get commissions for purchases made through links in this post.
According to Motor and Wheels, the VTX was the "biggest production V-Twin in moto-history" during its debut. Personally, this accolade may not have only pertained to the 1800cc variant but also to the Honda VTX 1300. While categorically average by today's standards, this liter-class bike practically launched the VTX series right in the heart of the motorcycling arena.
The Honda VTX 1300 is a cruiser motorcycle produced by Honda from 2002 to 2009. A smaller-displacement version of the acclaimed VTX 1800, this two-wheeler features a 52° V-Twin power mill, 75 hp, 123 Nm torque, and superb handling mannerisms sure to captivate both recreational and serious riders.
At first glance, test riders ask themselves whether function follows form for the Honda VTX 1300. And in most cases, they pleasantly discover that the answer is yes. Indeed, the liter-class bike is big on looks. But so is it on reliability and performance — as you will soon discover by reading today's guide.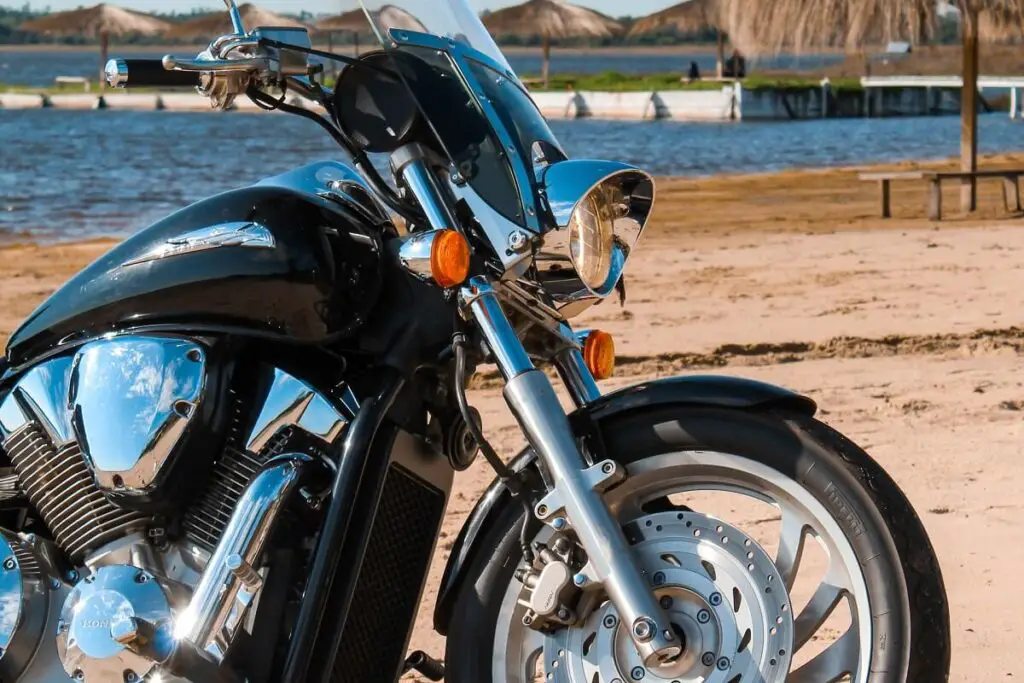 Tracing Its Roots to the 1978 CX500
The Honda VTX 1300 is a cruiser motorcycle boasting a 24-year lineage of Honda V-Twins and customs. Unlike other long-standing Honda labels, however, the VTX is more of a culmination of different successful two-wheelers, from the trailblazer CX500 in 1978 to the Shadow A.C.E. 750 in 2001.
Assembled in Marysville, Ohio, the two-wheeler looked similar to its bigger-displacement namesake, the VTX 1800. But that's only as far as the exterior goes since the bike's power mill had an entirely novel design.
Not only was the motorcycle carbureted, but it was also more modest in terms of technology (with its single-pin crankshaft, standard unlinked brakes, and cable-actuated clutch). Expectedly, the bike was more prone to shuddering, which called for twin-axis primary counterbalancers to help mitigate engine vibration.
The series underwent gradual enhancements throughout its production. The VTX1300C Custom, for one, had cast-alloy wheels and low-slung handlebars while ditching the floorboards and heel-and-toe shifter of other trims. Other packages, like the Retro, went for a more nostalgic vibe.
2008 saw the last major redesign of the Honda VTX1300 when its 2-into-2 exhaust system was made more compact, and the Tourer package was introduced. This final trim sported cast wheels, a windshield (view on Amazon), a backrest, and a 24-L saddlebag.
2004 Honda VTX 1300 Specs & Features
Engine
The Honda VTX1300 comes to life via a liquid-cooled, 4-stroke SOHC V-Twin with three valves per cylinder. It has an 89.5 x 104.3 mm (3.524 x 4.106 inches) bore-stroke ratio and a 9.2:1 compression ratio, with piston displacement at 1,312cc (80 in3).
A 38-mm constant-velocity Keihin carburetor, requiring jetting adjustment beyond 6,500 feet (2,000 meters), handles the air-fuel mixture. This carb is mated to a 2-into-2 exhaust like Vance & Hines Big Radius Exhaust System Chrome 26037 (view on Amazon).
Overall, this engine configuration lends to the following performance figures:
(Expect slight variations in performance figures, depending on whether you have the VTX1300C, S, T, or Retro)
Fuel & Lubrication 
Fuel tank capacity is 18 L (4.8 USgal, inclusive of 4.4-L/1.2-USgal reserve) of unleaded gasoline, with a minimum PON 86/RON 90 Octane rating and containing no more than 15% MBTE, 10% ethanol, and 5% methanol.
Lube-wise, the 1300 VTX utilizes a gear-type oil pump and has a wet sump system with the following requirements:
After disassembly: 4.3 L (4.5 US qt)
After draining: 3.5 L (3.7 US qt)
After draining and with the oil filter change: 3.7 L (3.9 US qt)
Recommended engine oil is SAE 10W-40 of Pro-Honda GN4 or HP4 4-stroke oil (sans "Energy Conserving" labels and molybdenum or graphite additives) or its equivalent. If using other variants, your chosen alternative should have similar specs and a minimum API grade of SJ meeting JASO T903 MA standards.
Other OEM-recommended multigrade oils specified in the manual are permissible following changes in ambient temperature, altitude, and riding conditions.
Drivetrain
A 5-speed constant-mesh manual transmission and a cable-operated, multi-disc wet clutch assembly (with a spar gear primary and a final shaft drive ) deliver power to the ground.
The transmission provides a wide range of gear ratios for versatility and offers smooth shifting for enhanced rider comfort. Meanwhile, the bike's low-maintenance shaft drive system dependably handles power transfer from the engine to the rear wheel.
For reference, see the stock gear ratios below:
| Description | |
| --- | --- |
| Primary Reduction Ratio | 1.935 |
| Transmission Gear Ratio — 1st | 1.900 |
| Transmission Gear Ratio — 2nd | 1.148 |
| Transmission Gear Ratio — 3rd | 0.912 |
| Transmission Gear Ratio — 4th | 0.778 |
| Transmission Gear Ratio — 5th | 0.697 |
| Secondary Reduction Ratio | 0.944 |
| Final Drive (Shaft) | 2.818 |
Ignition & Electricals
A digital CDI (Capacitor Discharge Ignition) system with two spark plugs per cylinder and 3-D mapping awaken the Honda VTX 1300. Meanwhile, a three-phase magneto alternator, with a rated output of 0.364 kW @ 5,000 RPM, serves as the bike's charging system.
NGK DCPR6E or ND XU20EPR-U plugs with a 0.8–0.9 mm (0.031–0.035 inch) electrode gap are responsible for spark ignition. If going on extended high-speed riding, these standard plugs need to be replaced with NGK DCPR7E or ND XU22EPR-U spark plugs of the appropriate heat range.
A 12V 12 Ah/(10 HR) YTX14-BS battery aids in powering electronics and lighting. In case of wear, damage, or high-performance applications, this stock battery is replaceable with compatible AGM formats like YTX14H-BS or Yuasa GYZ16H Performance Battery (view on Amazon).
Tires & Brakes
Spoke wheels are fitted with tubeless tires measuring 110/90 19M/C 62H at the front and 170/80 15M/C 77H at the back. The motorcycle has Dunlop F24G and Dunlop K555J at the front and rear, replaceable with same-size radials in case of a puncture and wear or once the 0.06/0.08-inch (1.5/2-mm) service limit is reached. Note that not all trims share the same tire size. For instance, the VTX1300S has a smaller front tire measuring 140/80-17.
These factory knobbies require a cold-tire pressure of 225 kPa (2.25 kgf/cm2, 33 psi) for rides where the maximum load limit is not exceeded. Otherwise, the rear tire requires adjusting to 250 kPa (2.50 kgf/cm2, 36 psi) if the payload is more than 90 Kg (198 lbs.).
As for brakes, the two-wheeler has a single 336-mm disc at the front and a 296-mm disc at the rear. The front rotor is augmented by twin-piston calipers and the back by a single-piston caliper, both of which are conventional axial-mount types. While not as advanced as radial-mount calipers (view on Amazon), they still offer reliable braking performance suitable for cruiser-style riding.
Suspension
Enclosed in a double-cradle steel frame (32° caster angle; 149 mm/5.9 inches trail) are 41-mm telescopic front forks and a rear dual shock absorber setup with 5-way spring preload adjustability. These suspension units provide front-rear wheel travel of 91 mm (3.6 inches) and 94 mm (3.7 inches), improving stability and rider comfort.
Other facets affecting the motorcycle's handling and maneuverability are a 1,665-mm/65.6-inch wheelbase and a 125-mm/4.9-inch ground clearance. That's a lot of inches between the front and rear wheels — for a bike that many riders regard as small.
Dimensions & Capacities
Overall dimensions are 2,400 x 920 x 1,110 mm (94.5 x 36.2 x 43.7 inches — L x W x H). Meanwhile, the seat height is 685 mm (27 inches), approximately three inches lower than the same-category Yamaha V-Max 1200.
While the single-piece saddle may make it easier for shorter riders to plant their feet on the ground during stops, it may feel more cramped for gearheads with longer inseams. Especially for stock VTX 1300s, factors like handlebar position and footpeg (view on Amazon) placement may also adversely affect legroom and rider comfort.
Capacity-wise, the two-wheeler's dry weight is 296 Kg (653 lbs., sans fluids and a full gas tank), with California releases heavier by 2 Kg (4 lbs.). Maximum payload is 182 Kg (402 lbs.) in the US and 185 Kg (410 lbs.) in Canada. With these values taken into account, GVWR (Gross Vehicle Weight Rating) is estimated at 499—503 Kg (1,100—1,110 lbs.) — a combination of curb mass, rider/passenger weights, accessories, and cargo.
Exterior
The highly-engineered Honda VTX 1300 showcases purpose-built styling, with sleek exterior lines and a muscular appearance giving the two-wheeler its commanding on-road presence. A large, chromed headlight surrounded by a stylish nacelle sits prominently at the front.
Conversely, the rear fender's flowing contour matches the front fender (view on Amazon) aesthetic while integrating turn signals, taillight, and license plate holder into its design.
Only two primary trims were available in 2004 — VTX1300C (Custom) and VTX1300S (Sport). Both were made available in Candy Red, Metallic Silver, and Black. The Pearl Orange was exclusive to Custom iterations as Pearl Dark Blue was to Sport iterations. Meanwhile, subsequent model years had additional color schemes consumers could choose from:
2005 Honda VTX 1300: Titanium, Pearl White
2006 Honda VTX 1300: Titanium
2007 Honda VTX 1300: Dark Blue, Dark Red
Worth of a Honda VTX 1300
At its launch, the Honda VTX 1300 sold for an original MSRP of $8,999 (approximately $14,830 with inflation factored in and if sold brand-new today). Retail pricing rose incrementally in subsequent years, with little to no difference in rates between Sport, Custom, and Retro packages.
It wasn't until the introduction of the Tourer package in 2008 that the VTX1300 hit a 5-digit resale value of $10,999. The rest of the trims followed suit during the motorcycle's final year — with the Custom and Retro versions selling for $10,199 after a 3-year price-increase hiatus.
2003—2008, 2009 Custom: $9,199—$9,599, $10,199
2003—2008, 2009 Retro: $9,199—$9,599, $10,199
2005—2008 Sport: $9,399—$9,599
2008—2009 Tourer: $10,999—$11,499
2009 Tourer VTX1300TL9: $11,599
Nowadays, you can get a secondhand VTX for $1,875—$4,430 (low-to-average retail, per JD Power data). Retro, Sport, and Tourer packages keep their value pretty well, as their resale pricing is often a third of their original listing price. Pre-loved bikes valued at $5,000 or higher typically come with clean titles and are in good working condition. Conversely, those priced less than $1,000 are often sold for parts.
Honda VTX 1300 Lowdowns
Pros
The Honda VTX1300 sets itself apart from the competition with its commanding 52° V-Twin power mill, delivering a claimed 123 Nm of torque and a usable powerband. Compared to its counterparts, the bike offers more torque (despite the gear selected) and is an overall better cruiser on the pavement.
The two-wheeler's heft reduces shifting going into or out of corners.
Despite its low saddle, it is neither top-heavy nor unmanageable at low speeds.
Contrary to popular belief, many riders find the VTX1300 comfortable for long rides (although the back seat still proves to be a pain for passengers). It also ranks high on the 'Commuting Fun Factor,' according to Kevin Kocur.
According to seasoned riders, a nice high-performance exhaust, jet kit, K&N filter, and iridium spark plugs (to name a few) can make anyone easily forget about the shortcomings of the VTX.
Cons
Despite its highly-engineered mechanical components and long-standing design, the Honda VTX 1300 can do better with further improvements.
Rattling headlight buzz, failing gauges, water pump failure, and the proclivity of the battery terminals to vibrate loose are some known issues linked to the thumper.
Forward controls do not allow for comfortable riding on dirt roads (even if mods would make the two-wheeler suitable for such conditions). It also dampens effective bump absorption, leaving the rider's tailbone to suffer the discomfort of riding on uneven surfaces.
There is bad synchronization between the 1st and end gear. Additionally, the two-wheeler's powertrain is badly in need of a 6th gear.
Instrumentation is a bit primitive, with the bike having no tachometer. Plus, riders need to look down on the speedometer, which can be troublesome for gearheads when on the road.
About Honda
Honda Motor Company Ltd., a celebrated Japanese conglomerate globally recognized for its remarkable impact on the automotive sector, originated in 1946 in a modest garage in Hamamatsu, Japan.
Originally marketing motorized bicycles powered by surplus engines, the company swiftly evolved into crafting high-end vehicles and engaging in Formula 1 competitions. Honda remains dedicated to its initial passion and has expanded its portfolio to include mopeds, scooters, sport bikes, and street cruisers like the Honda VTX 1300.
Conclusion — Honda VTX 1300 Review
The Honda VTX 1300 is a powerful, stylish cruiser combining classic design and pragmatic engineering. With its robust powertrain components, V-twin engine, and efficient shaft drive system (among other praiseworthy attributes), the bike guarantees reliable performance and low-maintenance operation every time.
Riders can enjoy a pleasant (not to mention memorable) riding experience — thanks to its ergonomic seating, well-designed suspension, and various trim options tailored-fit to different preferences. All in all, the VTX1300 stands as a notable choice in the cruiser motorcycle segment, combining power, dependability, and style in an impressive package.