Yamaha Warrior 1700 Specs and Review (Road Star)
Disclosure: We may get commissions for purchases made through links in this post.
In November of 2002, Nigel Patrick's team won the AMA Hot Rod Prostar Cruiser Racing series riding a freshly debuted Yamaha Warrior 1700. But before you assume this bike is exclusively for the tracks, let me stop you. This drag racer has gone from being a champ to a household name among recreational riders and enthusiasts.
The Yamaha Warrior 1700 (a.k.a. Road Star, Wild Star in Europe) is a cruising/touring motorcycle produced by the Japanese firm from 2002 to 2009. A certified AMA Prostar Hot Rod Drag Racing champ, the bike sports a chrome-heavy frame, cast wheels, a fuel-injected engine, and R1-inspired suspension.
Modern functionality, reliability, and a nostalgic vibe are some attributes that form part of the Yamaha Warrior 1700's appeal to consumers. If these qualities pique your interest and you want to know more, stick around and continue reading this article.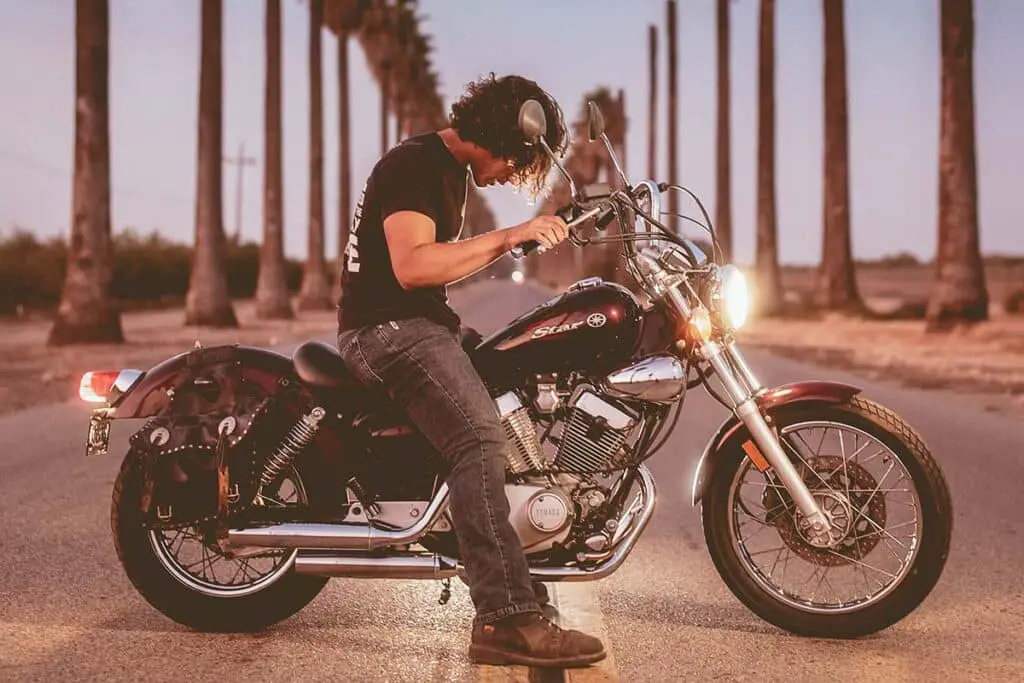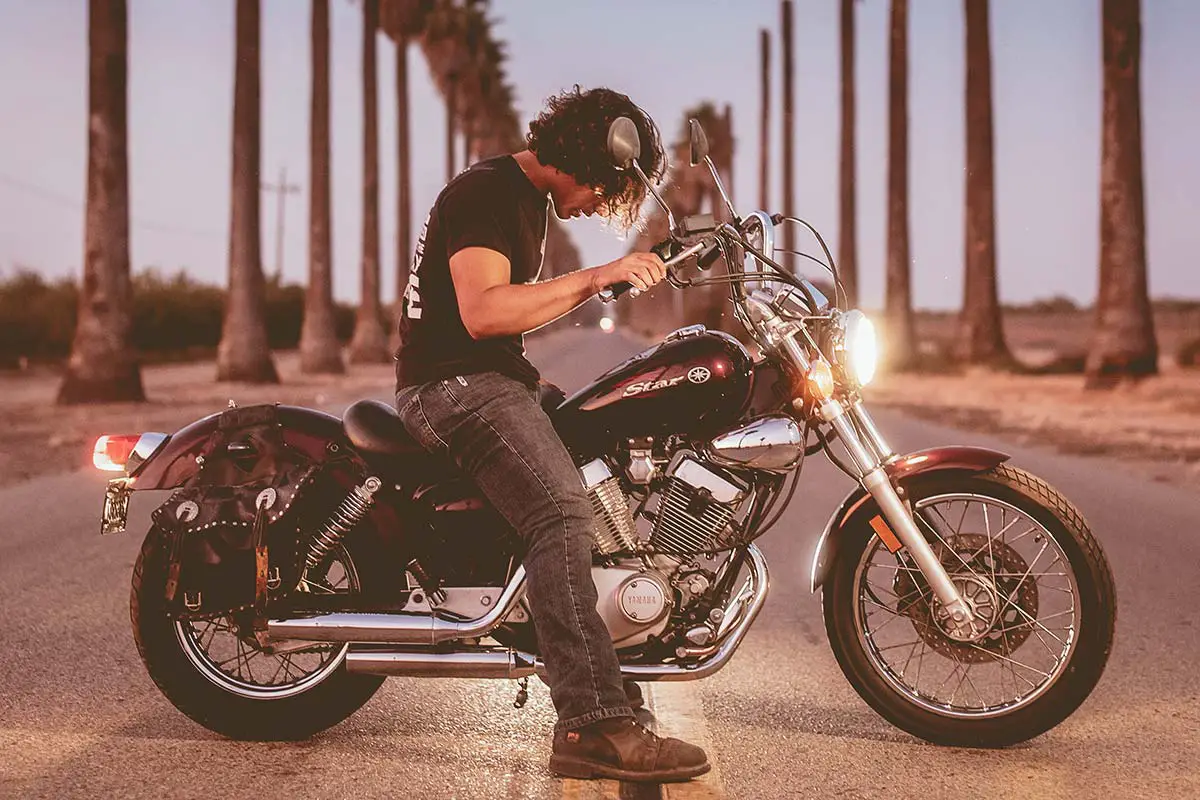 Yamaha's Most Coveted Power Cruiser
The Yamaha Warrior 1700 is the 4th installment of the Yamaha Road Star series, first introduced to the market in 1999. At the time, the liter-class bike began with a 1,602-cc engine displacement. But by 2002, the two-wheeler was bored out to 97 × 113 mm (3.82 × 4.45 inches), increasing its displacement to 1,670-cc. As if these were not enough, it was also several kilos lighter than its predecessor.
Although classified as a cruiser bike, the Warrior 1700 actually had touring and cruising incarnations. There is very little difference between the two, except for the trim, dealer inclusions, and paint finish. All production models boasted a fuel-injected power mill, R1-inspired suspension, and retro-classic styling.
Given its design purpose, the machine naturally shudders while driving. But unlike its counterparts, it shakes with a thumping, evocative regularity – the kind that makes the riding experience more worthwhile.
2003 Yamaha Warrior 1700 Specs & Features
Engine
The '03 model is powered by an air-cooled, 4-stroke OHV engine with a V-twin cylinder arrangement. It has a bore-stroke ratio of 97 × 113 mm (3.82 × 4.45 inches) and an 8.36:1 compression ratio.
Piston displacement increased from the original 1,602-cc to 1,670-cc (102 in3) beginning in 2002. Dual AC40-B204 Mikuni throttle bodies handle the air-fuel mixture with INP-732 Nippon injectors and an electrical Mitsubishi fuel pump.
Overall, engine configuration lends to a top speed of 124–137 mph (199.6–220.5 km/h), a maximum horsepower of 84.3 hp/62 kW @ 4,400 RPM, and a torque output of 135 Nm (13.8 kgf-m, 99.5 lb-ft) @ 3,750 RPM. Most trims share these performance figures, although some Road Star Warriors reportedly top out only at 60 mph (96.5 km/h).
Fuel & Lubrication 
Fuel tank capacity is 15 L (3.96 US gal, 3 L/0.79 US gal reserve) of regular unleaded gasoline with a minimum octane rating of PON 87/RON 91. Despite the motorcycle's fuel injection system, fuel mileage is a miserly 25–38.3 MPG (6.14–9.41 L/100 km, mixed riding style). Lubrication-wise, the Warrior has a dry sump system with the following engine oil requirements:
| Description | Quantity |
| --- | --- |
| Total Amount | 5 L (4.4 Imp qt, 5.29 US qt) |
| Engine | 2 L (1.76 Imp qt, 2.11 US qt) |
| Oil Tank | 3 L (2.64 Imp qt, 3.17 US qt) |
| Without oil filter cartridge replacement | 3.7 L (3.26 Imp qt, 3.91 US qt) |
| With oil filter cartridge replacement | 4.1 L (3.61 Imp qt, 4.33 US qt) |
Recommended engine oil is SAE 20W-40 of Yamalube 4 or its equivalent. Same-spec variants should have a minimum API grade of SJ meeting JASO T903 MA standards. Other viscosity grades from the manual are permissible following ambient temperature.
Drivetrain
A 5-speed constant-mesh (wide-ratio) manual transmission and a wet, multi-disc clutch assembly (with a rack-and-pinion/pull-rod release method) deliver power to the ground. Powertrain components include:
Aluminum alloy cylinders with ceramic composite-plated sleeves.
Efficient heat dissipation.
Reduced engine damage.
Furthermore, high-lift cams and hydraulic valve lifters ensure strong acceleration and less maintenance.
For reference, the stock gear ratios are below:
| | |
| --- | --- |
| Primary Reduction Ratio | 1.532 (72/47), spur gear |
| Transmission Gear Ratio (1st) | 2.375 (38/16) |
| Transmission Gear Ratio (2nd) | 1.579 (30/19) |
| Transmission Gear Ratio (3rd) | 1.160 (29/25) |
| Transmission Gear Ratio (4th) | 0.935 (29/31) |
| Transmission Gear Ratio (5th) | 0.800 (24/30) |
| Secondary Reduction Ratio | 2.393 (35/32 x 70/32), belt drive |
Ignition & Lighting
An F8T914 transistorized coil ignition (digital) with an ignition timing of 10° BTDC @ 900 RPM (initial "F" mark) and an electric starting system bring the Yamaha Warrior 1700 to life. An NGK DPR7EA-9 or Nippon Denso X22EPR-U9 spark plug with a 0.8–0.9 mm (0.031–0.035 inch) gap and torque spec of 18 Nm (1.8 kgf-m, 13 lb-ft) is responsible for spark ignition. Meanwhile, a Yamaha F5PX A.C. magneto with a rated output of 14 V/31 A @ 5,000 RPM serves as its charging system.
A 12V 12 Ah/(10 HR) GT14B-4 battery aids in powering lighting and electronic accessories. In case of corrosion or damage, the stock battery is replaceable with a YT14B-BS battery (view on Amazon) format, with specific dimensions of 150 x 70 x 145 mm (6.12 x 2.75 x 5.75 inches – L x W x H). The table below shows fuse and lighting specifics:
Fuses
| Fuses | Amperage x Quantity |
| --- | --- |
| Main | 30 A x 1 |
| Fuel Injection System, Headlight, Decompression Solenoid, Reserve | 15 A x 1 (each) |
| Signaling System, Ignition, ECU, Reserve | 10 A x 1 (each) |
| Backup (Odometer & Clock), Reserve | 7.5 A x 1 (each) |
Lighting
| Lighting | Voltage/Wattage x Quantity |
| --- | --- |
| Headlight | 12V 60/55 W x 1 (halogen) |
| License Plate Light | 12V 5 W x 2 |
| Tail/Brake Light | LED |
| Front Turn Signal/Position Light | 12V 23/8 W x 2 |
| Rear Turn Signal Light | 12V 23 W x 2 |
| Indicator Lights – Neutral, Fuel, High-beam, Engine Trouble | LED x 1 |
| Meter Light | LED x 13 |
| Turn Signal Indicator Light | LED x 2 |
Note: The 1,602-cc Road Star and Road Star Silverado trims require a YTX20HL-BS or YTX20L-BS battery.
Tires & Brakes
Wire-spoke or cast-aluminum wheels come equipped with 120/70 ZR18 M/C (59 W) front tires and 200/50 ZR17 M/C (75 W) rear tires. Stock tires are tubeless-type and could either be D220F ST G/ST or Bridgestone BT020F G/R rubber. Recommended front and rear cold-tire pressure is 250 kPa (2.5 kgf/cm2, 36 psi) but requires adjusting to 290 kPa (2.9 kgf/cm2, 42 psi) if riding with a maximum load of 90 Kg (198 lbs.).
You can change factory tires to Michelin Scorcher 11 Cruiser Radials (view on Amazon) – perfect for everyday commute and touring applications. Metzeler ME888 Marathon Ultra Tires (view on Amazon) are also great replacements for the rear.
As for brakes, triple-disc brakes (two 298-mm rotors at the front and a single 282-mm one at the back) provide the Yamaha Warrior 1700 stopping power. These front and rear units have four-piston and single-piston calipers, respectively.
Suspension
Enclosed in a double-cradle frame (29.5° caster angle; 130-mm/5.12-inch trail) are 41-mm Kayaba USD front telescopic forks and a link-suspension swingarm with gas shocks. The suspension system is derived from the YZF-R1 and mated to a 1,665-mm/65.6-inch wheelbase, 155-mm/6.10-inch ground clearance, and 3.4-m/11.15-feet turning radius. Each setup provides a respective wheel travel of 135 mm (5.31 inches) and 110 mm (4.3 inches), with the front suspension offering 8-way preload adjustment and the rear 18-way rebound damping.
Dimensions & Capacities
Overall dimensions are 2,385 x 955 x 1,120 ± 4% mm (93.9 x 37.6 x 44.1 inches ± 4% – L x W x H). Meanwhile, the two-wheeler's seat height is 725 mm (28.5 inches). While the saddle perfectly sits medium to tall riders, those with in-seams longer than 34 inches may find the riding position slightly uncomfortable.
In terms of weight, dry mass is 278 Kg (613 lbs.), while curb mass is 295 Kg (650 lbs., including fluids and a full gas tank). Front and rear bias weights are 133 Kg (293 lbs.) and 145 Kg (320 lbs.). GVWR (Gross Vehicle Weight Ratio) is 480 Kg (1,058 lbs.) – including curb weight, rider and passenger weights, cargo, and accessories. The maximum load limit tops out at 185 Kg (408 lbs.)
Exterior
Out of all the trims, the Road Star Silverado, the Road Star Midnight Silverado, the Road Star Midnight Warrior, and the Road Star Warrior are the most remarkable. The Midnight Silverado has a studded leather seat, slightly bulkier fuel tank, mid-height windshield, 2-into-2 exhaust, and saddlebags. The Silverado sported the same styling as the Midnight RS but with chromed frame and fuel tank.
The Yamaha Warrior 1700 featured a metallic red/maroon tank and plastics. But the top choice among enthusiasts is the RS Midnight Warrior – with its blacked-out frame and engine, body-matching plastics, 2-into-1 exhaust, lower handlebars, teardrop tank, and high-clearance bobbed rear fender.
Yamaha Warrior 1700 Pros and Cons
Featuring a sophisticated chassis, larger-diameter pistons, high-performance braking system, and an R1-adopted suspension, the Yamaha Warrior 1700 was a true-blue cruiser and remarkably ahead of its time. Nonetheless, it is not without its share of shortcomings. To aid you in what could potentially be your next purchase, let us go over the pros and cons of this iconic power cruiser:
Highlights
New cam profiles, an air filter, a redesigned exhaust, and larger-displacement pistons increase the motorcycle's peak power and torque by 8–15%.
The Warrior's light steering response makes it very handy in tight corners and crowded parking lots.
Brake and clutch levers are 5 mm wider, giving it a more substantial feel versus the original Road Star XV1600.
The detailing and overall paint finish is outstanding and nostalgic.
Its quality-build chassis, long wheelbase, torquey motor, and bulletproof nature support spirited riding.
Drawbacks
Riding on the freeway can be frustrating due to the absence of a 6th gear.
Overall handling is biased towards stability and considered average at best.
The bike's high-compression engine can sometimes cause delays in the startup. Fortunately, it can be rectified with an ECU re-map.
Its 2-into-1 exhaust does not quite fit into the motorcycle's sleek, retro image and is best replaced with an aftermarket exhaust like Cobra Speedster Swept Chrome Exhaust System (view on Amazon).
The seats are not as plush or spacious as the two-wheeler's same-class counterparts, making all-day rides and two-up applications less inviting for some riders.
Because the manufacturer ceased production of the Yamaha Warrior 1700 in 2012, you may encounter issues with the availability of spare parts.
About Yamaha
Yamaha Motor Company, Ltd. is one of the "Big 4" Japanese industrial powerhouses in the global automotive market. In 1955, Yamaha produced its first motorcycle series – the YA-1 (a.k.a. Akatombo or the "Red Dragonfly").
The firm has achieved massive success since and grew to become one of the world's renowned leaders in outboard motors, off-road vehicles, personal watercraft, and motorsports. Today, Yamaha continues to be credited for some of the most innovative motorcycle designs, including the iconic Yamaha Warrior 1700.
Conclusion – Yamaha Warrior 1700 Review
The Yamaha Warrior 1700 and the Road Star series have come a long way since 1999. And it is not just because of its more economical price. The two-wheeler instills confidence, holds its lines well, and tips easily into corners. Moreover, its handsome package is something you would want to flaunt on-road. The Warrior's massive success strengthened Yamaha's foothold in the motorcycling arena and increased consumer options to more than just Harley's and British motorbikes.