Honda CB750 Motorcycle (Specs & Review)
Disclosure: We may get commissions for purchases made through links in this post.
Regarded as "the most sophisticated production bike ever" by Cycle Magazine, the 1969 Honda CB750 set the template for modern superbikes. The CB750 was the first to popularize an inline four-cylinder power mill and 736-cc displacement in a mass-produced two-wheeler. Because of its revolutionary engine configuration, it has received numerous accolades and is globally recognized for its significant standing in motorcycling history.
Introduced in 1969, the Honda CB750 is highly regarded as "the Godfather of modern superbikes." The CB750 was the first mainstream motorbike to sport disc brakes and a large-capacity powerplant. Additionally, it boasted an all-new 5-speed transmission, 125-mph top speed, and constant-vacuum Keihin carbs.
These features were so revolutionary that they earned the CB750 a place in AMA Motorcycle Hall of Fame Classic Bikes and the UK National Motor Museum – to name a few. Read on as this article lets you in on the history, influences, and specifications of the Honda CB750. We will also review the Honda CB750 Nighthawk Café Racer, which dominated the series until 2003.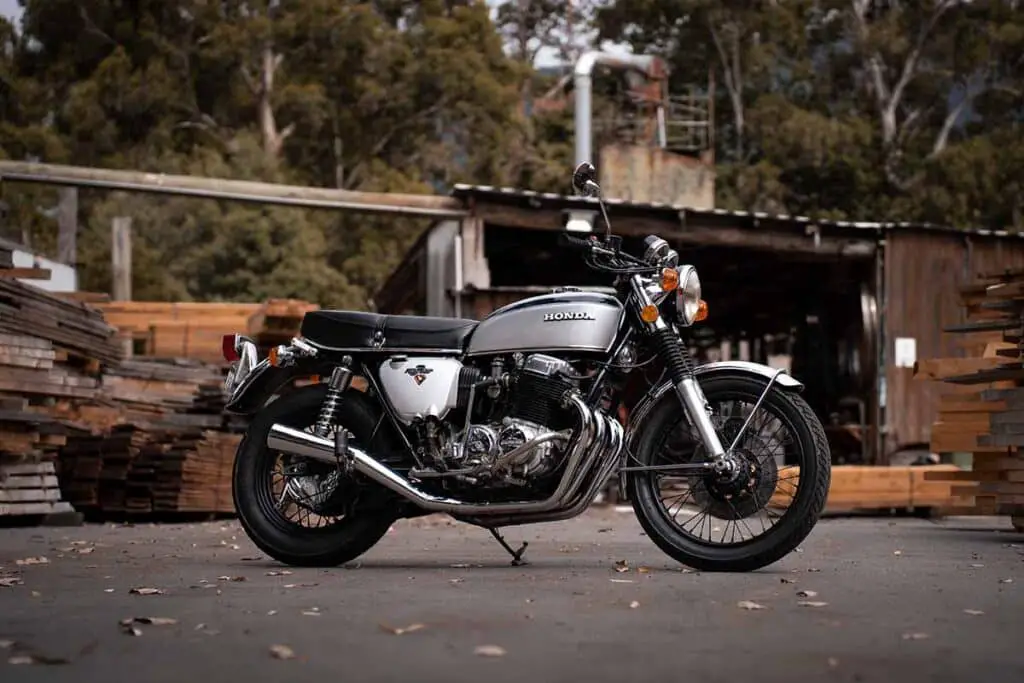 'Don Vito Corleone' of Motorbikes
The Honda CB750 is 3rd in the line of Honda CB motorcycles and the 5th largest displacement from the said series. Released in the U.S. in 1969, this icon seemed to chime in with the turn of events during its debut. Along with the 1st Boeing 747 flight, the 1st landing on the moon, and the 1st Led Zeppelin album, the CB750 became the 1st two-wheeler to lay the foundation for what we now know as superbikes.
While this ingenuity was to be expected from Honda – given its numerous world championships and a reputation for building reliable, high-rev machines – no one anticipated the manufacturer to do something this incomprehensible.
This cruising/commuting bike (CB) produced 69 hp (51.5 kW) @ 8000 RPM, weighed 220 kilograms, and ran 13-second quarter miles around Kawie H2/Z1, Yamaha XS750, Triumph Trident, and BSA Rocket 3s. Consumers got acquainted with a powerful and superiorly handsome multi-carbed beast unlike anything in the market.
Overall, the feel of riding the Honda CB750 and the look of it was bordering on surreal. Out of the crate, the bike was obviously in the same league as British favorites Vincent Black Shadow and BSA Gold Stars. Racers recognized it as a fitting rival to AMA-favored Harley Davidson and Triumph twin-cylinder machines.
Consumers appreciated its state-of-the-art engine, hydraulic braking system, and on-/off-road stability. Most importantly, this fine piece of work was what pushed many motorheads' younger versions into motorcycling and the café racer culture.
The Honda CB750 Café Racer's Target
The Honda CB750 was first launched in Europe a few months before Americans even knew the superbike existed. Honda showcased the CB750 in April 1969 in a motorcycle show held at the Metropole Hotel Exhibition Center before doing the same in the U.S. three months after – quite fascinating as the motorbike's concept was allegedly inspired by American Honda's Service Manager Bob Hansen. And while the CB750 proved to be at the top of its game, several factors did not make it successful long enough in the UK as it had been in the U.S.
For one, Kawasaki launched their 2-stroke, three-cylinder H1-500 not long after the CB750 came out. While it did not match the Honda bike's large-capacity engine, it was substantially cheaper than the former – with many praiseworthy attributes.
The film "Easy Rider" featured insanely good-looking choppers being ridden by the lead characters. The fact that the CB750 had a café racer build worked against its favor in the UK market, as Brits turned their backs on this motorcycle culture almost instantly after watching the film.
As if these were not enough, those who could afford the CB750 were unfortunately either skeptics or brand loyalists who decided to cling onto the more familiar Norton and Triumph roadsters. Interestingly, these odds sided with the Japanese manufacturer, whose aim was the U.S. market. And boy, was the CB750 a massive hit with American consumers!
Because the mass-produced CB750s were incredulously priced ($1,495) and adapted well to the U.S.' dry climate, Honda sold approximately 400,000 SOHC units in its first decade alone (not including CB750 models released exclusively in the U.S., Japan, and Canada).
Model Years and Trims
Throughout its production, the Honda CB750 had over 50 models and multiple trims, namely:
1969 Honda CB750K Diecast versions – $1,495, resale value: up to $27,704
1969 Honda CB750K Sandcast versions – $1,495, resale value: up to $48,482
1970 – 1978 Honda CB750 Dream "Four" (SOHC) – $1,495, resale value: up to $11,365
1975 – 1976 Honda CB750F Super Sport – $2,152, resale value: up to $8,980
1976 – 1978 Honda CB750A Hondamatic – $2,152
1977 – 1982, 1992 – 1997 Honda CB750F2 Super Sport (SOHC/DOHC) – $2,998
1979 – 1982 Honda CB750 Dream "Four" (DOHC) – $2,998
1979 Honda CB750K 10th Anniversary Edition – $2.948
1980 – 1983 Honda CB750C Custom – $2,998
1982 – 1983 Honda CB700SC Nighthawk – $3.398
1982 – 2003 Honda CB750SC Nighthawk – $2,998 to $5,799
1984 – 1986 Honda CB700SC Nighthawk S (Canada only) – $3,898
1984–1986 Honda CB750SC Horizon
2007 Honda CB750A Special Edition (Japan only) – ¥ 798,000
These trims were split into two groups – the original CB750s with a SOHC power mill and 4-into-4 exhaust setup and the DOHC-equipped CB750s with improved ergonomics and power delivery. The SOHC era of the CB750 lasted until 1978, with the DOHC taking over the remainder of the bike's production run.
Uncertain of the U.S. market's response, Honda used a permanent mold casting technique (a.k.a. sand casting) during the bike's first year of manufacture. Towards the end of 1969 (when Honda had a true idea of consumer demand), the firm moved to die-casting.
SOHC CB750K
SOHC CB750K models ('69 to' 78) had gas tank stripes in either red, white, gold, or black (or a combination of these colors). Their tank, side panels, and upper forks had body-matching hues (except for the headlight shell, which was painted black).
K2 and later models specifically had chrome upper forks and slightly larger taillight and side reflectors. Instrument faces were either light or dark green. Depending on model year, speedometer numbers showed in increments of either 10 or 20.
DOHC CB750s
Meanwhile, DOHC CB750s ('79 to' 07) upgraded its engine displacement from 736 cm3 to 749 cm3 (some years show 747 cm3 or 748 cm3). Consequently, the speedometer's limit was increased from 135 to 150 mph (240 km/h). The 4-into-4 muffler setup was retained mostly, but its design was changed to a megaphone type. The '79 Limited Edition, in particular, had a two-tone gas tank and side covers, black ComStar rims, and a "10th Anniversary CB750K" side cover emblem finished in gold and green.
CB750F/F2 & CB750C
CB750F/F2 (Super Sport) and CB750C (Custom) trims were considered standouts and had slightly different styling and components from the rest of the models. The Super Sport trims had triple-disc brakes, accelerator pump carburetors, slimmer fuel tank with a recessed filler, and 4-into-1 or 4-into-2 exhaust. Its side panels were black, and fork legs were painted silver.
Later-year CB750F/F2 bikes had redesigned fenders and a rear spoiler behind the seat. On the other hand, the CB750C had a center-axle design and two-tone side covers. These Custom trims became the flagship build of the Honda CB750 series in the '80s.
The Honda CB750 Nighthawk
The Honda CB750 Nighthawk Café Racer or CB750SC (SC short for Sport Custom) did not enter the picture until 1982 – not 1991, to many riders' knowledge. The concept behind this trim was based on an extensive user survey detailing what riders wanted in a bike.
Early models were identified as the CB750SC Nighthawk and later models as the Nighthawk 750 (Japan releases were called Horizon). The CB750SC was largely influenced by the bobber and chopper – custom builds that have been around five decades before the 1969 Dream Four was launched.
Bobber
A bobber is a style of custom motorcycle originally based on the Harley-Davidson' J' series V-twin. This type of build is characterized by a stripped-down bike with no front fender, an abbreviated rear, and no redundant parts – all of which significantly reduce the bike's weight. It also has a shortened wheelbase and lowered seat tube (sometimes with a sweeping diagonal line between the steering head and rear axle), but the frame remains unmodified.
Chopper
Conversely, a chopper is another custom style that came into life 30 years after the bobber was invented. It is more technical than a bobber, with frames that are either custom-made or highly modified (meaning cut and welded into shape). This build is more look than performance-oriented and characterized by radically altered steering angles, large-diameter front wheels, a long front end, and extended sissy bars.
Harley Davidson and Class C racers employed the bobber on their bikes for different reasons – to modernize their appearance and improve their performance, respectively. After WWII, it was done by bike owners more for decorative reasons, who started incorporating chrome plating, metal flake paint jobs, colored upholstery, and pinstriping into the build. Because this custom style reflected the aesthetic preferences of the bike owner, it evolved in different directions, distinct from either a club bike, a hot rod show bike, or a drag racer.
The continued evolution and popularity of these motorcycles gave birth to hybrid styles such as bobber chopper and retro-bobber and café racers and brat bikes. Café racers, in particular, looked entirely different from a chopper and tweaked differently to optimize speed and handling and achieve a riding position that best suits the owner.
They typically had dropped handlebars, swept-back pipes, and race-style fairings. This new genre of sport motorcycles influenced many manufacturers, including Honda, to produce factory-made models. Hence, the Honda CB750 Nighthawk Café Racer was introduced in 1982 and has dominated the series until 2003.
Honda CB750 Specs & Features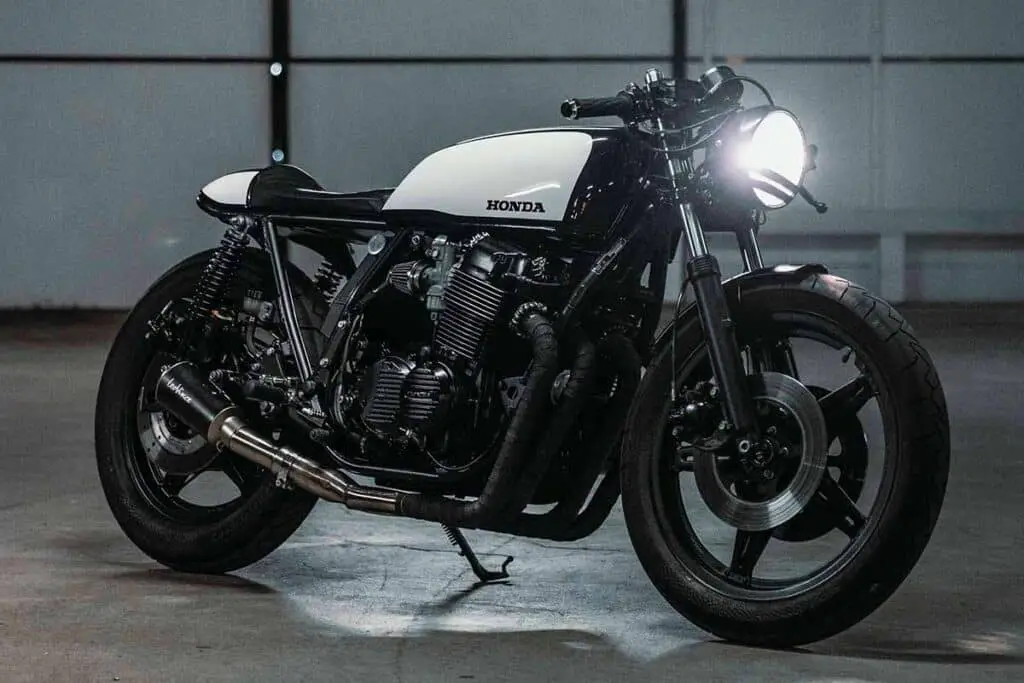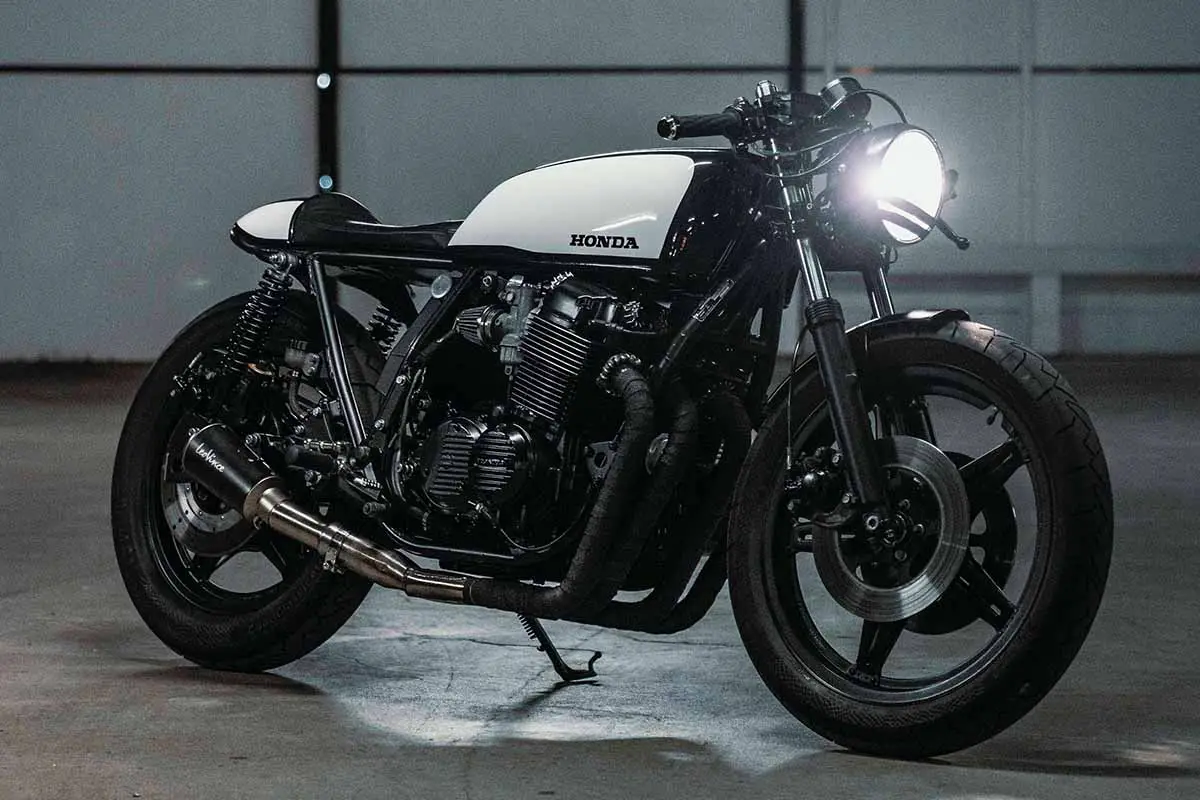 Engine
The four-cylinder CB750 engine employs an integrated crankshaft and metal bearing. 1969-1978 models have SOHC, while post-1978 ones have DOHC, which are deemed a tad more reliable and better-performing. The compression ratio is always within the 9:1 range, except for the detuned CB750A Hondamatic. Engine displacement ranges between 736 cm3 and 749 cm3, and carb size between 28 mm and 34 mm, lending to a performance reminiscent of Grand Prix machines.
1969 – 1997 Honda CB750
(Four, Super Sport, Hondamatic, Custom)
1982 – 2003 Honda CB750 Nighthawk Café Racer
Type
4-stroke SOHC/DOHC
4-stroke DOHC
Cylinder Arrangement
Inline four cylinder, two/four valves per cylinder
Transverse four cylinder, four (4) valves per cylinder
Carburetion System
Carburetor, 28-mm Keihin x 4;
30-mm Keihin constant-vacuum w/ accelerator pump x 4
Carburetor, 30-mm Keihin x 4; 34-mm constant vacuum Keihin x 4
Engine Cooling
Air cooling
Engine Fuel
Low-lead/regular-grade gasoline of at least RON 91 rating, containing < 5% MTBE (Methyl Tertiary Butyl Ether), < 10% ethanol, or < 5% methanol
Fuel Capacity
17 – 20 L / 4.4 – 5.3 US gal (Reserve – 5 L / 1.3 US gal)
16 – 17.5 L / 4.2 – 4.6 US gal
Bore x Stroke Ratio
61 x 63 mm
62 x 62 mm – Custom
62 x 62 mm
Compression Ratio
9.0:1; 9.2:1
7.7:1 ('76 – '78 CB750A)
9.3:1
Displacement
736 – 749 cm³ / 44.93 – 45.7 in³
747 – 749 cm³ / 45.6 – 45.7 in³
Horsepower
67 – 69 hp (50 – 51.5 kW) @ 8,000 – 9,000 RPM
47 hp (35 kW) @ 7,500 RPM, CB750A
66.6 – 75 hp (49.64 – 56 kW) @ 8,500 – 9,000 RPM, unverified
Maximum Torque
57.8 – 60 Nm (42.6 – 44 ft-lb) @ 7,000 – 8,000 RPM
49 Nm (36 ft-lb) @ 6,000 RPM, CB750A
56.3 – 64 Nm (41.5 – 47 ft-lb) @ 7,500 RPM
Top Speed
97 mph (156 km/h) – '76 – '78 CB750A
114 – 130 mph (183.5 – 209.2 km/h) – advertised
125 mph (201.2 km/h) – advertised
Air Filtration
Paper element, disposable
Lubrication
Dry sump
Wet sump
Engine Oil
Honda GN4 SAE 10W-40 motor oil Alternatives: SAE 30 (above 15°C/59°F); SAE 20 (0°C/32°F to 15°C/59°F); SAE 10 (below 0°C/32°F) w/ API grade of SJ+ meeting JASO T903 MA, MB standards
Oil Capacity
3.7 US qt (after disassembly)
3.8 US qt (after disassembly)
Drivetrain
Except for the Hondamatic version of the CB750 released in specific countries, all other trims had a 5-speed constant mesh transmission and a wet plate clutch assembly. 530/630 O-ring chain drives handle power delivered to the wheels. Front and rear sprockets vary by model, but the value was predominantly 18/43T. Cam chains for older CB750 models require adjustment, while newer ones are automatic and maintenance-free.
1969 – 1997 Honda CB750
(Four, Super Sport, Hondamatic, Custom)
1982 – 2003 Honda CB750 Nighthawk Café Racer
Clutch
Wet plate
Transmission
5-speed constant mesh, manual
2-speed automatic w/ torque converter
5-speed constant mesh, manual
Gearshift Pattern
1-N-2-3-4-5
Final Drive

#530 sealed O-ring chain, 108 links #630 chain ('77 – '82 Super Sport)
#530 sealed O-ring chain, 106 links
Sprocket
18/48T; 18/46T ('75 – '82 Super Sport)
18/43T ('80 – '82 Custom)
18/43T; 15/38T ('96)
Primary Reduction
1.708
Final Reduction
2.667
Transfer Gear Ratio
1st – 2.500 / 2nd – 1.708 / 3rd – 1.333 / 4th – 1.097 / 5th – 0.939
Ignition
Older CB750s had a points/condenser ignition compared to later trims that had solid-state CDI. Additionally, original CB750s had their alternator hanging on the left side, while the Nighthawk had the same tucked behind cylinders, lending to the latter's narrower profile.
Electrical components, charging system, spark plug and recommended battery remained predominantly the same across all models. Luckily, the wiring has always been 12V, given that it is a commuting/touring bike. However, the motorbike's electrical components still need to be paid mind to. It is best to replace the stock rotor windings, especially on DOHC models.
1969 – 1997 Honda CB750
(Four, Super Sport, Hondamatic, Custom)
1982 – 2003 Honda CB750 Nighthawk Café Racer
Ignition
CDI (Capacitor Discharge Ignition)
Solid-state CDI (Capacitor Discharge Ignition)
Ignition Timing
11° B.T.D.C @ 1,200 RPM
Idle Speed
900 – 1,000 RPM
Spark Plug
NGK 8ESL ('75 – '82), D8EA / ND X-24ES, 0.6 – 0.7 mm (0.024 – 0.028 in) gap
Torque: 1/2 to 3/4 turn past finger-tight
NGK DR8ESL ('82 – '83); DPR8EA-9 ('84), 0.6 – 0.7 mm (0.024 – 0.028 in) gap
Torque: 1/2 to 3/4 turn past finger-tight
Generator
Three-phase A.C.
Rated Output
12 V (0.21 kW) @ 5,000 RPM
Fuse
15 Amp (main); 7 Amp, 5 Amp
Starting System
Electric & kick starter
Battery
12V 14Ah/(10 Hr), 12N14-3A ('75 – '78); YB14L-A2 ('79 – '82) formats
12V 14Ah/(10 Hr), YB14L-A2 ('82 – '83); YB14-A2 ('84) formats
Battery Dimensions
12N14-3A / YB14L-A2: 134 x 89 x 166 mm (5.31 x 3.50 x 6.56 in) **formats are discontinued, use YB14L-B2 or SYB14L-A2 batteries instead
Tires & Brakes
Among the key selling points of the CB750 is its fade-free braking system – this description is true for both the disc-and-drum combo and the triple-disc brakes found on later-year models. The setup goes extremely well with the Honda bike's then unmatched speed rating.
1991+ Nighthawk Café Racers were fitted with century radials, which provided sufficient traction on slippery surfaces compared to the 4-ply, bias tires that pre-1980 models had. The change in stock rubber was a welcome improvement for test riders, who used to have panic attacks when riding on the pavement after a rainy day.
1969 – 1997 Honda CB750
(Four, Super Sport, Hondamatic, Custom)
1982 – 2003 Honda CB750 Nighthawk Café Racer
Wheel Composition
Laced, Spoke, Composite
Cast aluminum
Front Tire
Bridgestone Super Speed 21 F2 or Dunlop F6 4PR tires; 3.25-19; 3.50-19 ('79 – '82); 110/90-19 ('80 – '82 Custom)
193 – 220.6 kPa (2.0-2.2 kgf/cm2, 28-32 psi)
120/90-18 ('82 – '83); 110/80-18 ('84) tires, 220.6 kPa (2.2 kgf/cm2, 32 psi)
Rear Tire
Bridgestone Super Speed 21 R2 or Dunlop K87 Mark 4PR II tires, 4.00-18; 4.25-18 ('79 – '82); 4.50-17 ('80 – '82); 130/90-16 ('80 – '82 Custom)
206.8 – 234.4 kPa (2.1-2.4 kgf/cm2, 30-34 psi)
140/90-16 ('82 – '83); 140/70-17 ('84) tires, 220.6 kPa (2.2 kgf/cm2, 32 psi)
Front Brake
296-mm single disc
276-mm dual disc brakes w/ TRAC™ anti-dive control system
Rear Brake
180-mm / 190-mm drum
180-mm drum
Suspension
Although changes to the suspension system were minimal, The Honda CB750's longer swingarm and reduced trail (from 125 mm to 95 mm) helped improve the bike's stability on straightaways and high-speed cornering. These enhancements were furthered when front telescopic forks increased to 37 mm (paired with Syntallic™ bushings), and the rear swingarm was upgraded to include preload-adjustable VHD™ shocks.
1969 – 1997 Honda CB750
(Four, Super Sport, Hondamatic, Custom)
1982 – 2003 Honda CB750 Nighthawk Café Racer
Frame Type
Tubular steel duplex cradle
Dual downtube, full cradle, mild steel
Caster, Trail
63°, 95 mm (3.74 in)
28°, 110 mm (4.5 in) – CB750A
29°, 125 mm (4.9 in) – Custom
63°, 95 mm (3.74 in)
29.6°, 119 mm (4.7 in) – '82 – '83
Ground Clearance
117 mm (4.6 in)
145 – 163 mm (5.7 – 6.4 in)
Wheelbase
1,455 – 1,535 mm (57.3 – 60.4 in)
1,485 – 1,544 mm (58.5 – 60.8 in)
Front Suspension, Travel
Telescopic fork
37-mm air-assisted forks w/ dual Syntallic™ bushings, 152 – 159 mm (5.9 – 6.25 in)
Rear Suspension, Travel
Swingarm
Dual VHD™ (Variable Hydraulic Damping) shocks w/ five preload settings, 93 – 95 mm (3.6 – 3.75 in)
Dimensions
There is very little difference in overall dimensions and fuel economy between the SOHC and DOHC CB750s. However, certain aspects of the Nighthawk – like its length, width, and seat height – have been tamed down compared to earlier models. Dry/wet weight and load limit are pretty similar, with the CB750A Hondamatic being the heaviest out of all the trims, followed by the '70s K model.
1969 – 1997 Honda CB750
(Four, Super Sport, Hondamatic, Custom)
1982 – 2003 Honda CB750 Nighthawk Café Racer
Length
2,175 – 2,220 mm (85.6 – 87.4 in)
2,155 mm (84.8 in)
Width
870 – 890 mm (34.3 – 35 in)
780 mm (30.7 in)
Height
1,100 – 1,170 mm (44 – 46.1 in)
1,195 mm (47.5 in)
Seat Height
790 – 810 mm (31 – 31.9 in)
795 mm (31.3 in)
Dry Weight
218 – 259 Kg (480 – 572 lbs)
211 – 214 Kg (465 – 472 lbs)
Curb Weight
233 – 262 Kg (513 – 578 lbs)
226 – 260 Kg (497 – 573.5 lbs)
Vehicle Load Capacity Limit
150 Kg (330 lbs)
Fuel Economy
5.23 – 6.72 L / 100 km (35 – 45 mpg)
Exterior
The first-ever Honda CB750 Four looked like a crude version of a CB750 brat bike and was made available in Candy Blue Green, Candy Gold, and Candy Ruby Red. Complete instrumentation, lighting, dual mirrors, flashing turn signals, and a horn added to its street-worthiness.
Pre-1979 models had a flat-looking saddle seat, while later year ones had a contoured seat to accommodate a rider and a passenger. Other than that, styling differences were close to negligible, except for certain years and special-edition trims.
1969 – 1997 Honda CB750
(Four, Super Sport, Hondamatic, Custom)
1982 – 2003 Honda CB750 Nighthawk Café Racer
Instrumentation
(Speedometer, tachometer, odometer, trip meter)
Switches
Ignition, starter, headlight, headlight beam, turn signal, horn button
Headlight
12V 50/40 W x 1
Brake/Taillight
12V 32 CP/4 CP (SAE trade no. 1157)
Indicator Lights
12V 32 CP (high beam, turn signal, oil pressure, neutral) – SAE trade no. 1034 – front; SAE trade no. 1073 – rear
Meter Light
12V 2 CP (SAE trade no. 57)
Honda CB750 Pros and Cons
The Honda CB750 was a force to be reckoned with during its heyday. But this is not to say that the first-ever superbike was faultless. Here are some pros and cons pointed out by owners and mechanics in forums:
Pros:
While the classic CB750 may not have the fanciest tech, it has a huge advantage in value – which continues to appreciate over time. For the clever buyer, the bike will be not only a great ride but also a worthy investment.
Adding aftermarket CB750 parts like a Rifle Sport fairing improves aerodynamics and fuel economy without adding much weight.
Chrome-plated VHD™ shocks found on the Honda CB750 Nighthawk offer enhanced protection against leaks caused by denting of the shaft surface.
The quartz-halogen headlight on Nighthawk trims provides excellent light distribution, perfect for late-night wheeling.
Cons:
Hard driving tends to imprint the squared-off side panels onto the in-seam of your thighs but ceases being an issue the moment you get past those traffic lights.
Stock gearing on post-1991 Nighthawks makes the motorbike feel the need for another gear past 5th.
Upgraded springs on later-year CB750 models reduce susceptibility to sagging and lend to improved stability and maneuverability, especially with a passenger in tow. However, they also make for an uncomfortable ride.
The brake lever is pressed too close to the handlebar when it reaches its maximum engagement point, which adversely affects the preciseness of braking and throttle control.
Super Sport trims, or F2's ComStar light-alloy rims, had rivets that loosened over time, compromising the integrity of the wheels.
The Honda CB750 can be challenging to get on its center stand and has a proclivity to throw chain oil on its muffler.
About Honda
Honda Motor Company Ltd. Is a globally renowned manufacturer and a forerunner in the motorcycle industry, whose concept began in 1946 in a small garage in Japan. Founder Soichiro Honda grew the firm from selling motorized bicycles with surplus engines to dominating the automobile market and making its presence known in Formula 1 races.
Thanks to the founder's big dream and unwavering hunger for excellence, Honda is now a highly-esteemed world leader in multiple automotive segments and industries known to make the Honda CB750, along with energy solutions, ATVs/UTVs, motorcycles, and electric automobiles.
Conclusion – Honda CB750 Nighthawk Review
Fourteen years after its last production year, and the Honda CB750 still commands that same level of respect from off-roaders and motorcycling enthusiasts as it did in 1969. Its classic, retro styling, reliable engine capacity, and cool features are still relevant and well-appreciated by café racers and daily commuters.
It may no longer be the baddest two-wheeler on the streets today (as most of its competition has caught on). But like the mysterious and commanding Don Vito Corleone, this prestigious motorcycle will forever hold the admiration and respect of true motorheads.