Kawasaki Vulcan 800 Specs and Review (Cruiser Bike)
Disclosure: We may get commissions for purchases made through links in this post.
The Vulcan or VN is a line of comfortable and stylish cruiser bikes or custom motorcycles with V-twin engines. The Kawasaki Vulcan 800 is one of the best sellers and is almost as popular as the brand's Ninja units. It's the fifth series in the line, manufactured from 1995 to 2006 and composed of three different variants: Kawasaki Vulcan 800 classic, 800A, and 800 Drifter.
But what does the Kawasaki Vulcan 800 has to offer its users? The VN800 bikes have frames with hidden shocks, giving them an antique-looking or Hardtail style. The engine installed produces enough power, even with the absence of a snort, so the bike is perfect for riders of different skill levels.
The VN800 replaced Kawasaki's VN750 and was discontinued in 2006 to make way for the VN900. The three models have almost similar interior specs but differ in some of their exterior features. Let's talk about these general and specific features to help you determine if it's the right bike for you or someone you love and the exact model to opt for.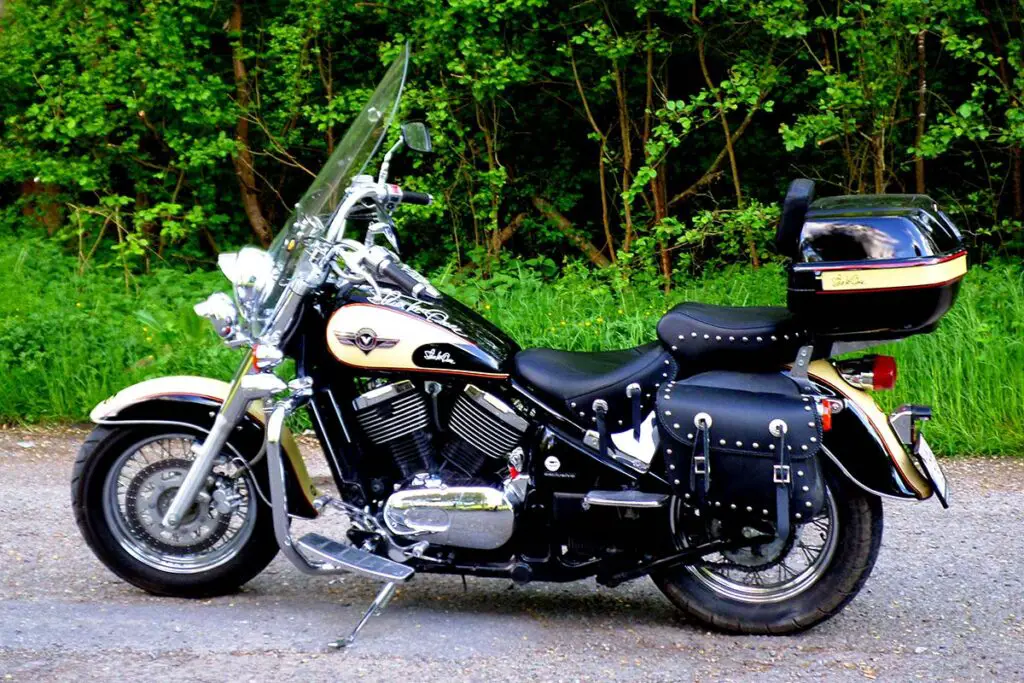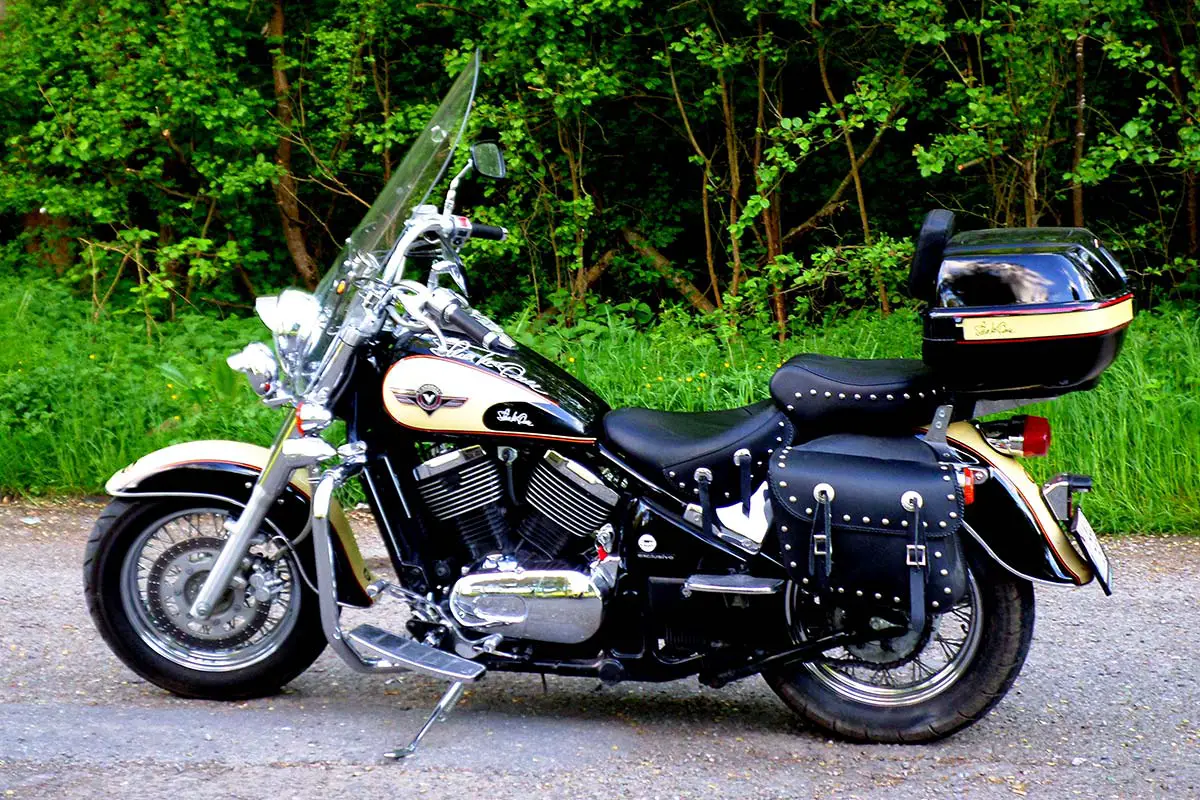 Kawasaki Vulcan 800 Review
The 1995 Kawasaki Vulcan 800 model was produced in America and Europe, while the rest were in America, Japan, and Europe. Sales-wise, the Standard and the Classic caught the attention of most buyers and users, as the Drifter has more appeal to the Indian market.
Kawasaki didn't make several distinct changes in the models included in the Vulcan 800 line because they performed as expected. Here's an in-depth look at Kawasaki Vulcan 800 specs and features you'll find in the three models:
Interior
The Kawasaki VN800 has an 805cc, V-twin, four-stroke, twin-cylinder, SOHC (Single Overhead Cam) engine with four valves in each cylinder. It has a liquid cooling system to ensure an extended engine lifespan and enhanced temperature control. Match that with its radiator discreetly installed in the unit, and you have a motorcycle that produces sufficient power, torque, and speed levels.
The power the VN800 produces reaches its chain-driven rear wheel via its five-speed transmission. It creates relaxed engine pacing and enhanced acceleration when used at highway speed levels. It also has Kawasaki's Positive Neutral Finder for easy shifting from the first to the neutral gear.
It's also excellent that you won't be able to raise the lever into the second gear when the bike is stationary. Nonetheless, the bike will go back to normal shifting once it starts moving.
The bike's carburetor has an accelerator pump that gives it an immediate throttle response. It also has well-concealed cam chain tensioners to ensure they're maintenance-free. This design also helps preserve the engine's clean lines and provides a more precise cam timing.
Likewise, the VN800's spin-on oil filter only requires minimal maintenance. The chassis installed in the bike is also a product of Kawasaki's innovativeness, so it has a high-tech design and nostalgic-styled cruiser garb. It has a transistorized electronic ignition and digital timing for better fuel economy and a more precise throttle response. It has a maximum fuel capacity of about 4.0 US gallons, while its consumption is around 39.7 US mpg.
Exterior
From the older models like the 1996 Kawasaki Vulcan 800 to the newer ones like the 2002 Kawasaki Vulcan 800, the bikes have steel-made, tubular, double-cradled frames. They have a telescopic fork front suspension and Swingarm Uni-Trak rear suspension.
The bike's suspension system allows the rider to drive well on smooth grounds but a bit sluggish when you drive around corners. Additionally, Kawasaki hid the bike's rear suspension to ensure the steel-made, triangulated swingarm had a clean, hardtail look.
It's also great that they compressed the VN800's single-shock system, allowing the linkage system to apply progressive spring force and damping and providing the rider with a smooth ride. Lastly, each model has a similarly sized rear tire but with different front tire sizes.
In terms of the bike's brake, the front has a single disc with one or two pistons, depending on the specific model. The rear is either of the single-disc or drum type. Just note that the brake systems require a regular replacement to ensure you maximize the use of your VN800.
VN800A vs. VN800B (Classic) vs. VN800C/E (Drifter)
Generally, the 800A has a higher seat and different gear ratios, tires, and geometry than the Classic. On the other hand, the Classic (VN800B) and the Drifter (VN800C/E) are the same, except that the latter comes with extra bodywork or is more styled up.
Kawasaki Vulcan 800A Specs
With units ranging from 1995 Kawasaki Vulcan 800 to 2005 Kawasaki Vulcan 800 models, the 800A is the first modern cruiser released by Kawasaki. It has a signature bobbed fender.
It's the lightest and narrowest among the three versions, while the 800A's seat height is between the Classic and Drifter. That said, it has the highest ground clearance, thanks to its wheelbase.
Kawasaki Vulcan 800 Classic Specs
Manufactured from 1996 to 2006, the Vulcan 800 Classic is a bike designed with a combination of classic and modern features. It has a large, fat front tire on its spoked wheel and well-balanced fenders that give the bike its nostalgic 50's style. You'll also love that its fork downtubes and headlight have chrome covers or housing for a more custom look.
Apart from its look or style that will surely catch your eyes, the VN800B has a low-stepped seat that offers excellent feet-on-the-ground stability and comfort when not in use. It also has 16-inch front and rear wheels.
Kawasaki Vulcan 800 Drifter Specs
The Drifter is considered an Indian replica and was produced between 1999 and 2006. As mentioned, it has lots of similar features as the Classic.
One of its outstanding qualities is its retro style, whether you have the 1999 or the 2001 Kawasaki Vulcan 800 Drifter. Some users and collectors even said it appears like a late 1940 cruiser-style bike. Another thing that will surely catch your attention is the unit's fishtail muffler extends out from its back, while the fenders cover most of its spoke wheels.
Comfort-wise, you can plant your feet on the ground with ease thanks to the Drifter's low, well-contoured saddle. You can also relax while sitting because of its wide floorboards. Compared to the Classic, the Drifter has more parts, such as its engine, fork, shock, headlight shell, clamp, back fender rail, and handlebar, covered with chrome.
Summary of Kawasaki Vulcan 800 Specs and Features
To see the differences and similarities of the VN800 models more clearly, let's sum up their specifications and features using a table.
Table of Exterior Specs and Features
Features
VN800A
VN800B (Classic)
VN800C/E (Drifter)
Overall Dimensions in mm (LxWxH)
2360 x 825 x 1170
2375 x 930 x 1130
2490 x 1005 x 1125
Seat Height in mm
710
700
760
Dry Weight in Pounds
496
516
547
Wheelbase in mm
1625
1600
1615
Ground Clearance in mm
160
150
135
Trail in mm
149
123
158
Frame
Steel, tubular, double-cradled
Front Suspension
Telescopic fork 41 millimeters; 150 millimeters
Rear Suspension
Swingarm Uni-Trak with mono-shock and spring pre-loaded adjustment; 100 millimeters
Rear Tire
140/90-16 71H
Front Tire
80/90-21 48H
130/90-16 67H
Table of Interior Specs and Features
Features
VN800A
VN800B (Classic)
VN800C/E (Drifter)
Engine Type
Liquid-Cool, Four-Stroke, V-Twin, SOHC
Maximum Power (Hp/RPM)
55.0/7,000
Maximum Torque (Nm/RPM)
64.0/3,300
Acceleration (0 to 60 mph)
5.88 seconds
Displacement in cm³
805
Bore x Stroke in mm
88 x 66.2
Compression Ratio
9.5:1
Carburetor Type
Keihin CVK36
Final Drive
Chain
Transmission
Five-Speed
Initial Reduction
2.184
Final Reduction
1995 to 1996 Kawasaki Vulcan 800: 2.875
1997 to 2006 Kawasaki Vulcan 800: 2.470
2.352
Clutch
Cable-Operated, Wet, Multi-Plate
Front Brake
Single Disc, 300mm, one-piston caliper
Single Disc, 300mm, two-piston caliper
Rear Brake
Drum, 180mm
Single disc, 270mm, two-piston caliper
Alternator
Three-phase AC; 329W at 8000RPM
Ignition System
Transition-Controlled
Battery Capacity
12V-12Ah
Kawasaki Vulcan 800 FAQs
Now that we're familiar with what the Vulcan 800 line of cruiser bikes have to offer its users or riders, let's answer some of the most common questions that can help you decide better.
How much is a Kawasaki Vulcan 800 worth?
Like any other motorcycle, the Vulcan 800's price will depend on the year model. The latest ones, like the 2005 Kawasaki Vulcan 800, will definitely cost more than the 1990s and early 2000s. You'll also expect that the Classic and Drifter are more expensive than the 800A.
With those in mind, the cost of the VN800 ranges from around $2,000 to $4,000. 
How fast does a Kawasaki Vulcan 800 go?
While wearing your reliable helmet (view on Amazon), you can drive the VN800 models as fast as 108mph or 174kph without worrying about comfort and transitioning. The best thing is whether or not you drive it at a high or low speed, the bike cruises nicely because each gear has sufficient power each time you shift.
What are the most common Kawasaki Vulcan 800 problems?
The issues with the VN800 are also common among most Vulcan series of bikes, but you'll mostly experience them in improperly maintained high-mileage units.
Oil Gear Pump: This issue is more common in Vulcan models manufactured from 1999 to 2005 because the pump is made of plastic. You would need to replace it for every 4,000 to 15,000 miles, so make sure you also check it regularly.
Stator: More common in VN800B or Classic, you need to have the unit tested when the unit seems to have battery-related issues. It's best to bring the motorcycle to a professional to find the root cause. Depending on the issue, they can recharge or replace the battery or replace the stator.
Speedometer: Inaccurate or no speedometer reading is very common in the VN800 models. However, some mechanically inclined users found that the cause was the improper closing of the cable's housing. It's an easy-to-fix issue, but those who haven't worked with motorcycles before should consider letting a mechanic handle the job.
Kawasaki Vulcan 800 Review Verdict
Whether you purchase the VN800A, VN800B, or VN800C/E, you'll expect that the bike has beginner-friendly specifications and features. Kawasaki made sure it's simple but stylish without compromising safety, comfort, and performance. The extra details added, such as the flowing lines, also won't cause visual distractions to other riders and drivers.
Another thing worth mentioning is you can easily turn it into a Kawasaki Vulcan 800 Bobber or customized unit by upgrading its seat (view on Amazon) and more.
From the three variants, choosing between them will boil down to your preferences. Low-budget bikers who want a very light bike can opt for the VN800A. Those with enough budget can choose from the Classic and Drifter. They both have a nostalgic vibe, but the Drifter has a higher weight.
Whichever you choose, have someone you can trust check on the specific unit's condition and documents to ensure it's worth the price.