Honda Forza 250 Scooter Specs and Review
Disclosure: We may get commissions for purchases made through links in this post.
Whenever a new two-wheeler is launched, the words often used to describe it are "innovative," "state-of-the-art," or "groundbreaking." Sometimes, it can be labeled as aggressive and even nostalgic. But a conundrum? Never — unless you are referring to the Honda Forza 250 scooter.
The Honda Forza 250 is a 250cc maxi-scooter introduced in the U.S. in 2001. Featuring massive under-seat storage, PGM-FI tech, and an electronically-controlled S-Matic transmission, the Forza 250 is pleasantly enigmatic — impressing riders with its on-road handling and user-centric mannerisms.
Experienced riders who have had the opportunity to ride the Honda Forza 250 were positively surprised by its handling and performance. However, there are contrasting opinions among motorheads who consider its on-road behaviors unremarkable and flat.
New to this model and uncertain about which viewpoint to trust? Then delve into today's guide and uncover the truth about the true competencies of this maxi-scooter.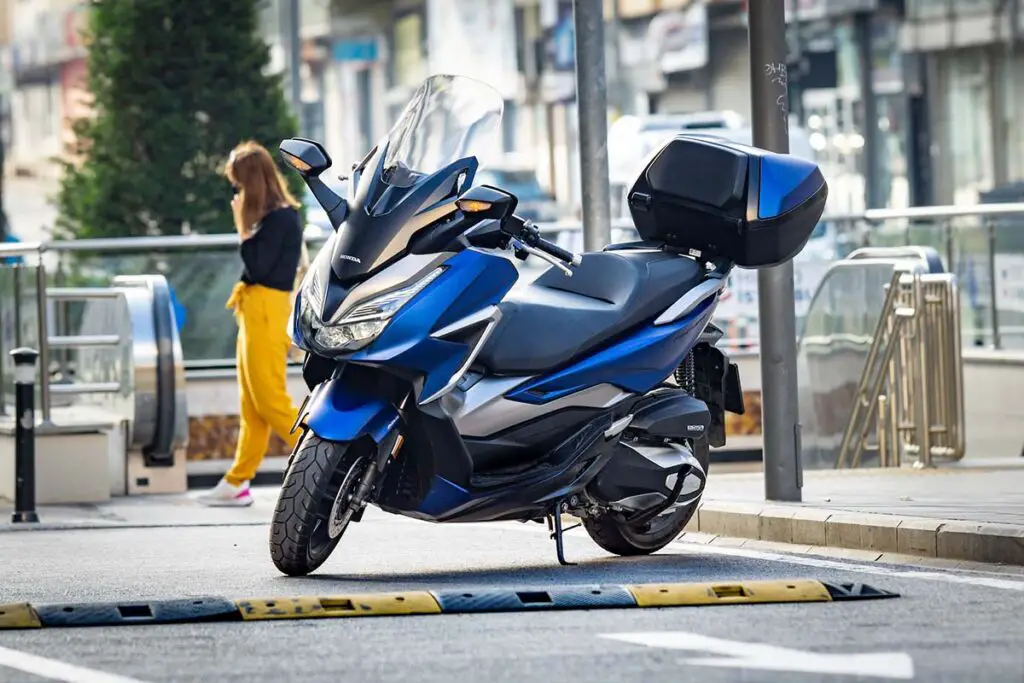 Honda Forza 250 — A Peculiar Maxi-Scooter
It's probably just me. But the first time I saw the Honda Forza 250 (a.k.a. Honda Reflex), the scooter looked like a slim, stripped-down jet ski on 12-inch wheels.
It took a few more seconds of looking at this two-wheeled wonder before I associated it with the word' motorcycle.' I didn't say this to try to make today's article funny. But maybe, just maybe, someone else unfamiliar with the bike may have seen the same thing I did.
But let's not get too stuck on its appearance. "Unusual" is not exactly the Forza's standout quality. In fact, how the bike comes across at first glance is probably the closest it will ever get to being unusual. If anything, its strength lies in its generous storage and seating capacity (among other things).
If you ask folks who've had the opportunity to ride this two-wheeler, you'd probably get adjectives like "interesting" and "charming." And I couldn't agree more. While not the fastest nor the sleekest-looking thumper in the market, the Honda Forza 250 doesn't cease to amaze folks with its comfortable build and on-road mannerisms.
Naturally, not everyone will find the Forza appealing — especially those who grew up riding superbikes and Enduros their entire lives. These riders will surely not appreciate the scooter's single-stage CVT final drive, lack of serious off-roading capabilities, and laidback riding posture and speed. But for those who live and breathe the city and enjoy a conundrum, this 250-class scooter is one of the best sets of wheels to have.
2004 Honda Forza 250 Specs (NSS250/A)
Engine
The Honda Forza 250 uses a liquid-cooled, single-cylinder OHC powerplant that is responsive and well-suited for urban commuting and spirited riding.
The bore-stroke ratio is 72.7 x 60 mm (2.862 x 2.362 inches), while the compression ratio is 10.5:1. Engine displacement is 249 cm³ (15.2 in³). A 30-mm constant-velocity carburetor, with a butterfly valve mated to a paper air filter, handles the air-fuel mixture.
Overall, this engine configuration lends to the performance figures below:
| Description | |
| --- | --- |
| Top Speed | 75—80 mph (121—130 km/h); 14.3 kW (19 HP) @ 7,500 RPM** |
| Horsepower | 19—22 hp (14—16.4 kW) @ 7,000 RPM |
| Maximum Torque | 22.4—24 Nm (2.3—2.4 kgf-m, 16.5—17.7 lb-ft) @ 5,500 RPM 21.1 Nm (15.5 lb-ft) @ 5,500 RPM** |
| Fuel Economy | 56—70 mpg (3.4—4.2 L/100 km, 27.6—29.8 kmpl) 96—101 mpg (2.3—2.4 L/100 km, 41—43 kmpl)* |
| Approximate Tank Range | approximately 208—323 miles, low-altitude riding |
* For the Honda Forza S, ST, X and Z models released within the same year
** Performance figures for Aussie units
Fuel & Lubrication 
The fuel tank capacity is 12 L of unleaded gasoline or its equivalent, with a minimum PON 87/RON 91 rating. For all markets, fuel variants should have appropriate cosolvents and corrosion inhibitors and contain no more than 5% MTBE, 10% ethanol, or 5% methanol — although it is ideal to have 0% methanol content.
Lubrication-wise, the Honda Forza 250 has a force-fed and splash system utilizing a trochoidal oil pump and with the following requirements:
At draining: 1.1 L (1.2 US qt)
At disassembly: 1.3 L (1.4 US qt)
Recommended engine oil is SAE 10W-30 Pro-Honda GN4 4-stroke oil or its equivalent, with a minimum API grade of SJ meeting JASO T903 MA standards. Other viscosity grades specified in the owner's manual are permissible following changes in ambient temperatures, altitude, and riding conditions.
Drivetrain
The standard model features a single-speed V-Matic belt-driven final drive system, reliable and efficient for either touring or commuting. The engine's power transfers to the rear wheel through a belt-and-pulley arrangement and a dry, automatic centrifugal clutch assembly.
Conversely, same-year X and Z models are equipped with either an S-Matic or a 6-speed transmission, enhancing the bike's operability.
Stock gear ratios:
| Description | |
| --- | --- |
| Primary Reduction Ratio | 2.714 |
| Transmission Gear Ratio | 2.250—0.830 |
| Final Reduction Ratio | 2.533 |
Ignition & Electricals
The 250-cc scooter has full transistor digital ignition with a timing of 11° BTDC @ 1,500 ± 100 RPM. An NGK DPR7EA-9 or DENSO X22EPR-U9 spark plug — with a 0.8–0.9 mm (0.031–0.035 inch) electrode gap — is responsible for spark ignition but needs to be swapped out for plugs of a different heat range if riding in climates below 5 °C/41 °F or going on extended high-speed riding (recommendations are in the manual).
Its charging system is a triple-phase alternator with a rated output of 400 W @ 5,000 RPM. This is supplemented by a 12V (11 Ah)/10 HR YTZ12S battery (view on Amazon).
Tires & Brakes
Factory tires consist of either Bridgestone Hoops or Dunlop D305s measuring 110/90-13 M/C 56L and 130/70-12 62L (front and back) — these eventually upgraded to 15-/14-inch wheels in later-year models.
They are mounted on alloy wheels and require a respective cold-tire pressure of 175 kPa (1.75 kgf/cm², 25 psi) and 200 kPa (2.0 kgf/cm², 29 psi), with the rear tire adjustable by ± 50 kPa (7 psi) if riding with a passenger.
As for brakes, dual 240-mm hydraulic discs — with a 3-pot caliper at the front and a single-pot caliper at the back — handle the scooter's braking responsibilities and complete its tire-and-wheel assembly.
Suspension
Enclosed in a backbone steel frame are conventional telescopic front forks and a rear swingarm. Each unit offers spring preload adjustment and a respective wheel travel of 100 mm (3.9 inches, front) and 96 mm (3.8 inches, rear) — a short-travel layout suitable for urban commuting, sporty riding, and the occasional ventures onto mild off-road environments.
Other aspects lending to the scooter's impressive handling include a 1,545-mm/60.8-inch wheelbase, a 2.5-m/8.2-foot turning radius, and a 130-mm/5.1-inch ground clearance.
Dimensions & Capacities
The overall dimensions of the Hond Forza 250 are 2,210 x 760 x 1,360 mm (87 x 29.9 x 53.5 inches — L x W x H). Saddle height is 720 mm (28.3 inches) and can accommodate smaller riders while ensuring their feet are firmly planted on the ground during stop-and-go traffic.
Capacity-wise, the dry weight is 170 kg (374.8 lbs.), while the curb mass is 179 Kg (394.6 lbs.). The maximum weight limit is 166 Kg (366 lbs.). Meanwhile, GVWR is an estimated 357 Kg (787 lbs.), including the curb mass, full tank and fluids, rider/passenger weights, cargo, and accessories.
Exterior
The Honda Forza 250's overall styling reflects design cues from the larger scooter segment — marrying heft and function in a sporty, modern sense without intimidating the daily commuter. It boasts aerodynamic bodywork, a streamlined profile, and generous storage, characteristic of a touring-friendly maxi-scooter.
'04 base models came in Chrome Orange and Clipper Yellow (among other options). Meanwhile, color schemes such as Force Silver Metallic, Pearl Milky White, and Pure Black were exclusive to Forza X models. Similarly, Pearl Cyber Black, Delta Blue Metallic, and Candy Glory Red were exclusive to Forza Z versions.
Worth of a Honda Forza 250
In the U.S., the Honda Forza 250 sold for an MSRP ranging between $4,999 and $5,499 (and low-to-average retail from $470 to $2,220), with ABS-equipped trims having a heftier price tag. This list price remained unchanged from 2001 to 2003.
However, standard and ABS-equipped versions of the maxi-scooter increased by $200 in 2004 and sustained incremental rate increases in subsequent years. The final run of the scooter in the U.S. sold for $6,049 (with ABS) and $5,549 (base model).
Not all iterations were marketed in North America, though. The U.S. is but a small portion of the sales for this maxi-scooter. Most units are actually sold in several European and Asian markets and Australia. In the used-bike market, the price tag of the Forza can go as high as the original MSRP of the 2008 model.
About Honda
Honda Motor Company Ltd., a global automotive leader and part of Japan's "Big 4", has a rich history of innovation. From humble beginnings in Japan's Art Shokai garage, it has evolved over 75 years — from manufacturing piston rings and motorized bicycles to becoming a powerhouse in various automotive sectors.
Honda excels in e-vehicles, energy solutions, and high-performance motorcycles, upholding its legacy. But it is also highly esteemed for consumer-friendly products like the Honda Forza 250 Scooter.
Conclusion — Honda Forza 250 Scooter
Versatility may not be the Honda Forza 250's strong suit, but that's okay. After all, it wasn't designed as an all-rounder in the first place. It's not meant to be ridden ripping through the trails or doing 70 mph (113 km/h) on the freeway (although it can).
What it is for are simple necessities in life — leisurely riding in the neighborhood with a companion, quick errands to the store, and that feeling of accomplishment you get after weaving through city traffic unscathed.