Honda CB400 Motorcycle (Specs & Review)
Disclosure: We may get commissions for purchases made through links in this post.
The Honda CB 400 is perhaps one of the most controversial production models to come out of the CB series. Because it started off having an engine similar to its big-bore cousins, succeeding iterations of the motorbike inadvertently posed themselves as a "twin that thinks its a four." Consequently, riders worldwide are split between 'overrated' and 'ground-breaking' when thinking about the two-wheeler.
Launched in 1974 as a '75 model, the Honda CB400 is a well-known predecessor to the CB450SC Nighthawk and Honda's first mid-class motorcycle to sport a 6-speed transmission. It features dual CV carbs, 4-into-1 exhaust, a 108-mph top speed, and a slew of attributes that make it unrivaled in its class.
Interestingly, the divided notion about the Honda CB400 only holds true for pre-1990 models. Hyper VTEC versions and limited-edition trims have received so much love from the riding community – the exact opposite of the skepticism earlier models of these bikes have been treated with.
Could the consumers' change in perspective be due to Honda's design consistency in recent years? Well, continue reading this guide if you want to find out.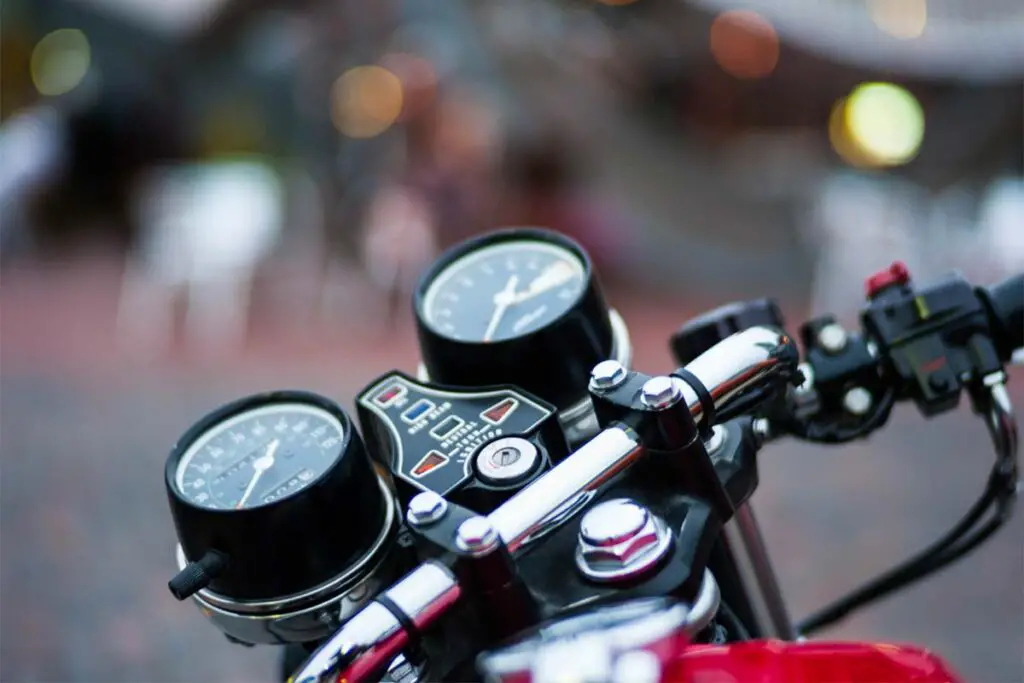 Living the 'Dream'
For many Honda CB 400 owners, this is how they feel whenever they swing their leg over these two-wheelers and set out for interstate driving or the outdoors. Riding the mid-size motorcycle does provide opportunities for fun and thrills that one wouldn't usually experience on a smaller-displacement namesake.
Moreover, owning this 399-cc classic would give anyone a sense of pride and accomplishment, as it can be challenging to procure a decent, low-mileage bike in certain countries. Let alone score it brand-new. Hence, it's only fitting that the bike has earned the moniker Dream (along with Super Four, Hyper VTEC, Hondamatic, and many others).
Different Phases of the Honda CB 400
CB400F (1974–1977)
Although Honda CBs had been in production as early as 1965, it wasn't until the '70s that the series launched its first 400-cc displacement – the CB400F. Initial production models under this category were known as the Dream, 400 Four, or Super Sport.
This batch sported a transversely inclined, air-cooled 408-cm3 I4 engine, four 20-mm Keihin carbs, a 6-speed gearbox, and impressive performance figures. The 6-speed transmission, in particular, was a first for the CB line and the Japanese manufacturer.
Despite many riders' beliefs, this bunch didn't look like larger-displacement CB750s. They had rear-set footpegs, lower handlebars (view on Amazon), and an aesthetic that leaned more towards an aggressive wheeler than a cruiser bike.
CB400T/N (1977–1981)
Popularly known as the Dream in the U.S. and the Hawk in Europe, these bikes are the first batch of CB400s to lose two cylinders from their original engine design. This change was a major upset for Honda fans who had gotten used to the preceding four-cylinder CB400F Super Sport models.
Despite drawing flack from long-time motorheads, these trims proved everybody wrong with their all-weather rideability, great performance figures, handling, comfort, and impressive fuel mileage.
If anything, the only downside these wheelers had was the occasional shuddering, limited range, and being confused with the 2-speed CB400A Hondamatic.
CB-1 (1989–1990)
Another trim in the CB400 series, the Honda CB-1, was a detuned version of the sportbike, CBR400RR. This trim had a liquid-cooled 399-cc power mill, dual 30-mm Keihin CV carbs, 200-Kg wet weight, and a naked chassis with the lineup's signature circular headlight (view on Amazon).
It is tuned to rev higher than its air-cooled siblings, yielding a claimed horsepower of 55 hp (41 kW) @ 10,000 RPM and maximum torque of 39 Nm (29 lb-ft) @ 9,500 RPM. It didn't look as sporty as the CB400Fs of the '70s.
CB400 Super Four (1992–1998)
Considered by many riders to be the first true generation of CB400s, these motorcycles had side-draft CV carburetors and a chain-driven valvetrain with a 12,500-RPM redline. Next to the VTEC series, this iteration had the 2nd longest stint in the CB 400 product lineup.
These production models received several upgrades to the combustion chamber, ignition timing, and exhaust (among others). The S versions were specifically equipped with Brembo brakes and Showa suspension.
Even to this day, they're one of the most popular (if not the most sought-after) production models in Southeast Asian countries and grey markets in the UK.
CB400SF Hyper VTEC (1999–2007)
In the series, this generation of CB400s was the first to introduce the Hyper VTEC system, short for Variable Valve Timing & Lift Electronic Control System.
The concept of VTEC originated from the '83 CBR400's REV or Revolution-Modulated Valve Control. This meant that the motorbike's engine could switch from having a four-valve to a two-valve functionality.
The initial hard trigger for disabling one pair of intake and exhaust valves was set to 6,750 RPM but adjusted later for specs I to III of VTEC-equipped Honda CB 400s.
CB400SF Hyper VTEC Revo (2008–present)
These iterations are the latest additions to the Honda CB400 lineup and were only exported to Australia and New Zealand apart from being sold mainly in Japan. They have a much-improved VTEC system that accounts for throttle position when disabling intake and exhaust valves, engine speed, and gear.
Instead of carburetor-fed, these motorcycles are fuel-injected with fuel mapping complementing the new-and-upgraded VTEC Revo system. The adjusted hard trigger for variable valve timing to kick in was retained @ 6,300 RPM. Optional ABS was initially a letdown for learners until it became standard in 2017.
1978 Honda CB400 Specs & Features (TI & TII Models)
Engine
The Honda CB400T/N has an air-cooled, 4-stroke OHC engine. Bore-stroke ratio 70.5 x 50.6 mm (2.76 x 1.99 inches), and compression ratio is set to 9.3:1. Dual 32-mm CV Keihin carburetors handle the air-fuel mixture.
Piston displacement was initially 395 cm³ (24.1 in³), increasing later to 408 cm³ (24.9 in³) for other iterations – with accompanying adjustments to the bore and stroke.
Overall, this engine configuration lends to a 90.1–108.7 mph (145–175 km/h) top speed, 34PS/33.5 bhp (25.5 kW) @ 9,500 RPM horsepower, and a maximum torque of 28.5 Nm (2.9 kgf-m, 21 ft-lb) @ 8,000 RPM. The same-year CB400A Hondamatic is slightly inferior, with a top speed rating of 78–88 mph (125.5–141.6 km/h).
Conversely, Motor Cycle Mechanic declares the following performance figures – 102 mph (164 km/h) top speed and 36.6 PS/36.1 bhp (26.9 kW) @ 10,400 RPM horsepower.
Fuel & Lubrication
Fuel tank capacity is 13–14 L (3.4–3.7 USgal, including 3.0–3.2 L/0.8 USgal reserve) of unleaded gasoline with a minimum PON 87/RON 91 rating. Among trims, Type I or TI models have a 1.0-L advantage over TII and semi-automatic Honda CB 400 versions. However, the Hondamatic seems to fare better in fuel mileage – with its 43 mpg (5.47 L/100 km) versus the CB400TI/TII's 35–40 mpg (5.88–6.72 L/100 km).
Motor Cycle Mechanic contradicts this with its declaration of 36–66 mpg (3.56–6.53 L/100 km) for the CB400T trims. Other online sources also state that the latter averages 48.5 mpg (4.85 L/100 km), though it isn't clear whether the value represents combined or just city/highway consumption average.
Lube-wise, the motorbike has a Forced pressure (wet sump) system that requires 3.0 L (3.2 US quarts, engine assembly) or 2.5 L (2.6 US quarts, oil change) of Honda GN4 SAE 10W-40 motor oil or its equivalent. Other viscosity grades are allowed for use, provided they meet JASO T903 MA/MB standards and have a minimum API grade of SJ. Single-grade oils are also permissible – SAE 30 (above 15°C/59°F); SAE 20 (0°C/32°F to 15°C/59°F); SAE 10 (below 0°C/32°F) – following specific ambient temperature.
Drivetrain
A 5-speed, constant-mesh transmission, and wet, multi-plate clutch assembly deliver power to the ground. This is often confused with the same-year CB400A, which only had a 2-speed gearbox paired to a torque converter. Return-shift system for all '78 models is left foot-operated.
The final drive is by chain, which operates two inlet and one exhaust valve. Matching counter-rotating balancers to help reduce vibrations brought about by the engine's 360° crank layout.
This powertrain configuration was retained until 1979. The following year, however, the 2-speed Hondamatic was dropped from the CB400 line. The CB400T series remained, but with the close-ratio, constant-mesh transmission changed to 6-speed to match the downsized twin carburetors while keeping the motorcycle EPA-compliant.
Here are the stock gear ratios of the 1978 Honda CB400 TI/TII:
| Description | 1978 CB400 | 1980 CB400 |
| --- | --- | --- |
| Primary Reduction Ratio | 3.125 (53/17) | 3.125 (53/17) |
| Transmission Gear Ratio (1st) | 2.733 (41/15) | 2.733 (41/15) |
| Transmission Gear Ratio (2nd) | 1.850 (37/20) | 1.947 (37/19) |
| Transmission Gear Ratio (3rd) | 1.416 (34/24) | 1.545 (34/22) |
| Transmission Gear Ratio (4th) | 1.148 (31/27) | 1.280 (32/25) |
| Transmission Gear Ratio (5th) | 0.965 (28/29) | 1.074 (29/27) |
| Transmission Gear Ratio (6th) | N/A | 0.931 (27/29) |
| Final Reduction Ratio | 2.312 (37/16) | 2.312 (37/16) |
Ignition
Depending on whether you have a TI or TII CB400, starting system is either a primary kick starter or starter-motor-and-kick-starter combo mated to an electronic CDI. This setup employs either an NGK D8EA or Nippon Denso X24ES-U spark plug with a 0.6–0.7 mm (0.024–0.028 inch) gap and an ignition timing of 15° BTDC @ 1,200 RPM (initial "F" mark) or 43° BTDC ± 2° @ 4,500–5,350 RPM (full advance).
An A.C. generator with a rated output of 0.17 kW @ 5,000 RPM serves as its charging system. Meanwhile, a 12V 9Ah/(10 HR) YB12A-A battery with assembled dimensions of 134 x 80 x 160 mm (5.31 x 3.19 x 6.31 inches) serves as the power source for lighting and other electronic accessories.
Tires & Brakes
Factory rubber consists of tubeless Yokohama, Dunlop, or Bridgestone tires measuring 3.60-19 (4PR) at the front and 4.10-18 (4PR) at the rear.
These knobbies have a recommended cold-tire pressure ranging from 1.75 kgf/cm2 (24 psi) to 2.25 kgf/cm2 (32 psi), depending on payload. If the maximum load limit is reached, tire pressure can adjust to 250 kPa (2.25 kgf/cm2, 36 psi).
As for brakes, 282-mm front and 153-mm rear internal expanding shoes provide the CB 400 its stopping power and complete its tire-and-wheel assembly.
Suspension
The front telescopic forks and a rear swingarm enclose in a diamond-type frame (63° caster angle; 100 mm/3.9 inch trail). They mate to dual EVO dampers with a 5-way-adjustable spring preload. Each suspension unit provides 139.5 mm (5.5 inches) and 96 mm (3.8 inches) of front and wheel travel.
Furthermore, CB400 TI/TII trims share a wheelbase of 1,390 mm (54.7 inches) and a minimum ground clearance of 165 mm (6.5 inches), which lend to its agility and high-speed performance.
Dimensions
L x W x H measurements for 1978 CB 400s are 2,130 mm (83.9 inches), 830–840 mm (32.7–33.1 inches), and 1,150–1,180 mm (45.3–46.5 inches). Footpeg height is uneven at 315 mm (12.4 inches) on the right and 325 mm (12.8 inches) on the left.
The seat is 800 mm high and is the same for both CB400T models.
In terms of dry weight, the CB400 TII is a tad heavier at 168 Kg (370 lbs.), with the TI model at 159 Kg (351 lbs.).
Exterior
Superficially, British releases of the Honda CB 400 didn't differ too much from those sold in the U.S. If anything, the main differences between the two were that the Brit versions launched a year earlier and that these bikes had "alloy and steel compound Comstar wheel" (source: Wikipedia).
On the other hand, American units sported either spoke or aluminum wheels with chrome rims and had spartan instrumentation. Similar to its various displacement namesakes, the CB400 was made available in 'candy' colors, and its overall aesthetic was heavily influenced by bobber and chopper builds of the decade.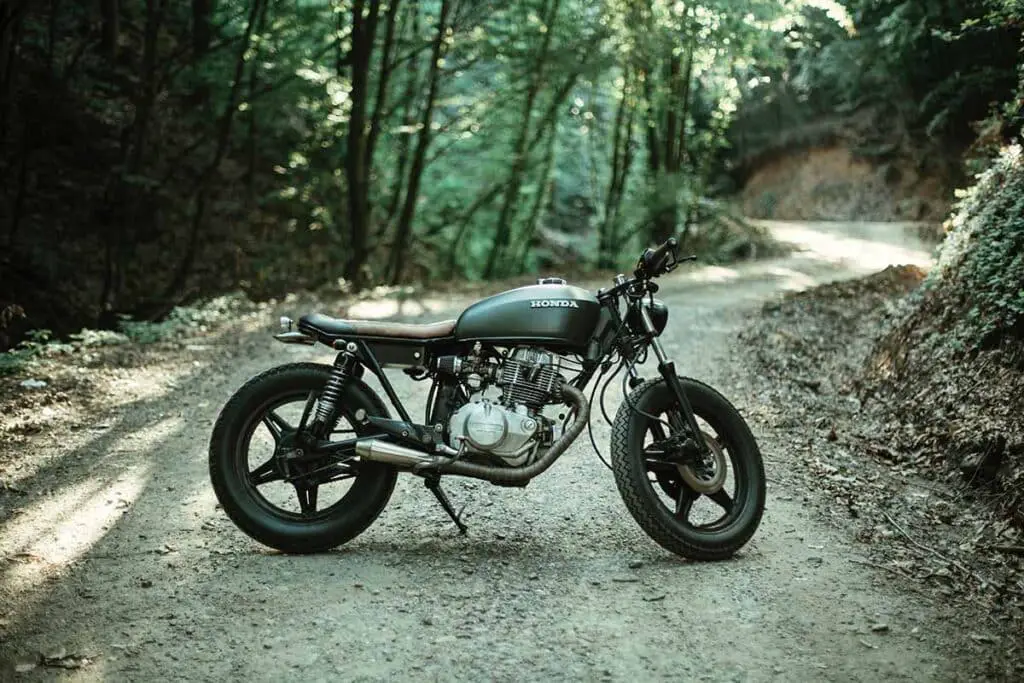 Improvements Post–1975
1978: Models were at least 25 Kg lighter than preceding CB400s, partly due to downsizing carburetor count from four to two.
1980: CB 400s were made slightly shorter and given a narrower profile. Their saddle height was cut down by 10 mm. Furthermore, carb diameter changed from 32 mm to 30 mm, and an accelerator pump circuit was added.
1999: The motorcycle received a lightweight aluminum muffler, CBR900RR-adopted suspension, and shortened wheelbase (reduced by 40 mm).
2002: Honda CB400 VTEC Spec II trims were the first to change their VTEC hard trigger from 6,750 RPM to 6,300 RPM and receive a revised LCD dash and ignition timing map. Brake calipers and HISS security were also borrowed from the larger-displacement CBR900RR.
2004—2007: Honda's Hyper VTEC system was further revised on '04—'07 models, where the hard trigger for the 6th gear was put back to the original 6,750 RPM (everything else remained at 6,300 RPM). This change was accompanied by some cosmetic changes and equipping the front suspension with preload adjustability. The full-faired Honda CB400 Super Bol D'or was also launched during this period.
2014: Most of the changes were cosmetic or instrumentation-related, as follows — heated grips, LED lighting, improved frame geometry providing a more upright riding position, and gear position indicator on the display.
2017: Anti-lock Braking System or ABS was made standard on all production models.
Recent CB400SF models were offered to consumers in the following incarnations — naked, full-faired, and half-faired. However, not all markets could take advantage of all three CB400 renditions. For instance, the bikini-faired Honda CB400 Super Bol D'or was released only in Japan.
In like manner, only naked versions of standard CB400SF bikes were sold in Australia. Thanks to the motorcycle's exposed chrome pipes and small radiator, this limitation didn't seem too bad.
How Much is a Honda CB 400?
As with most classic motorcycles, sources for original MSRPs can be a bit obscure (if not nowhere to be found). Based on online search results, the motorbike debuted with a list price of $1,470 in the U.S. and £838.50 in 1978 in the UK (approximately £5,125 or $6,755+ if sold today).
A limited-edition Honda CB400SF 50th Anniversary trim was released in 1998 for a list price of ¥918,400. Per https://www.batfa.com, the most recent incarnations of the Honda CB400 – including the 2022 Honda CB400 Super Bol D'or – currently sells for $10,875–$13,800.
| Year – Model – Trim | Retail/Trade-In Values |
| --- | --- |
| 1975 Honda CB400F/N Super Sport | $1,815 – $12,750 |
| 1976–1977 Honda CB400F/N Super Sport | $965 – $4,500 |
| 1978 Honda CB400A Hondamatic | $700 – $3,235 |
| 1978–1979 Honda CB400TI Hawk I | $650 – $2,285 |
| 1978–1979 Honda CB400TII Hawk II | $650 – $2,385 |
| 1980–1981 Honda CB400T Hawk | $650 – $2,560 |
| 1989 Honda CB400F CB-1 | $365 – $2,560 |
| 1990 Honda CB400F CB-1 | $365 – $3,805 |
| 1992–1998 Honda CB400 Super Four | $2,569 – $5,518 |
| 1998 Honda CB400 Super Four 50th Anniversary LE | starts at $4,757 |
| 1999–2001 Honda CB400SF Hyper VTEC | starts at $3,786 |
| 2002–2003 Honda CB400SF Hyper VTEC II | $3,996 – $5,042 |
| 2004–2007 Honda CB400SF Hyper VTEC III | $5,480 – $5,670 |
| 2008-present Honda CB400SF Hyper VTEC Revo | $4,380 – $7,705 |
(Source: Nada Guides, Mitula PH)
Not all iterations were sold in North America and Europe. Only Southeast Asian countries were lucky enough to be on the receiving end of brand-new production models. Special trims like LE iterations of the CB400 were only made exclusively for Japan.
About Honda
Honda Motor Company Ltd. is a global automotive leader and part of the Japanese "Big 4". It is well-renowned for its ingenuity that pushes the boundaries of design (much like the famed Honda CB 400).
Conceptualized in the Art Shokai garage in Japan, the company spent the last 75 years growing its business from mass-producing piston rings and selling motorized bicycles with surplus engines to becoming the powerhouse it currently is.
Honda stands its ground as a force to be reckoned with in multiple automotive industries and continues to uphold its legacy through contributions in electric automobiles, energy solutions, and high-performance motorcycles.
Conclusion – Honda CB400 Café Racer
Be it a café racer, a sport-tourer, a cruiser, or a commuting bike – the Honda CB400 series fits in all these categories. Its all-roundedness may be a good thing for some folks. Conversely, others may perceive its flexibility to mean a lack of expertise.
The Super Four's qualities are very appealing, as they do not discriminate against anyone – beginner, expert, or otherwise. These motorcycles provide great learner platforms while still leaving experienced riders awe-stricken. And the fact that they're still in production speaks volumes about how gratifying an experience they have to offer.