Yamaha VMAX 1700 (Specs and Review)
Disclosure: We may get commissions for purchases made through links in this post.
Iconic labels like the Kawasaki Ninja and Honda Goldwing are often synonymous with daredevil Pro racers and national championships. However, there are trump bikes like the Yamaha VMAX 1700, whose undeniable character and industry-leading design are more than enough to command a cult-like following.
The Yamaha 1700 VMAX is a muscle bike produced by Yamaha from 2009 to 2020. Regarded as the "Undisputed King of the Boulevard," it boasts a mill with a V-layout, fat tires, hot-rod mannerisms, and 197.4 horsepower. Many enthusiasts consider it the most American bike ever produced by Japan.
Classic styling, sheer power, and straight-line acceleration are but some attributes that form part of the Yamaha VMAX 1700's charm with consumers. Know more about these qualities and how they translate to design elements by sticking around and reading today's article.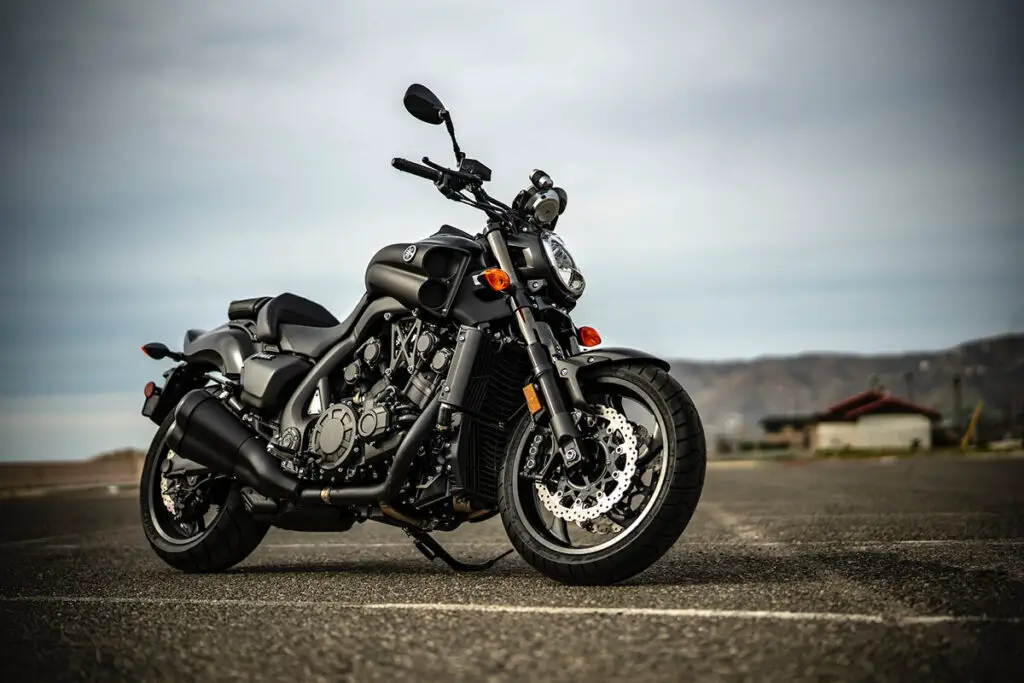 The Yamaha that Birthed Muscleheads
While those unfamiliar with muscle bikes tend to think of them as "not cruiser enough" or "not sport bike enough," a quick ride on a Yamaha VMAX 1700 changes minds quickly. The market's first-ever musclehead is both cruiser and sport bike — each side ready to come out on demand.
The genesis of the Yamaha VMAX 1700 began when a group of engineers observed drag racing on a Mississippi bridge in the U.S. This fact-finding trip gave birth to the V-Max. The first concept of the larger-displacement iteration was introduced as a prototype at the Tokyo Motor Show in 2005 and went into series production three years later — featuring a 65° V4 engine, shaft drive, and distinctive styling.
Sold in Japan and numerous markets, the motorcycle quickly garnered critical acclaim upon its release in 1985 (earning the title "Bike of the Year" from Cycle Guide). Fourteen years later and the bike's reputation still preceded it — except now, it had more competition than during its launch in the mid-'80s.
The motorcycle's earlier V-Boost technology inadvertently paved the way for other manufacturers to follow suit. A perfect example is Honda's VTEC, allegedly inspired by the former tech.
The two-wheeler was particularly known for its quick acceleration. On the flip side, it was criticized for its poor cornering ability and soft suspension. Despite these flaws, the V-Max and VMAX incarnations became an icon in the world of cruisers, having enjoyed a 35-year production run before its recent discontinuation.
2009 Yamaha VMAX Specs & Features
Engine
A liquid-cooled, 4-stroke DOHC engine with a V-type quad-cylinder arrangement powers the revamped '09 model. It has an 11.3:1 compression ratio, with piston displacement increased from the original 1,200-cc in 1985 to 1,679-cc (102.4 in3) in 2005.
EIS48/4 #50 throttle bodies – coupled with muscular 4-into-1-into-2 titanium exhausts, an oil-coated paper air filter, and an airbox with double the volume of its predecessor – handle the air-fuel mixture.
The engine retained the original V-Max's 66-mm stroke length but bored it up to 90-mm to help rev it to 9,500 RPM (with peak power coming at 9,000 RPM. Besides the stroke, everything else about the new powerplant was built from scratch. The larger unit nearly managed to break the 200-bhp barrier of production bikes at the time but eventually fell short by roughly three ponies.
Overall, the engine configuration lends to the following performance figures:
| Description | |
| --- | --- |
| Horsepower | 197.4 bhp (147.2 kW) @ 9,000 RPM |
| Maximum Torque | 166.8 Nm (17 kgf-m, 123 lb-ft) @ 6,500 RPM; 145.2 Nm (14.8 kg-m, 107 lb-ft) @ 5,000 RPM — castrated versions |
| Top Speed | 137 mph (220 km/h) |
| Fuel Economy (average) | 30—32.9 mpg (7.2—7.8 L/100 km, estimated) |
| Fuel Tank Range | approximately 118.8—128.7 miles, 191.2—207.1 km |
Fuel & Lubrication 
The fuel tank capacity is 15 L (3.96 US gal, 3.9 L/1.03 USgal reserve) of premium unleaded gasoline with a minimum Octane rating of PON 87/RON 91. Lubrication-wise, the VMAX has a wet sump system with the following requirements:
| Description | Quantity |
| --- | --- |
| At disassembly | 5.9 L (6.24 US qt) |
| With filter replacement | 4.7 L (4.97 US qt) |
| Without filter replacement | 4.3 L (4.55 US qt) |
Recommended engine oil is SAE 10W-40 or 20W-50 of Yamalube 4 or its equivalent. Same-spec variants should have a minimum API grade of SJ meeting JASO T903 MA standards. Others specified in the manual are permissible following changes in ambient temperature.
Drivetrain
A 5-speed constant-mesh manual transmission and a wet, multi-disc anti-dribble clutch assembly (with a hydraulic inner push release method) deliver power to the ground.
Powertrain components include high-tensile Chromoly steel, aluminum alloy clutch plates, and forged aluminum pistons with a short skirt design and cutaway sides. Meanwhile, the powertrain layout is adopted from the 1983 Venture Royale.
For reference, see the stock gear ratios below:
| Description | |
| --- | --- |
| Primary Reduction Ratio | 1.509 (57/86) |
| Transmission Gear Ratio — 1st | 2.375 (16/38) |
| Transmission Gear Ratio — 2nd | 1.810 (21/38) |
| Transmission Gear Ratio — 3rd | 1.400 (25/35) |
| Transmission Gear Ratio — 4th | 1.115 (26/29) |
| Transmission Gear Ratio — 5th | 0.935 (29/31) |
| Secondary Reduction Ratio | 22/23 x 29/09 (3.082) |
A computer-controlled servo motor sets the YCCI (Yamaha Chip Controlled Intake) technology in motion. Meanwhile, acceleration is controlled by YCC-T (Yamaha Chip Controlled Throttle) but with no traction control, which dampens the grip of its Bridgestone tires.
Ignition & Electricals
A transistorized coil ignition (digital) and an electric start bring the Yamaha VMAX 1700 to life. An NGK CR9EIA or Nippon Denso IU27D spark plug and torque spec of 13 Nm (1.3 kgf-m, 9.4 lb-ft) is responsible for spark ignition. Meanwhile, an A.C. magneto with a rated output of 14 V/30 A @ 5,000 RPM serves as its charging system.
A 12V 11.2 Ah/(10 HR) YTZ14S battery aids in powering lighting and electronic accessories. In case of puncture or damage, this stock battery is replaceable with a similar battery format like FirePower Featherweight Lithium Battery HJTZ14S-FP-IL (view on Amazon), with specific dimensions of 150 x 87 x 110 mm (6.00 x 3.44 x 4.38 inches – L x W x H).
As for lighting, specifics are in the table below:
| Description | Wattage x Quantity |
| --- | --- |
| Headlight | 12V 60/55 W x 1 |
| Auxiliary Light | 12V 5 W x 1 |
| Tail/Brake Light | LED |
| Front Turn Signal | 12V 21/5 W x 2 |
| Rear Turn Signal | 12V 21 W x 2 |
| Meter Lighting | LED |
| Other Indicator Lights | LED |
Tires & Brakes
Cast-aluminum wheels come equipped with Bridgestone tires measuring 120/70R18M/C 59V (view on Amazon) at the front and 200/50R18M/C 76V (view on Amazon) at the back. Stock tires are tubeless and require a front-rear cold-tire pressure of 250 kPa (2.5 kgf/cm2, 36 psi) for payloads of up to 90 Kg and 290 kPa (2.9 kgf/cm2, 42 psi) for high-speed riding.
As for brakes, the bike had 6-piston, radial-mount front brake calipers and triple-disc brakes (dual 320-mm wave rotors at the front and a single 298-mm one at the back). The rear unit, in particular, has a 2-piston caliper serving as its clamp. While the hydraulic discs are adequate, ABS augments the VMAX's stopping power.
Suspension
Enclosed in a cast-aluminum diamond frame (31° caster angle; 148-mm/5.8-inch trail) are 52-mm front telescopic forks and a rear suspension pendulum with monoshock. These suspension units are complemented by shock absorbers that hide between the massive plates of the beam frame, with a mixed construction of gravity-cast, die-cast, and extruded aluminum sections. Both are fully adjustable and provide front and rear wheel travel of 120 mm and 110 mm, respectively.
Dimensions & Capacities
Overall dimensions are 2,395 x 820 x 1,190 mm (94.3 x 32.3 x 46.9 inches – L x W x H). Meanwhile, the saddle height is 775 mm (30.5 inches), slightly taller than the same-class Yamaha Warrior. While the seat aptly accommodates medium to tall riders, motorheads may find the riding position uncomfortable for all-day rides and touring (more so when with a passenger).
The wheelbase measures 1,700 mm (66.9 inches), the turning radius is 3.5 m (11.5 feet, 137.8 inches), and the ground clearance is 140 mm (5.5 inches).
In terms of weight, the curb mass is 310 Kg (683 lbs., including fluids and a full gas tank). Maximum payload is 190 Kg (419 lbs.) for most production models, with California releases having 1 Kg less capacity.
The estimated GVWR (Gross Vehicle Weight Ratio) is 500 Kg (1,102 lbs.) – including wet weight, rider/passenger weights, accessories, and cargo. A top box (view on Amazon) will help improve storage but not increase the thumper's load limit.
Exterior
The Yamaha V-Max underwent several updates over the years, including changes to colors, finishes, and the rear wheel in 1986. In 1993, the bike saw significant improvements with new forks, brakes, and a larger ignition system.
Despite the lack of major updates from Yamaha, the smaller-displacement V-Max remained in production until 2007 before undergoing a major revamp the year after.
By 2009, the redesigned VMAX 1700 featured muscular titanium exhausts and Matte Black engine casings with brown elements. Additionally, its distinctive design blended the characteristics of a cruiser, sportbike, and naked bike — with wide-set legs and slightly outstretched arms.
A remote screen replaced the fuel cap. Meanwhile, the fuel tank can be accessed by a swing mechanism under the rear shell of the backrest (view on Amazon).
Yamaha 1700 VMAX Price
During its inception, the Yamaha VMAX 1700 sold for an MSRP of $5,299. This value quickly rose to £9,359 or $15,322 12 years later (despite the lack of major design and styling upgrades). The two-wheeler saw an additional $2,600 on its price tag when Yamaha increased its displacement to 1,679cc.
And by the time it hit its final production year in 2020, the label sold for $17,999 — just a few hundred dollars cheaper than the Harley-Davidson V-Rod ($18,790—$19,390) and $500 more than the Triumph Rocket III Roadster (17,490).
But the most expensive trim would be the Craft GK V-Max — a limited-edition, made-to-order custom bike with no more than 30 units produced in 2005. Its body kit alone costs ¥2.1M (£14,500), with the suspension parts adding ¥1.68M (£11,600) to the base price (sans fitting and other extraneous fees).
Nowadays, you can buy pre-loved (standard) VMAX 1700s in the used bike market for $7,000— $15,999. Units worth over $9,000 but not exceeding $12,000 is a guaranteed steal and quite difficult to come by. Otherwise, expect some cosmetic and mechanical repairs should you opt for bikes sold below $7,000.
Yamaha VMAX 1700 Pros and Cons
The Yamaha VMAX 1700 was created from the ground up to give the label its long-overdue overhaul. Despite this, the thumper is not impervious to imperfections. Let's discover in this section if the changes the VMAX received were enough to remedy its poor cornering ability and soft suspension:
Highlights
A powerful 65° V4 engine, 197 bhp horsepower, and distinctive, aggressive styling make the Yamaha VMAX 1700 stand out from other cruisers.
A lightweight aluminum frame and high-quality suspension system improve handling and maneuverability.
Advanced fuel injection and electronically-controlled intake and throttle improve fuel efficiency and throttle response.
Upgrade to YCCI (Yamaha Chip Controlled Intake) and YCC-T (Yamaha Chip Controlled Throttle) retained the V-Boost feel present in the original 1,200cc model.
Thanks to YCCI (Yamaha Chip Controlled Intake), the Yamaha VMAX 1700 can deliver significant performance from the mid-range to the redline at engine speeds beyond 6,650 RPM.
The VMAX gained a larger-diameter fork in 1993 to minimize high-speed wobbling and drift.
The long wheelbase and wide rear tire provide stability and traction while augmenting the bike's 5-speed transmission with a slipper clutch.
Dual 320-mm front disc brakes and 298-mm rear disc brakes provide excellent stopping power.
Production models offer a comprehensive instrument panel with analog and digital displays.
Drawbacks
A bit overpriced despite its highly-engineered mechanical components and facade (given its stressed power mill and unchanged design for over two decades).
Inadequate fuel tank capacity inherited from its predecessors.
Low-speed maneuvering is difficult. The steering feels specifically heavy during slow-speed revolutions.
Similarly, its low ground clearance and limited suspension travel make rough roads and speed bumps challenging.
Not suitable for long-distance touring due to limited comfort and range (small rear seat and restricted legroom) and the high-exhaust temperature that can be uncomfortable for riders in hot weather.
Increasing the pressure on the front brake lever seems to have little effect on improving stopping power (thankfully, the rear brakes compensate for this).
Excellent straight-line performance comes at the cost of turning ability.
Not ideal for pillion riding or beginners. Even castrated versions sold in Europe require beyond novice riding skills.
Its heft makes the power cruiser unideal for sloping pavement, soft grounds, and narrow city U-turns.
The VMAX can get warm around the legs (which becomes more apparent at stop lights or in heavy stop-and-go traffic).
Power pull from 4,000 to 6,000 RPMs feels attuned for the race (which may be problematic in urban areas, making the bike more suitable for freer horizons).
The configuration of pre-2009 iterations may attract some mild criticism. Its toe clips rub quickly, and the lack of a windshield or fairing makes for subpar wind protection.
"Front forks are too flexible from the outset" and worsen when paired with poorly tuned suspension.
Limited aftermarket support makes customizing the VMAX and equipping it with ample storage challenging.
The motorcycle's production run cut short is due to dwindling sales and non-compliance with Euro 4 emissions rules that came into force beginning in 2017.
VMAX 1700 vs. Ducati Diavel
Of all the counterparts of the Yamaha VMAX 1700, the toughest one was Ducati's Diavel.
In 2010, this Italian bike challenged the VMAX's drag-inspired cruiser dominance by demonstrating superior handling on twisty roads despite spewing less power (162 bhp). The Diavel also boasted an impressive top speed of 169 mph (23% more than what VMAX offered), cost-effectiveness, and the prestige of the Ducati badge.
These elements marked a turning point in the muscle bike sub-segment, showcasing the potential for cruiser performance to excel beyond straight-line acceleration.
About Yamaha
Yamaha Motor Company, Ltd. is a global automotive powerhouse and one of the Japanese 'Big 4.' The company was founded in 1955 and leveraged its metallurgical expertise to produce industry-leading motorcycles after separating from its parent company.
Yamaha braved international markets in the '60s and has since been credited for consumer-centric models like the Yamaha VMAX 1700.
The firm continued to push the boundaries of innovation in motorcycle design and performance through the years, cementing its foothold as a world leader in off-road vehicles, outboard motors, personal watercraft, and motorsports.
Conclusion — Yamaha 1700 VMAX Review
The Yamaha VMAX 1700 may be intimidating, but its power will not get you into trouble unless you let it. However, this isn't to say that just anyone can straddle this two-wheeled machine.
While the designation "VMAX" sounds tame and urbanized, remember that this bike is inherently ferocious. That said, opt for this classic if you are in search of the exciting and only if you know your limitations.