Honda CBR150R Specs, Review, Pros & Cons
Disclosure: We may get commissions for purchases made through links in this post.
When it comes to sporty and stylish two-wheelers, Honda's reputation is unparalleled — and the CBR150R is no exception. Despite its modest displacement, this compact sportster marries performance and aesthetics like nobody's business. In this comprehensive review, we'll spotlight the Honda CBR150R, giving you the insight you need to make an informed choice.
The Honda CBR150R is a CBR-inspired sport cruiser unveiled in 2002 in Thailand. It boasts a highly capable power mill, dual-channel ABS, and impressive gas mileage. In 2018, this compact machine was updated with electronic fuel injection, keeping it at the head of its category.
In this guide, we'll explore the unique attributes that distinguish the Honda CBR 150R from both its predecessors and peers. Keep reading to learn more about this remarkable motorcycle.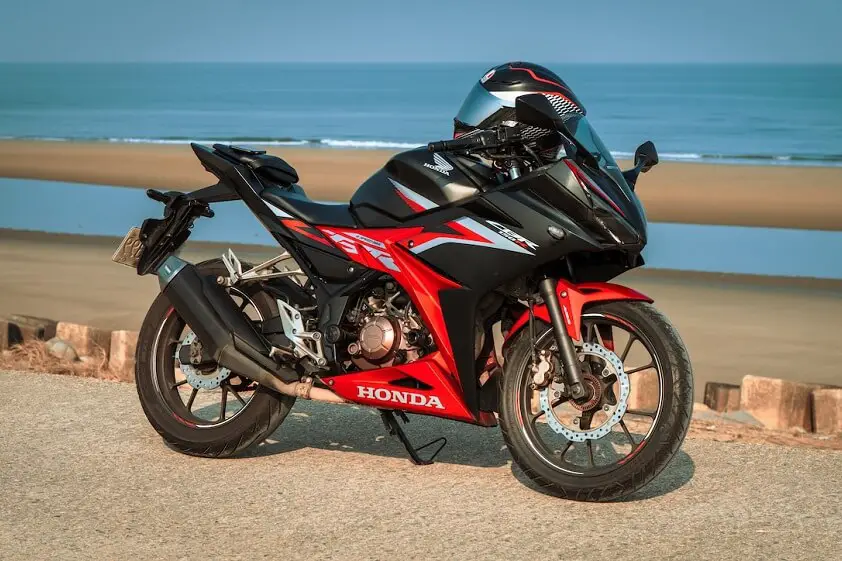 The Thumper That Can Do It All
Honda introduced the CBR150R as the successor to the 2-stroke NSR150 in 2002, making its debut in the Thai market. And over the years, the two-wheeler has found its way to various Asian countries and even South Africa. A new fuel-injected (PGM-FI) version was introduced in 2010, although it featured lower horsepower than earlier carbureted iterations.
The bike eventually became available in the Indian market in March 2012. Then, in 2014, the Japanese firm gave the CBR150R a stylish update, aligning its body design with the CBR300R. This facelift, however, was exclusive to the Indonesian market — with other regions retaining the earlier design.
2016 saw a fully revamped version of the CBR150R, with updates including a body design inspired by the 2016 CBR500R. Like preceding incarnations, this variant was manufactured and distributed in Indonesia and made its way to the Philippines. It wasn't until 2018 that Honda introduced dual-channel ABS for the motorcycle, alongside minor body refinements.
2018 Honda CBR 150R Specs & Features (CBR150RA III PH Type)
Engine
The Honda CBR150R features a liquid-cooled, 4-stroke DOHC engine with PGM-FI (Programmed Fuel Injection) via an updated inlet duct, air cleaner connector tube, and resonator. It has a 149.2 cm³ (9.1 in³) piston displacement, 11.3:1 compression ratio, and 57.3 x 57.8 mm (2.556 x 2.278 inches) bore-stroke ratio (11.0:1 compression and 63.5 x 47.2 mm bore-stroke for North America).
Layout-wise, the power mill is reminiscent of the CBR250R but modified for lower displacement and a new fuel injection system. Overall, this configuration yields the following performance figures (with a lower power output compared to earlier carbureted versions):
| Description | Specs |
| --- | --- |
| Top Speed | 82—88 mph (132—142 km/h, unofficial) |
| Horsepower* | 16.9 hp (12.6 kW) @ 9,000 RPM |
| Maximum Torque* | 13.7 Nm (1.4 kgf-m,10.1 lb-ft) @ 7,000 RPM |
| Fuel Economy | 87—108 mpg (2.2—2.7 L/100 km, 37—46 kmpl, unofficial) |
| Approximate Tank Range | approximately 275—343 miles, 443.8—552 km |
* Performance figures courtesy of 
Motorcyclespecs.co.za
Fuel & Lubrication
Its tank holds approximately 12 L (3.2 USgal) of unleaded gasoline, with units in Asian and African markets requiring a minimum of 88 RON Octane rating. The motorcycle can use E10 fuels or those with up to 10% ethanol. Per the owner's manual, it's advisable to avoid gasohols with unspecified MTBE (Methyl Tert-Butyl Ether) and those with methanol content.
Lubrication-wise, the CBR150R has the following requirements:
1.1 L (1.2 US qt, 1.0 Imp qt): After draining
.3 L (1.4 US qt, 1.1 Imp qt): After disassembly
OEM-recommended lubrication is SAE 10W-3- of Honda 4-stroke motorcycle oil with an API grade of SJ or higher, meeting JASO T903 MA standards. Oils marked as "Energy Conserving" or "Resource Conserving" are not to be used on this motorcycle. Other oil viscosities specified in the manual are permissible following changes in ambient temperatures, altitude, and riding conditions.
Drivetrain
Power is transferred to the rear wheel through a 6-speed constant mesh transmission and a multi-plate wet clutch assembly with coil springs, operated by a left-foot return shift system. It utilizes a FSCM428H or KMC428HG chain with 128 links to manage wheelspin, replaceable by a compatible 428 O-ring chain (view on Amazon).
For reference, here are the CBR 150R's stock transmission gear ratios (the bike shares these gear ratios with the CB125R, except for the final reduction):
| Description | Specs |
| --- | --- |
| Primary Reduction Ratio | 3.260 |
| Transmission Gear Ratio — 1st | 3.083 |
| Transmission Gear Ratio — 2nd | 1.941 |
| Transmission Gear Ratio — 3rd | 1.500 |
| Transmission Gear Ratio — 4th | 1.227 |
| Transmission Gear Ratio — 5th | 1.041 |
| Transmission Gear Ratio — 6th | 0.923 |
| Final Reduction Ratio | 3.000 (45/15T) |
Ignition & Electricals
CBR150Rs utilize a digital CDI (Capacitor Discharge Ignition) system and an electric starter. The electrical system operates at 12V and is equipped with a three-phase alternator with a 340-watt rated output @ 5,000 RPM for charging. Spark ignition is handled by an NGK MR9C-9N or DENSO U27EPR-N9 spark plug with an electrode gap of 0.8—0.9 mm (0.031—0.035 inches). In case of issues, you can replace the spark plugs with same-spec standard or Iridium variants (view on Amazon).
Meanwhile, the recommended battery for the bike is a 12V 5Ah/(10 HR) YTZ6V battery with dimensions of 113 x 70 x 106 mm (4.45 x 2.76 x 4.17 inches — L x W x H). This battery supports the full LED lighting assembly and any electronic accessories. In case of wear or damage, it can be easily replaced with a similar format.
Tires & Brakes
The stock tires are 100/80-17M/C 52P and 130/70-17M/C 62P tubeless bias-ply tires (IRC Road Winners) on Y-spoke cast aluminum rims. If you encounter tire issues, you can replace them with similar-spec options like the Kenda Cruiser K671 (view on Amazon) for the rear tire.
As for cold-tire pressure, it's 175 kPa (1.75 kgf/cm2, 25 psi) for the front and 200 kPa (2 kgf/cm2, 29 psi) for the rear. Only the rear tire has to be adjusted to 225 kPa (2.25 kgf/cm2, 33 psi) when doing pillion riding.
Completing the tire-and-wheel assembly of the CBR 150R are dual hydraulic discs with a front diameter of 276 mm and a rear diameter of 220 mm. Each brake disc is fitted with 2-piston calipers. Furthermore, both are augmented by dual-channel ABS that comes standard with the bike (although some markets within South Asia don't seem to include this feature).
Suspension
The 2018 version of the CBR150R features a telescopic front suspension with approximately 130 mm (5.1 inches) wheel travel. Meanwhile, the rear suspension is a Pro-Link monoshock with a wheel travel of around 107 mm (4.2 inches). These suspension units are designed to provide a balanced and comfortable ride, suitable for both daily commuting and sporty riding.
Other handling-affecting elements of the two-wheeler are its wheelbase of 1,309 mm (51.5 inches), minimum ground clearance of 166 mm (6.5 inches), and turning radius of 2.5 meters (8.2 feet).
Dimensions & Capacities
The motorcycle's overall dimensions measure at 1,983 x 694 x 1,077 mm (78.1 x 27.3 x 42.4 inches — length, width, and height). Its comfortable seat height is 787 mm (30.9 inches), making it ideal for novice or less-experienced riders.
In terms of capacity, the bike's curb weight ranges from 135 to 137 Kg (298 to 302 lbs., unladen), while it can carry a maximum weight of 131 Kg (289 lbs.). These figures contribute to the motorbike's estimated GVWR (Gross Vehicle Weight Rating) of 266—268 Kg (586—588.6 lbs.) — a combined total of its passenger/rider weights, a full fuel tank and fluids, cargo, and accessories.
Exterior
Inspired by the CBR1000RR, the styling and exterior of the Honda CBR150R showcase a sporty and dynamic design that's sure to turn heads. It has a sleek and aerodynamic body that evidently inherited some of the CBR1000RR's aggressive styling cues.
Compared to earlier carbureted versions, the two-wheeler comes with significant improvements. It now sports full LED lighting, not only enhancing visibility but also adding a modern touch to its aesthetics. Its bodywork has also been refined further, with sharp lines and edgy styling giving it a fresh and contemporary appearance. In addition, a digital LCD instrument panel contributes to its high-tech look while providing essential information.
How Much Is the CBR150R?
References for the MSRPs of the Honda CBR 150R are a bit obscure since the bike was first unveiled in Thailand and not the US. But according to online sources, these thumpers sell for ₱159,900—₱183,900 in the Philippines and around 74,700—92,570 baht (RM9,730—RM12,520) in Thailand.
Honda CBR150R — Pros and Cons
While the Honda CBR150R is undoubtedly a strong contender among road-ready motorcycles, it's not exempt from its share of imperfections. That said, let's delve into the downsides of the CBR 150R that you should consider, especially if you're thinking about it as your next ride:
Pros
Excellent Maneuverability: Its narrow handlebar and compact design make the CBR150R easy to navigate through congested traffic, making it ideal for urban commuting (especially in the South and Southeast Asian markets).
Stylish Design: With styling reminiscent of Honda's flagship CBR 1000RR, this sportbike offers a sporty look in a compact package.
Comfortable Riding Position: The bike strikes a balance between track day performance and everyday practicality, ensuring comfortable rides even on longer journeys.
Fuel Efficiency: The Honda CBR 150R offers impressive fuel efficiency, making it cost-effective for daily driving and weekend rides.
Low Seat Height: With a 787 mm seat height, it's approachable for riders of various heights, including beginners and female riders.
Cons
Lack of ABS: Despite its popularity among new riders, the absence of an Anti-lock Braking System (ABS) as a standard feature in some versions of the bike is a notable drawback.
No USB Charger: While not a major issue, the absence of a built-in USB charger might be an inconvenience for some riders.
About Honda
Honda Motor Company Ltd., a key player among Japan's illustrious "Big 4," stands as a global leader celebrated for its pioneering spirit and advanced innovations. Originating in Japan's Art Shokai garage, Honda's remarkable journey over the past 75 years has seen it evolve from piston ring production to its current powerhouse status in the realms of automobiles and motorsports.
With an enduring legacy, Honda maintains its influential and esteemed presence in various automotive segments, making substantial contributions to electric vehicles (EVs), energy solutions, power equipment, and high-performance motorcycles — as exemplified by the Honda CBR150R.
Conclusion — Honda CBR150R Review
The Honda CBR150R is an exemplar of the firm's expertise in crafting sporty, efficient, and stylish motorcycles. As attested by many, the bike blends practicality with exhilarating performance, making it a fantastic choice for gearheads who need an agile urban companion. Its sleek design, versatile riding experience, and remarkable fuel efficiency make it a worthy contender in the world of compact sportbikes. So, if you're looking for a bike that can do it all, the Honda CBR150R is definitely worth a second look!