Kawasaki Z800 Motorcycle Specs and Review
Disclosure: We may get commissions for purchases made through links in this post.
Futuristic styling, a candy-colored angular tank, and high-powered on-road performance are undeniably characteristic of a Kawasaki Z800. Introduced in 2013, this motorcycle took the European market by storm. Let us learn more about this best-selling Japanese thumper, whose tempered handling and sportbike mannerisms eventually reached American shores.
The Kawasaki Z800 is a mid-level naked bike produced by Kawasaki between 2013 and 2016. Boasting an inline-4 DOHC power mill, a Z-line heritage, and a usable powerband, the Z800 easily became a crowd favorite among gearheads transitioning from a smaller dual-sport to a larger motorcycle.
Given its massive success in Europe, it is easy to imagine the Z800's reception in the U.S. to be seamless. This is quite far from the truth — because local riding communities already had established favorites by the time the Kawasaki Z800 came to America.
Curious to know if the bike's friendly mannerisms, stronger acceleration, and everyday usability convinced them otherwise? Well, find out as you read more.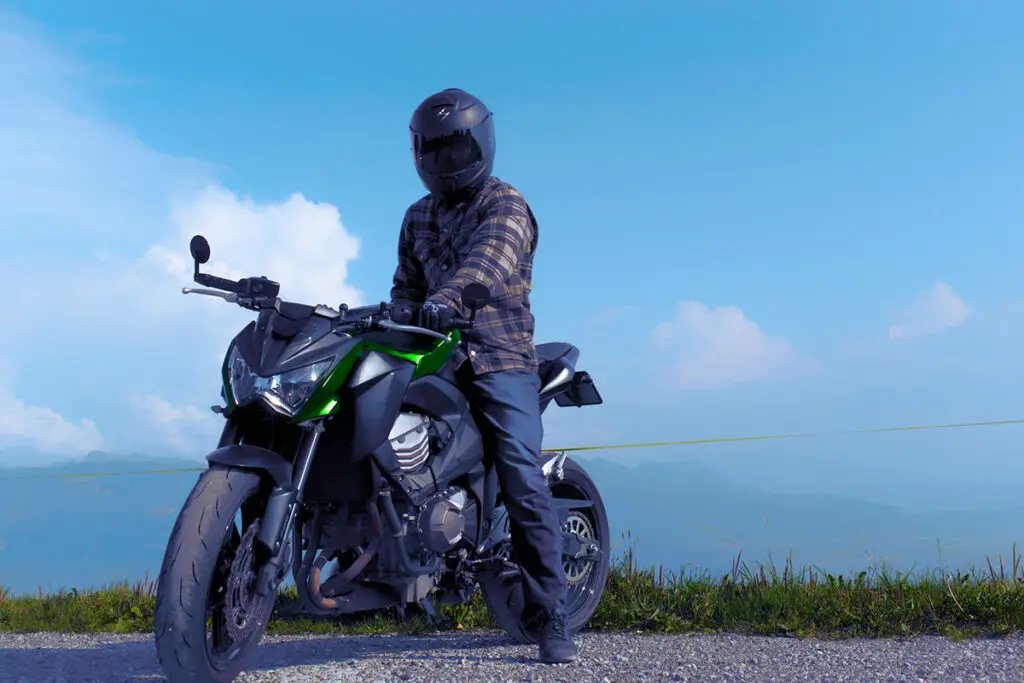 A Streetfighter by Many Names
For a two-wheeler that is not exactly a breakthrough bike, the Kawasaki has been called by many names, including "Sunday road ripper" and "Europe's Undisputed Super Middleweight." And as these monikers imply, folks have mixed feelings about the competencies of this Z750 successor. Some say it was built with the street in mind, while others argue one will be better off straddling a KTM 390 on the tarmac.
Whatever opinions riders have about it, the Z800 is a mid-level streetfighter. Its displacement is 200-cc larger than the average 600s on the freeway, but it is not quite the liter-class superbikes seen in showrooms. And yet, it flaunts sportbike mannerisms — "sans fairings, clip-ons, and the full race tuck."
Produced from 2013 to 2016, the Kawasaki Z800 was first launched in European markets and later brought to the stateside. The reason for bringing it to America was the lack of options in the naked-standard niche for consumers.
Open-class motorcycles like the Suzuki GSX-R750 and Triumph Street Triple RS are out there. But with a price tag ranging between $9,999 and $13,499, not everyone can afford them.
Kawasaki's intentions in releasing the 2016 Kawasaki Z800 in the U.S. as a 49-state two-wheeler are well and good. But avid followers of the Z-series and the Japanese manufacturer felt that the timing was a few years too late.
With the competition's growing focus on bigger and better thumpers, the Z800 could have done better with more than the below enhancements. (However, not everyone shares the same sentiments.):
Kawasaki Z800 vs. Z750 (Improvements)
The Z800 showcased a more aggressive styling compared to the Z750. It featured an angular fuel tank, sharper lines, and a slimmer tail section that gave the bike an edgier appearance.
LED headlights were incorporated into its lighting assembly, improving visibility and giving the two-wheeler an updated, more contemporary look.
Modifications were made to the intake and exhaust ports of the Z750 — the latter extended in length (from 36.5 mm to 41.5 mm), and the two inner funnels were made longer than the two outer ones. Exhaust headers for cylinders 1 & 4 and 2 & 3 have been connected to maximize torque output.
An updated under-engine exhaust replaced the side-mounted exhaust found on the Z750. It made for a more discreet tailpipe and helped centralize the Kawasaki Z800's mass and even out weight distribution.
Although not as high-tech as its counterparts, the Z800 received a redesigned instrument cluster that featured an analog tachometer with a digital multi-function display — providing riders with essential information regarding speed, fuel level, and gear position (among others).
The motorcycle also featured adjustable front forks and rear suspension, allowing riders to customize suspension settings according to riding conditions and personal preferences.
An upgraded braking system featured larger front disc brakes for improved stopping power and enhanced overall braking performance.
Finally, a revised chassis consisting of a steel trellis frame and an aluminum swingarm improved handling and stability.
Kawasaki Z800 Specs & Features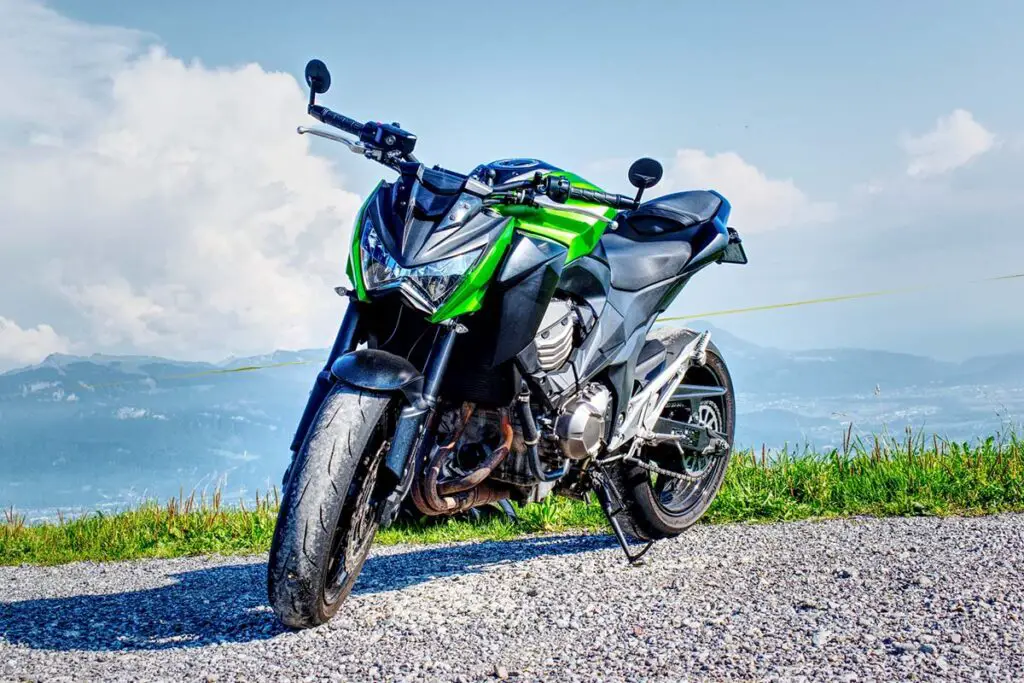 Engine
The Z800 uses a liquid-cooled, inline-4 DOHC engine. The bore-stroke ratio is 71 x 50.9 mm (2.795 x 2.004 inches) — with an increased bore over its predecessor, the Z750.
Meanwhile, the compression ratio is 11.9:1, with four 34-mm Keihin throttle bodies with dual throttle valves feeding the air-fuel mixture. Piston displacement is 806 cm³ (49.2 in³).
Performance figures:
| Description | |
| --- | --- |
| Top Speed | 163 mph (262 km/h) |
| Horsepower* | 93–113 hp (68.4–83 kW) @ 10,200 RPM |
| Maximum Torque | 81.3–83 Nm (8.3–8.5 kgf-m, 60–61.3 lb-ft) @ 8,000 RPM |
| Fuel Economy | 30.5–40 mpg (5.9–7.7 L/100 km, 13–17 kmpl) |
| Approximate Tank Range | approximately 87.9–107.6 miles for a full fuel tank |
*Lower-limit values provided by 
Bennetts
and are true for castrated versions of the bike sold in Europe
Fuel & Lubrication
The fuel capacity is 17 L of premium unleaded gasoline with a minimum PON 90/RON 95 or E5/E10 rating (for units sold in Europe). Compared to its predecessor, this is 1 L (0.25 USgal) less (this would have been negligible had it not been for the bike's heft).
Preferred fuel variants for all markets contain no more than 5% MTBE, 16.7% TAME, 17.2% ETBE, 10% ethanol, or 5% methanol — with zero methanol being ideal.
Lubrication-wise, the thumper has the following oil requirements:
At disassembly (during a complete engine teardown): 3.9 L (4.1 US qt)
With oil filter change: 3.7 L (3.9 US qt)
Without oil filter change: 3.4 L (3.6 US qt)
The Z800's lubrication system is a Forced (wet sump) type with a trochoidal pump. The OEM suggests using SAE 10W-40 or 10W-50 4-stroke motor oil or its equivalent, provided the chosen variant has a minimum API grade of SJ to SN and meets JASO T903 MA/MA2 standards.
Other viscosity grades specified in the owner's manual are permissible following changes in altitude, ambient temperatures, and riding conditions.
Conversely, engine oils with chemical additives or a "CD" or "Energy Conserving II" diesel label are ill-advised.
Drivetrain
A 6-speed, constant-mesh, manual return-shift system (with a 1-N-2-3-4-5-6 gearshift sequence) and a push-button electric starter bring the Z800 to life.
A multi-disc wet clutch assembly delivers power to the ground, while a #525 final chain drive like an EK Motor Sport 525 Z 3D Premium Chain — Black/Gold, 120 Links (view on Amazon) handles wheelspin. These components lend to the bike's impressive handling, smooth gearshifting, and reliable power delivery.
For reference, see the below table for the stock gear ratios:
| Description | |
| --- | --- |
| Primary Reduction Ratio | 1.714 (84/49) |
| Transmission Gear Ratio – 1st | 2.571 (36/14) |
| Transmission Gear Ratio – 2nd | 1.941 (33/17) |
| Transmission Gear Ratio – 3rd | 1.556 (28/18) |
| Transmission Gear Ratio – 4th | 1.333 (28/21) |
| Transmission Gear Ratio – 5th | 1.200 (24/20) |
| Transmission Gear Ratio – 6th | 1.095 (23/21) |
| Final Reduction Ratio | 3.000 (45/15) |
Motorheads need only keep the mill spinning above 6,000 RPM to tap into Z800 Kawasaki's mid-range power.
The bike redlines @ 10,000 RPM (according to Visor Down), but other sources declare the figure goes up to 12,200 RPM. Nonetheless, these values are inconsequential for a torque-driven motor that does not require riders to be heavy-handed on the throttle.
Ignition & Electricals
The ignition system is TCBI with electronic advance with a timing of 10° BTDC @ initial "F" mark and 35° BTDC @ full advance.
Four NGK CR9EIA-9 spark plugs with a 0.8–0.9 mm (0.031–0.035 inch) electrode gap are responsible for spark ignition. The charging system is alternator-based, supplemented by a 12VC 8Ah battery (view on Amazon).
Tires & Brakes
Factory tires consist of Dunlop Sportmax D214s measuring 120/70ZR-17 at the front and 180/55ZR-17 at the back, mounted on solid cast aluminum rims.
These knobbies require respective cold-tire pressures of 250 kPa (2.5 kgf/cm2, 36 psi — front) and 289.5 kPa (2.9 kgf/cm2, 42 psi — rear), which need to be adjusted for pillion riding or if the payload limit is maxed out. In case of puncture or wear, these stock tires can be swapped out for same-size Pirelli Diablo Rosso 3s (view on Amazon).
As for brakes, the discs on the Z800 are not radially mounted like on the Z750R. Nevertheless, they are still four-pot calipers gripping onto 277/310-mm discs at the front and a single 250/216-mm rotor behind.
This triple-disc combo offers a solid, predictable brake feel. However, the rear foot pedal could benefit from improved response and feedback. Thankfully, the two-wheeler comes standard with ABS that augments its braking chores.
Suspension
Enclosed in a Z750-adopted chassis with an aluminum subframe are 41-mm (1.6 in) USD Kayaba telescopic forks and a rear bottom-link UniTrak (gas-charged horizontal monoshock with piggyback reservoir). Each unit offers spring preload and rebound damping adjustability, plus a respective wheel travel of 120 mm (4.7 inches, front) and 137 mm (5.3 inches, rear).
The two-wheeler's overall handling and maneuverability include a 1,445-mm/56.8-inch wheelbase and a 150-mm/5.9-inch ground clearance.
Dimensions & Capacities
The overall dimensions of the Kawasaki Z800 are 2,100 x 800 x 1,050 mm (82.6 x 31.4 x 41.3 inches – L x W x H). The saddle height is approximately 834 mm (32.8 inches), accommodating both mid-height and slightly taller riders.
Capacity-wise, the dry weight is 218.6 Kg (482 lbs.), while the curb mass is 229 Kg (504.8 lbs.) for base models and 231 Kg (509.2 lbs.) for ABS versions.
Payload limit and GVWR are rarely specified in online resources and publications. The value is approximately between 180 and 220 Kg (or 396 to 485 lbs.), and GVWR (Gross Vehicle Weight Rating) is an estimated 409—451 Kg (901—994 lbs.) — the latter including the combined curb mass, full tank plus fluids, rider/passenger weights, cargo, and accessories.
Exterior
The Z800 showcases several noteworthy cues in its styling. Its under-seat storage provides ample space for essentials such as the battery, tool kit, air filter element, and a slide-out tray. It is also equipped with practical elements, like a center stand, side stand, helmet hook, three-way headlight switch (EU models), and an on/off headlight switch (U.S. models).
The mid-level motorcycle opts for wide, low-slung handlebars allowing for a sportier riding posture instead of traditional clip-ons found on sportbikes.
It also boasts a striking color palette with options like Metallic Spark Black/Flat Ebony and dual shades of Candy Flat Blazed Green, Metallic Spark Black, and Candy Burnt Orange. All these enhance the visual appeal of the thumper while contributing to its overall user-friendly nature.
How Much Is a Z800 Kawasaki?
According to online sources, the MSRP of the 2013 Kawasaki Z800 was around $8,399. Low retail for a used 2013 model in good condition can range from $4,500 to $5,500, while average retail for the same incarnation may fall between $5,480 and $6,500 approximately.
List prices for the 2014 and 2015 models are a bit obscure. If information is abundant on any specific year, that would be the 2016 Kawasaki Z800 (with ABS) — valued the same as during its debut.
Dealership listing prices are around $6,845, while trade-in values are slightly lower at $4,720. Preloved Z800s with these price tags are usually in good working condition with the typical number of miles on the tach.
You may get additional equipment for the bike. But that will cost you at least $75 extra per accessory — or even more, should you opt for premium aftermarket mods like a fender eliminator kit, frame sliders, or a high-performance YOSAYUSA Stainless Steel Slip-On Exhaust System (view on Amazon).
Kawasaki Z800 Lowdowns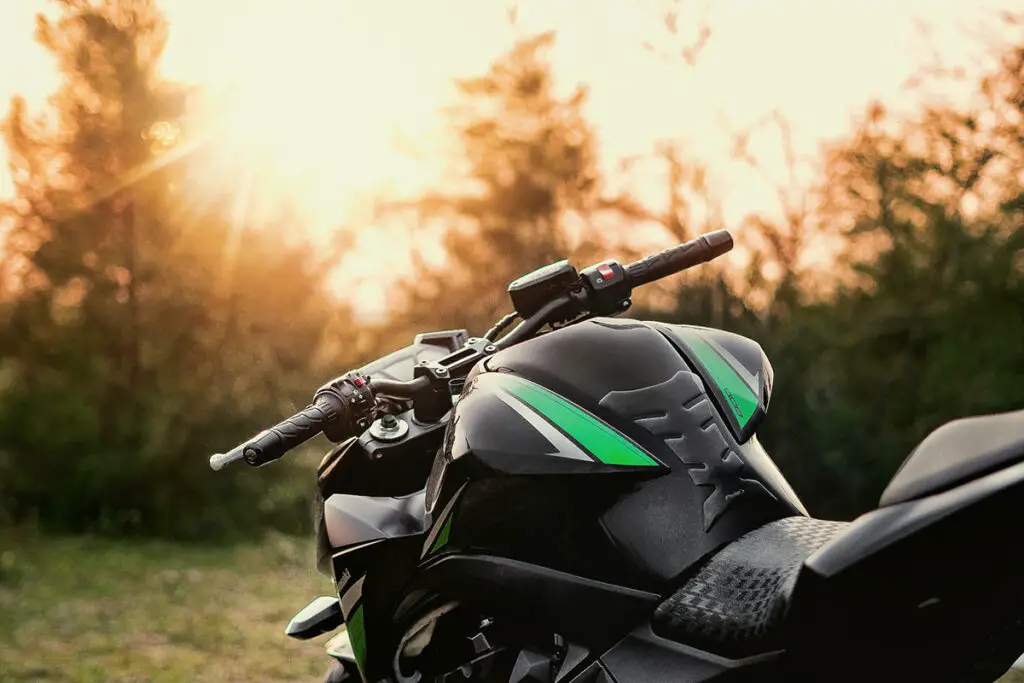 Pros
Enhanced Engine Components
The Z800 features lighter pistons, larger oil jets, and bigger crankshaft journals versus its predecessor, the Z750, resulting in improved performance.
Usable Powerband and Mid-range Torque
Its powerband and mid-range torque offer a great riding experience, providing ample power for everyday use while sacrificing some top-end speed.
Midrange grunt is healthy, delivering strong power and acceleration during the initial miles of riding on pavement. Power delivery is suave, with minimal vibrations felt through the handlebars.
Impressive, Urban-Focused Suspension
The Z800's front and rear suspension units steal the show, delivering impressive capabilities designed for street use.
It is also biased towards urban riding, offering a plush and well-controlled feel at low-to-medium speeds. Although it may become slightly bouncy at high speeds, it maintains excellent performance at lower speeds.
Seamless Acceleration & Excellent Handling
Throttle response is flawless, unleashing a seamless and precise surge of power and torque when needed.
The acceleration is likewise well-controlled and deceivingly smooth, thanks in part to the Z800's ABS handling high-speed sweepers and direction changes and its wide handlebars providing excellent leverage for precise control.
Surprisingly Capable on Track
Despite being marketed as a streetfighter for commuting and weekend rides, the Z800 pleasantly surprises on the track. The power delivery, smooth transmission, reliable brakes, and responsive chassis make it a truly enjoyable ride.
Cons
Non-Availability in CA
The Kawasaki Z800 was not sold in California due to compliance with emissions regulations.
Heavy Weight
The bike's steel frame and swingarm contribute to its weight, with Kawasaki rating it at 509.4 lbs when wet. That is a 40.8 kg/90 lb. difference in curb mass if comparing the bike to a Triumph Street Triple RS.
Riding Comfort
The Z800's fuel tank design makes some motorheads feel perched on the bike rather than integrated into it. There is also much to be had with the small, firm saddle and lack of wind protection, making long rides uncomfortable.
The same is true for its sportsbike-sized pillion seat, which fails to provide optimal comfort for extended two-up riding.
Sound
Unlike its V-twin and crossplane counterparts, the Z800 fails to inspire in terms of sound.
Missing Indicators & Inappropriate Gauges
The instrument kit of the Kawasaki Z800 lacks a gear-position indicator, which could be a dealbreaker for some folks. The bar-graph tachometer elicits the same feelings from riders.
Brake and Clutch Levers
The Z800 has an adjustable brake lever, but the four-pot Nissin brakes lack sufficient bite. The clutch lever, on the other hand, is non-adjustable and feels cheap compared to the brake lever.
Stock Mirrors
The stock mirrors of the Z800 are deemed somewhat useless, and many riders opt to replace them with a set of aftermarket CRG Lanesplitter mirrors (view on Amazon).
About Kawasaki
Kawasaki Heavy Industries, Ltd. (or KHI), a renowned Japanese powerhouse and part of the esteemed "Big 4," has an illustrious history dating back to 1878.
Originally a parts supplier for the shipping industry, KHI rapidly diversified into various sectors. It became a multinational corporation through unwavering dedication, adaptability, and innovation. These very qualities laid the foundation for the creation of the Kawasaki Z800 — a testament to Kawasaki's enduring legacy.
Conclusion — Kawasaki Z800 Review
If you are searching for a versatile streetfighter that will not break the bank, the Kawasaki Z800 is a viable option. However, know that the motorcycle is a "high-powered drill press" and offers impressive, unforgiving performance at the expense of comfort — making it essential to prioritize your preferences.
If you are not too bothered by a little soreness and vibration, upgrading to a more cushy seat and adjusting the handlebars slightly is enough to close the gap between reality and your envisioned riding experience. But then again, the concept of comfort largely depends on whether you come from a 450-cc dual-sport or an upright cruiser.