Suzuki TU250X Motorcycle Specs and Review
Disclosure: We may get commissions for purchases made through links in this post.
Fuel-injected, nimble, and retro-inspired — these are but some of the praiseworthy qualities of the 2nd generation Suzuki TU250X. Introduced in 2003, this two-wheeler sported a UJM design and user-friendly characteristics reminiscent of the motorcycle trailblazers in the '60s and '70s. And given its timelessness and straightforward mannerisms, this machine continues to grow its following even in the used-bike market.
The Suzuki TU250X is the 2nd generation of a retro-styled motorcycle lineup launched in the market in the early 2000s. It features classic styling, an approachable nature, and a fuel-injected carburetion system.
You may have heard of the growing popularity of this 250-cc two-wheeler. If so, read on to know more about the Suzuki TU250X specs and features, and judge for yourself if its nostalgic yet refined attributes can still stand on par with modern-day 250-class thumpers.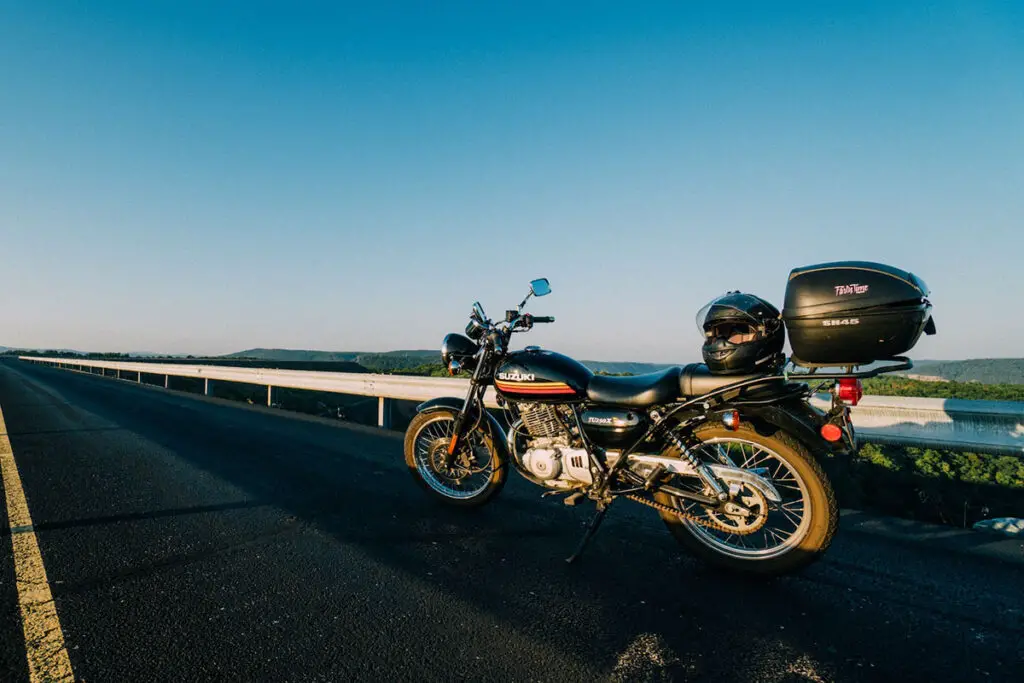 Going Back to Basics
Motorsport pillars like Suzuki will easily get lost in the sea of innovations. One rival manufacturer comes up with turbochargers. Or another introduces fuel injection in its lineup — and everyone else follows suit. While this mentality makes for healthy competition in the two-wheeler segment, it can get pretty taxing when it becomes a routine cycle.
This predictable sequence is probably what Suzuki tried to avoid with the launch of the Suzuki TU250/TU250X in the early 2000s. Instead of producing a high-tech two-wheeler with GSX-R-like qualities, the firm kept things simple by applying the UJM formula on the TU250/X label.
The result? Consumers were able to enjoy a user-friendly, straightforward motorcycle. And truth be told, that is everything the average motorhead wants.
2009 Suzuki TU250X Specs & Features
Engine
The Suzuki TU250 has an air-cooled, single-cylinder OHC power mill meticulously calibrated to deliver a balanced performance suitable for various riding conditions.
The bore-stroke ratio is 72 x 61.2 mm (2.835 x 2.409 inches), while compression ratio is 9.2:1. Electronic fuel injection (a.k.a. Suzuki Dual Throttle Valve) — with a 32-bit ECU, 10-nozzle injector, and 32-mm throttle body (ID #26GA) mated to a polyurethane foam air filter — handles air-fuel mixture. Piston displacement is 249 cm³ (15.2 in³).
Overall, this engine configuration lends to the performance figures below:
| Description | |
| --- | --- |
| Top Speed | 75 mph (121 km/h) |
| Horsepower | 16.1 bhp (12 kW) @ 7,200 RPM |
| Maximum Torque | 17 Nm (1.7 kgf-m, 12.5 lb-ft) @ 4,500—4,800 RPM |
| Fuel Economy | 82 mpg (2.9 L/100 km, 34.9 kmpl, claimed) 53—64 mpg (3.7—4.4 L/100 km, 22.5—27.3 kmpl)* |
| Approximate Tank Range | approximately 169—262 miles, 273—422 km |
* Values based on 
Cycle World's June 2009 feature article on the Suzuki TU250X
Fuel & Lubrication
The fuel tank capacity is 12 L (3.2 USgal, including 2.5 L/0.7 USgal reserve). Preferred fuel variants for all markets should have appropriate cosolvents and corrosion inhibitors and contain no more than 5% MTBE, 10% ethanol, or 5% methanol — although zero methanol is ideal.
Conversely, the 250-cc two-wheeler has the following oil requirements:
Overhaul): 1.9 L (2.0 US qt)
With oil filter change: 1.5 L (1.6 US qt)
Without oil filter change: 1.4 L (1.5 US qt)
Its lubrication system is a Forced (wet sump) type with a standard gear-driven oil pump. The recommended engine oil is SAE 10W-40 4-stroke or equivalent. Others from the owner's manual are acceptable following changes in ambient temperatures, altitude, and riding conditions.
Drivetrain
The TU250X boasts a gear-driven counterbalancer incorporated into its engine and valves adjustable via a 'screw and locknut' clearance adjuster mechanism. Moreover, a 5-speed, constant-mesh transmission and a push-button electric starter bring it to life.
A multi-plate wet clutch delivers power to the ground. Meanwhile, the final drive is via a 108-link DID520V chain, replaceable by a 120-Link DID 520 ZVMX Chain — Gold (view on Amazon) in case of damage or wear.
Suzuki TU250X stock transmission gear ratios:
| Description | |
| --- | --- |
| Primary Reduction Ratio | 3.238 (68/21) |
| Transmission Gear Ratio — 1st | 2.636 (29/11) |
| Transmission Gear Ratio — 2nd | 1.687 (27/16) |
| Transmission Gear Ratio — 3rd | 1.200 (24/20) |
| Transmission Gear Ratio — 4th | 0.952 (20/21) |
| Transmission Gear Ratio — 5th | 0.818 (18/22) |
| Final Reduction Ratio | 2.866 (43/15) |
It is important to note that the thumper utilizes a proprietary cylinder wall plating known as Suzuki Composite Electro-chemical Material or SCEM, similar to a Nikasil coating.
Because this innovative coating is nickel-phosphorus-silicon-carbide based, it improves heat transfer, reduces weight by eliminating the need for a steel liner, and lends to a more efficient piston-to-cylinder clearance.
Ignition & Electricals
The TU250X has an electronic ignition (transistorized) with a timing of 5° BTDC @ 1 300 ± 100 RPM. An NGK DR8EA or DENSO X24ESR-U spark plug — with a 0.6–0.7 mm (0.024–0.028 inch) electrode gap — is responsible for spark ignition.
The bike's charging system is a triple-phase A.C. generator with a no-load voltage of 60 V (AC) or more @ 5,000 RPM. This is supplemented by a 12 V 21.6 kC (6 Ah)/10 HR YTX7L-BS battery (view on Amazon).
For details on lighting and fuses, see the tables below:
| Lighting | Wattage |
| --- | --- |
| Headlight (Hi-Lo) | 60/55 W |
| Brake/Taillight | 21/5 W |
| Turn Signal | 21 W |
| Neutral and Fuel Level Indicators | 3.4 W |
| Fuel Injection Indicator | 3 W |
| Speedometer, High Beam and Turn Signal Indicators | 1.7 W |
| Fuse | Amperage |
| --- | --- |
| Main | 30 A |
| Headlight, Horn, Ignition, Signal, ECM | 10 A |
Tires & Brakes
Stock knobbies consist of Cheng Shin C-6009 and C-822 tires measuring 90/90-18 M/C 51S at the front and 110/90-18 M/C (view on Amazon) 61S at the rear. These tube-type tires are mounted on aluminum, steel, or chromed spoked rims — again, measuring 18 × 1.85 and 18 M/C × MT 2.50, respectively.
Cold-tire pressure for the front tire remains the same at 175 kPa (1.75 kgf/cm², 25 psi) whether or not the two-wheeler is unladen. Contrarily, the rear tire pressure requires adjusting based on solo/pillion riding or if the bike has maxed out its payload limit. The standard pressure requirement for the rear is 200 kPa (2.0 kgf/cm², 29 psi), adjustable up to 225 kPa (2.25 kgf/cm², 33 psi).
As for brakes, the discs on the Suzuki have axial or inline mounting (a more conventional method where the caliper bolts are parallel to the disc's axis).
The front disc diameter is approximately 280 mm (11 inches, originally a single-piston caliper type but later changed to a Tokico two-piston caliper). On the other hand, the rear brake employs a mechanical expanding drum system with a diameter of around 110 mm (4.3 inches).
Suspension
Oil-bathed telescopic forks and a rear swingarm are enclosed in a double-cradle steel frame. Each unit is set to a fixed spring preload/damping setting from the factory (until 2009, when the rear came with 5-way ramp-style preload adjusters).
The said units offer a respective wheel travel of 130 mm (5.1 inches, front) and 90 mm (3.5 inches, rear) — suggesting a moderate setup suitable for urban driving and the occasional off-road detours.
Other aspects lending to the two-wheeler's agility and overall maneuverability include a 1,375-mm/54.1-inch wheelbase, a 2.4-m/7.9-foot turning radius, and a 165-mm/6.5-inch ground clearance.
Dimensions & Capacities
The overall dimensions of the Suzuki TU250X are 2,070 x 750 x 1,075 mm (81.5 x 29.5 x 42.3 inches — L x W x H). The saddle height is 770 mm (30.3 inches) and can accommodate smaller-height to slightly taller motorheads. Capacity-wise, dry weight is 140 kg (310 lbs.), while curb mass is 148 Kg (326 lbs.).
The payload limit is not specified in the 2009 service manual but can be approximately 159 Kg (350 lbs.). The GVWR is an estimated 320 Kg (705.5 lbs.), including the bike's curb mass, full tank, fluids, rider/passenger weights, accessories, and cargo.
Exterior
Styling cues of the Suzuki TU250X combine classic and modern elements in a distinctive appearance. Available in Metallic Gray and Gloss Black, the bike features a tapered rear end, chrome details, a split saddle, boxy side mirrors, and a tool kit (to name a few). Out of the crate, the motorcycle looks like a vintage brat bike reminiscent of the earlier UJM production models.
Worth of a Suzuki TU250/TU250X
The pricing of the Suzuki TU250X has undergone some changes over the years, albeit not by a significant margin. Market dynamics, inflation, and manufacturing costs (among others) influence these price adjustments.
However, obtaining comprehensive pricing information for earlier models is challenging, particularly for the initial sales outside of North America. Therefore, providing complete retail value information for this classic motorcycle is impossible. Nonetheless, here is a summary of Suzuki TU250X pricing details across various markets from 2009 to 2023:
In 2009, the TU250X had the following prices:
United States: $3,999 to $4,399
The UK: £4,299 to £4,699
Japan: ¥390,000 to ¥425,000
Australia: AUD $6,990 to AUD $7,490
Moving to 2023, the TU250X has the following prices (note that the below list is non-exhaustive):
United States: $4,399 to $4,799
The UK: £4,599
Australia: AUD $6,990
Canada: CAD $6,299
Japan: ¥539,000
Germany: €5,299
France: €5,199
Italy: €5,250
Spain: €5,199
India: Rs 2.25 lakh
Suzuki TU250X Problems
The Suzuki TU250X has a pretty bulletproof design. So even as a preloved unit, it should not give a new owner any major headaches. But again, that is assuming previous owners have given the two-wheeler the TLC it deserves. Outside of that ideal scenario, however, here are some of its problems:
Pronounced Vertical Bouncing
Front-wheel vertical bouncing on a Suzuki TU250X can occur due to several factors. One possible reason is insufficient damping in the front suspension system, effectively failing to absorb road impacts and vibrations.
Not only does this lead to a pronounced bouncing motion of the front wheel, but it also causes discomfort and reduced stability while riding. Other aggravators may include improper tire pressure, wheel misalignment, or worn-out suspension components.
Final Drive Ratio Concerns
Knowing motorheads believe that the final drive ratio of earlier Suzuki TU250 iterations may not be ideal for everyday road riding (which is what the two-wheeler is designed for). They find that the first gear is too short/low and ill-suited for extended periods of idling or slow-speed riding.
Taking off from 2nd gear seems to be a workaround. However, beginners may find the maneuver challenging. This problem seems to have been resolved by Suzuki for post-2009 models onward — as these later-year versions had their rear teeth adjusted from 41 to 43.
Issue with Fuel/Propulsion System
This issue involves an unexpected engine shutdown when the rider engages the Suzuki TU250X clutch while downshifting.
Riders speculate that the fuel injection software programming may be responsible for cutting off the bike's fuel supply under specific deceleration conditions, leading to engine shutdown. Many owners reportedly experienced the same multiple times, even when the motorcycle was purchased brand-new.
It has gained significant buzz on TU250X-dedicated forums, with numerous reports and discussions available online. The hype comes as no surprise since it appears the fault affects several TU250X production models — from 2009 to date.
Additionally, Suzuki is undeniably popular among new and inexperienced riders. As such, encountering this sudden engine shutdown is bound to cause panic since the problem can potentially lead to accidents if not immediately noticed and addressed.
About Suzuki
Suzuki Motor Corporation is a renowned industry leader known for producing high-quality automobiles, marine vehicles, and motorsport products. Founded in Hamamatsu in 1909 as a loom manufacturer, the company expanded into the automotive realm with great success — beginning with its prototype vehicle in 1937.
Today, Suzuki continues to uphold its century-old legacy through exceptional service and performance-driven products, including ATVs, wheelchairs, ICE and outboard marine engines, and motorcycles like the Suzuki TU250X.
Conclusion — Suzuki TU250X Specs & Review
The Suzuki TU250X is probably one of the most overlooked (if not underrated) 250-class wheelers ever released by the Japanese manufacturer. Even now, I find it surprising that some folks are not even aware that the thumper is fuel injected!
Many had missed out on the offerings of the Suzuki TU250X when it was still brand new due to the hype around its indirect counterparts, like the Yamaha SR400 and the Kawasaki Ninja 250R. Hopefully, you get your hands on a used TU250X this time around.