Yamaha Tracer 700 (Specs and Review)
Disclosure: We may get commissions for purchases made through links in this post.
For the past few decades, larger-displacement, two-wheeled behemoths with flashy exteriors and top-tier performance figures have been getting all the hype. But every once in a while, a mid-size gem comes along and steals the show. In 2016, that scene-stealer was the Yamaha Tracer 700.
The Yamaha Tracer 700 is a multi-platform sport tourer taken off the Yamaha MT-07. While both bikes share the same power mill and frame, the Tracer features an adjustable windshield, ABS-supported brakes, and the first version of the CP2 engine to meet Euro 5 requirements.
In addition to its MT-07-inspired design and standout features, the Yamaha Tracer 700 is one of the few bikes that allows learners and all-rounders to rack up many miles without going overboard with speed and style. And in places with varied terrain and vast expanses of land like Europe, the UK, and Australia, it is the kind of trusty motorcycle you would want to have.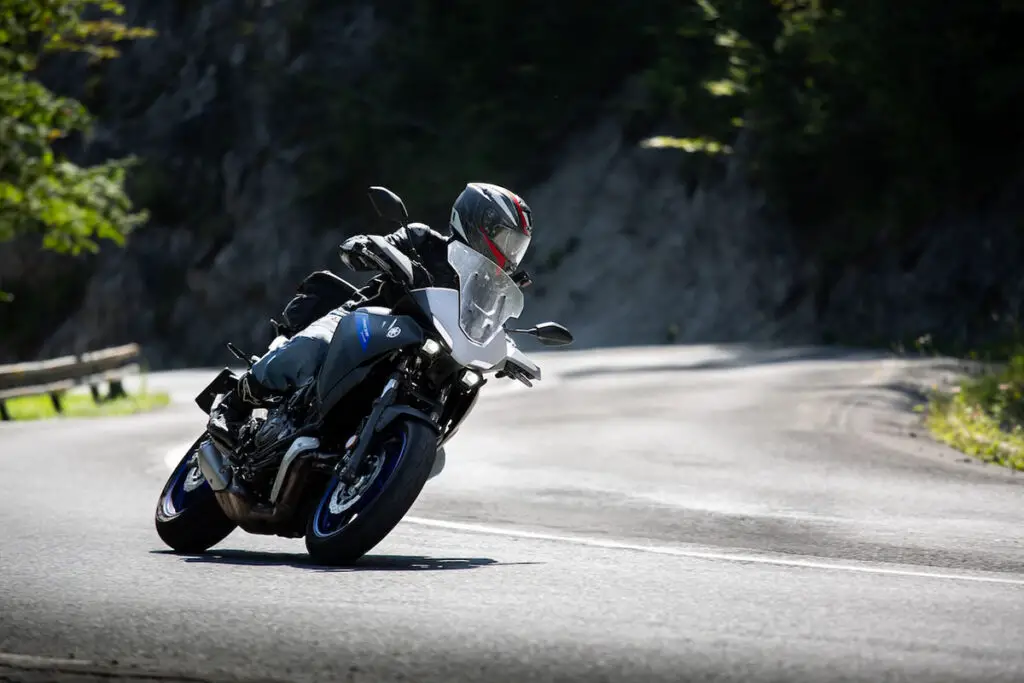 The All-Rounder Yamaha Tracer 700
The above description may not sit well with motorcycle purists (after all, the Tracer 700 is a sport-touring bike). But please humor me as I explain why I think it perfectly summarizes the two-wheeler's competencies.
The Yamaha Tracer 700 looks every bit like a sport-tourer on the outside. But more than its styling, it is known for its versatility, practicality, and performance.
Many riders praise its excellent riding position — with the top half being almost perfect and handlebars allowing motorheads to lean slightly into the grip — and reliable powerband. Its suspension (although incomparable to a homologated release or superstock racer) is firm enough for most riders.
Now you may think that these qualities are the bare minimum for any two-wheeler. And while you may be right, the truth is sport-tourers do not often strike this balance. In exchange for sleek styling and accessories, they sometimes compromise on mid-range pull, functionality, and comfort.
This aspect is where the Tracer 700 beats most of its counterparts. For folks privileged enough to straddle this thumper, they find themselves leaning towards the bike — even on days when their ride of choice is best left to a hyperbike or certified racer.
Improvements: 2016 – present
The latest version is powered by an updated Euro5-compliant power mill with a new exhaust system.
It also features a revised aluminum frame with a longer swingarm and steeper head angle, resulting in improved handling and a more stable ride.
Adjustable front and rear suspension were introduced in 2020. Previously, only the rear unit could be tweaked.
In the same year, the motorcycle received a redesigned bodywork, a new windscreen, headlight, and side panels that improved its aerodynamics and aggressive stance. To add, it was finally equipped with a full-color TFT display that supports smartphone integration.
Customer Wishlist and Mods
A GT version for later-year incarnations of the two-wheeler
Highly-coveted release in the U.S. due to scarcity of options for riders wanting more than the average cruiser
Titanium race-spec front caliper bolts and rear axle nuts
Michelin Road 5s
Hel braided hoses
2020 Yamaha Tracer 700 Specs & Features (MTT690/MTT690-U Models)
Engine
Yamaha's Tracer 700 has a liquid-cooled, 4-stroke DOHC "parallel-twin CP2 cross-plane concept" mill with an inline twin-cylinder arrangement and 270° crank producing an uneven firing sequence.
A fuel injection system with dual 38-mm 1WS1 10 throttle bodies and a sophisticated ECU handles the air-fuel mixture.
The bore-stroke ratio is 80 × 68.6 mm (3.15 × 2.70 inches), while the compression ratio is 11.5:1. Piston displacement is 698 cm³ (42.5 in³).
This engine configuration lends to the following performance figures:
| Description | |
| --- | --- |
| Horsepower | 73.8—74.8 hp (54.3—55 kW) @ 8,750 RPM; 46.9 hp (35 kW) @ 7,500 RPM (A2-compliant EU units) |
| Maximum Torque | 68 Nm (6.9 kgf-m, 50.2 lb-ft) @ 6,500 RPM; 57.5 Nm (5.9 kgf-m, 42.4 lb-ft) @ 4,000 RPM (Aussie units) |
| Top Speed | 120—130 mph (193—209 km/h) |
| Fuel Economy (average)* | 64 mpg (3.7 L/100 km, 27.2 kmpl) @ 56 mph (90 km/h); 52 mpg (4.5 L/100 km, 22.1 kmpl) @ 75 mph (120 km/h) |
| Fuel Tank Range | approximately 307 miles (494 km) @ 56 mph (90 km/h) |
* Real-world fuel economy may vary depending on road conditions, riding style, etc.
Drivetrain
A 6-speed, constant-mesh close-ratio manual transmission mated to helical gears and a multi-disc wet clutch delivers power to the wheels.
A chain final drive (#525 chain pitch), augmented by a Traction Control System (TCS), handles wheelspin. The release method is a cable-actuated clutch release.
| Description | |
| --- | --- |
| Primary Reduction Ratio | 1.925 |
| Transmission Gear Ratio — 1st | 2.846 (37/13) |
| Transmission Gear Ratio — 2nd | 2.125 (34/16) |
| Transmission Gear Ratio — 3rd | 1.632 (31/19) |
| Transmission Gear Ratio — 4th | 1.300 (26/20) |
| Transmission Gear Ratio — 5th | 1.091 (24/22) |
| Transmission Gear Ratio — 6th | 0.964 (27/28) |
| Final Reduction Ratio | 2.812 (45/16) |
Ignition & Electricals
A transistorized coil ignition (digital) and electric starting system bring the Tracer 700 to life. An NGK/LMAR8A-9 spark plug — with a 0.8–0.9 mm (0.032–0.035 inch) electrode gap and 13 N·m (1.3 kgf·m, 9.6 lb·ft) tightening torque — is responsible for spark ignition.
Conversely, a 12V DC triple-phase alternator with a rated output of 415 W @ 5,000 RPM serves as the sport tourer's charging system.
This charging system is supported by a 12 V, 6.3 Ah (20 HR) YTZ7S battery (view on Amazon), which helps power lighting and electronic accessories. This format has a 130-CCA (Cold Cranking Amperes) rating and overall dimensions of 113 x 70 x 105 mm (4 .44 x 2.75 x 4.12 inches – L x W x H, ±2 mm).
As for lighting and fuses, see the tables below for specs:
Description
Voltage/Wattage x Quantity
Headlight
LED
Brake/tail light
Front/rear turn signal light
Auxiliary light
License plate light
5 W x 1
| Fuse | Amperage |
| --- | --- |
| Main, ABS motor | 30 A |
| ABS solenoid | 20 A |
| Accessory, signaling system, ignition, radiator fan motor, fuel injection system | 10 A |
| Headlight, ABS control unit, backup | 7.5 A |
| Auxiliary | 3 A |
Tires & Brakes
Factory knobbies consist of tubeless Michelin Pilot Road 4 tires mounted on cast aluminum rims.
The front tire warrants a cold-tire pressure of 225 kPa (2.25 kgf/cm², 33 psi), while the rear requires 250 kPa (2.5 kgf/cm², 36 psi). Tire pressure be aired down or adjusted depending on altitude and riding conditions. However, changes would not be necessary if switching from solo to pillion riding.
As for brakes, triple hydraulic discs (dual 282-mm discs at the front and a lone 245-mm disc at the back) provide the Tracer 700 stopping power and complete its tire-and-wheel assembly.
This configuration is further strengthened by an ECU-monitored ABS (Anti-lock Braking System) available in all production models sold in Europe. (Unfortunately, not all markets enjoyed the same perk).
Suspension
Enclosed in a diamond Deltabox frame (24.8°, 100 mm/3.9 inches) is a suspension setup similar to that of the MT-07's and Tenere's — except that the USD cartridge-type front forks measure 41 mm.
Both ends of the suspension system are adjustable — the front unit features a 7-way spring preload adjustment and 5.1 inches (130 mm) of travel. The rear linkage has a monocross shock, adjustable preload and rebound damping, and 5.9 inches (142 mm) of travel.
Other aspects lending to the wo-wheeler's superb handling and maneuverability include a 1460-mm (57.5-inch) wheelbase, a 2.7-meter (8.86-foot) turning radius, and a 140-mm (5.51-inch) ground clearance.
Dimensions & Capacities
The overall dimensions of the Yamaha Tracer 700 are 2,140 x 835 x 1,290/1,330 mm (84.3 x 32.9 x 50.8/52.4 inches). The seat height is 835 mm (32.9 inches) and may be a little uncomfortable for shorter riders. Thankfully, its low mass aptly compensates for this minor drawback.
Density-wise, the thumper boasts the lowest wet weight (196 Kg/432 lbs.) and the best power-to-weight ratio (0.378—0.381 bhp/kg) in its class.
The maximum load limit is 181 Kg/399 lbs. Meanwhile, GVWR is an estimated 406 Kg (895 lbs.), including a full fuel tank with oil and fluids, rider/passenger weight, cargo, and accessories.
Exterior
The Tracer 700 features a sleek exterior that blends form, function, and sophistication. It comes with an adjustable windshield sporting a less-upright profile. Meanwhile, the layered look of its side fairings lends to the motorcycle's narrow profile while offering ample protection from the elements.
The 700-class motorcycle was available in Icon Grey, Sonic Grey, and Phantom Blue. Some of its design cues — like the two slant-eye LED lights above twin projector LED headlights — are reminiscent of the R1 (but with a more robotic appearance).
How Much Is a Yamaha Tracer 700?
The original list price for the Yamaha Tracer 700 ranged from $8,999 to $9,655. However, the sport tourer was not sold in the U.S. until 2020. For clarity, here is a more comprehensive breakdown of list prices in markets where the two-wheeler was sold:
Europe (2016—2021): €8,699—€9,499
United Kingdom (2016—2021): £6,299—£7,949
United States (2020—2021): $8,999
Australia (2020—2021): AUD 12,199—12,999
Canada (2020—2021): CAD 9,699—10,699
Japan (2020): ¥979,000
You can get a pre-loved Tracer 700 for slightly lower prices. The Bike Market, for one, shares resales values ranging from £5,000 to £6,300/€5,804 to €7,312 (dealer) and £4,000 to £5,050/€4,643 to €5,862 (private seller).
Bikes within this value range typically have between 5,100 and 8,500 miles under their belt. However, depending on the trader site, you may find resale units with considerably more mileage.
Yamaha Tracer 700 Problems
One issue reported by multiple riders is excessive clutch noise (a.k.a. clutch-rattle). The noise only manifests once the bike has warmed up and becomes increasingly noticeable, beginning at 3,500 RPM.
It appears to originate from the clutch basket, which utilizes rubber instead of spring dampers to secure bolts. Other potential causes of the clutch noise are compromised released bearings and flywheel.
Bike stuttering is also mostly complained about by Tracer 700 owners. Many have reported stuttering issues while riding, with some claiming it occurs at low speeds and while cruising and worsens over time.
After diagnosis, these same people claim the Acceleration Position Sensor (APS) and Throttle Position Sensor (TPS) are causing the problem. In some cases, the oxygen sensor is also found at fault.
Cleaning the sensors' electrical connectors has proven to resolve the issue. However, it may not always be feasible to do this step, as these components are typically sealed.
Other problems with the Yamaha Tracer 700 caused by lack of upkeep are as follows:
Poor brake performance
Clutch slippage
Face-Off: Tracer 700 vs. MT-07
While doing this guide, I noticed many people confuse these two as the same bike. And you may have come across these forums too.
The mix-up is not entirely baseless since the Tracer 700 and the MT-07 share the same engine and frame. But to set the record straight, here are a few points that should help differentiate these awesome motorcycles:
Wind Protection
Perhaps, the easiest way to tell these thumpers apart is through the presence of a windshield like National Cycle Touring Heavy-Duty Windshield N2210 (view on Amazon) or lack thereof.
Only the Tracer 700 has an adjustable windscreen providing superior wind protection. Given the MT-07 is a naked sportbike, it makes sense to eliminate this feature.
Styling
The fairing is another way to tell a Tracer 700 from an MT-07. The latter is a naked bike with minimal bodywork and an exposed engine, while the former sports a half fairing and a rear luggage carrier (among other bells and whistles).
Riding Position
Here is one of the more apparent differences between these bikes. Being a sport-tourer, the Tracer 700 naturally sports a more upright riding position than the MT-07.
Its handlebars are higher and footpegs lower, making for more relaxed riding suitable for long-distance rides. Conversely, the MT-07's riding position is more aggressive and sporty, with lower handlebars and higher footpegs.
Weight
Between these two Yamahas, the Tracer 700 is slightly heavier than the MT-07 due to touring-oriented features that come standard with the motorcycle. The MT-07 only weighs 182 Kg (401 lbs.).
Suspension
If all these other telltale signs are not as apparent (as is the case with modified secondhand units), then you can look at the bike's suspension for clues.
The Tracer 700 has a more sophisticated suspension setup, featuring an adjustable USD fork and a rear shock, than the MT-07. On the other hand, the latter has a conventional fork and a rear shock you can only adjust for preload.
About Yamaha
Yamaha Motor Company Ltd., one of the four pillars of the Japanese "Big 4," leads in various automotive industries worldwide. Established as Yamaha Corporation's motorcycle division, it became independent in 1955 after separating from its parent company.
The Shizuoka-headquartered firm has since emerged as an automotive giant, dominating the ATV and motorcycling landscapes. Yamaha is a well-respected industry leader, continuing to impress the global market with offerings like the Yamaha Tracer 700.
Conclusion — Yamaha Tracer 700 Review
As liter-class superbikes dominate showrooms and public opinion, more and more mid-size motorcycles are becoming redundant and slowly being taken off their respective lineups.
But for Yamaha, the company sees the value of continuing to produce thumpers like the Yamaha Tracer 700 that bridge the gap between super lightweight speedsters and hefty two-wheelers.
Besides, what is popular is not always everyone's opinion. For some gearheads, the Yamaha Tracer 700 may well be proof of a more mature take on selecting motorcycles.