2006 Honda CBR600RR Specs and Review
Disclosure: We may get commissions for purchases made through links in this post.
Motorcycles that can leave memorable impressions on the average consumer (let alone the riding community) are few and far between.
There are just way too many thumpers in the market offering a slew of creature comforts and flaunting hard-to-resist attributes. But things are different with the 2006 CBR600RR, as you will later discover in this guide.
First unveiled in 2003, the 2006 Honda CBR600RR is the street-oriented, tamer version of the Supersport World Champ CBR600F4i. This road-going midweight sported 118-bhp, PGM-DSFI, HMAS suspension, and racy aesthetics inspired by Honda's own RC211V MotoGP bike.
The industry-leading qualities of the 2006 CBR600RR have earned it a spotlight in showrooms and several awards (including Cycle World's annual Ten Best Bikes awards and Best Middleweight Streetbike category). It is also highly esteemed as a formidable two-wheeler that continues to grow Honda's following.
With a reputation like this, it is easy to conclude the 2006 Honda CBR 600 RR is without hiccups. However, it would be more interesting to know if its praiseworthy characteristics outweigh its flaws. If you think so too, stick around and continue reading this article.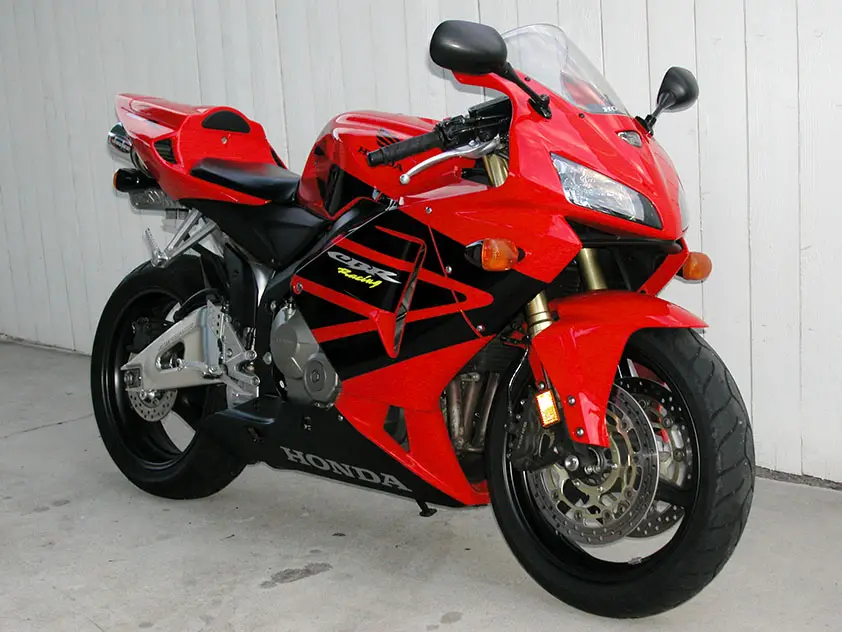 A Year of Sixes for the CBR600RR
2006 signified many meanings for Japanese manufacturer Honda. Exciting, disruptive, and ominous — that year was all these rolled into one.
It was exciting for the OEM and its patrons, who unwaveringly clamored for the OEM's fresh-off-the-shelf offerings. It was disruptive in terms of the CBR's continued progression in reputation and design.
But it was also ominous, as 2006 was the year Honda lost to Yamaha in European sales (not to mention the triumphant bike was called the Yamaha R6).
Despite the lack of luck associated with 'six' — the number sounding like the Japanese word for nothingness, 無 (mu) — Honda turned the series of events from that year around by learning from them. The company already had a great baseline to start from (that is, the 2006 CBR600RR).
All that needed to be done was rework its design to bring out its optimal on-road and day-track performance.
2006 Honda CBR600RR Specs & Features
Engine
The 2006 Honda CBR 600 RR is equipped with a liquid-cooled, transversely-mounted 4-stroke DOHC mill. The bore-stroke ratio is 67 x 42.5 mm (2.64 x 1.67 inches), and the compression ratio is set to 12.0:1.
Piston displacement is 599 cm³ (36.5 in³). Meanwhile, a Dual Stage Fuel Injection System (PGM-DSFI) with Denso injectors and dual 40-mm throttle bodies handles the air-fuel mixture.
Overall, this configuration lends to a top speed rating of 159 mph (255.9 km/h), a maximum torque of 65 Nm (6.6 kgf-m, 48 ft-lbf) @ 11,000—11,250 RPM, and 118 hp (87.9 kW, 119.6 PS) @ 13,000 RPM horsepower at the crankshaft.
Gas mileage is a measly 37.5—44 mpg (5.3—6.3 L/100 km, estimated), but the fuel tank range can be anywhere between 171 and 209 miles.
Fuel & Lubrication
Tank capacity is 18 L (4.8 USgal, 3.8 L/1.0 USgal reserve included) of premium unleaded gasoline with a minimum PON 91/RON 95 rating. EU releases require E5 or E10 premium unleaded petrol.
For all markets, variants containing less than 5% MTBE or less than 10% ethanol are preferred, although zero methanol content is ideal. Leaded gasoline is ill-advised, as it can cause premature damage to the catalytic converter.
Lube-wise, the 2006 CBR 600 RR has a Forced pressure (wet sump) system with the following requirements:
| Description | Quantity |
| --- | --- |
| Engine Oil (at draining) | 2.6 L (2.7 US quarts) |
| With oil filter replacement | 2.9 L (3.1 US quarts) |
| After disassembly | 3.5 L (3.7 US quarts) |
Recommended engine oil is SAE 10W-30 or 10W-40 of Pro Honda GN4 4-stroke or its equivalent, meeting JASO T903 MA, ACEA, or ILSAC standards and with a minimum API certification of SJ.
Other viscosity grades stated in the owner's manual are permissible following changes in ambient temperature, altitude, and riding conditions.
For best results, engine oils must not be labeled "Energy Conserving" or "Resource Conserving." Nor should they contain graphite or molybdenum additives so as not to impair clutch operation.
Drivetrain
A cable-actuated, 6-speed constant-mesh (close-ratio) transmission and wet, multi-plate clutch assembly deliver power to the wheels. Meanwhile, a left foot-operated return system with a sequence of 1-N-2-3-4-5-6 (sans reverse) controls the gearshift.
The final drive is via a DID525HV or RK525ROZ/6 sealed chain with a front-rear sprocket ratio of 16/42T and is replaceable with a 120-Link DID 525VX3G120ZB High-Performance VX Series X-Ring Chain (view on Amazon).
This configuration lends to a slightly underwhelming pull-off before the powerband builds up past 8,000 RPM and redlines @ 15,000 RPM.
Ignition & Electricals
All production models have a computer-controlled digital transistorized ignition system with 3D mapping and an electric starter. This setup employs NGK IMR9C-9HES or Nippon Denso VUH27D spark plugs with a 0.8–0.9 mm (0.031–0.035 inch) non-adjustable electrode gap.
The lighting assembly is mostly LED, except for the turn signal lights (12V 21/5 W) and headlights (12V 55 W bulbs). The main fuse is 30 A, while the remaining fuses (including spare ones) are either 10 A or 20 A. Previously, the only LED lighting was the brake/tail lights.
A generator with a nominal rating of 340 W @ 5,000 RPM serves as its charging system, while a 12V 8.6Ah/(10 HR) YTZ10S battery (view on Amazon) powers lighting and other electronics.
The recommended battery format has a 190 CCA (Cold Cranking Amps) rating and assembled dimensions of 150 x 87 x 93 mm (6.00 x 3.44 x 3.69 inches – L x W x H, sans wiring harness and mounting accessories). It is non-interchangeable with YTX9-BS formats used on later-year CBR600RR models.
Tires & Brakes
Factory knobbies consist of tubeless radials — 120/70 ZR17 M/C (58W, front) and 180/55 ZR17 M/C (73W, rear) — mounted on MT3.50 and MT4.50 cast-aluminum rims.
These tires have a recommended cold-tire pressure of 250 kPa (2.50 kgf/cm2, 36 psi) and 290 kPa (2.90 kgf/cm2, 42 psi) and can be a Dunlop, Michelin (view on Amazon), or Bridgestone brand (depending on the market).
Brakes are triple-hydraulic discs measuring 310 mm (with four-piston calipers) at the front and 220 mm (with a single-piston caliper) at the rear. 2006 CBR600RRs did not have ABS until two years after, greatly enhancing the sport bike's stopping power.
Suspension
Enclosed in a die-cast aluminum frame (24° caster angle; 95 mm/3.7 inches trail) are 41mm USD HMAS cartridge forks and a twin-sided Pro-Link HMAS single shock.
Each suspension unit has spring preload, rebound, and compression damping adjustability and yields 119 mm (4.7 inches) and 130 mm (5.1 inches) of respective wheel travel.
The turning radius is 3.2 m (10.5 feet) and is standard for a bike of its class. Meanwhile, the wheelbase and ground clearance is set at 1,390 mm (54.7 inches) and 130 mm (5.1 inches) and shared across all models.
Dimensions & Capacities
Overall dimensions for the 2006 CBR600RR are 2,065 x 685 x 1,135 mm (81.3 x 26.9 x 44.7 inches — L x W x H), just a few centimeters added to its length and height compared to 2003—2005 models. Aussie units are slightly longer and wider but share the same height as standard U.S. iterations.
The saddle height is 820 mm (32.3 inches, same for R and RA versions). Footpeg height is unspecified in both the service manual and the website (though it seems to need adjusting to support a 90° knee position, as shared in CBR-dedicated forums).
Dry mass ranges from 163—164 Kg (359—362 lbs.), with units sold in Australia and Mexico falling on the heavier end of the weight spectrum.
Maximum weight capacities are 166 Kg (366 lbs., Mexico), 170 Kg (375 lbs., Canada), and 180 Kg (397 lbs., all other markets) — these figures include accessories, rider/passenger weight, and cargo.
Exterior
One notable thing about the CBR600RR is its smaller wheelbase and aerodynamic profile. This was intentional on the part of Honda, as it sought to improve the CBR's power-to-weight ratio by beefing up the mill and shedding weight off the thumper.
Since the firm did not want to sacrifice its trademark 2006 CBR600RR fairings, the sport bike's weight had to be reduced elsewhere.
The accumulated weight savings started from the CBR's powerplant made an inch shorter front-to-back than the '05 model. More pounds were taken off the transmission's tighter configuration.
Once Honda successfully shrunk the engine layout, it became easier for its engineers to rethink the chassis layout and allow the rear swingarm more legroom.
In addition to being approximately 3 lbs. lighter in 2006, the CBR600RR retained its Grand-Prix-inspired tech and features. And race-inspired it is, as the bike is teeming with sportiness despite Honda aiming for the sport bike to be as good of a street performer as any other mid-weight motorcycle.
Available color schemes for the year were Pearl Orange/Black Tribal, Light Metallic Silver, Red/Black, and Black.
Honda CBR600RR 2006 Problems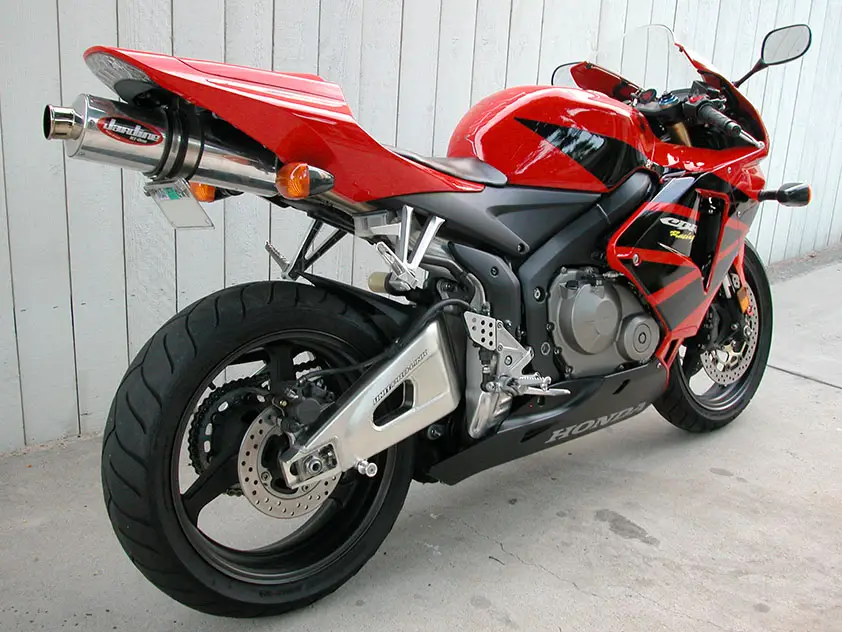 Cam Chain Tensioner Wear
Early models (including the 2006 CBR600RR) reportedly had cam chain tensioners that wore out prematurely, leading to chain slack that took away from the sport bike's functionality.
Worse, the erring component also resulted in chain slap and sometimes translated to rattling and engine damage.
Telltale signs suggestive of the issue include misfiring, rattling during idle, and finding metal shavings mixed in the engine oil. Unfortunately, these symptoms are not exclusive to the tensioner and can be easily confused with another engine-related dilemma.
Stuck Instrument Cluster Buttons
Less precarious but equally troublesome, this issue traces back to defective actuators. Luckily, the only remedial action necessitated in this scenario is to replace the actuators or the gauge cluster.
Required tools for the job are likewise far from fancy — all you need are:
On the downside, you need to remove the side fairing, the front clip connecting the main fairing, and the windscreen (view on Amazon) to access the instrument cluster.
What makes this step a bit more challenging is pulling off the last two bits as one piece. It is possible for the part to get stuck, so be ready to guide the ram air tubes out when necessary.
Pesky Stock Footpegs
This dilemma is mostly associated with the same-year CBR600 F4i. However, I thought it best to include it in this section for the sake of folks who may anecdotally encounter it.
If you are on the taller side of the demographic, you may find the CBR's footpeg placement uncomfortable, especially on long drives. And when you do, you will have to decide whether to deal with the discomfort or address the problem.
If you choose the latter, the best solution would be to get an aftermarket footpeg lowering kit. However, these kits tend to be too costly for what they are — compelling many riders to go for adjustable rearset footpegs (view on Amazon) or rearset riser plates instead.
Contrarily, some savants opt for aftermarket pegs without the rubber vibration dampener pad.
Overburdened Charging System Components
The stator and regulator/rectifier in 2006 CBR600RRs were not as durable as the ones found in recent-year incarnations of the label. This posed a problem for the sport bike, with its powerful drivetrain and 15,000 redline RPM.
Electrical components were simply overwhelmed (not to mention deprived of the same cooling mechanism the power mill enjoyed) — resulting in charging issues and toasted batteries.
Several other hiccups are linked to the two-wheeler's flimsy electricals. As such, many owners have claimed to resolve the problem by tuning the idle, replacing air filters, and getting new batteries.
While all these remedies hold value, experienced motorheads strongly suggest checking on the spark plugs' integrity first before looking into other suspected components.
How Much Is a 2006 CBR600RR?
The original list pricing of the 2006 CBR600RR is $8,999. This amount would be roughly $13,240 (with inflation factored in) if sold brand-new today.
Reseller and auction listings, on the other hand, have prices that range between $3,300 and $6,400 (with decent cosmetics and in good working condition).
Kelley Blue Book shows an average selling price range of $4,920 to $5,980 for these bikes (typically in good working condition and with mid-mileage). Those purchasable from the dealer tend to be pricier than those from private resellers.
Nonetheless, available units in the used-bike market are worth every dime — they typically have well-kept body paint and seats and, at times, are in near-mint condition.
Some CBRs sell for ridiculously cheap — around $1,200. Be wary of secondhand units with these price tags, as they usually come with no-start issues or have been in a wreck (if not sold for parts).
About Honda
Honda Motor Company Ltd. (or Honda) is part of the Japanese "Big 4" and a heavy hitter in the motorsports scene. Conceptualized in the Art Shokai garage in Japan almost a century ago, the firm traces its humble beginnings to manufacturing piston rings for big-name manufacturers.
During this period, the company perfected its quality control processes while supplying parts to Toyota. In the years that followed, it continued to advocate for continuous improvement in all its undertakings.
These initiatives paid off in leaps and bounds for Honda, now renowned as a global powerhouse credited with class-leading motorcycles like the 2006 Honda CBR600RR.
Conclusion — 2006 CBR600RR Review
During its heyday, the 2006 Honda CBR600RR was thought to be the most radical 600 Honda has ever built. And rightfully so, as the sport bike featured race-replica specs, a narrower but sporty profile, aggro-pedestrian styling, and dual-stage fuel injection.
This may no longer be the case in today's market (used bike or otherwise). But one thing remains unchanged — the riding community will be forever grateful to the likes of this classic yet powerful motorcycle.