Ducati 899 Panigale Specs and Review
Disclosure: We may get commissions for purchases made through links in this post.
When superbikes make the headlines, it is assumed that their slightly smaller-displacement siblings will not get as much attention as the 'top guns.' Well, not for the Ducati Panigale 899.
Despite having 300-cc less, this entry-level sport bike is as much of an eye candy as its bigger brother. It is clad in the same bodywork, given the same high-tech electronics, and is, in fact, slightly more manageable.
The Ducati 899 is a mid-weight sportbike produced from 2013 to 2015 and made available in Ducati Red and Arctic White trims. Boasting a Superquadro L-twin engine, 148-hp power output, a 170-mph speed rating, and a timeless aesthetic, it has captured the hearts of both enthusiasts and casual riders.
Sophisticated styling, unrelenting performance, and an impressive powerband are but some praiseworthy qualities of this awe-inspiring motorbike.
Need to familiarize yourself with the Ducati 899 Panigale? Continue reading and discover your next would-be companion on twisty trails and interstate roads.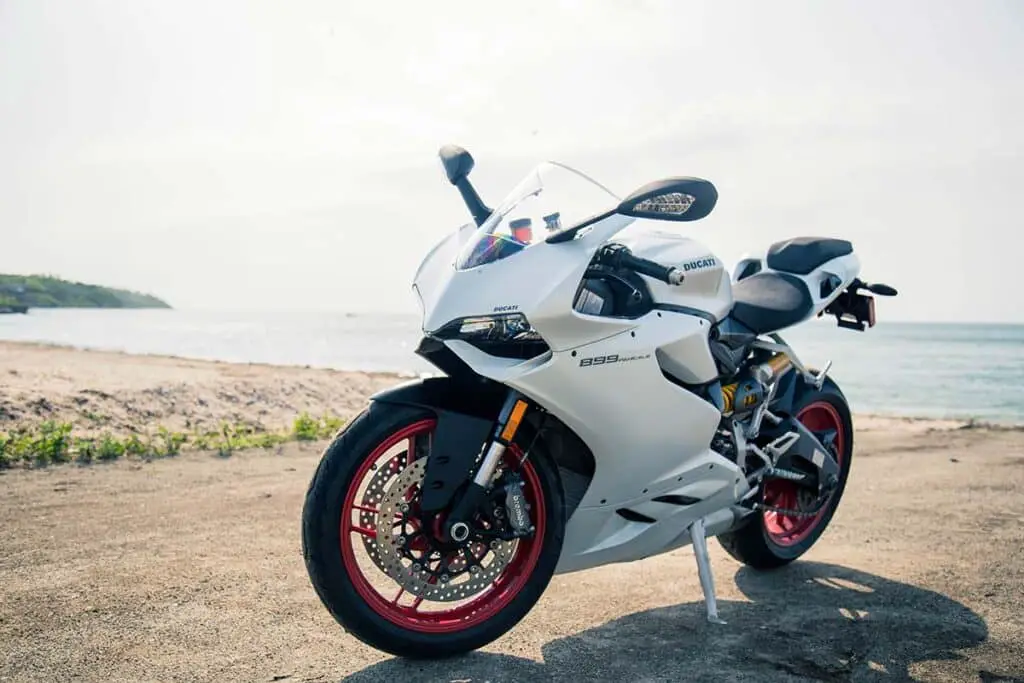 Bridging the Mid-Class — Superbike Gap
Motorheads from all walks of life have different takes on in-between motorbike classes. They are not exactly among the popular choices by consumers and enthusiasts. In fact, they are an acquired preference.
And yet, Ducati did not disregard taking advantage of this segment. Each of its flagship releases was always partnered with a slightly smaller replica introduced to the market a few weeks or months later. Such was the case with the Ducati Panigale 899, which followed shortly after the Panigale 1199, deemed as "the most significant new Ducati in two decades" by Cycle World's Mark Hoyer.
The 899 Ducati may not have earned itself an equally illustrious moniker. But it did something even more significant — make the big-shot brand a tad more affordable for riders with as much of a penchant for riding as veteran motorcyclists and professional racers.
Furthermore, the series fostered rider inclusivity by catering to the indecisive bunch who cannot decide if they would get a mid-weight two-wheeler or a badass liter-class.
2015 Ducati 899 Panigale Specs & Features
Engine
A liquid-cooled, 4-stroke 90° L-type Superquadro DOHC engine (longitudinal V-twin with a Desmodromic valve system) brings the Ducati 899 to life.
Piston displacement is 898 cm3 (54.8 in3), the compression ratio is 12.5:1 ± 0.5, and the bore-stroke ratio is 100 x 57.2 mm (3.94 x 2.25 inches). Meanwhile, a Mitsubishi indirect electronic injection with a 62-mm oval throttle body handles the air-fuel mixture.
Overall, this engine configuration lends to the following performance figures:
| Description | |
| --- | --- |
| Ducati 899 Top Speed** | 170 mph (145–169 km/h) |
| Horsepower* | 148 hp (109 kW) @ 10,750 RPM |
| Maximum Torque* | 99 Nm (10.1 kg-m, 72.8 ft-lbf) @ 9,000 RPM |
| Fuel Economy (combined average) | 29–37.5 mpg (6.3–8.1 L/100 km) |
| Approximate Tank Range | approximately 108–140 miles for a full fuel tank |
* (at crankshaft 95/1/EC)
** Data courtesy of 
Bennetts
Fuel & Lubrication
The Ducati 899 Panigale requires 17 L (4.5 USgal, including 5 L/1.3 Usgal reserve) of unleaded fuel.
Lubrication-wise, the 899 Ducati has the following requirements:
| Description | |
| --- | --- |
| Oil change | 3.9 L (4.1 US qts.) |
| With filter change | 3.4 L (3.6 US qts.) |
| Overhaul | 3.7 L (3.9 US qts.) |
| Front fork oil (each leg) | 563 ± 2 ml (19 oz.) |
Use SAE 15W-50 Shell Advance 4T Ultra Engine Oil for top performance. Others specified in the owner's manual — multi-grade oils 10W-30, 10W-40, 15W-40, 20W-40, 20W-50, and mono-grade oils SAE 20–40 and 10W–20W — are permitted following changes in ambient temperatures, altitude, and riding conditions.
Ignition
The ignition is a digital CDI integrated into the 899 Ducati's indirect EFI system. It uses a triple-phase alternator with a 14V 510 W rated output, while a sealed, maintenance-free 12V 6.5Ah/(10 HR) YT7B-BS battery powers lighting and electronic accessories.
The recommended battery for the Ducati 899 has assembled dimensions of 150 x 65 x 93 mm (6.00 x 2.56 x 3.69 inches, excluding wire harness and mounting accessories) and a 120-CCA (Cold Cranking Amps) rating.
This format is similar to the battery of the Ducati 959 and other same-class counterparts. When looking for a replacement, opt for a same-spec aftermarket battery like Yuasa YUAM62T7B YT7B-BS Battery (view on Amazon).
See the below tables for fuse and lighting assembly details:
| Fuse | Wattage |
| --- | --- |
| Main, Electronic Electrifier, ABS 1, Spare | 30 A |
| ABS 2, Spare | 25 A |
| Injection Relay, Spare | 20 A |
| Lights, Black Box System (BBS), Spare | 15 A |
| Key-Sense, Throttle Opening Relay (ETV), Instrument Panel, ECU, Spare | 10 A |
| GPS, Diagnostics, Spare | 5 A |
| Lighting | Wattage |
| --- | --- |
| Headlight (high/low-beam) | #2 H11 bulbs, 12V 55/55 W |
| Parking Light | LED, #8 Seoul STW8Q14B |
| Taillight | LED, #2 REBEL LXM2-PH01-0060 |
| Brake Light | LED, #8 LA G6SP-CBEA-24-1 |
| Number Plate | LED, #3 CREE CLA1A-WKW-CXAYB453 |
| Turn Indicators (front) | LED, #15 OSRAM LYE65F |
| Turn Signals (rear) | LED, #4 OSRAM LYE65F; R10W 12V-10W, orange color (USA) |
Drivetrain
The Panigale's Desmodromic timing system (a.k.a Desmo) is present in almost all Ducati motorcycles with a 4-stroke piston engine.
A 6-speed transmission with a left-side gearshift pedal and a left-hand-operated wet multi-plate clutch assembly delivers power to the ground. This gearbox has a front-chain/rear-wheel sprocket ratio of 30/53T and an output/rear-chain sprocket ratio of 15/44T.
A Regina 520 ZRDK chain with 106 links + joint — replaceable with a DID (520VX3GB-120) Gold 120-Link High-Performance VX Series X-Ring Chain with Connecting Link (view on Amazon) — handles wheelspin.
Here are the stock gear ratios for the 899 Ducati Sport Bike:
| Description | |
| --- | --- |
| Transmission Gear Ratio – 1st | 2.467 (15/37) |
| Transmission Gear Ratio – 2nd | 1.875 (16/30) |
| Transmission Gear Ratio – 3rd | 1.500 (18/27) |
| Transmission Gear Ratio – 4th | 1.250 (20/25) |
| Transmission Gear Ratio – 5th | 1.091 (22/24) |
| Transmission Gear Ratio – 6th | 0.958 (24/23) |
Tires & Brakes
Factory tires consist of tubeless Pirelli Diablo Rosso Corsa radials (view on Amazon) and mount on MT3.50×17 and MT5.50×17 five-spoke, light-alloy forged rims.
Recommended cold-tire pressure for each differs depending on application. For road use, inflate tires to 250 kPa (2.55 kgf/cm2, 36 psi).
Track use warrants a front-and-rear tire pressure of 230 kPa (2.35 kgf/cm2, 33.4 psi) and 210 kPa (2.14 kgf/cm2, 30.4 psi), respectively. For bumpy roads and uneven terrain, adjust cold-tire pressure by 9.5%.
As for brakes, semi-floating, 320-mm drilled twin discs (front), and a single 245-mm fixed drilled steel disc (rear) — both augmented by Brembo® calipers with ABS and operated by either lever (view on Amazon) or pedal on the right-hand side — provide the Ducati Panigale 899 stopping power and complete its tire-and-wheel assembly.
Suspension
Enclosed in an aluminum alloy cast monocoque frame (27° steering angle; 96 mm/3.8 inches trail) are fully-adjustable 43-mm hydraulic USD BPF front forks and a Sachs unit with an aluminum double-sided rear swingarm.
The wheelbase is 56.3 inches – lending to improved cornering, stability, and overall ride quality. However, the minimum road clearance (unladen) is a miserly 125 mm (5.0 inches).
Dimensions & Capacities
Overall dimensions are 2,050 x 730 x 1,105 mm (80.7 x 28.7 x 43.5 inches — L x W x H).
The seat height is similar to the Ducati 848 at 830 mm (32.7 inches), and it can comfortably sit medium-built to tall riders.
Footpeg height is unspecified in the owner's manual but estimated below 400 mm (15.7 inches).
Handlebars are positioned at the same height as the saddle, supporting a more forward-leaning riding position.
Dry weight is 169 Kg (372 lbs.) sans fluids and battery, while curb weight is 193 Kg (425 lbs.) with fluids, battery, and 90% fuel. Gross Vehicle Weighted Rating or GVWR (motorcycle wet weight plus a full load) is an estimated 816 Kg (1,799 lbs.).
Exterior
On the outside, the Ducati 899 looks like a replica of the 848 (with a few minute exceptions). Panels and bodywork (including a full-faired front) have been carried over to the Panigale almost unmodified.
The 2-into-1-into-2 exhausts moved from under the saddle to right below the footpegs (view on Amazon).
Styling-wise, the Panigale remained a sport-oriented motorbike, with its raised rear-end and aerodynamic form that begged to be treated more than a daily commuter.
Colors Schemes:
Ducati Anniversary Red; Monocoque Gray frame, Matte Black sub-frame, and black rims
Arctic White Silk; Monocoque Gray frame, Matte Black sub-frame, and red rims
How Much Is a Ducati 899 Panigale?
The MSRP for the Ducati Panigale 899 lineup ranged from $14,995 to $15,295 during its 2-year production run — with minimal movement in pricing.
Unlike other Ducati motorcycle labels and most of its competition, the series did not release any special-edition trims. Per JD Power data, resale values for the Ducati 899 fall within $6,150 to $8,850. Meanwhile, MCN shows a price range of £7,800 to £10,500.
Ducati 899 Panigale Pricing (2014 – 2015)
| Year – Model – Trim | List Price | Retail/Trade-In Values |
| --- | --- | --- |
| 2014 Ducati 899 Panigale | $14,995 | $6,150 – $8,095 |
| 2014 Ducati Panigale 899 (White) | $15,295 | $6,270 – $8,250 |
| 2015 Ducati 899 Panigale | $14,995 | $6,720 – $8,845 |
| 2015 Ducati 899 Panigale (White) | $15,295 | $6,725 – $8,850 |
(Source: JD Power)
Per auction listings, secondhand Panigale 899s are valued between €6,685 and €22,829 in most of Europe and between ¥958,000 and ¥1,498,000 in Japan. You can expect the mileage to range from 478–16,907 miles (770–27,210 km).
Used bikes with heftier price tags are typically in near-mint condition, with custom body paint and fairing, or professionally outfitted. Between dealers and private sellers across most of Europe, Sweden, and Australia, the former tend to sell pre-loved Ducati 899s at a higher price.
Anything below $5,000 is likely to have minor to moderate cosmetic damage, missing keys, an inoperable digital dash, or has been in a crash. However, this should not deter you from purchasing lower-priced units. Do your due diligence investigating the sport bike's history before sealing the deal.
Ducati 899: Pros and Cons
Pros
Ducati Panigale 899 is a versatile bike offering three modes — wet, sport, and race — that cater to riders of different skill levels.
It boasts highly-coveted features such as an 8-level ABS, an 8-level Traction Control System or TCS, a 3-level Engine Braking Control, and a quickshifter for upshifts.
The Panigale's repositioned exhausts direct hot air away from the rider's thighs and legs. Instead, it does so under the chassis ahead of the exhausts, pretty much like a hovercraft.
Sidewalls on stock tires are steep and designed to flick left and right effortlessly.
Thanks to the absence of a trellis frame and SSSA (single-sided swingarm), the Ducati Panigale 899 is a few kilograms lighter than other same-displacement Ducatis.
Even when disassembled and reassembled numerous times, its multi-part full fairing holds together well and does not develop gaps or crevices.
When given the right modifications, the Panigale's reverberations are like eargasm to the rider.
Riders wanting long-term ownership would appreciate the sport bike's timeless look.
Cons
Factory gearing is tall, meaning that the bike requires at least 47 mph (75 km/h) before going into 6th gear without you experiencing engine pinging.
The machine lugs if you upshift to 2nd gear without hitting at least 14 mph (22 km/h) first.
According to international forums, the Panigale tends to heat up faster at slower speeds — as if taunting you to speed up against your will.
Its lacquer coating is better replaced with paint protection film lamination, especially when driven in humid weather conditions.
It requires high-Octane fuel to keep the engine pinging at a minimum — something you will need to deal with every visit to the pump station. If you want a one-off solution, reduce the front sprocket by one tooth and give the bike a piggyback ECU.
About Ducati
Ducati Motor Holding S.p.A. (formerly Ducati Meccanica) is the motorcycle-manufacturing division of Italian OEM Ducati, owned by the Volkswagen Group.
Founded as Società Scientifica Radio Brevetti Ducati in 1926, the Italian firm began its manufacturing journey producing radio components like vacuum tubes and condensers. Not long after, Ducati acquired its first-ever factory in Borgo Panigale. This milestone and its location eventually inspired the Ducati 899 Panigale Sport Bike.
Conclusion – Ducati Panigale 899 Review
The Ducati 899 is a sport bike that holds its own in the vast landscape of 450-cc speedsters and monster motorcycles. But it is not a mere marketing tactic to get more sales or entice customers to get a more affordable version of the Panigale 1199.
The 899 Panigale is a new breed of Ducati that is fast, powerful, capable, and better suited on the road than most of its competitors. So if you are searching for a set of wheels that rides as hot as the Floridian sun and fast, then the Ducati Panigale 899 is the one bike I am sure you cannot live without.