BMW K75 Specs and Review (The Flying Brick)
Disclosure: We may get commissions for purchases made through links in this post.
As an industry powerhouse, BMW has always been well-regarded for its unrelenting nature and high-quality standards. Because of this reputation, no one had anticipated it would break from its 'norm' and equip its motorcycles with inline-4 power mills – as it did with the BMW K75 series.
The BMW K75 (a.k.a. the 'Flying Brick') is a spin-off from the German firm's K100 lineup. Introduced from 1986 to 1995, these 740-cc motorbikes aimed at being less intimidating by perfectly balancing dynamics and handling safety, effectively resetting the brand's seeming one-sidedness.
Boasting a BMW-exclusive Compact Drive System and state-of-the-art fuel injection (among other things), the K75 was a downright technological marvel. Furthermore, it was the OEM's cheapest motorcycle out of the crate. But were these attributes enough to compete with the more economical Japanese bikes? Continue reading to find out.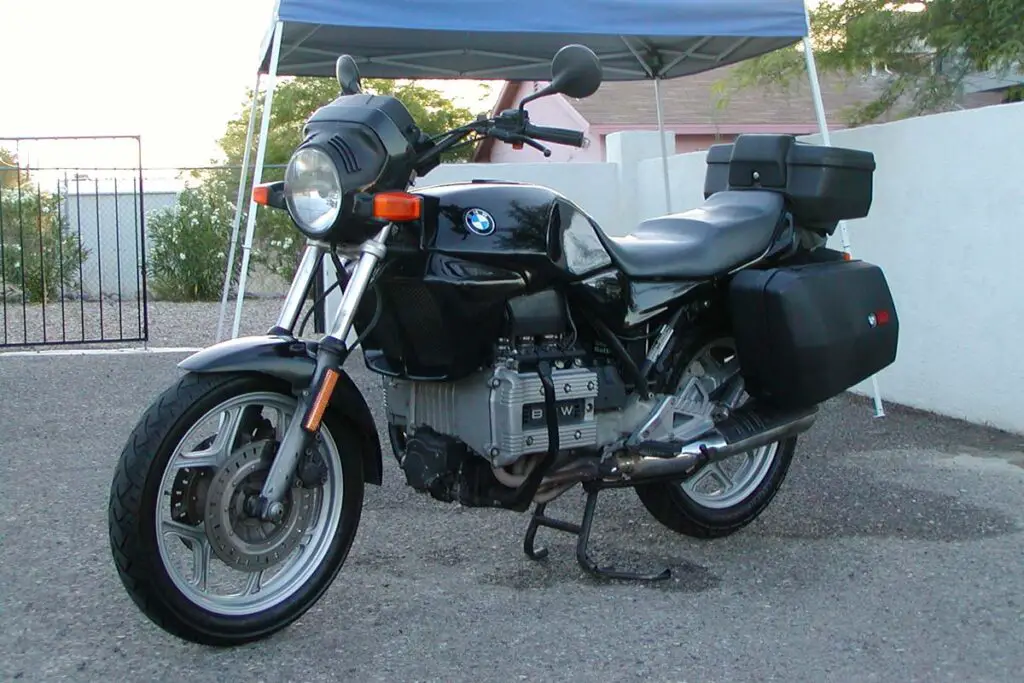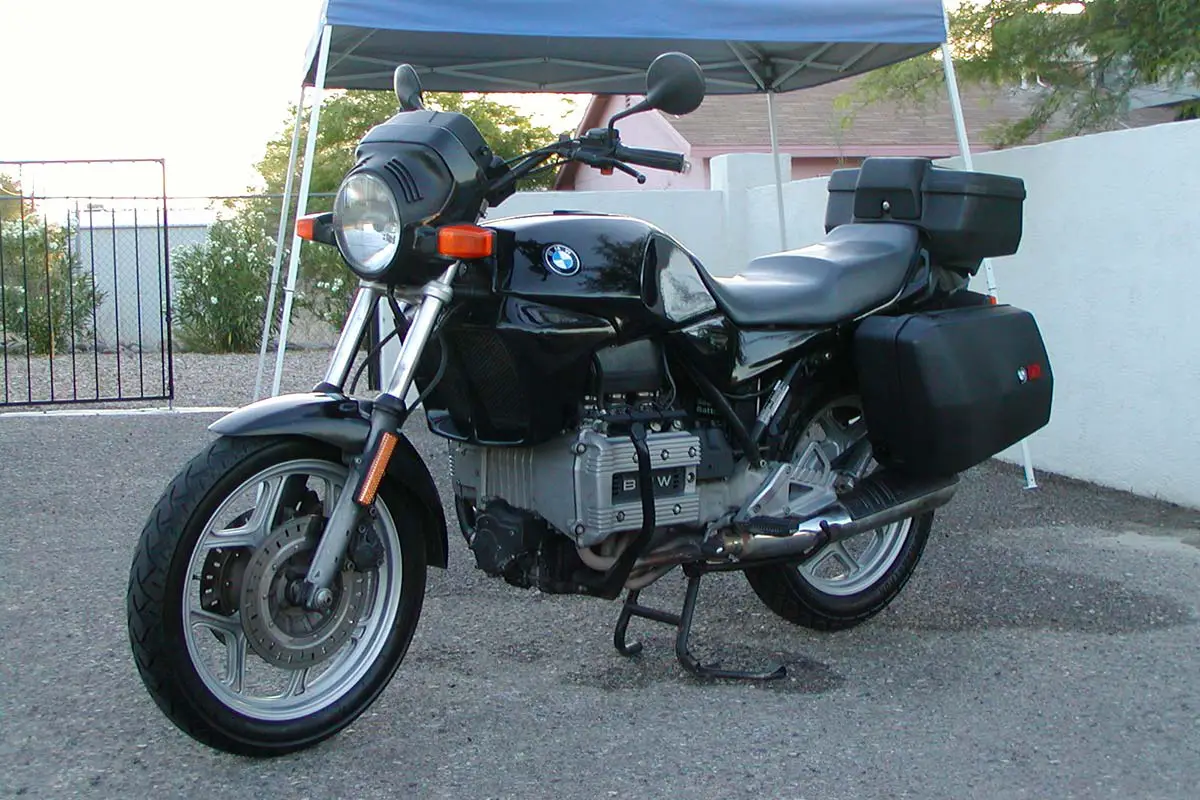 The Origin of the 'Flying Brick'
In the early '80s, BMW's famed K-bikes earned themselves the nickname 'Flying Brick.' This retentive alias is largely owed to the series' power mill, which looks like a giant metal box positioned at the bottom of the wheeler.
Design
The BMW K series was not the German firm's trademark design but were born out of wanting to go neck-and-neck with the fast-emerging Big Four and meeting increasingly stringent emission standards. Design-wise, BMW nailed everything down – from its use of an inline-4 engine, LE-Jetronic fuel injection (practically unheard of four decades ago), and a 90° bevel shaft drive to its then sophisticated styling.
Innovations
The K75 led to numerous innovations in current K-bikes. This 'break from the norm' spawned a much-needed ingenuity to further develop K75 successors without compromising the monstrous, clean-burning nature of their signature boxer engines. In hindsight, the BMW K75 lineup and the entire K series were a welcome deviation from the standard. And it's rather fortunate that riders still get the opportunity to enjoy these 'Flying Bricks' today.
Significant Developments
1985
All BMW K series bikes, including the 1986 K75C or Classic, received solid-mounted footpegs, revised rear cowling, saddle configuration, exhaust pipe mounting, and a redesigned fuel pump. They also got two mounting points at the rear of the fuel tank to address the earlier setup prone to cracking and vibration. The steering head bearing setup was changed from a top bolt to a locknut, and a Fluidbloc damper was added.
1986
Replacing the tank check valve with a standpipe began with the K75S and was later applied on all K models. Fork gaiters, a footpeg plate, and a new rear brake switch were introduced, and insulation was added to the bottom of the fuel tank – this prevented excessive heat buildup. Non-hardened exhaust valve seats on earlier models allowed the use of leaded gasoline.
Compression was detuned to 10.5:1. Consequently, performance figures went down – 70 bhp (51.2 kW) @ 8,200 RPM from 75 bhp, and 65 Nm (6.6 kgf-m, 47.9 ft-lb) @ 6,500 RPM torque output from 68 Nm.
1987–1989
In 1987, S models received revised anti-backlash gears and modded fork seals. After two years, the standard BMW K75 or Classic trim was introduced. Splines were hardened on all BMW K bikes within the same year.
BMW K75 Specs & Features (1986 – 1995 Models)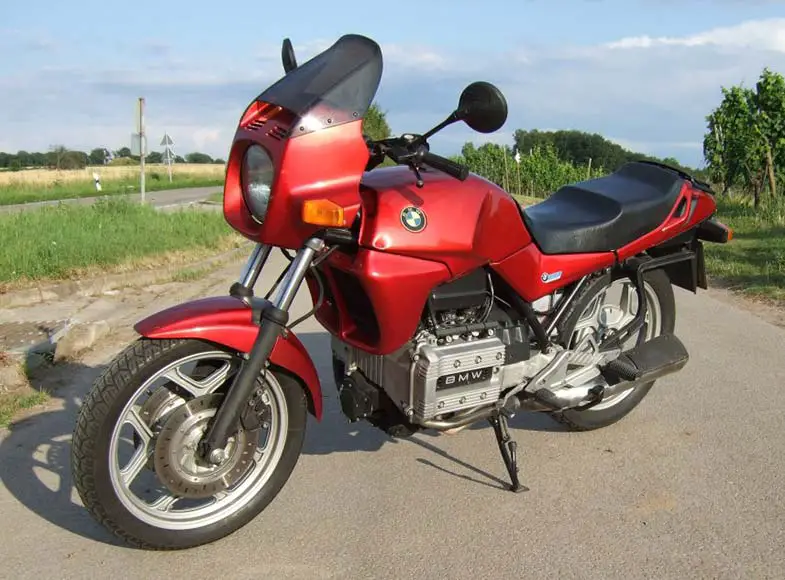 Engine
The K75 BMW is powered by a liquid-cooled, transversely installed DOHC 4-stroke inline engine. It has a near-square bore-stroke ratio of 67 x 70 mm (2.64 x 2.76 inches). Piston displacement is 740 cm3 (45.16 in3), while compression ratio is 11.0:1. A Bosch LE-Jetronic fuel injection system with fuel cutoff on the overrun (supplemented by a Bosch roller-cell fuel pump) handles air-fuel mixture.
Mill configuration for base/C/S trims lends to a claimed horsepower of 75 bhp (55 kW) @ 8,500 RPM, maximum torque of 68 Nm (6.9 kgf-m, 50.1 ft-lb) @ 6,750 RPM, and a top speed of 121 mph (194 km/h). Sportier 'S' (Special) models are a bit faster at 124 mph (199.5 km/h), while BMW K75 RTs are relatively slower at 108 mph (173.8 km/h).
Original sales brochures in '86 show a marketed horsepower of 70 bhp (51.2 kW) @ 8,200 RPM, torque output of 65 Nm (6.6 kgf-m, 47.9 ft-lb) @ 6,500 RPM, and a 10.5:1 compression ratio.
Fuel & Lubrication
Tank capacity is 21 L (5.5 US gallons, including 5.0 L/1.3 US gallons – reserve) of unleaded or premium leaded gasoline. Early models released in the UK and the U.S. used fuel with a rating of at least PON 85/RON 95, while later models downgraded to variants with at least PON 82.5/RON 91 (ratings based on German DIN 51600 standard).
Gas mileage varies and can go from 4.0–4.2 L/100 km (cruising at 55.9 mph, 90 km/h) to 5.4–5.6 L/100 km (steady driving at 74.6 mph, 120 km/h). The owner's manual provides a range of 42–56 MPG, while marketing literature advertises 51–66 MPG, depending on iteration.
Lubrication-wise, the K75 has a pressurized oil circuit lubrication system and requires either 3.5 L (3.7 US quarts – oil change) or 3.75 L (3.9 US quarts – oil and filter change) of engine oil. For top performance, medium-range, multi-grade engine oils like SAE 10W-30 are ideal for use. Other viscosities specified in the service manual are permissible, following ambient temperature.
Drivetrain
A 5-speed, claw-shifted gearbox with integral shock dampers for all gears and a single 165-mm dry plate clutch with a step-up diaphragm spring deliver power to the ground. A pre-stretched, endless single roller chain with 126 links handles wheelspin. The final drive is a Cardan shaft drive with corresponding sprocket sizes of 35/18T, lending to the naked bike's superb handling, controllability, and all-roundedness.
For reference, below are the stock gear ratios for the K75:
| | |
| --- | --- |
| Transmission Gear Ratio (1st) | 4.497:1 |
| Transmission Gear Ratio (2nd) | 2.959:1 |
| Transmission Gear Ratio (3rd) | 2.304:1 |
| Transmission Gear Ratio (4th) | 1.879:1 |
| Transmission Gear Ratio (5th) | 1.666:1 |
Ignition
An all-electronic, breakerless microprocessor-controlled digital system with a timing of 4°–6° BTDC @ 1,300 RPM (initial "F" mark) brings the BMW K75 to life. A 14V 460W triple-phase alternator serves as its charging system. 180-mm halogen headlights, turn signals, instrumentation indicators, and electronic accessories are powered by a 12V 20 Ah/(10 HR) battery for base models or a 12V 30 Ah/(10 HR) battery for special versions. A Bosch X5DC spark plug with a 0.6–0.7 mm (0.024–0.028 inch) gap is responsible for spark ignition.
Recommended battery format for the K75 is unspecified in the service manual. However, online search results and the Yuasa Powersports Battery catalog suggest using a Yuasa Yumicron 53030 battery (view on Amazon) for RT models. Based on the same resources, all other iterations should work with a YT19BL-BS battery. Look into the below battery formats and determine which fits best, as they show compatibility with the BMW K75 lineup:
| Battery Format | Dimensions (L x W x H) |
| --- | --- |
| YIX30L-BS | 12V 30 Ah/(10 HR) 166 x 126 x 175 mm (6.56 x 5.00 x 6.88 inches) |
| YT19BL-BS | 12V 17.7 Ah/(10 HR) 184 81 170 mm (7.25 x 3.19 x 6.69 inches) |
Tires & Brakes
Stock rubber consists of 100/90 H18 (56H), and 120/90 H18 (65H) tires on base/C models and 100/90 V18 (56V) and 130/90 V17 (68V) tires on BMW K75S trims. These tubeless knobbies mount on MTH 2.50 x 18E and MTH 2.75 x 18E/2.75 x 17E cast light-alloy rims, front and rear. As for brakes, the K75 lineup has 285-mm dual front hydraulic discs. Except for the S trims that have a single rear hydraulic disc, all other models have a rod-operated, 200-mm SLS drum mated to their rear wheel.
Recommended cold-tire pressure is 200–250 kPa (2.04–2.50 kgf/cm2, 29–36 psi) for solo riding or 230–290 kPa (2.34–2.95 kgf/cm2, 33–42 psi) for two-up applications. These values can be adjusted a bit more if driving at speeds above 112 mph (180 km/h) and with a passenger. In case of wear or damage, replace factory tires with same-size Michelin Commander II Bias Tires (view on Amazon).
Suspension
Earlier K75 models had a front suspension of 41.3-mm Brembo telescopic forks enclosed in a tubular space frame. For later models, this setup was changed to adjustable 41-mm Showa forks (with guide bushes in the stanchion and fork slider). You can find a mono-lever swingarm at the back with 3-way spring struts and double-acting hydraulic shocks.
Depending on year and trim, the front forks were paired with coil springs that were either long, two-piece or with sports settings (specific to K75S versions). Respectively, front and rear suspension units provided 7.3 inches (185 mm) and 4.3 inches (110 mm) of wheel travel.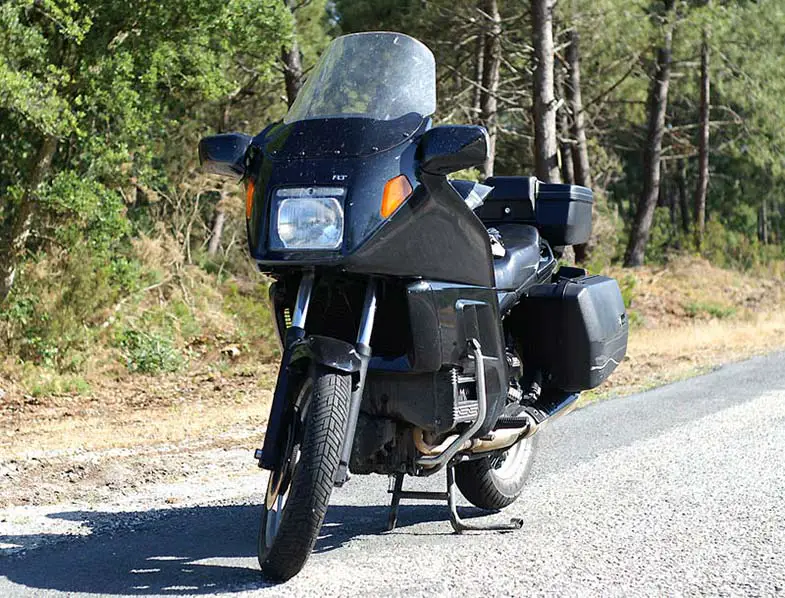 Dimensions
Based on the OEM manual, length and width measurements are 87.4 x 33.5 inches (2,220 x 850 mm), with the K75S being 20 mm narrower than most models. Seat height (unloaded) is 31.9 inches (810 mm) and can accommodate mid-height to tall riders. The wheelbase is 1,516 mm (59.7 inches). There is no mention of a turning radius or road clearance.
On the Haynes manual, however, the overall dimensions of the K75 Classic trim are 87.4 x 35.4 x 51.2 inches (2,220 x 900 x 1,300 mm – L x W x H), while the S models have slight width and height variances. Depending on the version, curb weight can be anywhere from 228–235 Kg (503–518 lbs.). Gross Vehicle Weight Rating is around 450 Kg (992 lbs.) and includes a full tank, rider/passenger weight, accessories, and cargo.
Online sources indicate a curb weight of 268 Kg (591 lbs.) for the BMW K75 RT (ABS) and 258 Kg (568 lbs.) for all other models.
Exterior
Having taken much of its design concept from the BMW K100, the K75 is a bit on the plus side despite its 750-cc displacement. Its exterior is made available in black, white, red, and blue and is quite bulky, but surprisingly does not feel top-heavy. The contoured seat works nicely with the shape of the fuel tank and looks seamless from the side. The rear is quite sturdy and serves as a great mount for indicators, stock plate holder, and taillight.
The exhaust appears low-hanging compared to its counterparts. And given the bike's miserly ground clearance, it tends to accumulate dirt and contaminants faster. Close-fit fenders tie up the K75's aesthetic but offer little to no room for bigger wheels and tires. The cockpit and instrumentation are adequate, as well as the stock mirrors. An optional windshield (standard in some trims) provides wind protection and improves aerodynamics in harsher riding conditions.
BMW K75 Pricing
Depending on year and trim, the BMW K75 ranged from $5,800 to $12,590. The '95 BMW K75RT with ABS has the heftiest price tag. Its list price went up by $6,790 in its outgoing year (a price increase equivalent to about $680 annually). MSRP fluctuations were minimal for Classic and S models, and the entire lineup only went up to 5-digit figures with the release of RT and ABS-equipped iterations. If the K75 sold today brand-new, it would have an estimated value between $14,750 and $23,040.
Year – Model – Trim
List Price
Retail/Trade-In Values
1986 BMW K75C
N/A
N/A
1986 BMW K75T
N/A
$1,625 – $6,320
1987 BMW K75C
$5,800
$580 – $2,385
1987 BMW K75T
1987 BMW K75S
$6,625
$800 – $5,905
1988 BMW K75C
$6,425
$580 – $2,470
1988 BMW K75
$6,750
$580 – $2,545
1988 BMW K75S
$7,325
$640 – $2,750
1989 BMW K75
$6,995
$640 – $2,845
1989 BMW K75S
$7,325
$580 – $2,545
1990 BMW K75
$5,990
$640 – $2,685
1990 BMW K75S
$6,990
$670 – $2,885
1990 BMW K75RT
$7,990
$700 – $3,295
1991 BMW K75
$6,190
$640 – $2,780
1991 BMW K75S
$7,290
$700 – $3,295
1991 BMW K75S (ABS)
$8,390
$755 – $3,715
1991 BMW K75RT
$755 – $3,800
1991 BMW K75RT (ABS)
$9,490
$790 – $4,020
1992 BMW K75
$6,390
$670 – $2,995
1992 BMW K75S
$7,890
$700 – $3,430
1992 BMW K75S (ABS)
$8,990
$790 – $4,020
1992 BMW K75RT
$8,890
$790 – $3,930
1992 BMW K75RT (ABS)
$9,990
$800 – $4,565
1993 BMW K75
$6,590
$700 – $3,160
1993 BMW K75S (ABS)
$9,290
$790 – $3,930
1993 BMW K75RT (ABS)
$10,290
$800 – $4,565
1994 BMW K75
$6,790
$700 – $3,430
1994 BMW K75A (ABS)
$7,790
$755 – $3,800
1994 BMW K75S (ABS)
$9,590
$825 – $4,295
1994 BMW K75RT (ABS)
$10,590
$825 – $4,775
1995 BMW K75
$7,490
$700 – $3,365
1995 BMW K75 3
$7,790
$580 – $2,240
1995 BMW K75 3A (ABS)
$8,990
$580 – $2,430
1995 BMW K75S (ABS)
$10,790
$790 – $4,295
1995 BMW K75RT (ABS)
$12,590
$855 – $4,815
(Source: Nada Guides)
Common BMW K75 Problems
Spline Failure
The K75's spline is the most talked about in BMW-dedicated forums. When not taken care of the way it should, it turns into the most problematic component of the two-wheeler – and is also true for most models in the BMW K series. Thankfully, there are numerous online references where you can get tips on checking the splines and repairing them when needed. But so long as you lubricate these parts accordingly, you shouldn't have to experience any form of failure.
Fuel Tank Leak
Another prevalent issue with the BMW K75 is an intermittently leaking fuel tank. According to K75 owners, the leak mostly came from the left side of the power mill after starting the motorcycle but would disappear shortly after. It was due to a loose fuel line clamp located on top of the bike's pressure regulator. Replacing the stock crimp-type clamp with a threaded one is proven to resolve the leak permanently.
Starting Problems
Difficulties in starting, specifically cold-starting issues, trace back to a defective coolant temperature sensor circuit. This problem isn't as rampant as the bike's spline failure but can be equally taxing if not addressed since one of the sensor's elements inputs to the fuel injection system. When servicing or repairing, bear in mind, the sensor has a negative temperature coefficient design (which means the sensor decreases as coolant temperature increases). If the coolant temp sensor checks out, inspect if you have a sticky starter relay or a slipping starter clutch.
Fuel and Electrical Gremlins
The stock fuel pump is not resilient when used with gasohol-type fuel and needs a replacement every two years (at least $580 in expenses each time). Fuel tank seals tend to change into black putty and tar and must be replaced yearly. Air temp sensors cannot be repaired if they go bad, immediately necessitating a new airbox over $650.
Double-Edged ABS
The practicality of an ABS-equipped trim relies heavily on the bike's application. They are proven to be beneficial when driving in cold or rainy weather. However, the downside is that the ABS controller units can go bad, dampening the usefulness of the said feature. So, unless you are located in an area with frequent rain, having a non-ABS K75 would hold as much value as owning one that does.
Flimsy Components
Plastic mountings caused stock fairing and the speedo to bounce around (especially on S models). Side panels were particularly unstable, although their frequent removal was done more for engine cooling and aesthetic purposes than build quality issues. All K75 versions have mounts for aftermarket handguards but are not as solid as Classic trims. These bikes have fork-mounted provisions that are sturdy but also sensitive to crosswinds. Lastly, the stock high-beam switch across all models is also reportedly faulty.
Miscellaneous
The K75 is not known for acceleration. And although not top-heavy with handling, it does register as such when city driving or maneuvering it in the parking lot. Its half-fairings are a blessing for rides in colder weather, but not when the sun is out, and ambient temperatures are rising. Some BMW K75 parts, like the stock engine guards, are flimsy and easily tear off at speed since they're rubber-mounted.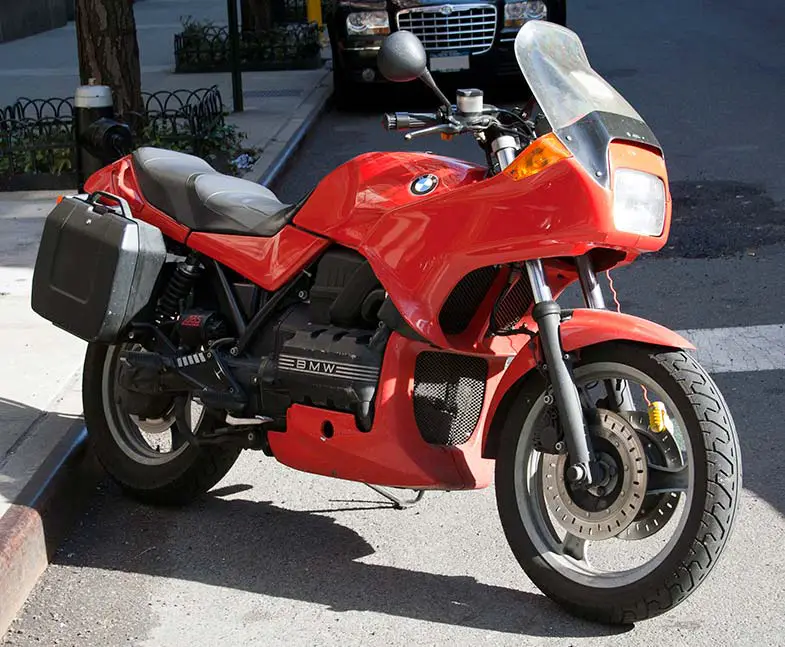 Recommended Mods
Because this nostalgic motorcycle is currently only available used, it would be wise to do the following upgrades – even if the bike has been well-kept and regularly serviced. Some of the items in the below list (like tire and wheel replacement) are purely a matter of personal preference and maybe disregarded, provided the stock rubber and rims are not deformed or damaged:
Engine oil and filter change
Brake fluid and coolant flush
Final drive and transmission oil change
Rear and clutch spline lubrication
New fuel pump, injectors, and Bosch coils (if deteriorated)
Swingarm boot replacement or new progressive rear shocks (view on Amazon) with reservoir
Brake rotors/pads, footpeg pads, and clutch cable replacement
K100 radiator for improved cooling
Removal or repair of fairings
Aftermarket high-performance, full exhaust system to replace the stock 4-into-1 tailpipe
New aftermarket seat (earlier models were known for their poor saddle design)
Cosmetic upgrades – new BMW roundel, paint touch-ups on panels and cylinder covers
Tire and wheel upgrade (depending on the bike's intended application)
State Motorcycle Inspection (if planning to make it street-legal)
Anything else that comes up during motorcycle inspection
The first four bullet points are practically a must, as most BMW K75 problems emanate from issues with these parts. The rest are more for improving rider comfort and the bike's usability. Either way, expect to have your work cut out for you if your K75 has had more than three owners and skipped a few periodic maintenance schedules.
Maintenance
Regardless of model year or iteration, it is important to note that the BMW K75 is a high-maintenance bike and essentially more complex than a modern-day Vespa. Even if you are mechanically savvy and do most of the work on your own or opt to seek assistance from a professional, you may end up with more expenses than you'd like either way (more so if you want to modernize its styling). It would be more practical to thoroughly inspect your wheeler and identify what needs to be fixed or modded early on.
About BMW
BMW (Bayerische Motoren Werke GmbH or Bavarian Motor Works) is a German manufacturer with over 100 years of heritage. Although founded in 1916 as Rapp-Motorenwerke, it was not until 1928 that the firm became an automobile manufacturer – after a merger with Knorr-Bremse AG in 1920 and the acquisition of Fahrzeugfabrik Eisenach shortly after. It has not looked back since and is a multinational company specializing in premium-quality luxury automobiles, mobility solutions, and motorcycles such as the BMW K75.
Conclusion – BMW K75 Review
The BMW K75 was considered one of the most affordable tourers then, and it still is. For an average of $2,000, you can get your hands on a decent-looking, sufficiently maintained 'Brick.' The big difference now is that the technology this vintage bike offers is way behind that of modern-day sport-tourers of its class.
But then again, getting a BMW K75 was never about saving a few dollars. It is about prestige and the inexplicable joy of riding something with so much history. I hope you get your hands on one of the 18,000 units sold during its heyday.