Honda CB 125 Motorcycle Specs and Review
Disclosure: We may get commissions for purchases made through links in this post.
One of the issues consumers have with sport-styled motorcycles is that they tend to alienate the beginner crowd. Conversely, commuter bikes do quite the opposite – they are simple and practical, yet slightly restrictive in power band, handling, and difficulty. Thankfully, Honda has come up with motorbikes such as the Honda CB 125, offering a perfect balance between functionality and fun.
Introduced in 1971, the Honda CB 125 was a lightweight two-wheeler that came from the firm's extensive line of on-road motorcycles. Forgiving, fun, and economical, this motorbike featured an air-cooled inline engine, a 5-speed gearbox, retro styling, and sports-oriented mannerisms.
Whether it is the earlier models or its derivations, the Honda CB 125 screams power, ease of use, and quality. Previously styled in the same vein as big bikes, the CB 125 continually adapts to the changing times both in look and overall design. Continue reading and learn about this classic daily commuter's brief history, pros and cons, and capabilities.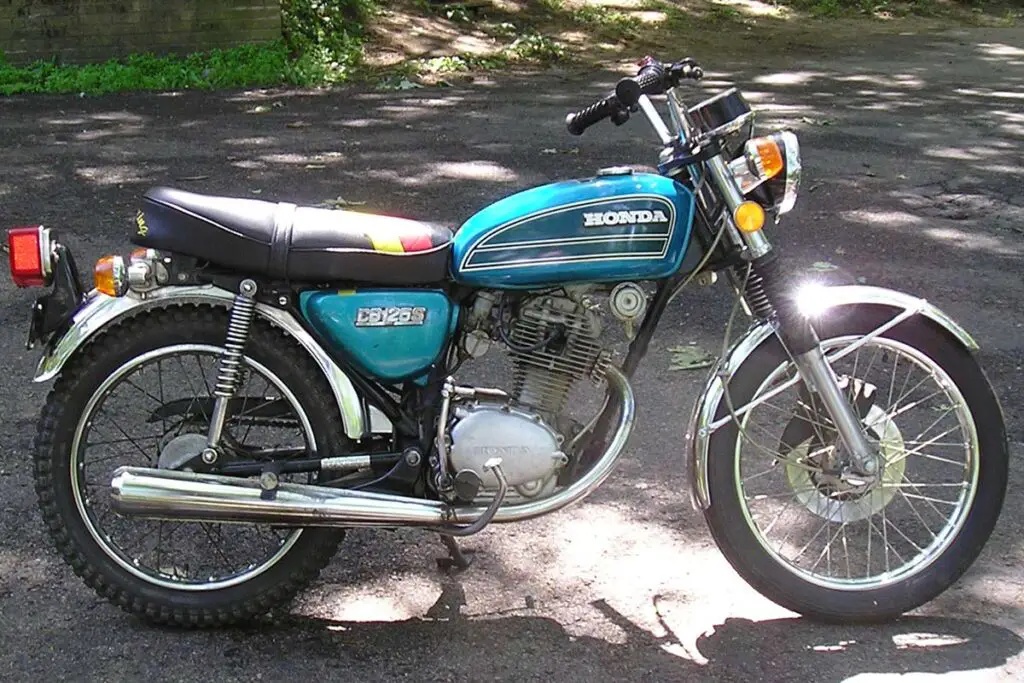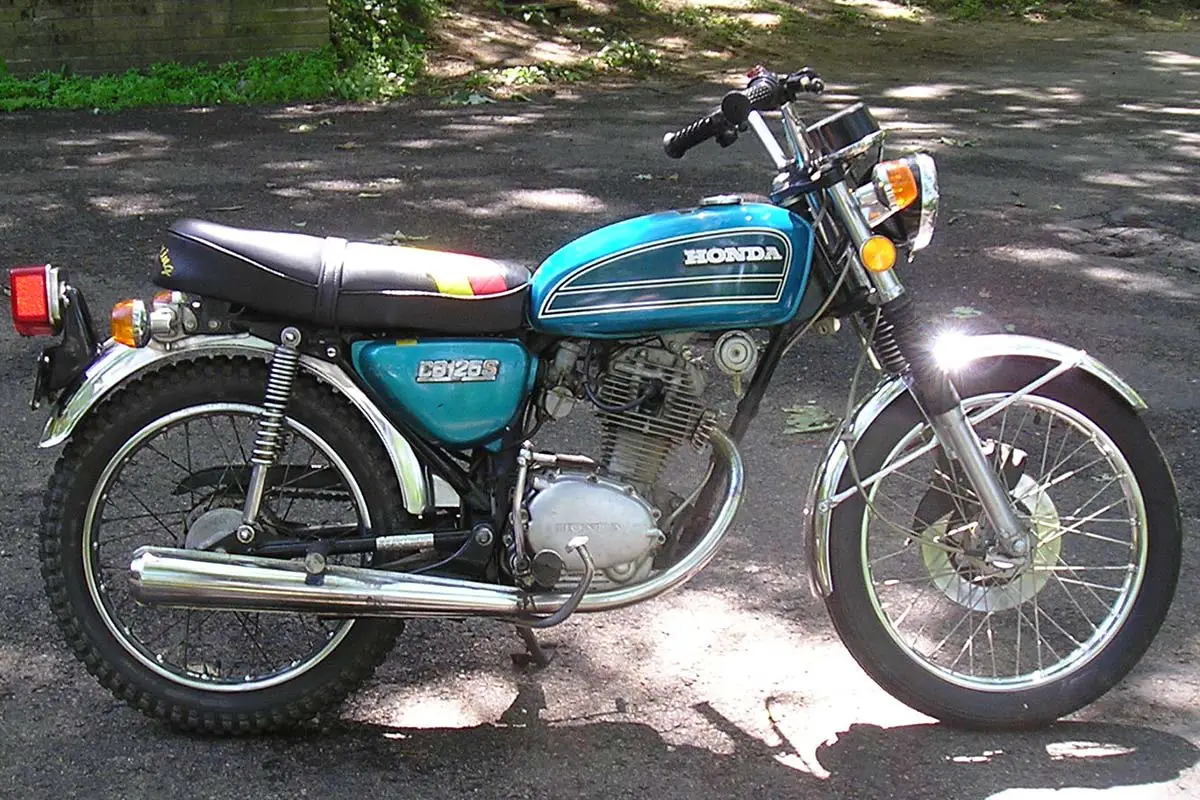 About the Honda CB 125
The Honda CB 125 is a vintage commuter with the 5th smallest displacement from Honda's line of CB (cruising/commuting) motorcycles. Released in the U.S. in 1973, this classic motorbike immediately charmed the buying public with its versatility, beginner-friendly features, and café-racer-brat-bike aesthetic. It is a quasi-sport wheeler best-enjoyed solo or with a passenger and which has most of the essentials down for a street bike conversion.
The initial run of the CB 125 series began in the '70s and lasted for over a decade. However, several online resources trace the inception of the CB 125 back to the 1967 Honda CB 125 Benly (a.k.a. CB92, CD125TC Benly, Benly Super Sport). While its piston displacement and fuel tank capacity are almost similar to 1976 CB 125 production models and onward, the Benly spewed more ponies, had twin cylinders and a smaller bore-stroke ratio and received a 5-speed gearbox from the get-go. Cosmetically though, novice riders would find it difficult to tell the twin-valve and single-cylinder versions apart.
Post-1985 Derivations
The motorbike's uncanny resemblance with the CB92 is not the only thing interesting about it. It is not yet clearly established whether the CB125 is a detuned version of the Benly or if the latter is an entirely different CB model. However, what is certain is that Honda stopped producing the CB 125 after 1985 only in the U.S. The commuter bike was revived and sold in Australia, Nigeria, the United Kingdom, and other markets outside of America after 2009.
In 2018, Honda released three (3) CB 125 trims, namely – CB 125E (LAMS-approved, air-cooled entry-level bike), CB 125F (twin-valve sportbike), and CB 125R (CBR-inspired naked sportbike). While the engine specs for these iterations are not too far from the original, their appearances have been revamped. Except for the CB 125E that retained the original's classic style, the CB 125F and CB 125R look more like a cross between a neo-sport café racer and a Honda Grom.
Honda CB 125 Benly Specs & Features
Engine
The 4-stroke OHV CB125 power mill has a semi-spherical combustion chamber and is air-cooled with 30o inclined twin cylinders. Engine displacement is 124.5 cm3 (7.6 in3), compression ratio is 9.0:1, and bore-stroke ratio is 44 x 41 mm (1.73 x 1.61 inches). A piston-valve type, 18-mm Keihin carburetor handles air-fuel mixture.
Depending on the year and trim, the bore-stroke ratio of some models may vary slightly from others – with ratios ranging from 43.2 x 43.2 (1.70 x 1.70 inches) to 56 x 50 mm (2.21 x 1.95 inches). The same goes for carb size, which later increased to either 24 mm (constant-velocity Keihin) or 26 mm. The only downside to these enhancements is decreased horsepower and top speed rating. Power output decreased from 15 hp @ 10,500 RPM to 10 hp (7 kW), while the Honda CB 125 top speed also declined – from 81 mph (135 km/h, '76-'85) to 62 mph (100 km/h, 2018 model).
Fuel & Lubrication
Air filtration is a filter-paper type and is mated to a pump-and-splash lubrication system. The oil pump is a plunger type, while the oil filter is a combined wire mesh and centrifugal system. The capacity for the bike is 1.0 L/0.27 US gallon of SAE 30 or 40 (SAE 10 or 20 for winter) 4-stroke motor oil with an API grade of at least SJ meeting JASO T903 standards.
Fuel-wise, the Honda CB125 is gasoline-fed and requires 10.5 L/2.8 US gallons. For post-2009 versions, tank capacity has been upgraded to 16 L/4.23 US gallons to match the bigger carburetor. It is not indicated in the service manual whether regular or unleaded gasoline is needed. But for best results, using a high-quality variant with a minimum RON 91 rating would be best.
Drivetrain
A 4-speed constant mesh transmission (later changed to a 5-speed gearbox) and a wet, multi-plate clutch assembly with a left-foot operated return shift system deliver power to the ground. A Daido chain with 110 links (located between the right and left cylinders) handles wheelspin and may be replaced with a corresponding 415, 420, or 428 O-ring or roller chain (view on Amazon). Front and rear sprockets only saw significant changes when a 5th gear was added, affecting the bike's final reduction ratio.
Here are the gear ratios for the 1976 CB125:
| | |
| --- | --- |
| Primary Reduction Ratio | 3.700 |
| Transmission Gear Ratio – I | 2.769 |
| Transmission Gear Ratio – II | 1.778 |
| Transmission Gear Ratio – III | 1.318 |
| Transmission Gear Ratio – IV | 1.040 |
| Final Reduction Ratio | 2.625 |
Ignition
CB125s came to life with a breaker-point ignition and electric-kick starting system, while 1981 models onward had solid-state CDI (Capacitor Discharge Ignition). The bike's electrical system was wired to 6V until 1983 before it got updated to support 12V. A Kokusan EG19 generator served as its charging system, while a 12V 9Ah/(10 HR) MBW3-12C battery-powered lighting and electronic accessories. A D-8H spark plug (with a gap of 0.6-0.7 mm or 0.024-0.028 inches) is responsible for spark ignition and can be replaced with an NGK D8EA or Nippon Denso X-24ES plug or Iridium variant of the same heat range and dimensions if fouled or found defective.
Tires & Brakes
Stock tires consist of 2.50-18 4-ply, and 2.75-18 4-ply rubber mounted on 3.00-18 and 1.75-18 five-spoke aluminum rims. In case of wear or puncture, they can be swapped out for 80/100-18 or 90/90-18 radials, depending on whether you need to replace the front or rear tires. As for brakes, the old CB 125 used leading, internal-expanding drums (later changed to a hydraulic-disc-drum combo for post-2009 iterations) to provide its stopping power.
Suspension
Enclosed in a tubular steel frame (64° caster angle, 76 mm/3 inches trail) are front telescopic forks and a rear pivoting swingarm, both paired with oil-damped, hydraulic Showa shocks. Each suspension unit provides wheel travel of 118 mm (4.6 inches) and 70 mm (2.8 inches), respectively. The wheelbase is comparable to most Honda motorcycles at the time, measuring at 1,548 mm (60.96 inches).
Given the two-wheeler's 5.76-inch ground clearance, limited swingarm length, and short wheel travel, it would be wise to upgrade factory shocks to Monroe Load Adjust Shock Absorbers (view on Amazon). Doing this – alongside getting bigger tires – will improve suspension travel and performance on straightaways and tight corners.
Dimensions & Capacities
Overall Honda CB 125 dimensions are 1,947 x 745 x 990 mm (76.7 x 29.4 x 39 inches – L x W x H). Seat height is approximately 30 inches and can comfortably accommodate medium-built to tall riders. The handlebars are semi-raised and allow for natural posture while cruising. Dry weight is 127 Kg (279 lbs.), while curb weight is estimated at 133-137.5 Kg (293-303 lbs., unloaded). Newer models have roughly the same wet weight (despite the reduced wheelbase) due to the increased capacity for fuel.
Exterior
An old-school brat bike on the outside, the Benly (and all other versions of the CB 125), was made available in a multitude of colors, as follows:
Candy Topaz Orange
Aquarius Blue
Candy Peacock Green
Fire Red
Candy Riviera Blue
Light Ruby Red
Black
Candy Imperial Blue
Turuna Red
It was equipped with a speedo-tacho instrumentation, dual side mirrors, and street-ready lighting. It also received cosmetic changes every year, with most of the changes touching on the color of the fuel tank and decals. Headlights were made rectangular in 1985 but changed back to circular headlamps for recent production models.
When the Turuna Red trim was released, the two-up seat and tailpipe were slanted slightly upward at the rear, a side stand was added, the rear luggage rack was ditched, and chromed fenders were exchanged for body-matching ones. All other features characteristic of the classic bike were retained.
Cost of a Honda CB 125
The original list price of Honda CB 125s released in the U.S. ranged from $640 to $1,048 – with the 1982 model being the most expensive of the lot. Retail pricing barely went up by $100 yearly until 1979, when the cost for the commuter bike jumped to $898 (roughly $6,000 if sold today). Rate increases ensued after 1980 but did not go beyond $80 each time. Interestingly, the motorbike's MSRP seems to have gone back to $898 during its outgoing year.
| Year – Trim – Model # | List Price | Retail/Trade-In Values |
| --- | --- | --- |
| 1973 Honda CB125S0 | $640 | $480 – $1,910 |
| 1974 Honda CB 125S1 | $640 | $480 – $1,910 |
| 1975 Honda CB125S2 | $656 | $475 – $1,880 |
| 1976 Honda CB125S | $656 | $475 – $1,880 |
| 1978 Honda CB125S | $725 | $475 – $1,880 |
| 1979 Honda CB125S | $898 | $475 – $1,880 |
| 1980 Honda CB 125S | $928 | $475 – $1,880 |
| 1981 Honda CB125S | $998 | $420 – $1,880 |
| 1982 Honda CB125S | $1,048 | $475 – $1,880 |
| 1984 Honda CB125S | $898 | $475 – $1,880 |
| 1985 Honda CB125S | N/A | $475 – $1,880 |
(Source: Nada Guides)
As for releases outside the U.S., the original list price ranged between $2,299 AUD and £3,989. Nowadays, you can buy the motorbike secondhand, with the CB 125R trim costing from £3,100 to £4,200. These pre-loved motorcycles typically have a few hundred miles under their belt and with a maximum of three previous owners.
You will find that pricier models come with a factory tool kit, an owner's manual, a digital service manual, a matching Honda helmet, and a clean title. Some bikes even have their battery and spark plug replaced. CB125s valued beyond $2,500 are generally in good (if not great) working condition. However, expect minor chips, scuffs, and blemishes on the fenders and plastics, as well as rust formation on the underside of the muffler in some units.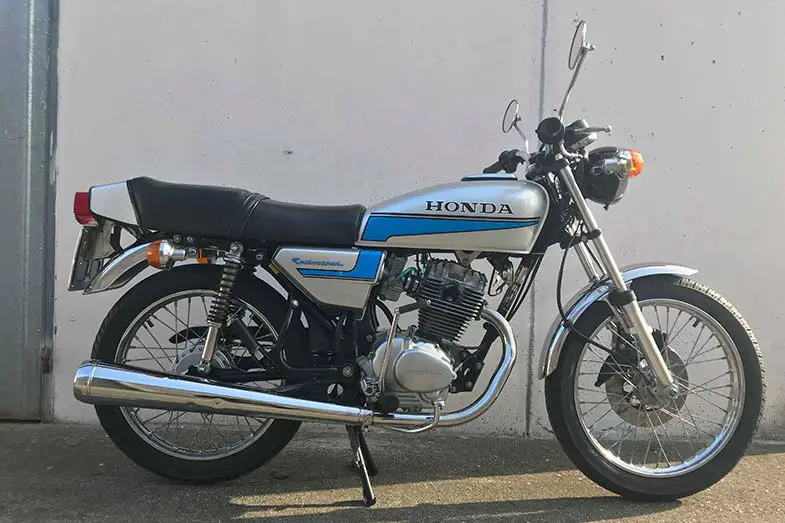 Honda CB125 – Pros and Cons
Although many riders consider the Honda CB 125 the ideal road bike, the two-wheeler is not without flaws. That said, here are a few of the ups and downs of the CB125 you need to be aware of – especially if you are contemplating on getting one as a daily commuter:
Pros
The bike is fuel-efficient, capable of providing a gas mileage of 100 mpg (2.35 L/100 km) at speeds below 55 mph (88.5 km/h).
It only requires diligent and on-time oil changes, among other periodic maintenance needs.
The Honda CB 125 Benly provides a power output that is 5-hp more than the standard, single-cylinder models.
Thanks to their 12-volt electrical configuration, post-1983 models are more preferred for street bike conversion.
Recent CB 125 models are equipped with ABS (Anti-Lock Braking System) and fuel injection.
The resale value for older CB125 models is potentially higher than recent-year trims.
Honda brought back the 3-Kg capacity rear luggage rack on newer iterations of the CB 125, adding to the bike's functionality.
Cons
The 4-speed gearbox of earlier Honda CB125s and the absence of a rev counter compromise the commuter bike's performance (perhaps the reason behind upgrading the transmission to a 5-speed constant mesh).
Stock camshaft bearings are machined into the cylinder head, which means you will have to either machine the head, take roller bearings, or replace the cylinder head altogether once the original bearings are worn.
Post-2009 versions have better styling and improved fuel tank capacity but fall short on top speed.
Given the bike's low-tech power mill, it will require a bit of choke when cold-starting.
Some owners find the front and rear brakes spongy.
Accessing the battery can prove difficult, as it is located under the fuel tank and not the seat.
An unpleasant trade-off for having a two-up saddle seat (view on Amazon) is the lack of comfort when cruising all day.
About Honda
Honda Motor Company Ltd. is a Japanese conglomerate globally renowned for its contributions to the automotive industry. Founded in 1946 in a small garage in Hamamatsu, Japan, the firm grew from selling motorized bicycles with surplus engines to producing luxury automobiles and participating in Formula 1 races. But the company has not turned its back on its first love and has since included mopeds, scooters, sport bikes, and street cruisers like the Honda CB 125 in its repertoire. At present, Honda stands as the largest motorcycle producer in the world.
Conclusion – Honda CB 125 Review
While it feels like forever since the Honda CB 125 has touched American shores, the competent bike is making waves in other countries – with current iterations almost mimicking the original power output of the 1967 Benly. It may now appear more like a sports bike than a standard daily commuter, but its heart and core design are still the same as it used to be five decades ago. Moreover, its earlier versions are still in demand and create a buzz in the used market. So, if you fancy vintage looks, linear power, and unrelenting performance, look no further than the Honda CB 125!