Kawasaki ER-6N Motorcycle (Specs and Review)
Disclosure: We may get commissions for purchases made through links in this post.
The Kawasaki ER-6N is among the catalysts that started the 'big bike boom' in the mid-2000s and is considered by many to be the perfect machine for daily commuting, weekend escapades, sport-touring adventures, and light track riding. With its angular lines, classic, colorful finishes, and robust but narrow chassis, it has rightfully earned itself a commanding presence in the big-bike segment.
A precursor to the 650 and Z650 models, the Kawasaki ER-6N is one of the earliest two-wheelers to boast an impressive powerband range, an ECU-managed DFI system, and a sugomi design treatment. Designed for the road, this purpose-built machine is a favorite among seasoned gearheads and novices.
Original and subsequent iterations of the Kawasaki ER-6N were created with the following qualities in mind — approachable, pragmatic, cost-effective, and stylish while still capable of satisfying the adrenaline-rush needs of new and experienced riders alike. Thanks to this original breed of roadsters, these attributes have become a given in modern-day thumpers.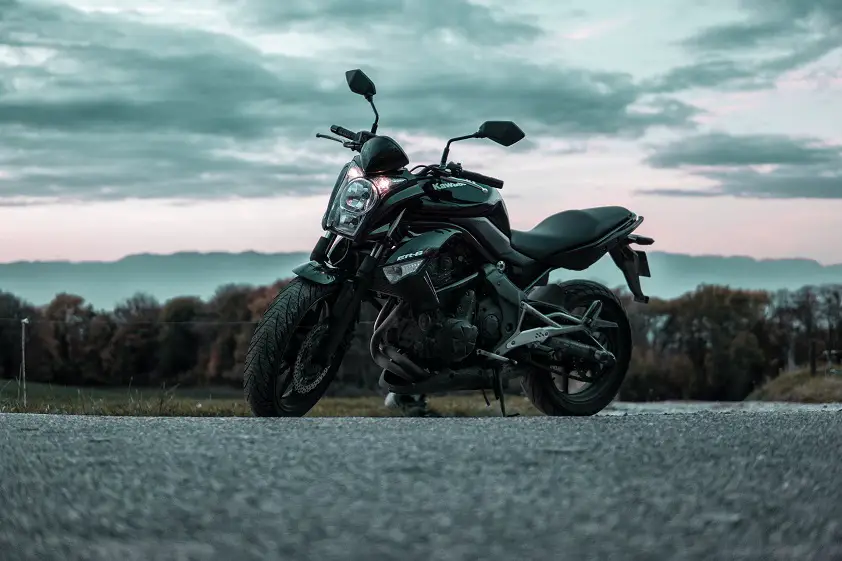 ER-6N: Unleashing the Roadster Thrills
The Kawasaki ER-6N debuted in 2006 as a middleweight roadster, captivating riders with its unique blend of style and performance. Built on the foundation of the highly-esteemed Ninja 650R, the ER-6N was introduced as a stripped-down, naked version of its sportier sibling. Eventually, it spawned new-generation naked bikes, Ninja 650 and Z650, which dominated international markets like Australia and Malaysia for decades.
Produced from 2006 to 2016, the ER-6N was not introduced in North America until 2009. Nonetheless, the then brand-new naked bike hit the ground running with its awe-inspiring aesthetic and practical features. It enjoyed a 7-year stint in the U.S. and an 11-year production run globally.
With its strong midrange power, the ER-6N offers an exhilarating ride through winding roads. It is also a sheer delight in corners — unsurprising for a model that is essentially a Ninja 650. When compared to the latter, noticeable adjustments in the rake and trail bring about quicker and more responsive turns.
The bike handles corners with finesse thanks to its bikini-fairing and agile build. Furthermore, its stock suspension skillfully navigates uneven surfaces (albeit still with room for improvement).
The post-2012 versions represented the peak of the Kawasaki ER-6 model evolution. This is a huge contrast to the first two generations of the bike, which was almost left untouched except for a few minor tweaks here and there. For these 3rd generation iterations, power was delivered smoother, the seats were plusher, and the thumper exhibited enhanced stability and superior handling.
These enhancements made lasting impressions with the two-wheeler's loyal patrons and set the label's unprecedented reputation in stone.
2006 Kawasaki ER-6N Specs & Features
Engine
The Kawasaki ER-6N comes to life via a liquid-cooled, 4-stroke DOHC power mill. It has an 83 x 60 mm (3.268 x 2.362 inches) bore-stroke ratio and an 11.3:1 compression ratio, with a piston displacement of 649cc (39.6 in3) — an exact copy of its sportier sibling, the Ninja 650R.
Similar to most Team Green sport bikes at the time, the ER-6N's air-fuel mixture was handled by PGM-FI (Programmed Fuel Injection) coupled with dual Keihin TTK38 throttle bodies and a polyurethane foam air filter.
Overall, this engine layout lends to the following performance figures:
Fuel & Lubrication
The ER-6N has a fuel tank capacity of 15.5 liters (4.1 USgal), suitable for regular unleaded gasoline. It requires a minimum Octane rating of PON 87 or RON 91, and the fuel should not contain more than 15% MBTE, 10% ethanol, and 5% methanol. However, it is best to opt for methanol-free fuel options, as they reduce the likelihood of engine knocking and are more beneficial for the motorcycle's performance.
Lube-wise, the naked bike utilizes a gear-type oil pump and has a Forced lubrication (semi-dry-sump) system with the following requirements:
After draining: 1.7 L (1.8 US qt)
After draining and with the oil filter change: 1.9 L (2 US qt)
After disassembly: 2.4 L (2.5 US qt)
Recommended engine oil for the roadster is 4-stroke oil with an SAE 10W-40 viscosity rating and without "Energy Conserving" labels or molybdenum/graphite additives.
Drivetrain
The motorcycle features a 6-speed, cassette-type, manual return shift system paired with a cable-actuated, multi-disc wet clutch assembly. This combo provides an extensive selection of gear ratios, enhancing the bike's versatility, power transfer dependability, and operational efficiency.
Meanwhile, a final #520 chain drive (view on Amazon) — originally ENUMA EK520MVXL1 chain with 114 links — delivers power from the engine to the ground.
As for stock transmission gear ratios, see the table below:
| Description | |
| --- | --- |
| Primary Reduction Ratio | 2.095 (88/42) |
| Transmission Gear Ratio — 1st | 2.438 (39/16) |
| Transmission Gear Ratio — 2nd | 1.714 (36/21) |
| Transmission Gear Ratio — 3rd | 1.333 (32/24) |
| Transmission Gear Ratio — 4th | 1.111 (30/27) |
| Transmission Gear Ratio — 5th | 0.966 (28/29) |
| Transmission Gear Ratio — 6th | 0.852 (23/27) |
| Final Reduction Ratio | 3.067 (46/15T) |
| Overall Drive Ratio | 5.473 @Top gear |
Ignition & Electricals
A Battery and coil (transistorized) ignition system with two spark plugs and an electronically-advanced Denso digital igniter with a timing of 10° BTDC @ 1,300 RPM ± 50 RPM (initial "F" mark) and 35° BTDC @ 4,800 RPM awaken the Kawasaki ER-6N. Meanwhile, a triple-phase alternator with a rated output of 24 A/14 V @ 5,000 RPM serves as its charging system.
Responsible for spark ignition are NGK CR9EIA-9 plugs. A 12V 10Ah/(10 HR) YTX12-BS battery aids in powering electronics, lighting, DFI, and the ECU. The stock battery can be swapped for same-spec lithium formats (view on Amazon).
Tires & Brakes
Alloy wheels are fitted with knobbies measuring 120/70 ZR17 M/C 58W at the front and 160/60 ZR17 M/C 69W at the back. During its debut, the two-wheeler had tubeless Dunlop Sportmax D221 radials, replaceable with same-spec Michelin Road 5s (view on Amazon), Pirelli Diablos, or their equivalent.
Across all production models, factory tires require a cold-tire pressure of 225 kPa (2.2 kgf/cm2, 32 psi) at the front and 250 kPa (2.5 kgf/cm2, 36 psi) at the back for a payload capacity of up to 180 Kg (397 lbs.). In scenarios involving sportier or high-speed usage, tire pressure adjustments might be necessary — contingent on the specific type of tires employed, prevailing track conditions, and rider preferences.
To complete its tire-and-wheel assembly, the ER-6N has triple hydraulic discs handling its halting responsibilities. These brake rotors are fitted with single-pot and dual-piston Nissin calipers, respectively. ABS was optional during the bike's inception but became standard in later production models.
Suspension
Enclosed in a high-tensile, diamond steel frame (24.5° rake; 102 mm/4 inches trail) are non-adjustable front telescopic forks and a swingarm unit at the rear. The front forks require KAYABA KHL34-G10 fork oil during servicing, while the gas-charged rear shocks offer 7-way spring preload adjustability.
Other factors impacting overall handling and maneuverability are the ER-6N's 1,405-mm (55.3-inch) wheelbase, 140-mm (5.5-inch) ground clearance, and 2.7-meter (8.9-foot) turning radius.
Dimensions & Capacities
The overall dimensions of the Kawasaki ER-6N are 2,100 x 760 x 1,095 mm (82.7 x 29.9 x 43.1 inches — L x W x H). The seat height is 785 mm (30.9 inches, slightly lower-slung than the four-wheeled KFX 700), while the footpeg height is unspecified in the owner's manual.
Dry weight is 174 Kg (383.7 lbs.), while curb mass is 196 Kg (432.2 lbs.) with a 50:50 front-and-rear weight bias. These values put the ER-6N's GVWR (Gross Vehicle Weight Rating) at an estimated 376 Kg (828.9 lbs.) — equivalent to a full fuel tank, fluids, maximum payload limit, and accessories.
Exterior
A detuned version of the sportier Ninja 650R, the Kawasaki ER-6N is loved by beginners and enthusiasts due to its inviting and less-intimidating aesthetic. Its sharp contemporary styling is a fresh take on Kawasaki's naked bike look. Leveraging its compact twin-cylinder engine to the fullest, it achieves a streamlined chassis with a slim profile, enhancing its agility and providing an enjoyable riding experience.
Notable features of this stylish roadster include its underside skid guard, stacked dual headlamps, low-effort controls, and a low saddle. A sculpted fuel tank and angular lines tie up the overall look of the ER-6N quite nicely. As if that were not enough, the two-wheeler was made available in several color options, namely:
Black
Green
Blue
White
Red
Gray
Candy Lime Green
Pearl Stardust White
Candy Plasma Blue
Price of a Kawasaki ER-6N
The Kawasaki ER-6N retailed for an introductory price of $6,399 and €6,990 during its final year. The ABS-equipped models sold for £5,799 in the UK in 2016 ($7,859 or approximately $9,990 with inflation factored in).
The ER-6N was initially marketed outside the US (mainly in Europe, Australia, and some Asian countries) before being brought to America in 2009. Hence, online sources for the yearly listing price of the motorcycle throughout its production run can be hard to come by.
Used Kawasaki ER-6Ns sell for $3,500—$7,775. These bikes typically have a mileage range between 288 and 28,083 miles. Auto Trader, Bike Sales, and Moto Hunt are some sites worth checking for good finds. However, still, prepare for the need to replace the battery and tires (among other wear-prone components).
Common Problems of the ER-6N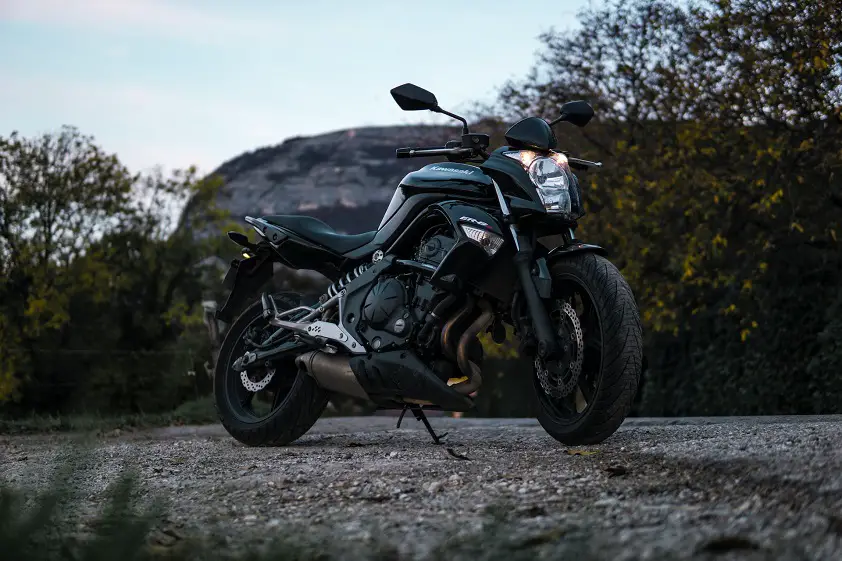 In this section, let us review the two-wheeler's most prevalent issues. Note that this list is non-exhaustive. It excludes potential assembly flaws during dealership processes, as well as other cases that can be attributed to inadequate maintenance and the strenuous use of the roadster:
Soft Stock Suspension
One commonly reported issue with the Kawasaki ER-6N is its soft factory suspension setup. While this might provide a comfortable ride over regular surfaces, it can pose challenges during aggressive riding or when encountering uneven roads.
The soft suspension can result in excessive body movement and reduced stability, especially in high-speed cornering or abrupt maneuvers. It also does not help that the front suspension is non-adjustable.
Lack of Advanced Electronics
Compared to more modern thumpers, the ER-6N lacks advanced electronics. The absence of features like traction control, ride modes, and sophisticated ABS systems (especially in earlier models) could be seen as a deal breaker by some gearheads, particularly those seeking the latest tech advancements to enhance safety and performance.
Valve Overlap Duration
Some owners have highlighted issues related to the valve overlap duration in the Kawasaki ER-6N's engine. Valve overlap is the period during which both the intake and exhaust valves are open. If not well-tuned, excessive valve overlap can lead to power loss and decreased overall engine efficiency.
Addressing this concern might involve fine-tuning the engine's valve timing to strike a better balance between power delivery and fuel efficiency. In the case of Team Green, reducing the throttle body diameter for subsequent production models did the trick.
Restricted Torque Curve
While the ER-6N offers a respectable amount of torque, some riders have noted that its torque curve feels restricted in certain RPM ranges. This can affect acceleration and throttle response, making the naked bike feel less lively or responsive in specific riding conditions. Kawasaki rectified this when it reduced the throttle body diameter was reduced by 2 mm each.
For mechanically-savvy motorheads, adjusting the fuel mapping or exhaust system can also help broaden the torque curve for a more engaging and versatile riding experience.
Rough Cornering Transitions
In earlier production models, the potent reverse torque of the engine occasionally posed a challenge to seamless cornering transitions. This forceful engine braking effect could translate to reduced speed, resulting in instability and reluctance to turn, ultimately eroding rider confidence.
Additionally, aggressive downshifting could lead to rear-wheel hopping or even skidding. This was addressed by including an assist and slipper clutch in later incarnations.
About Kawasaki
Kawasaki Heavy Industries, Ltd., a globally renowned motorcycle manufacturer and part of the Japanese "Big 4," has a rich history dating back to 1878. The company has consistently pushed the boundaries of engineering and design, from being a part supplier for shipping businesses to creating two-wheelers that cater to various riding preferences.
With a strong focus on performance and innovation, Kawasaki has built a cult-like following and expanded its offerings to include aerospace and energy technologies, hydraulic equipment, motorsport machines, ATVs/UTVs, and aquatic vessels.
Conclusion — Kawasaki ER-6N Review
The Kawasaki ER-6N remains a charismatic roadster that offers an invigorating riding experience. Its blend of power, design, and affordability has made it a favorite among seasoned, versatile riders and aggro beginners.
While it may not boast the latest bells and whistles, its core appeal lies in its ability to deliver unadulterated riding pleasure — a trait that continues to captivate motorheads of all skill levels to this day.