KTM RC8 1190 Specs and Review (Sport Bike)
Disclosure: We may get commissions for purchases made through links in this post.
KTM is an established manufacturer with easily recognizable motorcycles because of their signature color scheme: pumpkin or orange. Most of their units made a good name because they won races. The KTM RC8 1190 is the brand's very first unit with a superbike design that is still popular among enthusiasts even after its production was discontinued.
So, what does the KTM RC8 1190 motorcycle have to offer its users? Enthusiasts have contrasting opinions about the RC8. But overall, it is aesthetically pleasing and high-performing even though it was launched over a decade ago. What's more interesting is the RC8 isn't available at a hefty price.
Allow us to help you understand why some riders considered the RC8 a poorly styled sport bike, while others loved the fresh touch that gave it a unique style. We'll also look into why its production was discontinued and what each RC8 year model offers. With all these bits of essential information, you can easily decide whether or not it's the right one for you.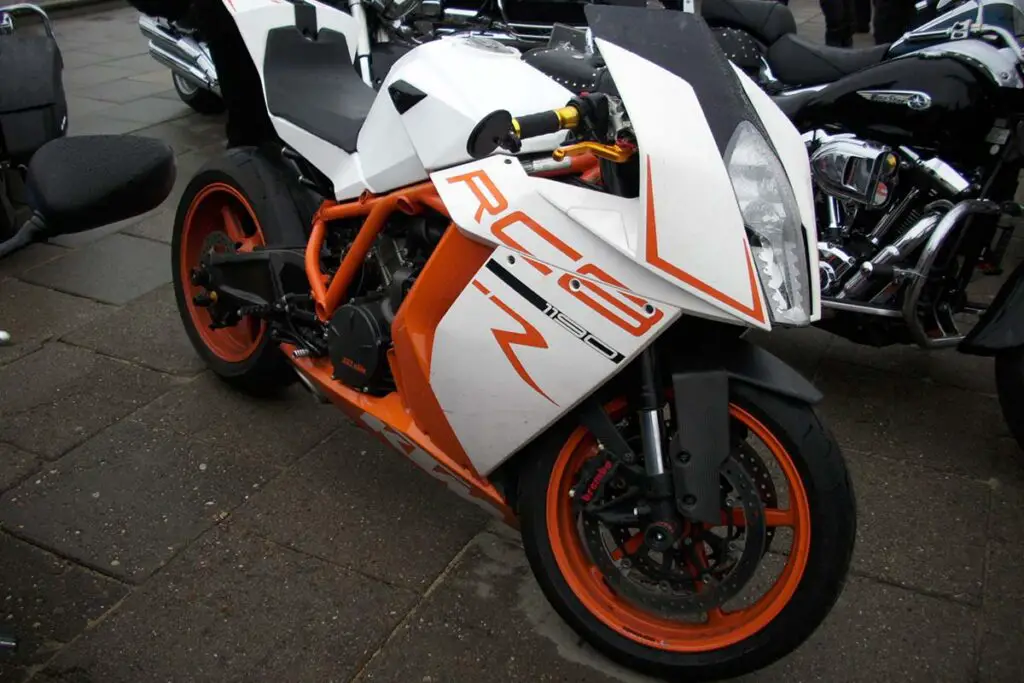 About KTM
Formerly named KTM Sportmotorcycle AG, KTM AG is now the KTM Group's parent company. You'll find most of its subsidiaries in Europe, while others are located in Australia, Brazil, Canada, Mexico, South Africa, and some Asian countries like Japan and Singapore. Other brands under KTM are Husqvarna, GASGAS, and WP.
Generally, they're a motorcycle, sports car, and bicycle manufacturer that started as a vehicle repair shop. The high cost of cars, even after The Second World War, inspired them to design and sell beginner-friendly motorcycles that the majority of the population could afford.
Although the company's primary goal was to allow the public to own a personal transportation unit, its first motorcycle units made a name in supercross, enduro, rally, and motocross competitions. This made KTM one of the top off-road motorcycle manufacturers.
KTM began including street bikes and cars in the late 1990s. Up to this day, they continue to sell a good number of units worldwide, especially in Europe. The company also assures they continue to innovate their designs based on thorough research and changing laws and user needs and preferences.
KTM RC 8 Review of Features
The RC 8 by KTM is among the motorcycles that captured the interest of many riders or enthusiasts up to this day. Here are the exterior and interior features you'll expect from this sport bike.
Exterior Features
The motorcycle has an edgy style, which wasn't loved by all enthusiasts, claiming it isn't a sport bike's signature. Nonetheless, it's one of the things that make it standout from its competition. After all, the bike boasting top-quality materials that ensured its durability is what made some riders love it the most.
The RC 8 is designed with a powder-coated trellis frame made using a combination of chromium and molybdenum and a seat subframe made of cast aluminum. Its suspensions have a WP-made alloy-based double-sided swingarm, state-of-the-art inverted fork, and sliders coated with a combination of aluminum, titanium, and nitride.
The fork also boasts three different adjustment modes: rebound damping, compression damping, and spring preload. Additionally, the bike's shock absorber allows the efficient low and high-speed circuits separation of the compression damping. Completing the suspension setup is the steering damper that the rider can adjust conveniently.
You'll also love that the bike has many adjustable features that make your ride more enjoyable, such as the handlebars, footpegs, shifter, clutch lever, rear brake pedal, front brake lever, and subframe or seat height. This feature ensures the bike can accommodate riders of different heights and body frames. Likewise, its height-adjustable rear subframe contributes to better stability and quicker turns.
The first-generation model has a wider wheelbase than the succeeding models, specifically, a 10-millimeter difference. On the other hand, the seat height is similar across the board.
Interior Features
The RC8 was conceptualized around 2005, with a plan to equip it with a Super Twin 999cc or 61 cubic inches V-Twin engine. During the first official production in 2008, though, the manufacturer increased the motor's engine displacement. Like any other motorcycle or product for that matter, it wasn't a perfect model.
KTM values its customers and target market's opinions, concerns, and suggestions, so the succeeding year models also have upgraded internal components for improved performance and handling. Let's look at each of them.
2008 KTM 1190 RC8
With a displacement of 70.1 cubic inches or 1,148cc and a V-twin, two-cylinder engine, the first-generation RC8 boasted consistent and smooth performance. It's equipped with a hydraulically operated, multi-disc clutch, six-gear transmission.
The motorcycle produced a maximum torque exceeding 85 lb-ft and power of over 150 hp. The 2008 model recorded 178 miles per hour in terms of its speed.
2009, 2010/2011 KTM RC8 1190
As noted, KTM engineers retained some features and upgraded other features. Before we proceed, please note that the units produced in 2010 were launched in the US as the 2011 year model.
With that out of the way, these KTM RC8 models have higher displacements at 72.9 cubic inches or 1,195cc, so they also recorded higher maximum speed, horsepower, torque, and compression ratio. They also have larger bore and stroke. The camshaft finger followers were treated with low-friction DLC or diamond-like carbon and loaded with titanium-based intake valves.
KTM RC8 R
Although this model isn't really part of the RC8 1190 series, its features and specs are worth noting since they're somewhat similar. Also, it was produced to supplement the controversial RC8 models.
One of the striking differences is that RC8 R's V-twin engine was equipped with the technology known as twin spark per cylinder. That means each cylinder has two spark plugs.
When the bike runs lower than 7,000RPM, only one of the spark plugs ignites. At a higher RPM, though, both get ignited for reduced detonation and optimum burning. These changes also led to ECU retuning, revamping the bike's cam timing and throttle bodies.
The throttle butterfly remapping decreased the amount of opening when there's only small throttle input. This upgrade allowed riders to transition smoothly and removed the previously experienced snatchy throttle.
Additionally, these units have heavier flywheels and crankshafts for more low-end torque emphasis and buzz reduction. Lastly, the RC8 R has a hydraulic multi-disc transmission equipped with a slipper action system.
KTM RC8 Table of Features Specs
For you to compare and contrast the year models quickly and easily, below is a tabulated summary of their specs and features.
Table of Exterior Features and Specs
Features
2008
2009 and 2010/2011
RC8R
Seat Height
805 millimeters or 31.70 inches
Wheelbase
1,435 mm or 56.50 in
1,425 mm or 56.10 inches
Rake
23.30 degrees
Rear Suspension
WP 4014 Shock Absorber
Front Suspension
43-millimeter WP inverted fork; top-out spring
Rear Brakes
220mm single disc; single-piston caliper
Front Brakes
320mm twin-floating disc; radial-mount; four-piston calipers
Rear Tire
190/55ZR-17
Front Tire
190/55ZR-17
Table of Interior Features and Specs
Features
2008
2009 and 2010/2011
RC8R
Engine Type
75° V-Twin; Liquid-cooled
Displacement
1,150cc or 70 cubic inches
1,195cc or 72.9 cubic inches
Valve Train
Chain-Driven, DOHC, Eight Valves, Two Cylinder
Transmission
Hydraulically-controlled Oil-bathed Multi-disc Clutch
Additional Slipper Action System
Maximum Torque
85 ft-lb or 115.24 Nm at 8,000RPM
90 ft-lb or 122.02 Nm at 8,000 RPM
Maximum Power
151 hp at 10K RPM
173 hp at 10,000 RPM
Compression Ratio
12.5:1
13.5:1
Bore/Stroke
103.0 x 69.0 mm or 4.06 x 2.720 in
105.0 x 69.0 mm or 4.13 x 2.72 in
Final Drive
Sealed Chain
Fuel Delivery
Fuel injection; Electronically Controlled
Twin Spark
Fuel Capacity
4.4 US gallons or 13.6 imp gal or 16.50 liters
FAQs About KTM RC8
Understandably, the features and specs of the KTM RC8 1190 won't be enough to ensure you're making the right decision. Some concerns need to be addressed, especially since the unit was only produced for two years. Here are answers to three common questions motorcycle buyers ask to help you have a more informed decision.
Why Was the KTM RC8 Discontinued?
In 2015, KTM officially announced that they halted the production of street-legal superbikes, which includes the RC8. According to their CEO, Stefan Pierer, the primary concern is the KTM RC 8 top speed since it's no longer considered safe for public roads. That said, they started designing and releasing track-only RC bikes, such as the RC16 and the RC 8C.
What is the KTM RC 8 Top Speed?
So, how fast can the RC8 go? The recorded maximum speed of the sport bike is 178 mph or approximately 280 kph, and its one-fourth mile acceleration is around 10.27 seconds.
As such speed level, it's not highly recommended for beginning riders, especially young riders, even if they're experienced. Keep in mind that this population might still make mistakes in terms of controlling the bike, which can lead to a crash.
Of course, don't forget to prioritize your safety, even if you've been riding and driving motorcycles for years. Responsibly driving while wearing the right protective gear, such as a reliable full-face helmet (view on Amazon) and knee and shin guards (view on Amazon), is always imperative. You may also want to wear a Bluetooth headset (view on Amazon) for easy and hands-free communication, especially if you're always expecting business or personal calls.
What is the Price of the KTM RC8?
Definitely, you won't find brand-new units of the RC8 anymore, but you'll find individuals, dealers, and companies with available second-hand units—the KTM 1190 RC8 pricing ranges from $6,000 to $8,000. You'll also expect to spend at least around $450 for annual maintenance, depending on the history and condition of the unit you purchased.
On the other hand, expect that you'll pay more for the RC8 R since it has more upgraded features and produced at the latter years. It's currently around twice the KTM 1190 RC8 pricing or $12,000 and above.
KTM RC 8 Review: The Verdict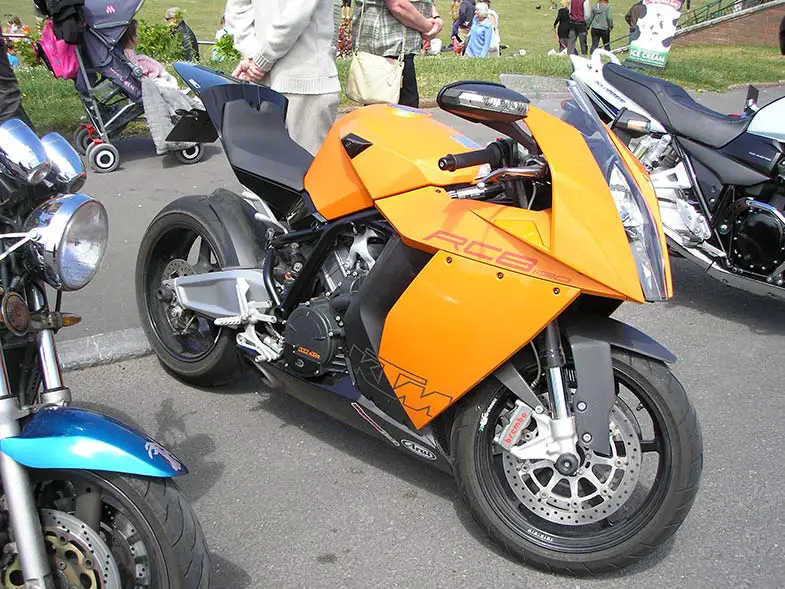 Keeping in mind the KTM RC8 hp, torque, and speed, it's a powerful and reliable sport bike for your off-road or track adventures. Riders who've driven it for years only brag about its engine's performance, fuel efficiency, and minimal annual maintenance.
The KTM RC8 1190's appearance and handling won't disappoint you either. Lastly, your comfort as rider and driver has been kept in mind, evidenced by the adjustable features included.
Overall, considering its price tag of less than $10,000, there's no doubt that it offers great value for money and is a good bargain. Just make sure you purchase a well-maintained unit. That said, the RC8 R is also an excellent purchase as long as you have the budget for it.