Honda VFR 800 Specs & Review (Sport Touring Bike)
Disclosure: We may get commissions for purchases made through links in this post.
Lauded for its balanced features and prestigious lineage, the Honda VFR 800 is one of the past century's most well-loved touring motorcycles. A two-wheeler that combines the best in sport and commuter bikes, the VFR800 has got everything down from its inception – too well that some riders deem it unremarkable. Read this article and find out if it disproves or affirms this notion.
The Honda VFR 800 is a mid-weight sport-touring motorcycle produced since 1998. Boasting optional ABS, dual CBS, H-VTEC technology, and excellent performance figures, it is a straightforward yet refined bike capable of being a city cruiser and a Transatlantic Racing participant.
Steady power delivery, modest but handsome styling, and forgiving mannerisms are just some of the key selling points of this sport-tourer. But are these attributes enough to meet consumer demands in sport touring, or should Honda have given it more? We can only speculate on the VFR 800 series' bearing in the said segment. And while we do, let us learn more about the highly acclaimed wheeler in this guide.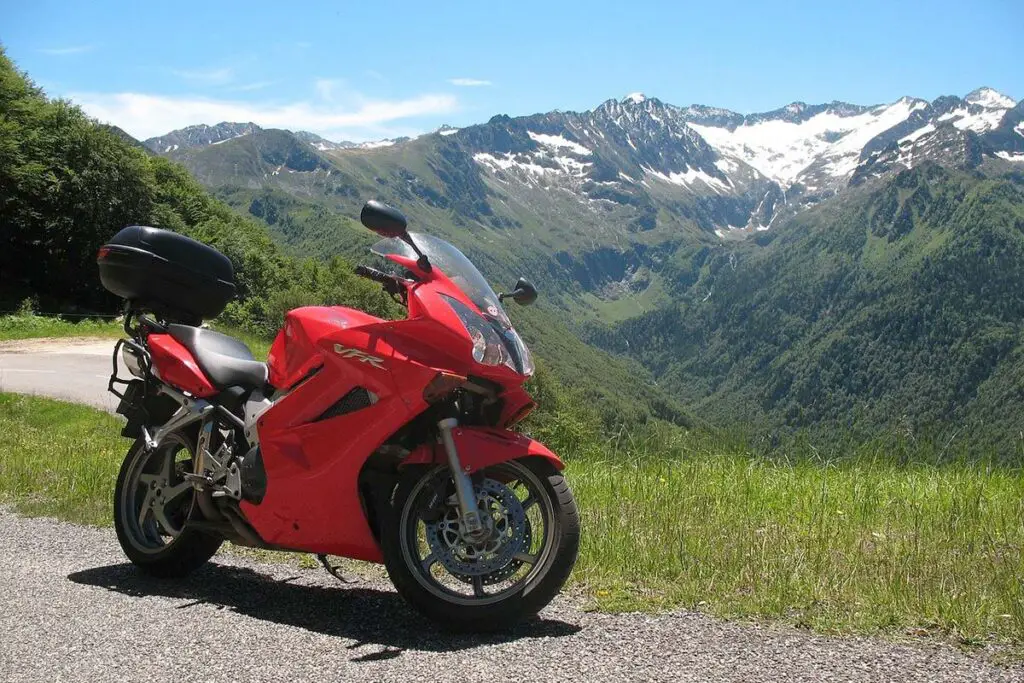 The 'Steve Davis' of Motorbikes
One common truth between people and motorcycles is this – being overly reliable is construed as being boring. This notion may not necessarily be a bad thing for folks. But for a sport-tourer like the Honda VFR 800, it is. For a motorcycle that has gone through eight generations and served multiple customers, calling it boring would be unwarranted (not to mention somehow disrespectful). And yet, the V-Four Racing (VFR) two-wheeler has earned the moniker 'Steve Davis' of motorbikes.
First launched in 1998, the Honda VFR 800 design was inspired by the VFR750F (regarded as the best year of the Honda VFR series). However, variances between the two are pretty noticeable. For instance, the 782-cc motorbike has a fuel-injected, longer-stroke engine versus its predecessor's carbureted setup. Other differences include its two side-mounted radiators, right-side positioned camshafts, improved torque spread, and the addition of oxygen sensors, a catalytic converter, and a PGM-FI system with a cruising-activated closed-loop mode.
The VFR800 continued to receive mass-reduction and cosmetic updates through to its 8th Gen models (available in the market until 2019). When it re-debuted at the EICMA show in Milan in 2013, the sport-tourer flaunted these changes, along with a new instrument panel, revised aerodynamic bodywork, traction control, and a single-side exhaust system. However, its chassis and engine retained the same layout as its 6th Gen versions.
Would Have Been
This weighs heavily on the minds of Honda sportbike savants and, more so, the VFR 800's ardent following. While the sport-tourer performed well, many enthusiasts felt that it was not developed to its full potential. For starters, it could have done better with an all-new chassis, top-notch electronics, and an engine that was closer to the guise of what's in the 1986 VFR750F.
There is also the issue of the product line's declining sales. Although Honda tried to salvage things with the RC46 version, the revamped 2002 model came into the scene just a tad too late. Yes, the bike sold well, in a sense. But with more advanced adventure bikes dominating the market, the VFR800 could not get enough 'show of hands' to justify being given an R&D allocation. The supposed development budget could have fixed the two-wheeler's frame and engine layout.
Despite its rather basic framework and lack of advanced tech, the Honda VFR 800 does offer impressive stability and handling. It may not have remote suspension selection or a fancy drive-by-wire throttle, but it still works excellently – even on twisty roads. The sport-tourer had a long way before it reached its optimal form. But even with its imperfections, its features are "perfectly integrated," and the bike sure is a blast to ride.
Honda VFR 800 Specs & Features (2002 RC46 Model)
Engine
A liquid-cooled, 4-stroke DOHC engine with a 90° V4 cylinder arrangement and an electric starting system brings the RC46 to life. Piston displacement is 782 cm3 (47.7 in3), compression ratio is 11.6:1, and bore-stroke ratio is 72 x 48 mm (2.83 x 1.89 inches). Its air filtration is an oiled paper element. A PGM-FI (Programmed Fuel Injection) with a 36-mm throttle body handles air-fuel mixture.
Overall, this engine configuration lends to a Honda VFR 800 top speed of 140-150 mph (225-241 km/h), 107 hp (80 kW) @ 10,500 RPM horsepower, and 75.1 Nm (7.7 kgf-m, 55.4 ft-lb) maximum torque. Japan units have slightly lower power output than the rest of the markets, at 80 PS @ 9,500 RPM. Similarly, 8th Gen Honda VFR 800s only spewed 104.5 hp (77.9 kW) ponies.
Fuel & Lubrication
Lubrication system is a Forced pressure and wet sump with a trochoid-type oil pump. Capacities are 2.9 L (3.1 US quarts, after draining), 3.1 L (3.3 US quarts, after filter change), and 3.8 L (4 US quarts, after disassembly). Recommended engine oil is SAE 10W-40 Honda GN4 or HP4 (without moly) or its equivalent, with an API grade of at least SJ meeting JASO T903 MA/MB standards. Other viscosity grades mentioned in the service manual may be used following ambient temperatures.
Fuel-wise, the Honda VFR 800 requires 22 L (5.8 US gallons) of regular, unleaded gasoline with a rating of at least PON 87/RON 91. Gasohol variants are permitted, although engine fuel that contains no more than 5% MBTE, 10% ethanol, and 5% methanol would be best.
Drivetrain
A 6-speed constant-mesh transmission and a hydraulically-operated wet, multi-plate clutch assembly with a left-foot operated return shift system deliver power to the wheels. A DID50VA8 or RK50HFOZ5 chain with 110 links that handles wheelspin may be replaced with a corresponding #530 O-ring chain in case of wear or damage.
Outside of Japan, the 2002 Honda VFR 800 was the first motorcycle to utilize H-VTEC (Honda's Variable Valve Timing & Electronic Control), which has all four valves per cylinder of the bike set to an activation RPM threshold of 6,800 RPM (further lowered to 6,400 RPM in 2006). This valve-gear system turns the RC46 into operating like a two-valve-per-cylinder engine at low-to-mid speeds and was designed to meet stringent noise and emissions standards and increase peak engine horsepower.
For reference, here are the VFR 800's transmission gear ratios:
| | |
| --- | --- |
| Primary Reduction Ratio | 1.939 (64/33) |
| Transmission Gear Ratio – I | 2.846 (37/13) |
| Transmission Gear Ratio – II | 2.062 (33/16) |
| Transmission Gear Ratio – III | 1.578 (30/19) |
| Transmission Gear Ratio – IV | 1.291 (31/24) |
| Transmission Gear Ratio – V | 1.111 (30/27) |
| Transmission Gear Ratio – VI | 0.965 (28/29) |
| Final Reduction Ratio | 2.687 (43/16) |
Ignition
The ignition system is a computer-controlled digital transistorized type with an electric advance and a timing of 15° BTDC at idle ("F" mark). A triple-phase A.C. alternator with a rated output of 470 watts @ 5,000 RPM serves as its charging system, while a 12V 10Ah/(10 HR) battery power electronic accessories. It requires an NGK IMR9B-9H or Nippon Denso VNH27Z Iridium spark plug with a gap of 0.8-0.9 mm (0.031-0.035 inch) is responsible for spark ignition.
Tires & Brakes
Stock tires consist of 120/70 ZR 17 M/C (58W) front, and 180/55 ZR 17 M/C (73W) rear tires mounted on 3.50-17 and 5.50-17 spoke aluminum rims. Depending on the version of the VFR800, factory rubber could either be Bridgestone BT020F BB/BT020R BB, Dunlop D204FK/D204K, or Metzeler MEZ4A tires. Recommended cold-tire pressure for the front is 250 kPa (2.5 kgf/cm2, 36 psi) and 290 kPa (2.9 kgf/cm2, 42 psi) for the back. Finally, dual 296-mm (11.7-inch) hydraulic front discs with three-piston calipers and a single 256-mm (10.1-inch) hydraulic rear disc complete the bike's tire-and-wheel assembly and provide it stopping power.
Suspension
Enclosed in a diamond frame (25.5° caster angle; 95 mm/3.7 inches trail) are 43-mm HMAS cartridge-style front telescopic forks with preload-adjustable dampers and a single-sided rear swingarm with rebound-adjustable, gas-charged dampers utilizing Pro-Link mounting. Each suspension unit provides front and rear wheel travel of 120 mm (4.7 inches). The wheelbase is 1,460 mm (57.5 inches), making for fewer accidental wheelies, tighter turns, and an overall smoother ride. On the downside, the bike's minimum ground clearance is only 130 mm (5.1 inches).
Dimensions & Capacities
Overall Honda VFR 800 dimensions are 2,120 x 735 x 1,195 mm (83.5 x 28.9 x 47 inches – L x W x H). Seat height is 805 mm (31.7 inches) – just the right height for medium-built to tall riders – while footpeg height is 349 mm (13.7 inches). The handlebars are low-lying and characteristic of sportbikes that support more aggressive riding positions. Dry weight is 213-219 Kg (470-483 lbs.), while curb weight is 244-250 Kg (538-551 lbs., unloaded). The weight limit capacity for Canadian releases is 185 Kg (408 lbs.) and 181 Kg (399 lbs.) for all other models.
Exterior
The sport-tourer is available in Italian Red, Pearl Shining Yellow, Metallic Light Silver, Winning Red, Asphalt Black, Digital Silver, and (Stormtrooper) Pearl White panels with body-matching full fairings plus a special three-tone finish for its 25th Anniversary Edition. Standard fitments include rearview mirrors, self-canceling indicators, heated grips, and a centrally placed instrument panel. Stock halogen headlights provide superb illumination and have upgraded to an x-shape for later-year models to match the bike's sporty-aggressive aesthetic. For the best touring experience, you can get accessory panniers that attach to the bike's rear without ugly brackets.
Honda VFR 800 Price
Depending on the generation and trim, the list price for the Honda VFR 800 ranged from $8,499 to $12,999 – with Deluxe versions of the production bikes valued at $1,000 more than base/standard models. This extra amount covers the following features:
Adjustable fork preload and rebound damping
Two-stage traction control, remote rear-suspension preload adjuster
Self-canceling turn signals
A center stand
ABS (which replaced the dual CBS system in older iterations)
As for resale values, current pricing ranges play around $1,110 to $6,410.
Buyers who wanted a fuller package could choose a dozen other accessories like a quick shifter, saddlebags, and handlebar risers. Adding these non-stock perks wouldn't bring the motorbike up to par with more tech-advanced counterparts, but it does give the rider a bike that is styled according to personal preference.
Honda VFR 800 Pros and Cons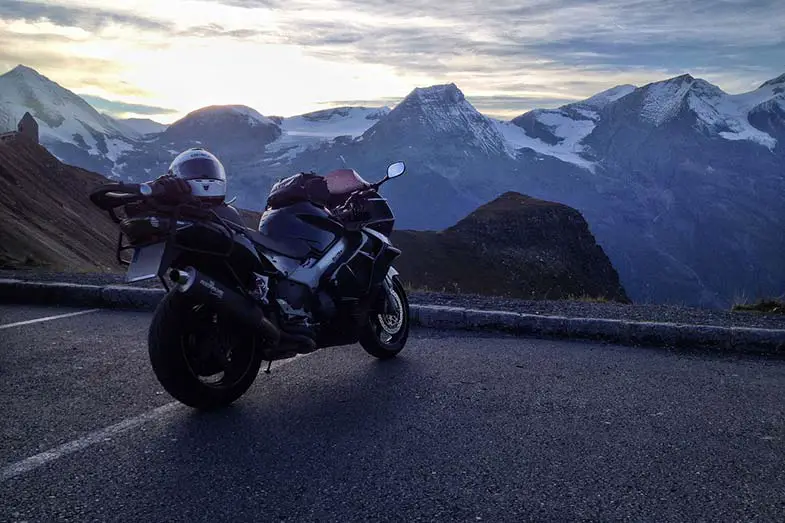 If you are researching alternatives to the Honda Interceptor, then the below (non-exhaustive) list of considerations should prove helpful. I also included some VTEC issues for you to ponder:
Pros
The sport-tourer is more economical to buy and own – especially now that prices have gone down by approximately a third of the original costs.
It provides the right amount of power, thrills, and comfort.
The Deluxe trims of the Honda VFR 800 are feature-rich and come with traction control, heated grips, ABS (the one feature you never knew you needed), and accessory panniers.
It has a nice torque curve with a very responsive bottom range.
The driver's side of the two-up saddle seat was made adjustable – from 30.7 to 31.5 inches.
Restyling of the sport-tourer – including trading graphic treatments for solid colors and smooth flanks, going for 10-spoke hollow die-cast wheels, and simplifying the exhaust system – helped shed 20 lbs. off the motorbike.
VTEC refinements such as revised exhaust tuning, upgraded fuel mapping, and new camshaft profiles (among others) have eliminated the bike's infamous forward lurch, smoothening out the valve transition for 2014 models and up (8th Gen).
Cons
The Honda VFR 800 is not as fancy-looking as its same-class counterparts.
Competition's offerings are much lighter and easier to maneuver.
The detuned nature of later generations seems to lack the fire of earlier VFR 800 models.
The switch from gear-driven to chain-driven camshafts was not widely supported and seemed to have taken a toll on the motorbike's performance.
Overall, the motorcycle is more difficult to maintain than its counterparts given its two engine heads – this also means a more costly valve service.
Servicing the brakes and radiator can be a pain because of the bike's full fairings.
VTEC Problems (2002 to 2013 models)
The VTEC valve actuation was too sudden for pre-2006 Honda VFR 800 iterations, especially in the middle of cornering), which is why Honda lowered the actuation threshold to 6,400 RPM for succeeding models.
The rectifier unit in earlier models was problematic, while the stator lacked power and was prone to dying during stop-and-go traffic.
Some of the bike's electrical wiring was not thick enough to handle currents that actuate the headlights.
Similarly, the wiring for front/rear oxygen sensors was set backward on some European units.
The rear sub-frame tended to crack and required a product recall to get fixed.
Starter valves required synchronization to achieve better engine stability for the bike.
About Honda
Honda Motor Company Ltd. is a Japanese manufacturer world-renowned for its expertise in the motorcycling landscape and contributions in multiple automotive industries. Founded in 1946, this firm started in a small garage in Hamamatsu, Japan as a seller of motorized bicycles with surplus engines, eventually growing into the global powerhouse that it now is. Honda remains undisputed as the world's largest motorcycle producer, offering an armada of consumer-tailored mopeds, scooters, sport bikes, and sport-tourers like the Honda VFR 800.
Conclusion – Honda VFR 800 Review
Ironically, the Honda VFR 800 is both underappreciated and over-exalted. It is painful how some of its avid followers insist that it is a sportbike and end up de-valuing the two-wheeler for what it really is. Yes, it allows you to conveniently switch lanes, lean into curves, and breeze through city traffic as if you were on something smaller. But it does not have a nerve-wracking 200 hp on tap and will never be categorically a sportbike – and that's alright. If you want a forgiving motorcycle but with an edge, then the Honda VFR 800 is one sport-tourer worth taking a chance on.