2005 Harley Davidson Sportster 1200 Specs & Review
Disclosure: We may get commissions for purchases made through links in this post.
2005 saw the third-to-last installment of the Evolution® equipped, carbureted Harley Davidson Sportster 1200. Harley gave the label minor cosmetic tweaks and significant mechanical changes in the previous year, resulting in a renewed appreciation for the motorbike. It may have taken a while, but the liter-class Sportsters are finally taking a step in the right direction.
The 2005 Harley Davidson Sportster 1200 is the label's 16th-year release and one of the last iterations with a carbureted engine. Featuring two trim packages, a larger rear axle, improved performance figures, and a slew of color options, the bike regains its crowd-favorite status among avid riders.
Considered by motorcycle publications as one of the all-time best Sportster models, the 2005 version prides itself in not having the infamous engine vibrations – thanks to rubber mounts and framework modifications.
But that is not all this model has to offer. Continue reading to learn more about the specifications, competencies, detail improvements, and enhanced comfort levels of the 2005 Harley Davidson Sportster 1200.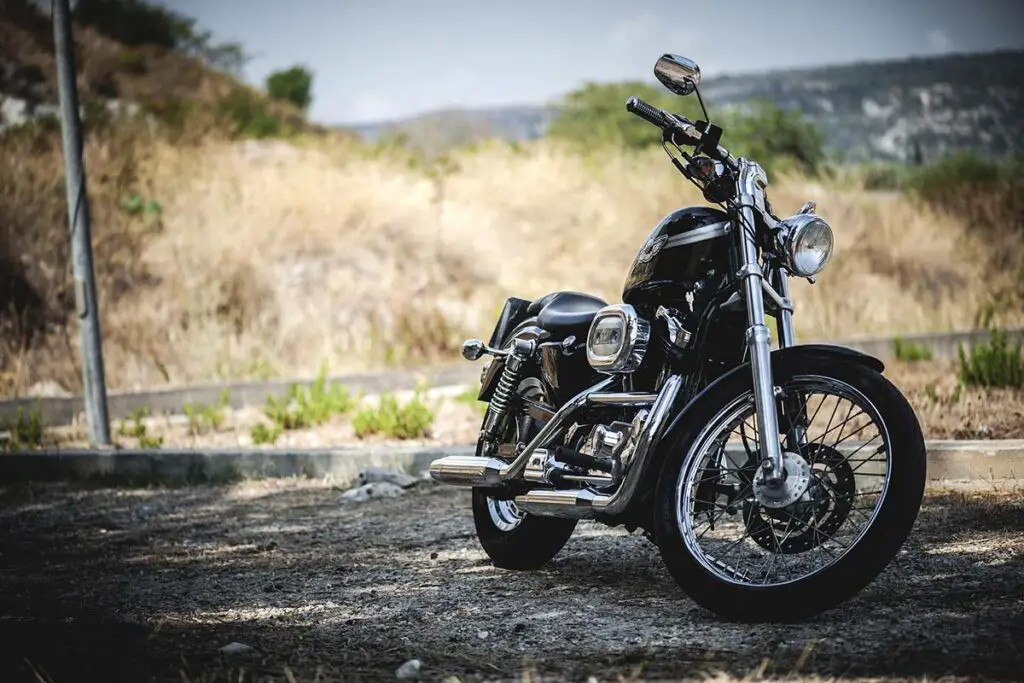 From Waffle Irons to Milwaukee Vibrator
Who would have thought Harley motorcycles could earn such ridiculous nicknames? Well, there is a very good reason behind them. You may have already read about "waffle irons" in this article on the Harley Davidson XR750, but let me fill you in on this other unseemly moniker.
Arguably, the attributes of the Sportster series can be summarized in three words – classic, torquey, and rad. These descriptions, however, are not the first things that come to mind when speaking of the two-wheeler.
More than its prestigious heritage and name brand, the motorcycle seems to be better remembered for its flaw. That is until the 2005 Harley Davidson Sportster 1200 came along.
Before Harley-Davidson sorted out this problem, the Sportster's badass reputation was slowly but steadily dying down. The shuddering was so bad (and frequent) that any remarkable motorcycle trait was quickly overshadowed. It did not help that by the late '60s, smaller-displacement but more efficient machines were dominating the motorcycling landscape.
Not only was the competition less daunting but also quicker and more agile. Ironically, Harley's own Dyna twins also added to the Sportster's tough competitors.
2005 Harley Davidson Sportster 1200 Specs (XL 1200C Custom)
Engine
An air-cooled, rubber-mounted Evolution® V-twin engine with an OHV-pushrod design brings the Sportster to life. It has a bore-stroke ratio of 88.85 x 96.82 mm (3.50 x 3.81 inches) and a 9.7:1 compression ratio.
Engine displacement is 1,195.5 cm3 (73.2 in3), delivered by a 40-mm constant-velocity Keihin carburetor, a pressurized dry-sump lubrication system, and a 2-in-1 exhaust aid in regulating air-fuel mixture.
To improve cooling and help meet emission regulations, 2005 Sportsters received heads and cylinders with bigger fins, oil jets sprayed under the pistons, and hotter cams adopted from the Buell XB engine. Alongside drivetrain upgrades, these improvements yielded the following performance figures:
Horsepower: 58 – 64 bhp (43.25 – 47.72 kW, 6-hp lower than the Roadster trim) @ 5,200 RPM
Torque: 107 Nm (10.9 kgf-m, 79 ft-lbf) @ 3,500 RPM
Top Speed: 110 – 140 mph (177 – 225 km/h, owners' claim)
Quarter-mile acceleration: 13.8 seconds
Fuel & Lubrication
Tank capacity is 17 L/4.5 USgal (inclusive of 3.8 L/1.0 USgal of reserve) of unleaded premium gasoline. This capacity yields a fuel consumption of 48 mpg (4.9 L/100 km, combined HWY/CTY) and an approximate tank range of 175 miles. A minimum octane rating of PON 91/RON 95, containing less than 15% MTBE (Methyl Tertiary Butyl Ether) or 10% ethanol, is recommended. Use of reformulated or oxygenated gasoline (RFGs) is also permitted.
Lube-wise, the 2005 Harley Davidson Sportster 1200 has the following requirements:
3.4 L (3.6 US qt) – with filter change
0.95 L (32 oz.) – transmission oil
OEM-prescribed lubrication is SAE 20W-50, 15W-40, or 10W-40 diesel engine oil with designations CF-4, CG-4, CH-4, or CI-4 meeting JASO T903 MA, MA1, and MA2 standards. Viscosity grades may vary following ambient temperatures.
Drivetrain
A 5-speed, constant mesh foot-shift transmission with stiffer clutch springs handles power, while a final belt drive (with a 1-N-2-3-4-5 shift sequence) controls wheelspin. The '05 Sportsters received improved gasket points and "lighter pistons, rods, and valvetrain components" to eradicate leaks and enable the motorcycle to rev 500 RPM faster to 6,000 RPM. These changes rendered a 15% boost in horsepower compared to 2003 incarnations.
There is not much difference in handling mannerisms between the Roadster and Custom trims, except for cornering ground clearance. The former provides a more substantial lean angle, while the short-shocked Custom starts dragging at a much shallower angle. Advantage-wise, the latter requires less steering effort and provides balanced steering under braking.
Refer to the table below for the bike's stock gear ratios:
| Description | U.S. / Other Markets |
| --- | --- |
| Primary Sprocket (Engine) | 38 |
| Primary Sprocket (Clutch) | 57 |
| Final Sprocket (Transmission) | 29 / 30 |
| Final Sprocket (Rear Wheel) | 68 |
| Transmission Gear Ratio – I | 9.454 / 9.139 |
| Transmission Gear Ratio – II | 6.500 / 6.283 |
| Transmission Gear Ratio – III | 5.040 / 4.872 |
| Transmission Gear Ratio – IV | 4.152 / 4.014 |
| Transmission Gear Ratio – V | 3.517 / 3.400 |
Ignition
The Custom trim has a non-adjustable electronic CDI (Capacitor Discharge Ignition) and an electric starting system with an auxiliary recoil starter. It uses an HD-6R12 spark plug with a gap of 0.038 – 0.043 inch (0.9 – 1.1 mm) mated to a "new flywheel-determined timing system" for improved ignition accuracy. A triple-phase alternator serves as its charging system, while a 12V, 12 Ah battery acts as a buffer for the Sportster's electricals.
The YTX14L-BS battery (view on Amazon) has a 200-CCA (Cold Cranking Amps) rating and assembled dimensions of 6.00 x 3.44 x 5.75 inches (150 x 87 x 145 mm – L x W x H). YTX20L-BS or YTX20HL-BS formats can be substitutes on '87 to '03 models, providing appropriate retrofitting.
Tires & Brakes
Cast-aluminum wheels are fitted with tubeless Dunlop D402F/D401 tires – MH90-21 54H (view on Amazon) at the front and 150/80 R16 71H at the back. Each has a respective cold-tire pressure of 206 kPa (2.1 kg-f/cm2, 30 psi) and 248 kPa (2.53 kg-f/cm2, 36 psi), with the rear requiring adjustment for pillion riding.
Brakes are single hydraulic discs with 11.5-inch rotors, dual-piston calipers at the front, and a single-piston caliper at the rear. To prevent contamination, use only silicone hydraulic DOT 5 brake fluid when assembling or servicing brakes.
Suspension
39-mm telescopic front forks and a twin-sided swingarm with coil-over, dual-adjustable preload lend to the Sportster's maneuverability and handling. These units are enclosed in a redesigned frame (30.1° caster angle; 119 mm/4.7 inches trail) with three stabilizer links and rubber engine mounts.
Compared to Roadsters, Custom trims have shorter rear shocks with a miserly wheel travel of 60.96 mm (2.4 inches). Its inadequate rear suspension translates to bumpier rides (especially when carrying a passenger), despite improvements to the rear axle (increased from 0.75 inches to 1.0 inches) and other related components.
Dimensions
The Harley Davidson Sportster 2005 dimensions are 90.3 x 32.7 x 45.7 inches (2,293.6 x 830.6 x 1,160.8 mm – L x W x H). The unloaded minimum ground clearance is 4.4 inches (111.8 mm), and the wheelbase is 60.4 inches (1,534.2 mm). Seat height is 26.3 inches (668 mm) and dry weight is 251.3 Kg (554 lbs.).
Front and rear GAWRs (Gross Axle Weight Ratings) are 149 Kg (329 lbs.) and 305 Kg (671 lbs.), totaling a 1,000-pounds GVWR. These values are 10% – 12% heavier than '03 Sportster iterations. The added mass brought about by the motorcycle's beefed-up frame dampens the supposedly significant performance improvements/power gains from the bike's valvetrain component modifications.
Exterior
The Sportster chassis is not only beefed-up but also restyled. The rubber-mounted mill and three tie-link supporting it reposition the oil tank and battery under the saddle, giving the bike cleaner visuals and more comfortable ergos in contrast to its previous protruding location.
Its peanut-shaped fuel tank, pulled-back handlebars, and push-button dipstick (among other elements) are retained. Meanwhile, the complexities of its dual-exhaust system are hidden from view under the mufflers.
While vibration is not completely eliminated and can still be felt at 4,500 RPM under a light load, changes to the chassis have successfully eradicated the superbike's infamous vibrations (comparable in notoriety to the Jeep's "death wobble").
Along with the entire '05 Sportster series, the XL 1200C offers many body color options and OEM accessories and parts. It also shares a new headlight with a clear lens, a bar-and-shield cloisonne, and reflector-optics for enhanced light distribution with other same-year versions. Custom trims, in particular, sport black powder-coated engine casings and some chrome details.
Cost of a 2005 Harley Davidson Sportster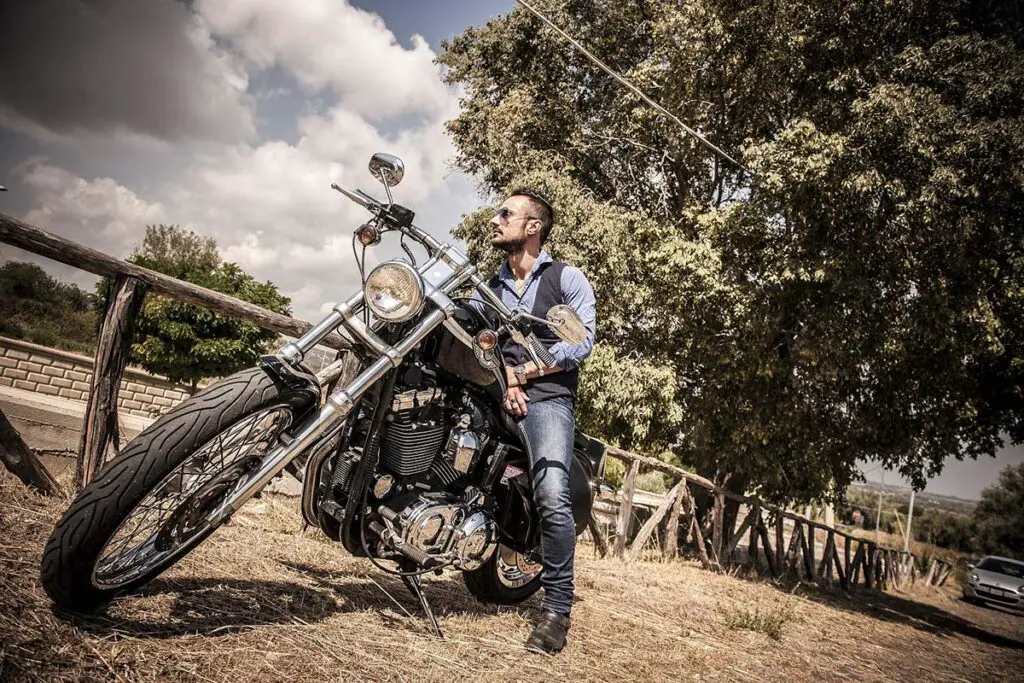 Per Nada Guides data, the original 2005 list prices for the Sportster 1200 were $9,495–$9,915 (Custom) and $8,715 (Roadster). Depending on trim and body color, average retail would currently cost anywhere between $2,465 and $3,270.
Note that these values do not include freight charges, two-tone body paint, laced wheels, security systems, or any other dealership specials that can add another $840 to the base price. More so, units released in California have a $120 higher list price due to the inclusion of emissions equipment.
As for auction listings, the price range is from $2,000 to $8,999 with custom paint, windshield (view on Amazon), leather saddlebags, and new battery and tires. Pre-owned bikes on the higher end of the price spectrum are typically Sportsters built into custom bobbers, choppers, or cafe racers. Cycle Trader listings include some of the most well-kept secondhand bikes with no running problems and near-mint condition.
Praise-worthy Attributes of the Sportster
The riding community is divided in their impressions of the 1,200-cc HD Sportster. Some say it is the closest thing to a sporty street bike, though others insist it is far from being one. The motorcycle's mannerisms can strike non-HD followers as agricultural. But for Harley savants, it is both confidence-inspiring and lovable.
While it is ideal to leave each rider to his own, it would best serve prospective buyers that we go over some of the positives of this iconic two-wheeler in this section:
 Eradication of the Sportster's "hideous vibration" shifted consumers' attention to the more pleasant characteristics of the motorcycle.
Throttle responsiveness is remarkable and remains linear despite framework and other mechanical changes.
Handling is smooth and predictable on or off-road.
The XL1200 series' belt drive is manageable and low maintenance.
Its chassis, handlebars, and saddle (among other elements) were redesigned to improve bike ergonomics, translating into improved rider position against hard braking (unlike the former hugger/clamshell shape).
Saddle height and composition are adequate for city driving but may need to be upgraded to ensure comfort during touring and all-day rides.
Consumer Wish List
Less primitive instrumentation
Better suspension components
Liquid cooling and fuel injection
Larger airbox or air filter
More upright riding position comparable to Roadster trims
Dual hydraulic discs instead of single rotors at the front
These lists (though non-exhaustive) cover key improvements and existing pain points in 2005 iterations of the Sportster. Whether or not interested folks should go ahead with the purchase of this revered classic is entirely up to their discernment and personal preference.
About Harley-Davidson
Harley-Davidson, Inc. (HD) is an American firm highly-regarded for its contributions to the motorcycling industry in the U.S. and worldwide. The company is undeniably a trendsetter, giving rise to custom two-wheelers such as bobbers and choppers.
HD has grown its plethora of offerings to include apparel, toys, accessories, scale models, and even home décor. Among its most popular products are the Aermacchi Turismo Veloce, AMF Electra Glide, and the 2005 Harley Davidson Sportster 1200.
Conclusion – 2005 Harley Davidson Sportster Review
Despite being more of a daily cruiser/commuter than a superbike, the 2005 Harley Davidson Sportster 1200 continually satisfies and provides its patrons the perfect balance between thrilling adventures and a comfortable ride. With its enhanced ergos, simplistic features, quieter engine, and broad powerband, riders can further exploit the two-wheeler's capabilities sans those dreaded vibrations.