Ducati 848 Superbike Specs and Review
Disclosure: We may get commissions for purchases made through links in this post.
If I were to describe the Ducati 848's attributes in one word, it would be "balance," however, this does not mean that the superbike is lackluster. In fact, it sports several Ducati 'firsts', as you will later discover in this guide.
The Ducati 848 is a mid-weight, entry-level sportbike produced from 2008 to 2013 and made available in standard and EVO trims. Boasting a Testastretta Evoluzione engine, 123–131 hp power output, and an almost faultless aesthetic, it is highly adept on/off the road and is many a rider's dream bike.
A steady power hike, race-oriented styling, and uncompromising performance are but some of the charming qualities of the remarkable Ducati 848. Not that familiar with the superbike? Read on and learn more about this insanely gratifying ride.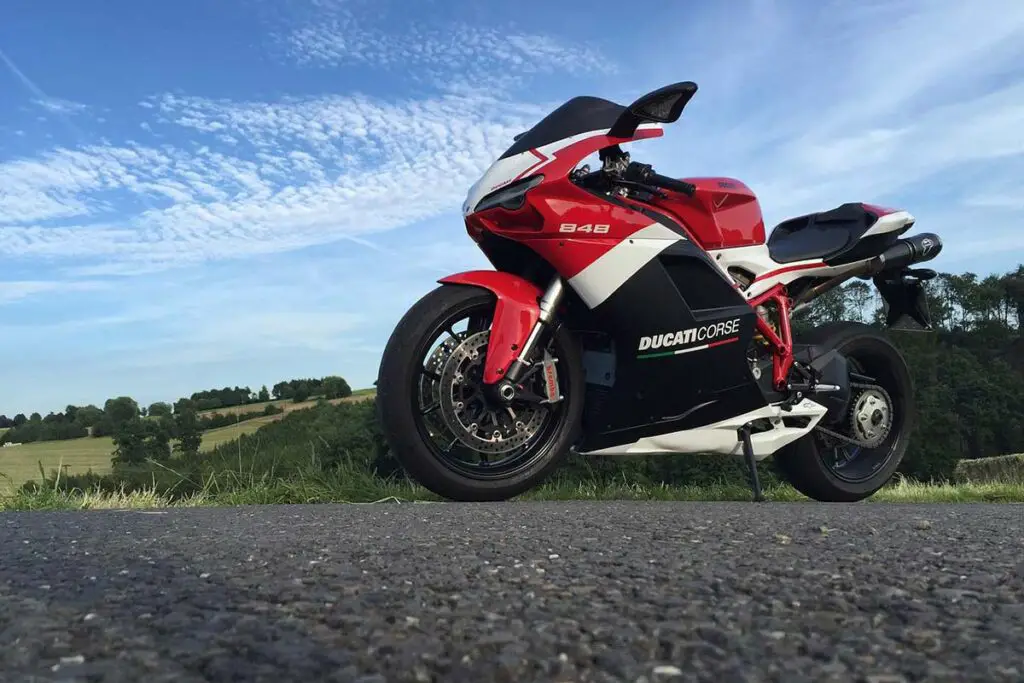 A Supersport Bike? Not Quite…
For motorheads and the Italian firm's ardent following, the Ducati 848 was a superbike that did not quite fit its intended category. It had an odd displacement and more capacity than its 750-cc counterparts but was not big enough to be considered a liter class. And yet, it was just slightly larger than 600-class speedsters – this seemingly negligible difference got the 848 ruled out of competing in Supersport tournaments.
Thankfully, this upset did not deter Ducati from improving the motorbike further. It may not have been able to serve its purpose on the tracks, but that didn't mean the motorcycle stopped catering to adrenaline-pumped, thrill-seeking hobbyists and recreational riders.
So, after observing the market and getting a feel of consumer needs and whims during the first three years of its production, the Ducati 848 launched its 2011 model with an extensive list of modifications, some of which are enumerated below (Source: Wikipedia and VisorDown.com):
Improvements from the Ducati 749:
2008 – 2010
Adopted from its predecessor, the Ducati 848's trellis frame had its main section tubes' diameter enlarged, resulting in "a 14% increase in rigidity and a weight savings of 1.5 Kg."
The motorbike received an all-new Testastretta Evoluzione power mill with an over-square bore-stroke ratio.
Motor castings of the bike were made using a method called Vacural, helping shed weight off and making the 848 roughly 7.0 lbs. lighter than its 749-cc sibling.
The 848's wet, multi-plate clutch assembly deviated from the customary dry clutch type used on previous Ducati superbikes (although the owner's manual indicates the incoming-year model still had the traditional dry clutch that the firm's motorbikes are better known for).
Previous issues with the Ducati 748 and 749 motorcycles – engine problems and electrical faults – were rectified in the design of the 848 incarnations.
2011 – 2013
Engine mods such as 60-mm Marelli elliptical throttle bodies, as well as redesigned cylinder heads, combustion chambers, and intake ports, lent to a (claimed) 15-hp increase in power output.
A new camshaft provided the two-wheeler higher lift.
Compared to base models, 2012–2013 EVO trims increased their compression ratio from 12:1 to 13.2:1 and their redline RPM from 10,800 to 11,300 RPM.
The OEM ditched the dual front brakes in favor of the more powerful bite of a single-piece monobloc Brembo®, utilized on the Ducati 1198.
EVO trims are fitted with high-performing Pirelli Diablo Supercorsa SP Tires (view on Amazon).
2008 Ducati 848 Specs & Features (Superbike, MY)
Engine
A liquid-cooled, 4-stroke Testastretta Evoluzione DOHC engine (longitudinal 90° V-twin) brings the Ducati 848 to life. Piston displacement is 849.4 cm3 (54.6 in3), compression ratio is 12±0.5:1, and bore-stroke ratio is 94 x 61.2 mm (3.70 x 2.41 inches). Its air filtration is a paper element. Marelli indirect electronic injection with a 56-mm throttle body handles the air-fuel mixture.
Overall, the above configuration lends to a top speed rating of 159–166 mph (256–267 km/h), 123–131 hp (92–98 kW, 125–133 PS) @ 10,000 RPM horsepower, and 90–96 Nm (9.2–9.8 kgf-m, 66–70.8 ft-lbf) @ 8,250 RPM maximum torque. (Lower-limit values taken from the owner's manual; upper-limit values derived from Motorcycle.com and other sources)
Fuel & Lubrication
The Ducati 848 Superbike requires 15.5 L (4.09 USgal, inclusive of 4.0 L/1.05 Usgal reserve) of high-quality unleaded fuel with a minimum rating of RON 95-98. Gasohol variants are generally allowed for Ducati motorcycles, provided they contain no more than 5% MBTE, 10% ethanol, or 5% methanol.
Lube-wise, the recommended capacity is 3.7 L (3.9 US quarts, with oil filter change) of SAE 15W-50 Shell – Advance Ultra 4. Full-synthetic equivalents with an API grade of SJ or higher (meeting JASO T903 MA/MB or ACEA standards) can also be used. Other viscosity grades mentioned in the owner's manual are permissible following ambient temperatures.
Ignition
The ignition system is a digital CDI (Capacitor Discharge Ignition) integrated into the 848's indirect fuel injection system. Its charging system is a triple-phase alternator with a rated output of 12V 480 W (520 W in some forums), while a sealed, maintenance-free 12V 10Ah/(10 HR) YT12B-BS battery (view on Amazon) powers lighting and electronic accessories. An NGK MAR10A-J or Champion RA59GC spark plug with an electrode gap of 0.8–0.9 mm (0.031–0.035 inch) is responsible for spark ignition.
Drivetrain
The superbike features a Desmodromic timing system (a.k.a Desmo, first patented by Daimler-Benz in 1889 and redesigned by Taglioni in 1955). This system has four valves per cylinder, operated by eight rocker arms (four opening rockers and four closing rockers) and two overhead cams. It also uses two actuators instead of a return spring to close the valves and is driven by the crankshaft through spur gears, timing belt pulleys, and toothed timing belts.
A 6-speed constant-mesh transmission with a gearshift pedal on the left side of the bike and a modular, wet multi-plate clutch assembly with hydraulic control deliver power to the ground (although a dry clutch type is stated in the service manual). Meanwhile, a 5/8″ x 1/16″ RK 525 GXW X-Ring Chain (view on Amazon) with 97 links + joint handles wheelspin, supplemented by an eight-level Ducati Traction Control (DTC).
This chain drive has a front/clutch sprocket ratio of 33/61T and a final drive ratio of 15/39T and may be replaced with a corresponding #525 O-ring chain in case of wear or damage.
See below for stock Ducati 848 stock transmission gear ratios:
| | |
| --- | --- |
| Transmission Gear Ratio – I | 2.47 (15/37) |
| Transmission Gear Ratio – II | 1.76 (17/30) |
| Transmission Gear Ratio – III | 1.40 (20/28) |
| Transmission Gear Ratio – IV | 1.18 (22/26) |
| Transmission Gear Ratio – V | 1.04 (23/24) |
| Transmission Gear Ratio – VI | 0.96 (24/23) |
Tires & Brakes
Stock tires consist of tubeless radials – 120/70 ZR 17 M/C at the front and 180/55 ZR 17 M/C at the rear-mounted on MT3.50-17 and MT5.50-17 five Y-spoke, light-alloy Marchesini rims. Recommended cold-tire pressure for each is 225 kPa (2.3 kgf/cm2, 32 psi) and 235 kPa (2.4 kgf/cm2, 34 psi), respectively. Semi-floating, 320-mm dual hydraulic discs (front) and a single fixed 245-mm hydraulic disc (rear) – both with Brembo® calipers – provide the Ducati 848 stopping power and complete its tire-and-wheel assembly.
Suspension
Enclosed in an ALS 450 tubular steel trellis frame (24–28° 30′ steering angle; 97 mm/3.8 inches trail) are fully adjustable 43-mm USD Showa® front forks and a rear progressive linkage with an Ohlins monoshock fully adjustable for rebound, spring preload, and compression. Each unit provides a respective wheel travel of 127 mm (5.0 inches) and 120 mm (4.7 inches). The wheelbase is 1,430 mm (56.3 inches) – lending to improved stability, easier cornering, and an overall smoother ride. However, the ground clearance is a miserly 130 mm (5.1 inches).
Dimensions & Capacities
Overall dimensions are 2,100 x 758 x 1,100 mm (82.7 x 29.8 x 43.3 inches – L x W x H). Seat height is 830 mm (32.7 inches) and can accommodate medium-built to tall riders. Footpeg height is 400 mm (15.7 inches) – roughly 2.0 inches taller than its same-class counterparts. Meanwhile, handlebars are intentionally positioned at 865 mm (34 inches) to support more aggressive riding positions.
Dry weight is 184 Kg (405.6 lbs.) without fuel and 168 Kg (370 lbs.) sans fuel, liquids, and battery. Curb mass is unspecified in the owner's manual but weighs 390 Kg (859.8 lbs.) when fully laden.
Exterior
On the outside, the 848 looks like a smaller replica of the 1098. The latter's panel and bodywork have been carried over to the former unmodified, except for the twin exhausts slightly engineered to fit into the Ducati 848 (although still positioned under the saddle). The motorbike's overall aesthetic and feel are race-oriented, with a form made aerodynamic to uninhibitedly support aggressive riding.
Colors Schemes:
Ducati Anniversary Red; Red frame with black wheels
Pearl White base + lacquer code; Racing Grey frame with black wheels
Hayden Laguna Seca Special Livery; Red frame and black wheels (2010 Nicky Hayden Limited Edition)
Corse color scheme (2012–2013 EVO Corse models)
How Much Is a Ducati 848 Bike?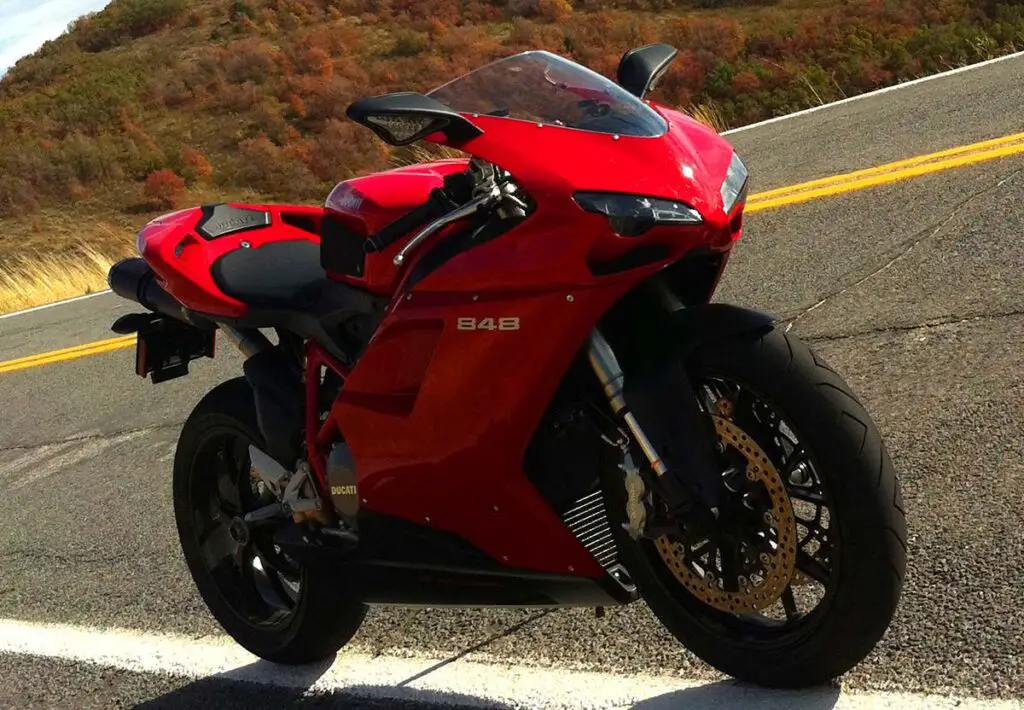 The MSRP for the Ducati 848 lineup ranges from $12,995 to $14,995 during its 6-year production run – with little to no movement in pricing. Even the special-edition 2010 Nicky Hayden trim was valued at only $2,000 more than the bike's standard model. Per Nada Guides data, resale values for the Ducati 848 range from $3,970 to $7,560. But according to forums and other online sources, resale values fall between $6,500 and $13,000 (with average mileage within 4,100 and 19,000+ miles).
| Year – Model – Trim | List Price | Retail/Trade-In Values |
| --- | --- | --- |
| 2008 Ducati 848 | $12,995 | $3,970 – $5,225 |
| 2009 Ducati 848 | $13,995 | $4,370 – $5,750 |
| 2010 Ducati 848 | $13,995 | $4,740 – $6,235 |
| 2010 Ducati 848 Dark | $12,995 | $4,420 – $5,815 |
| 2010 Ducati 848 Nicky Hayden LE | $14,495 | $4,915 – $6,470 |
| 2011 Ducati EVO 848 (Red/Black) | $12,995 | $4,930 – $6,490 |
| 2011 Ducati 848 EVO (ABS) | $13,350 | $5,120 – $6,735 |
| 2011 Ducati 848 EVO (White) | $13,995 | $5,060 – $6,660 |
| 2012 Ducati 848 EVO | $13,995 | $5,220 – $6,870 |
| 2012 Ducati EVO Corse | $14,995 | $5,595 – $7,360 |
| 2013 Ducati 848 EVO | $13,995 | $5,390 – $7,095 |
| 2013 Ducati 848 EVO Corse | $14,995 | $5,745 – $7,560 |
Ducati 848: Pros and Cons
Pros
Because of its premium build quality, it is a given head-turner.
The bike is lightweight (thanks to Vacural die-casting) and offers impressive ride quality and superb handling in corners.
Braking power became more reliable when dual front discs were swapped out for the monobloc Brembo®.
Power delivery is steady, reliable, and remarkably smooth through the mid-range, and the engine has plenty of torque.
It performs comparably well on the tracks as on tarmac, and its smooth power delivery allows the rider to concentrate on lean angles and lines.
Adjusting the bike's settings is very easy and yields a noticeable difference in performance with just a few clicks.
Cons
Despite modifications done to the engine, jerky accelerator issues still happen intermittently.
Some riders dislike the two-wheeler's slightly wider mirrors and larger fuel tank.
The redesigned mill (while improving the bike's performance and contributing to its weight savings) took away from the 848's signature screaming noise.
Starting the motorcycle can prove troublesome at times, although this rarely occurs.
Base models fitted with quick shifters were prone to transmission problems (only when not correctly done).
About Ducati
Ducati Motor Holding S.p.A. (formerly Ducati Meccanica) is the motorcycle-manufacturing division of Italian OEM Ducati, owned by the Volkswagen Group. Founded in 1926 as Società Scientifica Radio Brevetti Ducati by Antonio Cavalieri Ducati and his sons, the firm produced radio components such as condensers and vacuum tubes. Eventually, the family acquired their first-ever factory in Borgo Panigale. However, they did not get into the motorcycle business until 1950 with the creation of Cucciolo.
Ducati has come a long way since and is now a world-renowned powerhouse producing superbikes like the Ducati 848 and other industry-leading two-wheelers.
Conclusion – Ducati 848 Superbike Review
The Ducati 848 is a superbike that is fun yet challenging and packed with features that both beginner and more experienced riders will find useful and grow to love. It has been and continues to be lauded for its standard fitments, power delivery, weight savings, and clean, aggressive styling. It is a motorcycle that has repeatedly proven it can hold its own. And many riders and savants like Bennetts shares these same sentiments.
It may have been denied its shot at the Supersport World Championships and overshadowed by its successor, the Ducati Panigale 889. Nonetheless, the Ducati 848 is in every right a first-rate superbike.