Honda CB900F Super Sport Motorcycle (Specs and Review)
Disclosure: We may get commissions for purchases made through links in this post.
Since its inception in the late '70s, the Honda CB900F has been a popular choice among motorcycle enthusiasts. This iconic sportbike has undergone several iterations over the years, evolving to meet the demands of riders seeking power, reliability, and exhilaration. In this guide, let us acquaint ourselves with the enduring appeal of the Honda CB900F by delving into its history, specs, and intricacies.
The Honda CB900F is a sport and cruiser bike widely recognized as one of Honda's best production-based racers. This classic was popular due to its redesigned engine, styling and ergos, and efficient powerband.
As if these standout qualities were not enough, the Honda CB900F was not a mere 'filler class' sandwiched between Honda's CB750F and its highly-coveted CBX1000. This oddball two-wheeler was reminiscent of the forerunner UJMs (Universal Japanese Motorcycles) of the early '70s and, in fact, the Japanese firm's first homologation special.
As to what that exactly means for musclehead fans, you are about to find out in this article.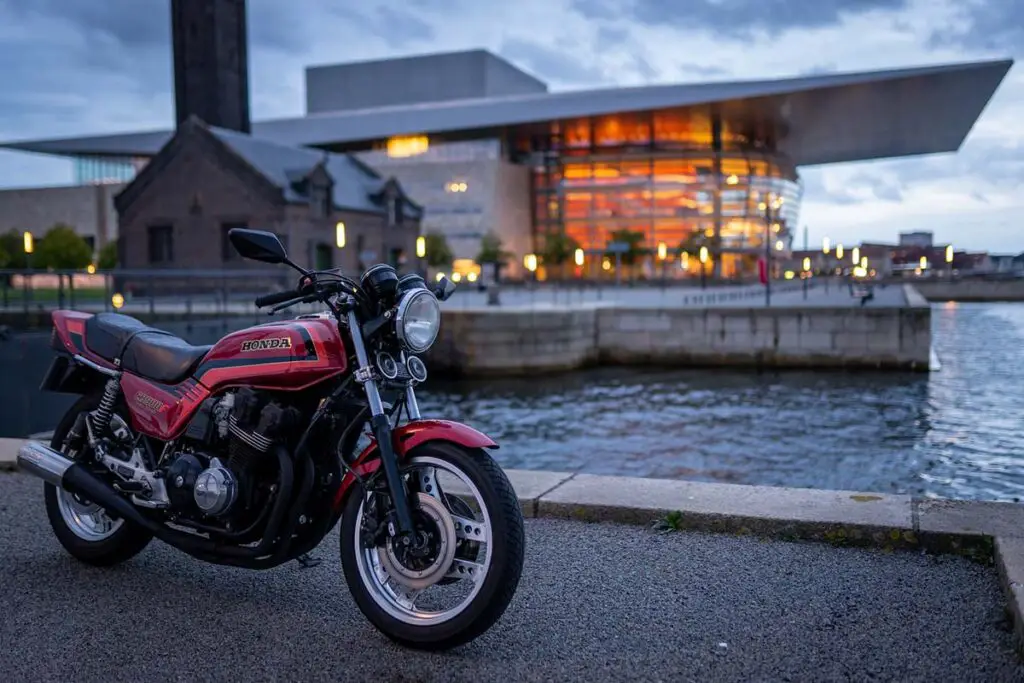 Honda CB900F — Succeeding the 'King'
The Honda CB900F, also known as the Honda 900 Bol d'Or in Europe and Australia, debuted in 1979 as a replacement for the CB750. It was developed with a focus on sport touring, offering a balance between power and comfort for long-distance rides. The CB900F quickly gained popularity due to its impressive performance, cutting-edge features, and affordable price point.
During its heyday, the Honda CB900F was "arguably the best Honda had built for the street." It shared the then-new four-valve combustion chamber (initially introduced on the XL250 single in 1971), featuring a centrally positioned spark plug alongside a Hy-Vo chain that runs through the center of the engine. This chain connected the exhaust camshaft to the mill's exhaust system, while another chain linked the exhaust camshaft to the inlet camshaft, enabling synchronized operation.
Despite being an 'old soul,' this powerplant is not simply taken from the '71 single and fitted into the big-bore two-wheeler. Its powertrain design was altered, replacing the conventional rocker arm with bucket-and-shim-operated valves bearing directly on the camshaft. The placement of its alternator and CDI ignition also took after the layout of RCB Endurance racers.
Of the next-gen multis during the said decade, the mid-weight CB900F or Bol d'Or became the crowd favorite — charming riders with its superior torque and increased power over its smaller-displacement namesake. The bike's remarkable ability to deliver strong performance from as little as 3,000 RPM on the tach made it highly coveted by motorheads outside Europe and Australia, persuading Honda to finally bring the two-wheeler to the US in 1981.
Improvements Post Debut
From the original CB900FZ's stock setup (including its non-adjustable conventional forks), here is a comprehensive list summarizing the changes and features of various Honda CB900F models (bike enhancements below are predominantly sourced from Old Bike Mag):
CB900FA (1980 Model):
Individual air caps on each fork leg
Introduction of "reversed" Comstar wheels
CB900FB (1981 Model):
Increased fork tube diameter from 35 mm to 37 mm
Air fork caps linked by a rubber tube
Introduction of CB900F2B model with a half fairing and leg shields
Rubber-mounted engine, 39-mm air-assisted front forks, and wider (but frowned upon) rear rim on the Comstar wheel for US versions
CB900FC and F2C (1982-1983 Models):
New version of the Comstar wheel design
Three crescent-shaped "spoke" pressings on each side
The fork diameter increased to 39 mm
Introduction of Honda's TRAC dual-piston brakes with anti-dive feature
FD and F2D (1984 Models):
Black chroming was added to the exhaust system
CB900F (2002-2007):
Introduction of the CB900F Hornet in Europe and Honda 919 in North America
De-tuned, transversely mounted, and fuel-injected 919cc power mill developed by Tadao Baba
Revised chassis for improved handling and stability
Updated drivetrain components featuring cast camshafts and pistons with adjusted lift and compression for enhanced mid-range torque
Improved suspension components for a smoother ride
Adjustable front cartridge forks beginning in 2004
Modern and aggressive styling
Minor refinements in styling and mechanical components in subsequent years
Model Years and Trims
Over the years, Honda unveiled multiple iterations of the CB900F, each showcasing its own set of enhancements. The initial version, manufactured between 1979 and 1983, was introduced in the US from 1981 to 1982. It boasted a distinctive DOHC design and housed a 902cc inline-four engine, setting a new standard for power and torque in the sportbike category. However, it was eventually succeeded by the higher-displacement Honda CB1100F.
After nearly two decades, Honda brought back the CB900F under the name Honda Hornet 900 in Europe and Honda 919 in North America. This 2nd-generation model, produced from 2002 to 2007, featured a modernized fuel-injected 919cc engine, an updated chassis, improved suspension components, and a more contemporary and aggressive styling. These updates further solidified the CB900F's reputation as an exceptionally capable (not to mention handsome) motorcycle.
The Honda CB900F Hornet/919
In its 2nd-generation guise, the Honda CB900F Hornet gained recognition for its outstanding performance and muscular aesthetics. Sporting a naked design, it featured round headlights, minimalist bodywork, and an imposing on-road presence. Regarding functionality, the CB900F offered riders revised gear ratios and an enhanced upright seating position, striking a balance between comfort and maneuverability.
This comeback installment of the CB900F was called the Hornet in Europe and the 919 in North America due to trademark peculiarities — Chrysler beat Honda to the name "Hornet" in North America, acquiring it after buying American Motors Corporation.
Drawing inspiration from the '92 Fireblade as the foundation for the Hornet was a decision influenced by a particular segment of motorcycle enthusiasts. This group sought sportbikes that exuded a vintage vibe and offered high-performance capabilities without the discomfort of an aggressive riding position or the sleek bodywork typically associated with racetrack-oriented two-wheelers.
2002—2003 Honda CB900F Specs & Features
Engine
The Honda CB900F comes to life via a liquid-cooled, 4-stroke DOHC inline-4 engine. It has a 71 x 58 mm (2.795 x 2.283 inches) bore-stroke ratio and a 10.8:1 compression ratio, with a piston displacement of 919cc (56.1 in3) — a significant improvement from the earlier 902cc models.
Similarly, old 32mm Keihin CV carburetors were replaced with PGM-FI (Programmed Fuel Injection) coupled with 36-mm throttle bodies and a paper-element air filter.
Overall, this engine configuration lends to the following performance figures:
| Description | |
| --- | --- |
| Top Speed* | 129—146.2 mph (207—235.3 km/h) |
| Horsepower* | 95—108.6 bhp (71—81 kW) @ 9,000 RPM |
| Maximum Torque* | 77—92 Nm (7.9—9.4 kgf-m, 56.7—67.9 lb-ft @ 8,000 RPM |
| Fuel Economy* | 38.5—42.3 mpg (5.5—6.1 L/100 km, 16—18 kmpl) |
| Approximate Tank Range | approximately 193—212 miles, 310—341 km |
* Upper-limit values are from 
Motorcyclespecs.co.za
Fuel & Lubrication
The fuel tank capacity is 19 L (5.02 USgal) of unleaded gasoline.
Lube-wise, the CB900F utilizes a trochoidal oil pump and has a Forced pressure (wet sump) system with the following requirements:
After draining: 3.5 L (3.7 US qt)
After draining and with oil filter change: 3.6 L (3.8 US qt)
After disassembly: 4.4 L (4.6 US qt)
The suggested engine oil for the Honda CB900F is Pro-Honda GN4 or HP4 4-stroke oil with an SAE 10W-40 viscosity rating. Choosing oil without "Energy Conserving" labels and without molybdenum or graphite additives is important. Alternatively, you can select an oil with similar specifications and a minimum API grade of SJ that meets JASO T903 MA standards.
If you decide to use other OEM-recommended multigrade oils, you can do so when there are changes in ambient temperature, altitude, or riding conditions. It is crucial to consult the owner's manual for permissible options depending on your specific circumstances.
Drivetrain
A 6-speed constant-mesh manual transmission and a cable-actuated, multi-plate wet clutch assembly offer a wide range of gear ratios for increased versatility, reliable power transfer, and efficient management. Meanwhile, a final #530 chain drive (view on Amazon) — DID50VA8 or RK50HFOZ5 with 114 links — delivers power from the engine to the rear wheel.
As for stock transmission gear ratios, refer to the table below:
| Description | |
| --- | --- |
| Primary Reduction Ratio | 1.52 (76/50) |
| Transmission Gear Ratio — 1st | 2.769 (36/13) |
| Transmission Gear Ratio — 2nd | 2.000 (26/13) |
| Transmission Gear Ratio — 3rd | 1.600 (24/15) |
| Transmission Gear Ratio — 4th | 1.368 (26/19) |
| Transmission Gear Ratio — 5th | 1.227 (27/22) |
| Transmission Gear Ratio — 6th | 1.130 (26/23) |
| Final Reduction Ratio | 2.688 (43/16T) |
| Gearshift Pattern | 1-N-2-3-4-5-6 |
Ignition & Electricals
A TCDI (Transistor Controlled Digital Ignition) system with four plugs and an ignition timing of 8° BTDC @ 1,200 RPM ± 100 RPM (initial "F" mark awakens the Honda CB900F. Meanwhile, a triple-phase alternator, with a rated output of 0.38 kW @ 5,000 RPM, serves as the motorcycle's charging system.
Responsible for spark ignition are NGK CR8EH-9 plugs (for standard speeds) or NGK CR9EH-9 plugs (for high-speed riding) with a 0.8–0.9 mm/0.031–0.035 inch electrode gap. Meanwhile, a 12V 8.6 Ah/(10 HR) YTZ10S battery (view on Amazon) helps power electronics and lighting. This stock battery can be swapped out for same-spec lithium formats in case of wear or damage.
Tires & Brakes
Comstar alloy wheels are fitted with tires measuring 120/70 ZR17 M/C 58W at the front and 180/55 ZR17 M/C 73W at the back. Depending on the market, the bike may have Bridgestone BT56 or Michelin TX tubeless radials, replaceable with same-spec aftermarket knobbies like Dunlop Sportmax GPR-300s (view on Amazon) or its equivalent.
Across all production models, factory tires require a cold-tire pressure of 250 kPa (2.5 kgf/cm2, 36 psi) at the front and 290 kPa (2.9 kgf/cm2, 42 psi) at the back for solo or pillion riding. For racing applications, these tires may require pressure adjustments depending on track conditions, specific tires used, and rider preferences.
As for brakes, the Honda CB900F has triple hydraulic discs (a single 240/276-mm disc at the front and dual 296-mm discs at the rear) that handle the bike's halting responsibilities and complete its tire-and-wheel assembly. All brake rotors are fitted with dual-piston calipers after 1983.
Suspension
Enclosed in a conventional twin down-tube steel frame (25° rake; 98 mm/3.9 inches trail) are 43-mm front telescopic forks and a rear swingarm unit — each offering a respective wheel travel of 109 mm (4.3 inches) and 128 mm (4.7 inches). The front forks came with air adjustment, while the rear unit had Showa FVQ shocks with 4-way damping and 5-way spring preload adjustability.
Credit goes to Honda for improving the 2nd-generation CB900Fs by addressing issues with the forks and brakes in earlier models. As early as the bike's second production year, the frame was equipped with needle roller bearings similar to those used in Suzuki GS models, and the forks were strengthened to enhance performance and durability.
Other factors impacting overall handling and maneuverability are the motorcycle's 1,460-mm (57.5-inch) wheelbase and 145-mm (5.7-inch) ground clearance.
Dimensions & Capacities
The overall dimensions of the Honda CB900F are 2,125 x 750 x 1,085 mm (83.7 x 29.5 x 42.7 inches — L x W x H). The seat height is 795 mm (31.3 inches), while the footpeg height is 345mm (13.6 inches).
Between units sold in California and the rest of the markets, there is only a 1 kg difference in dry and curb weights. Conversely, the two-wheeler's maximum weight limit is the same across all production models — 174 Kg (384 lbs.). This puts the Honda CB900F's GVWR (Gross Vehicle Weight Rating) at an estimated 392—393 Kg (864—866 lbs.) — equivalent to a full fuel tank and fluids, maximum payload limit, and accessories.
Exterior
The Honda CB900 sported a conventional frame design that allowed for easy engine removal by simply unbolting the right side bottom frame rail. Additionally, the bike came equipped with a center stand, except for California models that had additional emissions equipment.
One notable feature of this classic motorcycle was its then-all-new angular styling, which integrated the tank, side covers, and rear seat base into a cohesive unit. This design approach was carried across the entire range from the CB250N to the CB900. In addition, the bike was fitted with expansive handlebars that provided a comfortable grip and enhanced overall maneuverability and cornering.
Honda CB900F Problems & Highlights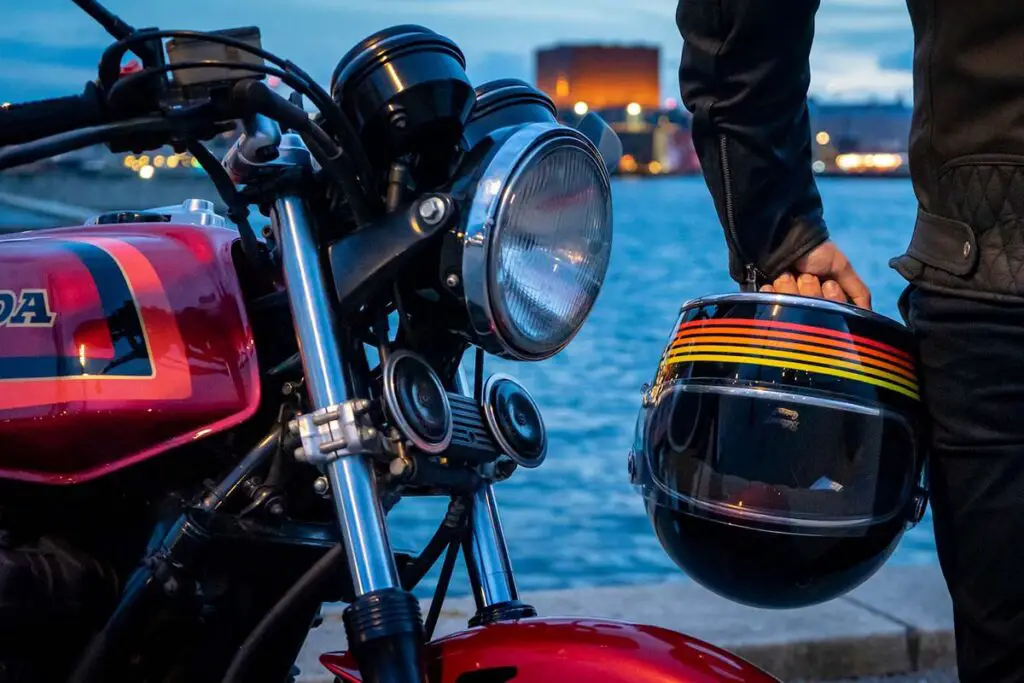 Benefits
Flame Path
The centrally positioned spark plug ensures an equal flame path length in all directions across the combustion chamber, resulting in improved overall performance.
Lighter Valves
Four lighter valves enhance reliability, enable faster revving, and contribute to more effective use in racing applications.
Camshaft Setup
The exhaust inlet cam configuration provides more space for inlet ports and reduces mechanical noise.
Air Cooling System
The retained air-cooling system offers significant weight savings compared to water-cooled engines, commonly found in similar-class motorcycles. This weight reduction is crucial for production-based racing.
High-Mounted Choke Lever
The high-mounted choke lever offers convenient starting and was considered a novelty during the bike's era.
Bolt-Together Alloy Wheels
The bolt-together alloy wheels give the motorcycle a more futuristic appearance than the spoked wheels on other bikes of the same period.
Suspension and Silencer Upgrades
The rear suspension units use high-quality Hagon components, and the exhaust silencers have been swapped with aftermarket chrome silencers at some point.
Agile Handling
Once in motion, the Honda CB900F sheds its portly and overweight sensation, displaying the characteristic agility often associated with Honda motorcycles.
Ergonomic Design
The long fuel tank provides a slight stretch to the handlebars, lending to a comfortable yet sporty riding position.
Comfortable Riding Position
Like other bikes in its class, the CB900F offers a riding position that strikes a balance between comfort and sportiness.
Well-Positioned Footrests
The aluminum footrest holders position the footpegs in a comfortable location, allowing spirited riding without hindrance.
Upright Posture
The cast aluminum clip-ons provide an upright riding posture that is both relaxed and engaging.
Long-Distance Capability
Thanks to its comfortable ergonomics and well-designed riding position, the two-wheeler is well-suited for covering long distances with ease.
Drawbacks
Gear Shifting and Con-Rod Issues
According to Rod Ker, the Honda CB900F had two notable drawbacks: it occasionally dropped out of gear and had a tendency to break con-rods, particularly when pushed hard. While not uncommon for these engines under heavy stress, these issues were unfortunate because the bike was otherwise impressive.
Rear Suspension
The rear end of the bike was satisfactory, but due to numerous spring and damping settings for the rear shocks, it was challenging to determine its optimal configuration. Also, for 1st-gen incarnations, the rear swingarm unit's nylon bushes tended to develop excessive play at the pivot, negatively impacting the bike's overall handling characteristics.
Lateral Flexing and Rim Jolting
The Comstar wheels faced legitimate criticism for their tendency to flex laterally, which could impact the bike's stability. In addition, factory rims were not able to withstand significant impacts, potentially leading to premature damage.
Original Exhaust System Availability
Finding an original exhaust system for the CB900F or any Honda 'four' is one of the most difficult tasks for enthusiasts when restoring the bike.
Alternator Cover Issues
Some racers experienced trouble with the alternator cover hitting the ground during right-hand turns on the racetrack, causing it to stop charging and resulting in a flat battery.
Front Caliper Noise
The front calipers tended to grind and produce squawking noises. Some of these incidents were attributed to mounting lugs on the fork sliders being machined incorrectly.
Difficulty with Centrestand
The Honda CB900F was one of the heaviest bikes to put onto the center stand, requiring considerable leverage and effort from riders to maneuver the bike into position.
Short-lived Production Run
The CB900F was replaced by the CB1000R after 2007, mainly due to increasing challenges with meeting emissions regulations specific to its class.
How Much Is a Honda CB900F?
The original MSRP of the 1979 Honda CB900F was $2,500 — approximately $10,470 with inflation factored in and if sold brand-new today. This rate increased incrementally until 1983, when the two-wheeler sold for $$3,200 fresh from the showroom.
After this first run, the series went on a hiatus for almost 20 years and re-entered the motorcycling scene with a listing price of $6,999 while dropping the "Super Sport" from its nomenclature in 2002. A gradual rate increase was observed in subsequent years, with the Honda CB900F's final iteration having a price tag of $8,499 in 2007.
According to JP Power, the low-to-average resale value for 1st-gen units is between $985 and $7,410. As for 2nd-gen versions, the pricing range falls between $1,315—$6,150.
Other trader sites may show a different range contingent on the condition and racked-up mileage of secondhand units. Hence, I recommend doing your research when looking for something pre-loved, especially if you have a strict budget.
About Honda
Honda Motor Company Ltd. is an esteemed manufacturer and a pioneering force in the motorcycle industry. Its origins trace back to 1946 when founder Soichiro Honda initiated the company in a humble Japanese garage.
Starting with the sales of motorized bicycles equipped with surplus engines, the firm steadily ascended to become a dominant player in various automotive sectors while also leaving an indelible mark in F1 racing motorsports. Honda continues to captivate riders worldwide with its timeless design, thrilling performance, and reputation for reliability of its product offerings — including the Honda CB900F.
Conclusion — Honda CB900F Review
Undoubtedly, the Honda CB900F has significantly impacted the motorcycle industry through its rich history and diverse models. From its early iterations to its reintroduction, the CB900F exemplified Honda's commitment to performance, design, and rider comfort.
Despite facing challenges and undergoing improvements, this iconic machine remains a beloved choice for enthusiasts who value performance and Honda's engineering prowess. Nevertheless, its ability to surpass the CB750 and secure its place in the hearts of riders is a matter for its loyal followers to decide.