Honda C90 Motorcycle Specs and Review
Disclosure: We may get commissions for purchases made through links in this post.
Undoubtedly, the Honda C90 is one of the most prolific models in the Super Cub series. This beloved scooter, affectionately known as the "Cub" or "C90," has captured the hearts of riders with its compact yet reliable chassis and nostalgic aesthetics.
Many say that straddling this bike makes for an unforgettable journey. If you are not entirely convinced this is possible on tight city streets and busy freeways, let this comprehensive guide loop you in.
The Honda C90 (a.k.a. Super Cub C90, Cub C90) is an 89-cc scooter bike produced from 1966 to 2008. Considered the most practical version of the three-bike Super Cub lineup, this two-wheeler is many an enthusiasts' go-to daily commuter — selling at least 60 million units worldwide.
Even today, the Honda C90 enjoys first-rate popularity among riders — thanks to its approachable nature and undaunting size and styling. No wonder why enhanced versions of the bike continue to be produced in several markets. The UK, for one, has shown so much enthusiasm in support of this two-wheeler. Read on to uncover the marvels of this timeless thumper.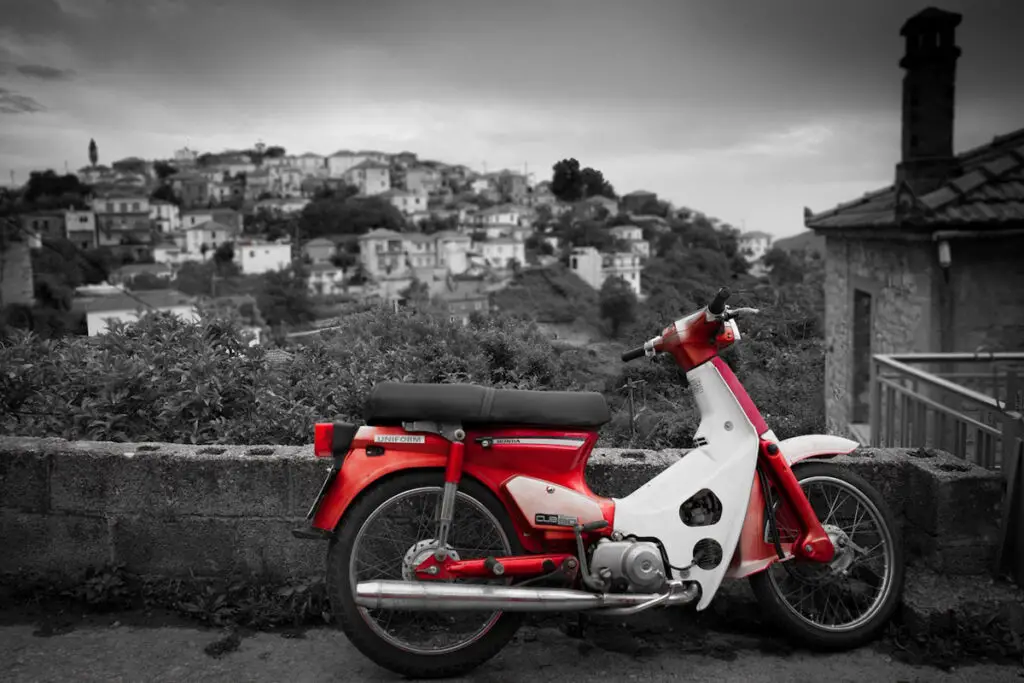 Honda C90 — UK's Favorite Classic Bike
I believe everyone can agree that the British market has a particular fondness for everything retro-styled and igniting a warm fuzzy feeling. This is probably why the Honda C90 is on top of their 'classic bike' list.
But before you assume that styling is the only thing that lured consumers to this small wonder, think again. This bike has so much more to offer than mere looks.
Like most 90-cc pocket bikes of the earlier decades, the Honda C90 has a bench-style seat, a step-through frame, and a 3-stage gearbox, 4-stroke OHC mill, and 17-mm carburetor powertrain combo reminiscent of the DAX system. But unlike DAX descendants, this thumper sports 17-inch road-legal tires instead of the usual 14-inch knobbies.
Furthermore, the bike's 'scooter look' makes it appear timeless instead of dated — a well-thought-of strategy that has probably led to its massive production figures, surpassing 100 million units worldwide as of 2017.
Honda Super Cub C90 Specs & Features
Engine
The Honda C90 is brought to life by a single-cylinder, 89.5 cm³ (5.5 in³) air-cooled OHC engine (later dropping to 86cc with an update in the early 1980s).
The bore-stroke ratio is almost square at 47 x 49.5 mm (1.850 x 1.949 inches), while the compression ratio is 8.5:1. A 17-mm HA02E motor handles air-fuel mixture and can be upgraded to a PZ22 carb (view on Amazon) for better top-end performance and a larger engine displacement.
Overall, this engine configuration lends to the following performance figures:
Fuel & Lubrication
Fuel tank capacity is 5.5 L (1.45 USgal, 1 L/0.26 USgal reserve) for the C90 trim and 5 L (1.32 USgal, 0.9 L/0.24 USgal reserve) for the C090DX. Unleaded or low-lead gasoline with a RON 87/PON 91 minimum rating is recommended, although regular petrol can be used if recommended options are unavailable.
Lubrication-wise, the OEM recommends 0.9L (1 US qt) of high-detergent, premium-quality 4-stroke oil or its equivalent. Engine oil should be an SAE 10W-40 and have at least an API grade of SJ meeting JASO T903 MA standards.
Drivetrain
A semi-automatic, constant-mesh 3-stage return shift system (with an N-1-2-3 shift sequence) and a wet, centrifugal clutch assembly deliver power to the wheels. This is augmented by rear-wheel-drive traction and #420 chain handling wheelspin. The pocket bike has a wide-ratio transmission that provides predictable handling.
Honda C90 stock gear ratios:
Ignition & Electricals
It has a Contact Breaker Point ignition system running @ 1,400 RPM at idle and requiring an NGK DR6HS/ND X20FSR-U (for units released in the UK) or NGK D6HS/ND X20FS spark plug (for other markets) — both of which have an electrode gap of 0.6-0.7 mm or 0.024-0.028 inches. Battery specs are not specified in the owner's manual. Nonetheless, a 6N6-1B battery format is recommended.
Older models of the C90 Cub are wired for 6 volts, are fitted with a 6V 5.5 AH/(10 HR) battery, and have an A.C. generator serving as its charging system. So if you have a pre-1983 version, consider converting its wiring harness to support a 12V electrical system.
This conversion also entails getting a stator like MAD HORNETS Ignition Stator (view on Amazon) and a corresponding regulator/rectifier.
Tires & Brakes 
Factory knobbies consist of 2.50-17 (4PR) front and rear tires mounted on laced rims. Recommended cold-tire pressure for the front tire is 175 kPa (1.75 kgf/cm2, 25 psi). Meanwhile, the rear tire requires 200—225 kPa (2.00—2.25 kgf/cm2, 28—32 psi), depending if riding solo or with a passenger.
The brake type and specs are unspecified in the owner's manual. Nonetheless, several online sources suggest the Honda C90 uses mechanical drum brakes at the front and back to complete its tire-and-wheel assembly.
Suspension
Enclosed in a low-floor backbone chassis (26.5° caster angle and 75 mm/2.95 inches trail) — more commonly known as a step-through frame (characteristic of scooters) — is a bottom-link type front suspension and a rear swingarm.
Suspension travel figures are unspecified in the manual. Nonetheless, these suspension units mate to a 1.8-meter turning radius and a 1,186-mm (46.7-inch) wheelbase.
Also, the OEM recommends that lubrication of the front and rear suspension be performed every six months or 3,000 miles (5,000 km).
Dimensions & Capacities
The overall dimensions of this classic thumper are 1,805 x 660 x 1,015 mm (71.1 x 25.9 x 39.9 inches — L x W x H).
The seat height is approximately 725–760 mm (28.5–29.9 inches). As for weight, the C90 tips the scale at 84 Kg (185.2 lbs.) wet and 80 Kg (175.4 lbs.) dry.
The GVWR is an estimated 239.5 Kg (528 lbs. — this includes curb mass, a full fuel tank and fluids, a 150-Kg/330-lb payload limit, and accessories.
Exterior
If comparing all the Honda C90 models ever produced, I would say earlier bikes are prettier and feel more robust (according to owners). Meanwhile, later-year iterations boast 12V electrics, better switches, and enhanced ride quality (but only by a small margin).
It is rather tricky to score a C90 in near-mint condition since rust is its #1 enemy — specifically, the initial versions with structural steel rear mudguards that tend to rot and cause the back of the bike to collapse. But even models with bolt-on plastic mudguards are not safe, as these hide corrosion from sight.
These drawbacks aside, the Honda C90 is a charmer — with its two-tone paint scheme, one-piece dual seat, and round headlight. And while many enthusiasts feel there is much to be had with the instrumentation, I find it adequate for a minibike of such size.
Its instrument panel includes a speedometer (view on Amazon), odometer, neutral light, turn signal lights, and gear speed range indicators — telling you everything you need to know about the two-wheeler as you ride.
Honda C90 Value
MSRPs for the Honda C90 can vary based on region, optional features, and currency exchange rates. But between 1966 and 2008, the approximate listing price for the little thumper ranges from $300 to $2,500. If sold brand-new today (with inflation factored in), these figures would be around $2,800 to $3,500 — sans shipping and other extraneous fees.
Used Honda C90 motorcycles retain their value well, commanding resale prices from $3,474 to $4,380. Numerous options can be found on popular platforms like Baron's Auctions and renowned trader sites.
Higher-priced units exceeding $1,500 generally have pristine body paint and little to no cosmetic/mechanical issues. They may even feature aftermarket enhancements, new lighting, and converted electrical systems.
Pain Points of the Honda C90™
Rust Issues
The toughest pain point of the Honda C90 is its susceptibility to rust. The structural steel components, particularly the rear mudguards, are prone to corrosion, leading to potential structural weaknesses and compromised integrity.
Ultimately, rust can affect not only the appearance but also the overall durability and safety of the bike. Regular inspections and appropriate rust prevention measures are essential to address this issue.
Electrical Problems
Another drawback for some Honda C90 owners is electrical issues. Older models with 6VDC electrics may experience wiring problems, faulty switches, or unreliable electrical components.
Upgrading to newer 12-volt models can alleviate some of these issues. However, it is important to ensure proper wiring connections, check for looseness, and address any signs of electrical malfunction.
Parts Availability
Finding genuine and high-quality parts for older Honda C90 models, particularly those from the '60s and '70s, can be challenging. While aftermarket options and budget parts are available, they may not always match the original specifications or quality.
Restoring or maintaining an older Super Cub C90 is not for the faint-hearted. It requires diligent searching and sourcing of parts from different suppliers.
Limited Performance
Expectedly, the Honda C90 is not known for its high-performance capabilities. This is due to its relatively small engine displacement and modest power output, which can be disappointing for riders seeking more speed and acceleration.
Have realistic expectations regarding its performance before buying a Honda C90, as the bike is primarily designed for economical city commuting instead of high-speed riding.
Ergonomics and Comfort
A lot of C90 loyalists may disagree with me on this. But I opted to include comfort in the bike's pain points since the concept of rider comfort is subjective.
The classic thumper's design and ergos may not be suitable for everyone — especially for taller riders or those accustomed to more comfortable riding positions.
Despite being a pillion seat, the saddle can also feel small for some riders (not to mention that it lacks adequate cushioning). The stock suspension setup may not offer the smoothest ride over rough terrain.
Conclusion — Honda Cub 90 Review
The Honda C90 is currently among the pinnacle choices of collectibles — and after reading this article, you will know why. Its timeless styling, practical features, and simplified transmission encompass the fundamental elements required in urban driving.
There are newer, more tech-advanced 125-cc minibikes out in the market. But for gearheads who want a bike with lots of appeal and rich history, nothing beats riding on a Honda Cub C90!