2003 Yamaha R1 Specs and Review (YZF-R1)
Disclosure: We may get commissions for purchases made through links in this post.
Since its debut in 1998, Yamaha's YZF-R1 label has always been deemed uncompromising and stringently designed for the cinders. But this description was bound to change in 2003. With its fine-tuned engine, new carburetion system, and more controlled on-road mannerisms, the R1 was no longer just a track-built bike.
The 2003 Yamaha R1 was the 6th installment of the liter-class sportbike first produced in 1998. This incarnation was the 2nd year of the series to receive fuel injection, 4-into-2-into-1 titanium exhaust, a redesigned cooling system, silicon-infused cylinder sleeves, and the new-age Deltabox frame.
These changes may seem minuscule compared to upgrades received in the past, but they were Yamaha's first few steps toward the continuous development of the superbike. Through key modifications and spreading out of its powerband, stress was taken off the chassis and tires, and the 998-cc bike became more usable on the tarmac.
Arguably, the route taken by the 2003 Yamaha R1 is why the liter-class behemoth is still around and thriving on pavement, as well as the racetracks. Continue reading this article to learn more about the R1's journey.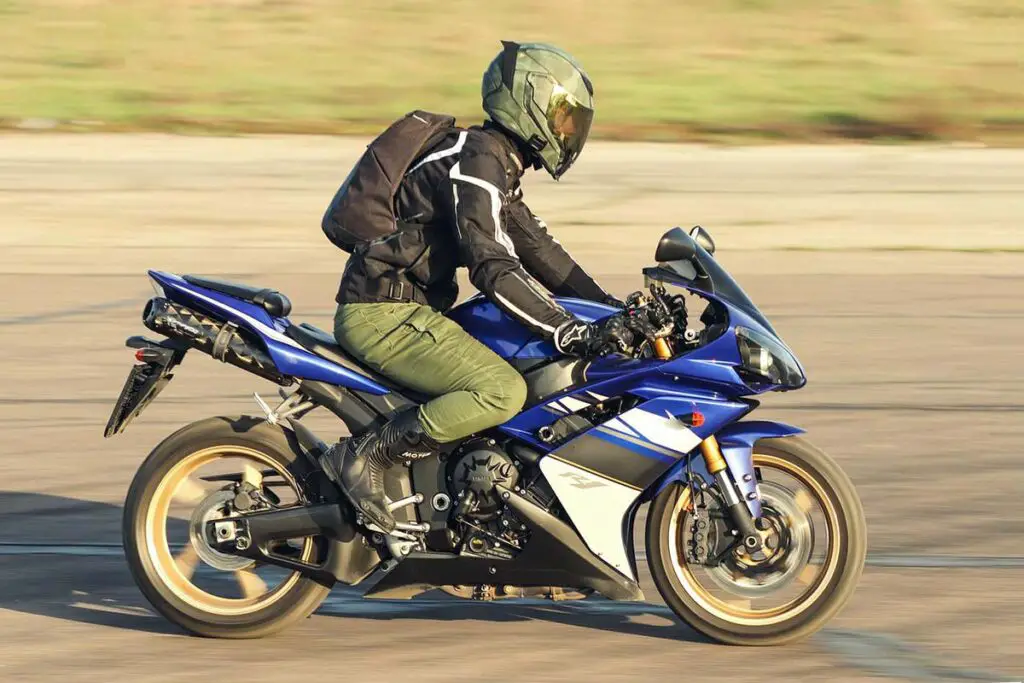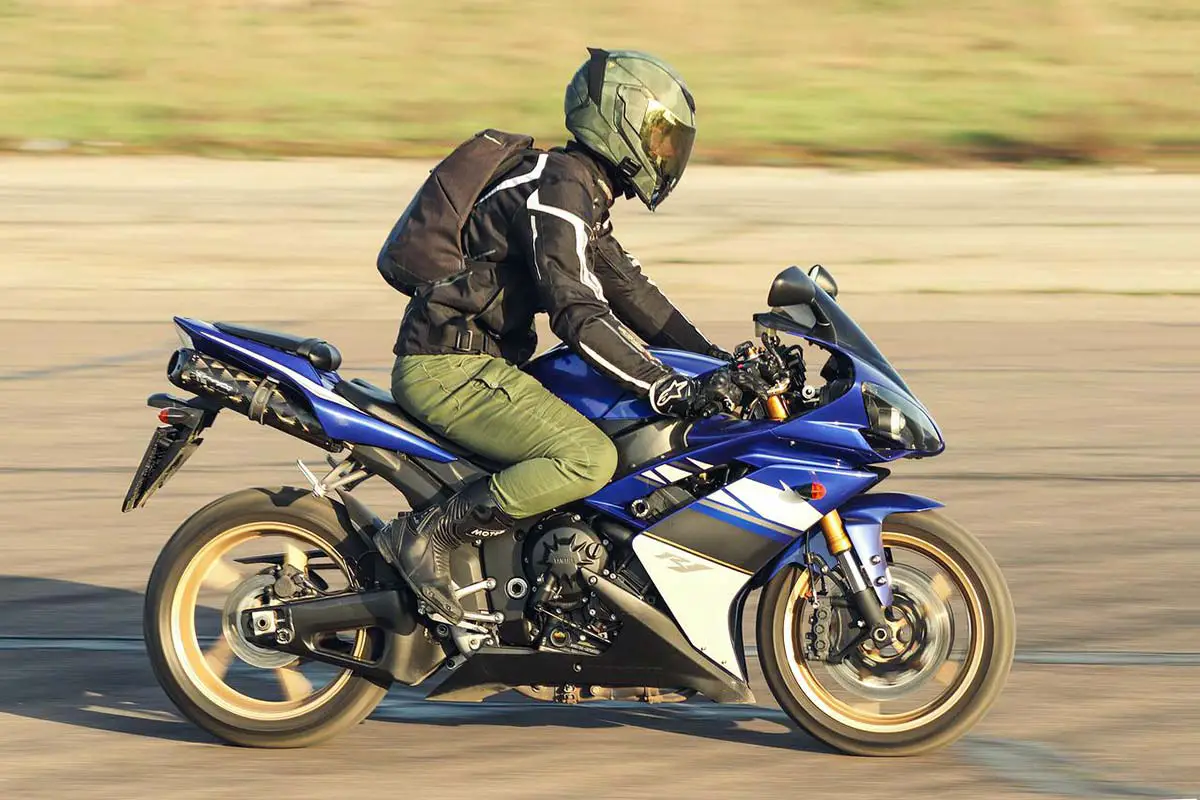 The 2003 Yamaha R1 – Breaking the Mold
Out of all seven incarnations of the Yamaha YZF-R1, the 2003 model was not the one to receive the most enhancements.
Yamaha applied most of the R1's mechanical upgrades to its 2nd generation models (2001 – 2001). These upgrades included a longer swingarm and wheelbase, redesigned suspension settings, more angular bodywork with 3% less drag, and minor brake modifications. The heart of the sportbike, in particular, received tighter valve clearances, new cam timing, ignition, and EXUP valve tuning, a new titanium end can, and lots of weight savings.
And yet, the '03 version was what best captured Yamaha's fusion-harmony ideal (the intent to bring the rider and sportbike together in perfect harmony). By introducing a hybrid fuel injection system into the series, the firm addressed the machine's tank slap issue and improved its cornering performance and overall handling (among other things).
But that is not all the 2003 R1 model has to offer. In addition to its new fuel delivery system, the superbike also featured the following improvements:
Improvements: 2002 – 2003
A new "hybrid" fuel injection system that employed a CV carburetor slide controlled by an engine-created vacuum
Reduced oil consumption – thanks to new cylinder sleeves with a high silicon content alloy containing magnesium that effectively lessened heat-induced distortion
A hydroformed, "shrink-wrapped" Deltabox frame that was not only stiffer and lighter but also reduced the bike's number of frame welds and improved its rigidity by 30%
Redesigned cooling system mated to a new 4-into-2-into-1 exhaust system improved airflow by 20%
Fine-tuning through the bike's "intake, engine, and exhaust system"
Updated rear end fitted with a 2003 Yamaha R1 integrated tail light (LED), hazard warning lights, and dipped headlights
2003 Yamaha YZF-R1 Specs & Features (R1P/R1PC Models)
Engine
The 2003 Yamaha YZF-R1 has a liquid-cooled, 4-stroke DOHC power mill with a forward-inclined parallel 4-cylinder arrangement. A Mikuni fuel injection system with four 40EIS throttle bodies, instead of the usual BDSR40 carburetors, handles the air-fuel mixture. It has a 74 x 58 mm bore-stroke ratio, and the compression ratio is set to 11.8:1, with a standard pressure of 1,450 kPa (14.5 kgf/cm2, 210 psi, at sea level). Piston displacement is 998 cm³ (60.9 in³).
The switch from carburetors to fuel injection helped yield the following performance figures – 152 hp (113.3 kW) @ 10,500 RPM and up to 134 hp (100 kW) @ 10,800 RPM (crank and rear wheel, respectively), 95.4–104.9 Nm (9.7 –10.7 kgf-m, 70.4–77.4 lb-ft) @ 8,500 RPM maximum torque, and a 2003 Yamaha R1 top speed rating of 175 mph (281.6 km/h, unofficial). However, 2003 was the last year the YZF-R1 spewed a power output within the 150-range.
Fuel & Lubrication
Despite being bigger, the R1 shared the same tank capacity of 17 L (4.5 US gallons, 3.3 L/0.73 US gallon reserve included) with the R6. OEM-recommended fuel is premium unleaded gasoline with a minimum PON 87/RON 91 rating or E10 fuel (for sportbikes sold in Europe). Variants containing no more than 5% MTBE, 10% ethanol, or 5% methanol are preferred for all markets, although fuel containing zero methanol is ideal.
Lubrication-wise, the motorcycle makes use of a trochoidal oil pump and requires the following capacities:
3.8 L (4.02 US qt) – at disassembly
2.9 L (3.07 US qt) – without oil filter change
3.1 L (3.28 US qt) – with oil filter change
The manufacturer suggests using SAE 20W-40 Yamalube 4 or its equivalent, provided your variant of choice has a minimum API grade of SJ and meets JASO T903 MA standards. Other viscosity grades specified in the owner's manual are permissible following ambient temperature.
Drivetrain
A 6-speed, constant-mesh manual transmission mated to helical gears and a wet, multi-disc clutch assembly deliver power to the wheels. An RH2015/130 chain (130 links + joint) with automatic tensioning handles wheelspin. Like its smaller namesake, the left-hand-operated clutch utilizes a rack-and-pinion release method. As for the countershaft-rear wheel sprocket ratio, stock values are 16/43T (often geared down by one in both the front and rear by most experienced riders).
| | |
| --- | --- |
| Primary Reduction Ratio | 1.581 (68/43) |
| Transmission Gear Ratio (1st) | 2.500 (35/14) |
| Transmission Gear Ratio (2nd) | 1.842 (35/19) |
| Transmission Gear Ratio (3rd) | 1.500 (30/20) |
| Transmission Gear Ratio (4th) | 1.333 (28/21) |
| Transmission Gear Ratio (5th) | 1.200 (30/25) |
| Transmission Gear Ratio (6th) | 1.115 (29/26) |
| Secondary Reduction System | Chain drive (#530 O-ring) |
| Secondary Reduction Ratio | 2.688 (43/16) |
(Source: Owner's manual)
Ignition
A Mitsubishi F8T917 transistorized coil ignition (digital) and electric starting system bring the 2003 Yamaha YZF R1 to life. The ignition system has a timing of 5° BTDC @ 1,050 RPM (initial "F" mark) and employs four NGK CR9EIA 9 or Nippon Denso IU24D spark plugs with a 0.8–0.9 mm (0.032–0.035 inch) gap for spark ignition.
A Mitsubishi F4T471 A.C. magneto with a nominal output of 14V 32 A @ 5,000 RPM serves as its charging system, while a 12V 10 Ah/(10 HR) GT12B-4 battery helps power lighting and electronic accessories. The stock battery has assembled dimensions similar to a YT12B-BS format (view on Amazon) – 150 x 69 x 130 mm or 6.00 x 2.75 x 5.12 inches – and can be substituted by the latter in case of wear or damage.
The table below shows the factory lighting that came with the liter-class sportbike:
| Description | Voltage/Wattage x Quantity |
| --- | --- |
| Headlight | 12 V 60 W/55 W × 2 |
| Auxiliary light | 12 V 5 W × 2 |
| Tail/brake light | 12 V 4 W/0.5 W (LED) |
| Front turn signal light/position light | 12 V 21 W/5 W × 2 |
| Rear turn signal light | 12 V 21 W × 2 |
| License plate light | 12 V 5 W × 1 |
| Indicator lights – Neutral, high beam, oil level, fuel indicator, engine trouble warning , engine speed | LED × 1 |
| Turn signal | LED x 2 |
Tires & Brakes
Stock wheels consist of tubeless Michelin Pilot Sport E or Dunlop D208FL/L tires measuring 120/70 ZR17 (58W) at the front and 190/55 ZR17 (73W) at the back. The pair mounts on 17 M/C x MT3.50 (front) and 17 M/C x MT6.00 (rear) cast-aluminum rims. Both tires warrant a cold-tire pressure of 250 kPa (2.5 kgf/cm², 36 psi), which can be aired down or adjusted up to 290 kPa (2.9 kgf/cm2, 42 psi), depending on altitude and riding conditions.
As for brakes, triple hydraulic discs (298 mm at the front and 220 mm at the back) provide the YZF-R1 stopping power and complete its tire-and-wheel assembly.
Suspension
Enclosed in a diamond Deltabox frame (24°, 103 mm/4.06 inches) is a suspension setup similar to that of the R6's – 43-mm KYB® USD telescopic forks with 3-way adjustable shocks and a rear swingarm (link suspension) with 4-way adjustable KYB® piggyback shocks. The front and rear units offer a respective wheel travel of 120 mm (4.7 inches) and 130 mm (5.1 inches).
The rear-wheel travel, in particular, remained unchanged despite suspension upgrades on succeeding incarnations of the sporty two-wheeler. Conversely, wheelbase, ground clearance, and turning radius are different from the sportbike's successor and measure 1,395 mm (54.9 inches), 140 mm (5.5 inches), and 3.9 m (12.8 feet).
Dimensions & Capacities
Overall dimensions of the YZF-R1 are 2,040 x 705 x 1,105 mm (80.3 x 27.8 x 43.5 inches – L x W x H). Seat height is 820 mm (32.3 inches) and feels comfortable for medium-height and taller riders alike. Curb weight ranges from 193–202 Kg (426–445 lbs.), while GVWR is an estimated 396 Kg (873 lbs.) – including a full fuel tank with oil, rider/passenger weight, cargo, and accessories. Due to additional CARB-compliant components, units released in California are slightly heavier than in the rest of North America.
Exterior
There is little to no difference in styling between the 2003 Yamaha R1 and previous incarnations. However, the handlebars and footpegs have minor tweaks. The bars are somewhat put forward, putting the driver over the front and consequently improving the bike's stability without sacrificing rider comfort. Conversely, the footpegs are slightly raised with the same intent while supporting a racer-style riding position.
On the outside, Yamaha YZF R1 fairings reflect the bike's trademark aggressive styling. Though the color schemes offered are not as extensive as its counterparts, the selection is sufficient for the R1's loyal following. Among the most sought-after hues are Team Blue and white two-tone paint and silver and black for the limited-edition trim.
How Much Is a Yamaha YZF R1 2003 Model?
The original list price for the 2003 Yamaha R1 was $10,299 or approximately $16,360 if sold brand-new today. This figure barely moved since the bike's inception, with the price increase being a mere $100 compared to its retail value six years prior. In the used-bike market, listing prices range from $5,100 to $7,999 (including those posted on auction sites).
Interestingly, pre-owned YZF-R1 bikes for sale are often limited-edition models. They have low to average mileage on the tach, are serviced and well-maintained, and often come with a slew of aftermarket accessories such as the ones below:
2003 Yamaha R1 Problems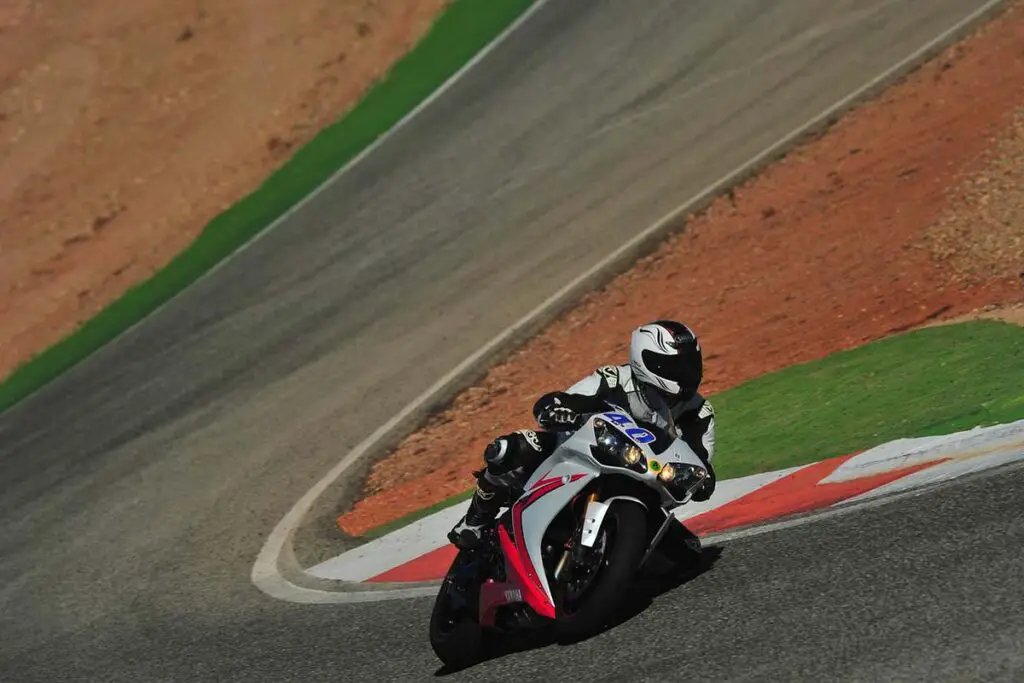 The 2003 model does not seem to be associated with as many problems as its older incarnations. But this does not mean it is 'scathe free.' Sifting through consumer feedback in Yamaha forums and the like will give you a handful of issues about the superbike. However, these issues are mostly anecdotal and partly brought about by rider behavior.
Nonetheless, there are a few recurring complaints about the 2003 Yamaha YZF R1. Topping the list is the infamous "tank slap" – a proclivity of the bike (alongside Suzuki's TL1000S and Kawasaki's KR-1S) if a rider drives too hard or goes ham on the gas coming out of corners. Although greatly reduced in the 2003 model, Yamaha has yet to completely eradicate this predicament.
Another is diluted mid-range pull, an aftermath of evening out the bike's power spread.
This '03 R1 is also reported to pose challenges for the rider between 1st and 2nd gears. To be more specific, slippage occurs under medium throttle on the bike. Based on reported observations by R1 owners, the slippage only happens under hard acceleration or when the edges of engagement dogs become rounded (due to frequent operation under heavy load).
Other concerns include a slippery saddle (view on Amazon), a flimsy kickstand, and a lack of storage options. Fortunately, this set is easily rectified with the purchase of aftermarket parts like a Yana Shiki A5010 Silver Adjustable Kickstand (view on Amazon) or other similar components.
About Yamaha
Yamaha Motor Company Ltd. or Yamaha is a world leader in multiple automotive industries and part of the Japanese "Big 4." The firm was initially part of Yamaha Corporation as its motorcycle division before becoming standalone in 1955. Since then, the company has evolved into an automotive powerhouse, dominating the fields of motorcycling and all-terrain vehicles alongside other greats. At present, Yamaha is a well-revered industry leader that continues to wow the global market with product offerings like the 2003 Yamaha R1.
Conclusion – 2003 Yamaha YZF R1 Review
The '03 version of the famed superbike is loved for being the first to sport a newly developed hybrid FI and the last in the series to still have the original YFZ-R1 powerplant. But more than these attributes, what endears the 2003 Yamaha R1 to its ardent followers is its balanced, well-mannered handling.
Gone are the days when the bike strictly aimed at the most skilled and able-bodied riders. This liter-class bike is now all about inclusivity. It should be a top choice for motorheads – whether seeking a good introduction to superbikes, revisiting a hobby, or rekindling a lost passion for the racetracks.