Kawasaki Ninja GPZ900R (Specs and Review)
Disclosure: We may get commissions for purchases made through links in this post.
From the moment it roared onto the scene, the Kawasaki Ninja GPZ900R revolutionized the world of sport motorcycles. With its groundbreaking design, impressive performance, and legacy that endures to this day, the GPZ900R holds a special place in motorcycle history.
Produced from 1984 to 2003, the Kawasaki GPZ900R is a legendary sportbike widely revered as the pioneer of the Kawasaki Ninja series. The 908cc icon boasts a blockbuster movie appearance, impressive performance and handling mannerisms, and the world's first liquid-cooled, 16-valve inline-4 engine.
Hailed by Cycle World as "Superbike of the Year" during its debut, the Kawasaki GPZ900R laid the groundwork for present-day sportbikes and is one of the industry's 'landmark' motorcycles. In today's article, let us delve further into the allure and magnanimous character of this two-wheeled legend.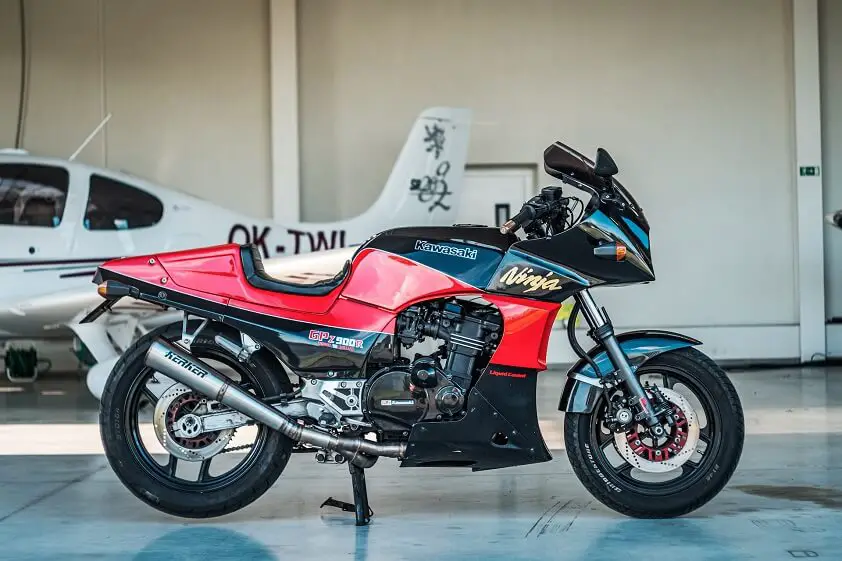 The 'Holy Grail' for Modern-Day Superbikes
The Kawasaki Ninja GPZ900R (a.k.a. ZX900, Ninja 900) is the firstborn of Team Green's Ninja series and the motorcycling industry's first superbike equipped with a 16-valve liquid-cooled inline-4 DOHC engine. As if these merits were not enough, it is also the motorcycle that Pete Mitchell (Tom Cruise) rode at the Naval Air Station Miramar in the movie Top Gun.
By design, this two-wheeler is a high-performance street bike — or sport bike (in modern-day terminology). It can be tweaked for racing applications despite the lack of a track record of winning major or national tournaments (except for 1st and 2nd during the 1984 Isle of Man Production TT).
Its top-speed rating may be considered merely above average by today's standards. But during its heyday, the Ninja GPZ900R was the fastest and raddest two-wheeler on track or pavement.
This sub-liter machine took six years in the making and was intended as a successor to the illusive Z1. It was unveiled to the press in December 1983 at the Laguna Seca Raceway in California, coinciding with the International Motorcycle Show held at the same venue.
The GPZ900R made its official debut the year after and has made history since — with its 10-ish-second quarter-mile record, Top Gun cameo, and tandems with drag bike racing legends like Jay "PeeWee" Gleason — before being finally discontinued after 2003.
Kawasaki GPZ900R Specs & Features (ZX900-A1/A2 Models)
Engine
The GPZ900R roars to life via an electric starter and a 16-valve, 4-stroke inline-4 engine with a piston displacement of 908 cm³ (55.4 in³). Its bore-stroke ratio is 72.5 x 55 mm (2.854 x 2.165 inches), while its compression ratio is 11.0:1.
Four CVK34 Keihin carburetors mated to a liquid cooling system handle the air-fuel mixture. All in all, this power mill configuration lends to the performance figures below:
| Description | |
| --- | --- |
| Horsepower | 110—115 PS (80.9—84.6 kW) @ 9,500 RPM (North America, rest of the world); 69 PS (50.7 kW) @ 6,000 RPM (Sweden) |
| Maximum Torque | 85.3 Nm (8.7 kgf-m, 62.9 lb-ft) @ 8,500 RPM (@ 5,000 RPM for Swiss units) |
| Top Speed | 151—158 mph (243—254 km/h) |
| Fuel Economy (average) | 40.8—48 mpg (4.9—5.8 L/100 km, 17.3—20.4 kmpl) |
| Fuel Tank Range | approximately 237—278 miles, 381.6—448.9 km |
Fuel & Lubrication
The tank capacity of unleaded gasoline is 22 L/5.8 USgal (inclusive of 4 L/1.06 USgal reserve). The recommended octane rating should be at least a PON 86/RON 90 rating.
Lube-wise, the Ninja GPZ900R makes use of a forced lubrication (wet sump with cooler) system with the following oil requirements:
2.7 L (2.9 US qt) — when the filter is not removed
3 L (3.2 US qt) — with filter replacement
4 L (4.2 US qt) — after disassembly
OEM-prescribed engine oil is SAE 10W-40 with a minimum API certification of SJ meeting JASO T903 MA standards. Other viscosity grades specified in the owner's manual — SAE 10W-50, 20W-40, or 20W-50 — are permissible following changes in ambient temperatures, altitude, and riding conditions.
Drivetrain
A 6-speed constant-mesh transmission (close-ratio, return shift) and a multi-disc wet clutch assembly deliver power to the ground. A #530 Enuma Endless EK530 KVDO chain with a 35—40 mm slack and 112/114 links handles wheelspin. In case of wear or damage, the latter may be replaced with a same-spec chain (view on Amazon). As for gearing, below are the stock ratios:
Description
Other Markets
North America
Primary Reduction Ratio
1.732 (97/56)
Transmission Gear Ratio — 1st
2.800 (42/15)
Transmission Gear Ratio — 2nd
2.000 (38/19)
Transmission Gear Ratio — 3rd
1.590 (35/22)
Transmission Gear Ratio — 4th
1.333 (32/24)
Transmission Gear Ratio — 5th
1.153 (30/26)
Transmission Gear Ratio — 6th
1.035 (29/28)
Final Reduction Ratio
2.882 (49/17)
2.941 (50/17)
Overall Drive Ratio @ Top Gear
5.170
5.276
The Ninja GPZ900R featured a 'silent' link-plate cam chain with a constant-load tensioner and hollow camshafts. Its placement at the left end of the superbike's crankshaft simplified liquid cooling, reduced the number of crankshaft bearings, and improved engine breathing efficiency.
Ignition & Electricals
This superbike's ignition system is a battery and coil (transistorized ignition) type with a timing of 10° BTDC @ 1,000 RPM (initial "F" mark) and 35° BTDC @ 3,500 RPM (electronically advanced). Ignition timing for California releases share similar values.
Four spark plugs — NGK DR8ES-L or Nippon Denso X27ESR-U format with a 0.6—0.7 mm (0.024—0.028 inch) electrode gap — are responsible for spark ignition. However, depending on the market and riding speed, you may need to use an NGK DR8EA or ND U24ESR-U instead.
To provide power for lights and accessories, all production models employ a maintenance-free 12V YTX14AHL-BS battery (view on Amazon). Its charging system consists of a triple-phase A.C. reg-rec with a rated output of 14V 25A @ 6,000 RPM. The motorcycle's lighting includes a 12V 60/55 W semi-sealed, quartz-halogen headlight, a 5 W taillight, and a 21 W brake light, ensuring effective illumination.
Tires & Brakes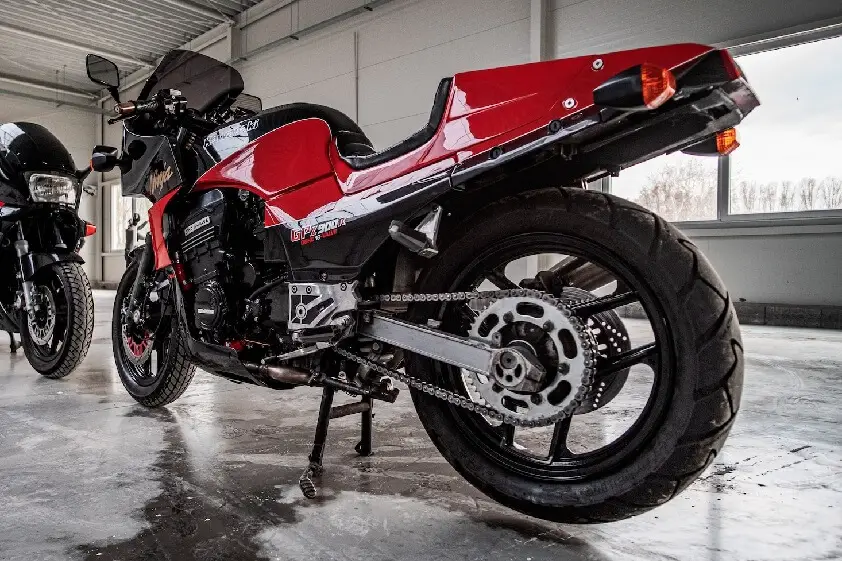 Stock tires consist of tubeless Dunlop radials measuring 120/80V16 at the front and 130/80V18 at the back. These have a recommended cold-tire pressure of 225—250 kPa (2.25—2.5 kgf/cm², 32—36 psi) for the front tire and 250—290 kPa (2.5—2.9 kgf/cm², 36—41 psi) for the rear.
Completing the motorcycle's tire-and-wheel assembly and providing stopping power are dual 280-mm front discs with single-piston calipers and a single 270-mm rear disc with a single-piston caliper. These rotors have a respective service limit of 4.5 mm and 6 mm.
Suspension
Enclosed in a three-piece iron chassis (29° caster angle, 114 mm/4.5 inches trail) are 38/39-mm pneumatic front forks and a rear progressive-rate UNI-TRAK® linkage system.
The wheelbase is 1,495 mm/58.9 inches, paired with a 2.7-meter/6.6-foot turning radius and 140-mm/5.5-inch ground clearance. The front forks, in particular, were fitted with what was considered cutting-edge technology during the '80s, dubbed Automatic Variable Damping System (or ADVS).
Dimensions
The overall dimensions of the Ninja GPZ900R are 2,200 x 750 x 1,215 mm (86.6 x 29.5 x 47.8 inches – L x W x H). Dry weight is 228 Kg (502.7 lbs.), with A2 models being half a kilogram heavier.
Meanwhile, the curb mass is 249 Kg (549 lbs.), with a 49%:51% front-and-rear load distribution bias. The saddle height is 780 mm (30.7 inches) and can accommodate less experienced to advanced riders.
Exterior
Constructed from round steel tubes, the foundational frame of the GPZ900R forms an arc from the swingarm to the steering head, with the engine serving as a structural element. Key components attach to the main frame, while tubular steel bracketry supports the fairing, oil cooler, and cross-flow radiator.
The swingarm pivots at the rear of the main frame, and aluminum plates at its ends support the mufflers and footpegs. Meanwhile, the rear sub-frame holds the seat, tail section, and rear fender.
Other notable details include the headlight assembly, easy seat removal/installation, battery and air filter accessibility, and quality paint. The instrument cluster is functional and includes fuel and water temperature gauges and a slightly larger tachometer face than the Speedo (view on Amazon).
Further enhancements include a storage compartment in the tail section, helmet hooks on both sides and collapsible bungee cord hooks.
How Much Is a Ninja GPZ900R?
The original MSRP for this sportbike in the US ranged from $4,399 to $4,899 (or approximately $12,917 to $13,368 if sold brand-new today and with inflation factored in). Note that this price range is only until 1986. References for the bike's MSRP in the UK and Japan are quite obscure as most online information points to resale values of pre-loved GPZ900Rs in the said countries.
Due to the collectability of the GPZ900R, auction and resale listings of pre-1990 iterations are hard to come by. If any are in the used-bike market, expect them to average between $2,565 and $11,455 (if not pricier).
Recommended Mods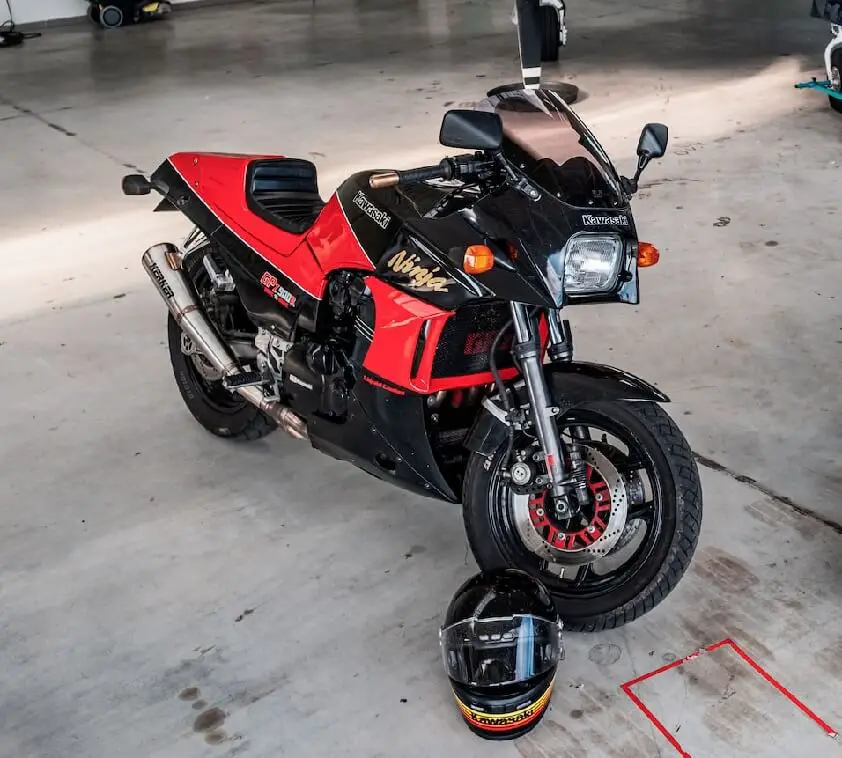 Although the Ninja GPZ900R is an icon, mechanically inclined motorheads opt to tweak the thumper to unleash the beast within. While the below recommendations will not automatically turn your beloved two-wheeler into a race-grade worx special, these will definitely liven up the handling and performance of your motorcycle:
Performance exhaust system to improve airflow and increase power output
High-flow air intake kit to allow more air into the engine, enhancing combustion efficiency
Aftermarket air filter for improved air intake
Premium-quality, grippy tires that offer better traction and cornering performance
Suspension upgrade (but only if you are mechanically savvy or the task is outsourced to a professional)
Braided brake lines for improved brake feel, modulation, and stopping power
Upgraded brake pads to improve braking performance and reduce fade
Lightweight forged or carbon fiber wheels to reduce unsprung weight and improve acceleration (provided requisites such as compatibility, tire fitment, and ride characteristics are met)
Sprocket and chain upgrade to enhance acceleration or top-end speed
Performance clutch kit for smoother engagement and better power transfer
Adjustable rearsets for enhanced comfort and efficient riding position
High-performance shocks for improved handling and stability
Aerodynamic upgrades like a Zero Gravity Double Bubble Windscreen (view on Amazon) to reduce wind resistance at high speeds
Dyno tuning to fine-tune the motorcycle's engine performance and overall power delivery
About Kawasaki
Kawasaki Heavy Industries Ltd. (or KHI) has long been a name synonymous with high-quality motorcycles, and the Kawasaki GPZ900R is definitely no exception. The Japanese firm is among the pillars of the Japanese "Big 4" and is well-known for manufacturing industrial engines, ATVs, and powersports vehicles (to name a few).
Established in 1896 in Tokyo as a supplier for shipyards, KHI transitioned into motorcycle manufacturing and has since emerged as a key contender in the automotive sector. Kawasaki maintains its position as a frontrunner in delivering high-performance goods and services, demonstrating more than a century of expertise by providing heavy machinery and other comprehensive solutions.
Conclusion — Kawasaki GPZ900R Review
The Kawasaki Ninja GPZ900R's place in motorcycle history remains firmly established, and its influence on the sportbike world continues to resonate. After many years, the two-wheeler is still a cultural icon, a trailblazer, and a formidable counterpart to modern-day superbikes.
Whether you are a vintage motorcycle enthusiast or a contemporary machine rider, you cannot deny that the GPZ900R leaves a vibrant, indelible mark on today's dynamic realm of motorcycle engineering and design. Even after two decades, this maverick two-wheeled ride continues to be a constant reminder of the boundless potential of the sportbike segment.