BMW F800S Sport Bike (Specs and Review)
Disclosure: We may get commissions for purchases made through links in this post.
Given its industry reputation, it would be unsurprising for BMW to introduce groundbreaking offerings in the market. The German firm was at it again in 2006 with the launch of the BMW F800S.
The F800S was the first production motorcycle to feature a parallel-twin engine with DOHC and four valves per cylinder. As if that were not enough, the bike also sported advanced features uncommon in motorcycles at the time.
The BMW F800S is a stylish, versatile sport-tourer that delivers a thrilling ride with its powerful 798cc engine and agile handling. Boasting a single-sided swingarm, low-maintenance belt drive, and optional ABS and ESA systems, the F800S is the ideal thumper for commuting and long-distance rides.
Comfort and reliable performance are a few of the qualities that draw casual riders toward the BMW F800S. Meanwhile, versatility is king for more experienced motorheads.
Not so familiar with the name? Then stick around and discover how well sophistication and ruggedness can come together in a timeless motorcycle.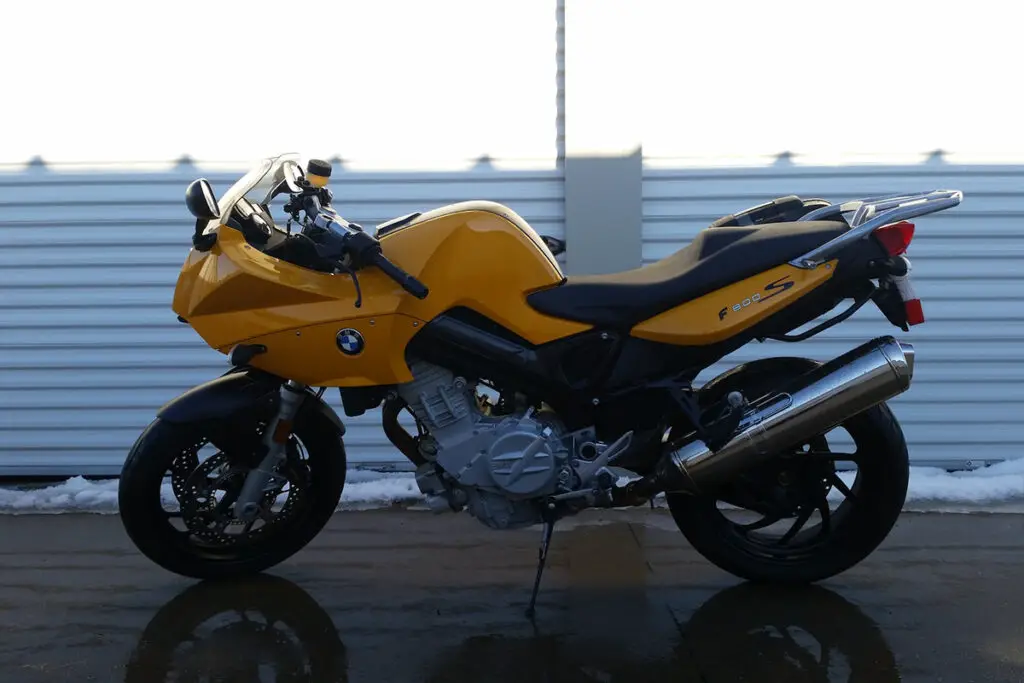 BMW F800S: Stunt Bike or Sport Tourer?
The BMW F800S is a sport touring motorcycle manufactured by the German automaker BMW Motorrad from 2006 to 2010. The OEM introduced the F800S in 2006 as part of its F-Series label, designed to be more accessible and affordable than its high-end touring bikes.
Fitted with a 798cc Rotax parallel twin that produced a rumbling noise reminiscent of BMW's air-cooled boxer twins, the F800S was undeniably sporty and nimble. But that's not all the power mill offered, as it also spewed 85 hp (62.5 kW) and 86 Nm (8.77 kgf-m, 63 lb-ft) of torque. Furthermore, the drivetrain has liquid cooling, fuel injection, and a 6-speed forward transmission.
As customary of the German firm, the two-wheeler did not fall short of performance-enhancing features. Suspension geometry is also impeccable — thanks to a sturdy steel trellis frame, single-sided swingarm, and an adjustable rear shock. Front suspension featured rebound damping and spring preload adjustability.
Like other motorized vehicles, the two-wheeler's overall design still had room for improvement (especially in rider comfort). This could be one of the reasons its production run was short-lived, with the 2007 BMW F800S being the last production model sold in North America (before the product line's discontinuance in 2010). But all in all, the BMW F800S was well-received by the motorcycle press and the brand's avid following.
Significant Developments
The first design improvement for the BMW F800S came in 2007 in the form of optional ABS (Anti-Lock Braking System), which improved rider safety and the bike's overall reliability. However, crucial updates to styling, suspension, and instrumentation (among others) did not happen until the launch of the 2008 BMW F800ST.
The 3rd-year installment of the motorcycle received a more aerodynamic fairing and windshield (view on Amazon), a redesigned seat, a retuned suspension, and an upgraded, more legible instrument panel. These key changes helped reduce wind noise and buffeting, improve rider comfort and long-distance touring capabilities, and make on-the-fly suspension adjustments possible.
2007 BMW F800S Specs & Features
Engine
The F800S is powered by a liquid-cooled, transversely installed Rotax-built DOHC 4-stroke power mill. It has a near-square bore-stroke ratio of 82 mm × 75.6 mm (3.23 in × 2.98 inches). Piston displacement is 798 cm3 (48.7 in3), while the compression ratio is 12.0:1.
A Siemens electronic fuel injection system with a digital engine management system facilitates precise fuel delivery. It handles an air-fuel mixture — rendering the sport bike more powerful and with better low-end grunt than BMW's very own K75.
| Description | |
| --- | --- |
| Horsepower | 85.2 hp (62.6 kW) @ 8,000 RPM; 83 hp (61 kW) @ 8,000 RPM*; 34 hp (25 kW) @ 7,000 RPM** |
| Maximum Torque | 86 Nm (8.77 kgf-m, 63 lb-ft) @ 5,800 RPM; 83 Nm (8.46 kgf-m, 61 lb-ft) @ 5,800 RPM*; 55 Nm (5.61 kgf-m, 41 lb-ft) @ 3,500 RPM** |
| Top Speed | 124 mph (200 km/h); 96 mph (155 km/h)** |
| Fuel Economy (average) | 45.2—55 mpg (4.27—5.20 L/100 km, estimated) |
| Fuel Tank Range | approximately 189—207 miles, 305—334.6 km |
* with OE Regular unleaded (RON 91)
** with OE Power reduction
Fuel & Lubrication
Tank capacity is 16 L (4.2 USgal, 4 L/1.1 USgal – reserve) of unleaded or super unleaded gasoline. Units released in North America used fuel with a rating of at least RON 91 (regular) or RON 95 (super unleaded) — ratings of which are based on German DIN 51600 standards.
Lubrication-wise, the F800S has a dry sump system with the following requirements:
| Description | Quantity |
| --- | --- |
| With oil filter replacement | 3 L (3.2 US qt) |
| At disassembly | 1.95 L (2.06 US qt) |
| Radiator | 0.58 L (0.61 US qt) |
| Coolant reservoir | 0.29 L (0.31 US qt) |
| From low to full level | 0.16 L (0.17 US qt) |
For best results, the OEM recommends mineral engine oils with a minimum API classification of SJ, meeting JASO T903 MA and ACEA standards. The use of oil additives is ill-advised, as it can worsen clutch operation. Permissible viscosity grades are contingent on ambient temperatures — SAE 10W-40 @ -4 °F (-20 °C) or SAE 15W-40 @ 14 °F (-10 °C).
Drivetrain
A 6-speed, claw-shifted gearbox integrated in the engine housing and an oil-bathed, multi-disc clutch assembly delivers power to the ground. Meanwhile, the final drive is a belt drive system with jerk damping.
A soft ignition-cut rev limiter redlining @ 9,000 RPM keeps top speed within 124 mph and the bike within a safe range.
For reference, see the stock gear ratios below:
| Description | |
| --- | --- |
| Primary Reduction Ratio | 1.943 (35/68) |
| Transmission Gear Ratio — 1st | 2.462 (13/32) |
| Transmission Gear Ratio — 2nd | 1.750 (16/28) |
| Transmission Gear Ratio — 3rd | 1.381 (21/29) |
| Transmission Gear Ratio — 4th | 1.174 (23/27) |
| Transmission Gear Ratio — 5th | 1.042 (24/25) |
| Transmission Gear Ratio — 6th | 0.960 (25/24) |
| Secondary Reduction Ratio | 2.81:1 |
Ignition & Electricals
An all-electronic, ECU-managed ignition system with a timing of 5°–10° BTDC @ 1,250 RPM (initial "F" mark) and 25°–35° BTDC (full advance) brings the BMW F800S to life.
An NGK DCPR 8 E spark plug with a 0.8–0.9 mm (0.031–0.035 inch) electrode gap is responsible for spark ignition. Meanwhile, the bike's charging system is a triple-phase alternator rated at 14V 400W @ 5,000 RPM.
55-watt halogen headlights, 10-watt turn signals, instrumentation indicators, and other electronic accessories are powered by a 12V 14 Ah/(10 HR) ETX 14 BS battery like Deka Sports Power ETX14 Battery (view on Amazon). This battery format has assembled dimensions of 150 x 87 x 145 mm (6.00 x 3.44 x 5.75 inches – L x W x H, sans wiring harness and mounting accessories).
Tires & Brakes
Stock rubber consists of 120-70 ZR17 M/C (58W) and 180-55 ZR17 M/C (73W) tires mounted on 3.5″ x17″ and 5.5″ x17″ front and rear cast aluminum rims. Depending on the market, the brand of these tubeless radials could be Bridgestone Battlax (view on Amazon), Dunlop Sportmax, Michelin Pilot, or Metzeler Sporttec.
As for brakes, hydraulically operated, floating twin discs at the front and a fixed disc with single-piston floating calipers at the back provide stopping power and complete the BMW F800S tire-and-wheel assembly.
Regardless of doing solo or pillion riding, the recommended cold-tire pressure is 36.3 psi (2.5 bar) at the front and 40.6 psi (2.8 bar) at the rear. However, these values must be adjusted if driving at speeds above 100 km/h.
For speeds between 62—75 mph (100—120 km/h), increase tire pressure by 0.1 bar (1.45 psi). Similarly, increase by 0.2 bar (2.9 psi) for speeds above 120 km/h (75 mph).
Suspension
Telescopic front forks and the single-arm light-alloy cast rear suspension (with a directly articulated central spring strut and adjustable rebound-stage damping) offer a spring travel of 5.5 inches (140 mm) on the wheel. However, it gets reduced to 4.4 inches (113 mm) with OE lowered suspension.
Despite their seemingly diminutive values, both lend to noticeable improvements in handling, rider comfort, and bike control.
Dimensions & Capacities
The overall dimensions of the BMW F800S are 86.4 x 33.9 x 48.2 inches (2,195 x 860 x 1,225 mm – L x W x H). Motorcycle height is reduced by 1.2 inches with factory-installed lowered suspension.
Wheelbase is 1,483 mm (58.4 inches), augmented by a 2.4-meter turning radius and 150-mm road clearance. Seat height ranges from 29.9—32.3 inches (760—820 mm) based on layout, load, and suspension configuration.
GVWR (Gross Vehicle Weight Rating) is estimated at 405 Kg (893 lbs.) — including a full tank, rider and passenger weight, accessories, and cargo. This figure takes into account the DIN unladen weight of 450 lbs./204 Kg (ready for road, 90% full tank capacity) and the maximum payload of 443 lbs. (201 Kg).
Exterior
The 2007 BMW F800S boasts a sleek and modern design, featuring sharp angles and dynamic lines, exuding a sense of sportiness and agility. The aerodynamic fairing and stylish headlight assembly add to the sport tourer's edginess, while high-quality finishes make for a truly premium look and feel.
Its fuel tank is sculpted with elegant contours, while the engine housing features a striking silver finish. Fenders are slim and lightweight, further enhancing its aerodynamic profile.
The 2-into-1 exhaust leading to a single muffler is neatly tucked beneath the seat, adding to the two-wheeler's sophisticated, minimalist appearance.
Worth of a BMW F800S
Depending on year and trim, the average resale value of this motorcycle ranges from $2,225 to $4,890. Meanwhile, the original MSRP is between $9,990 and $10,620 (with no rate increase in the first three years of the sport bike).
MSRPs increased by $800—$1,400 with ABS and $1,075—$1,675 with ABS and lowered suspension included in the OE setup. Given these rates, one can assume that getting a sports package with a center stand, heated grips like Kuryakyn 6471 Motorcycle Handlebar Accessory (view on Amazon), a tinted windshield, and a sportier saddle (among others) could easily cost a prospective buyer an extra $2,000 on top of the F800S base retail price.
Prevalent BMW F800S Problems
Tank Leak 
F800S owners reported fuel tank leaks in 2006—2007 production models and traced the problem to faulty fuel pump o-rings or venting system issues.
Symptoms included poor engine performance, fuel odors, and visible leaks or puddles. Riders who have experienced it warn against hot weather exacerbating the issue and causing potentially premature venting and fuel system replacements.
Faulty ABS
The BMW F800S has an issue with the ABS being oversensitive, which can cause the bike to slow down or stop unexpectedly. Disabling the feature seems sensible but is not recommended since it can gravely compromise rider safety.
Instead of bypassing ABS, adjust its sensitivity via an onboard computer or with the help of a professional. And once resolved, ensure that you keep the brake system clean and well-maintained.
Shifting Difficulties
Some enthusiasts have reported their motorcycles experiencing shifting difficulties, such as sticking in neutral or trouble shifting from neutral to gear. For these affected riders, finding neutral tended to be problematic too.
After a thorough diagnosis, challenges with shifting were discovered to result from issues with the clutch/shifter mechanism and wear on the transmission components.
A solution shared by seasoned riders is to adjust the shifter linkage to ensure proper alignment. However, they warned that doing so can resolve shifting problems only to a degree. Regular lubrication and upkeep of clutch and transmission components is still the best way to keep shifting issues at bay.
About BMW
Bayerische Motoren Werke GmbH (or Bavarian Motor Works), a German manufacturer with over 100 years of heritage, began as an aircraft engine manufacturer in 1916. Due to restrictions in aircraft engine manufacturing resulting from the Treaty of Versailles, it eventually shifted to motorcycle production in 1923 and automobile manufacture in 1928.
Its first-ever motorbike, the 1923 BMW R 32, laid the groundwork for future boxer mills and twin-cylinder incarnations like the BMW F800S. Moreover, it established BMW as an industry powerhouse.
Conclusion — BMW F800S Sport Bike Review
In conclusion, the BMW F800S is a mid-sized sport bike that offers gearheads a balance between performance and practicality. With its responsive handling, comfortable ride, and powerful mill, the 17-year-old motorcycle is still a joy to ride on twisty roads and long trips.
The base package is already impressive, but optional equipment, ABS, and ESA make it even more versatile and robust.
In stock form, the F800S is a road-going sport-tourer equally adept in off-road detours. Modified, it can do so much more. A reinforced frame, larger sprockets and chain, custom-made handlebars, and aftermarket pegs will make a daredevil out of this quarter-liter Motorrad. Take it from prolific stuntman and motorcycle instructor Chris Pfeiffer.