Honda CBR650R vs. CBR600RR: Review & Comparison
Disclosure: We may get commissions for purchases made through links in this post.
When it comes to sporty motorcycles, the Honda CBR series instantly stands out. Two formidable contenders in this lineup are the Honda CBR650R and CBR600RR. This review and comparison will delve into their respective attributes and lowdowns to help you decide which one meets your two-wheeled fancy.
What is the difference? The main differences between the purpose-built Honda CBR650R and Honda CBR600RR are their power and torque outputs, displacement, styling, and systems configuration. As for their strong suit, the CBR650R excels in road performance, while the CBR600RR leans towards racing.
I cannot stress enough how each of these motorcycles has their own unique advantages and trade-offs. To cite examples for both CBR650R and CBR600RR models, the former is known for its balance of everyday usability and sporty performance. Meanwhile, the latter is a thoroughbred racer that many deem incredible on the track but average on pavement.
It's quite easy to be torn between these two incredible machines, really — hence, the need for today's article.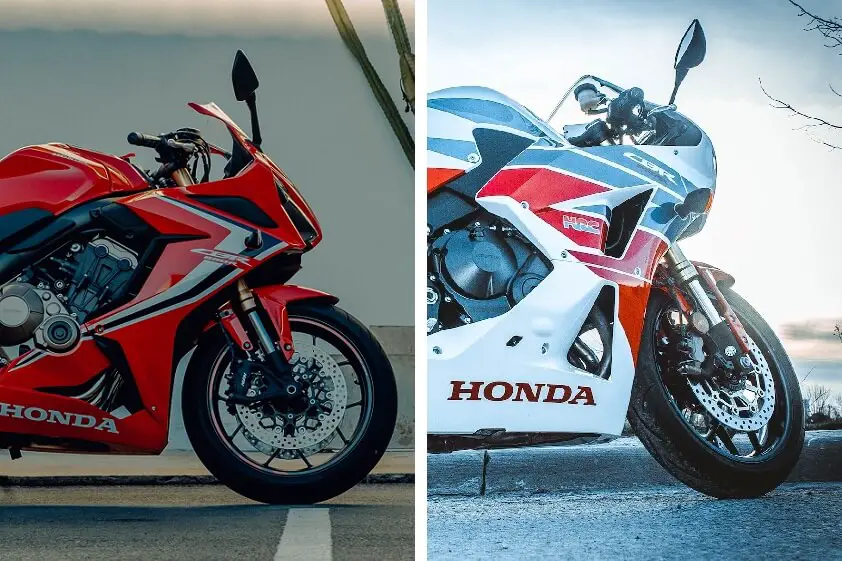 Honda CBR650R and CBR600RR Origins
Launched alongside the naked CB650F in 2014, the fully faired CBR650F initially offered robust four-cylinder middleweight performance, leaning towards the sporty side of 'sports touring.' In 2017, it received a power boost, enhanced styling emphasizing the engine, a Showa Dual Bending Valve front fork, and revised Nissin brake calipers. Fast forward to 2019, and the CBR650F was rebranded as the CBR650R, with its styling inspired by the previous year's CBR1000RR Fireblade.
In contrast, Honda faced an eventful year in 2006 (after the inception of its RC211V-inspired CBR600RR). The bike's 3rd year was filled with excitement, disruption, and a touch of ominous undertones. While the CBR series continued to undergo key changes that spelled evolution for Honda's lineups, it was also the same year that Honda lost to Yamaha in European sales. Despite the challenges, the firm turned things around by refining the CBR600RR's design and improving its functionality.
Improvements Post Debut
Honda CBR650R
Among the first noticeable improvements for this year was a significant upgrade in styling and aerodynamics. The CBR650R adopted a more aggressive and sporty design inspired by the CBR1000RR Fireblade, including dual LED headlights and a more compact, sharply styled fairing.
Honda engineers meticulously fine-tuned the 649cc, DOHC 16-valve engine to eliminate a torque dip @ 5,500 RPM — delivering 5% more power above the 10,000-RPM mark and extending the redline by 1,000 RPM. This also resulted in the engine offering higher revs and a smooth, linear torque delivery, with a distinctive engine note.
The cylinder head's direct cam actuation, alongside modifications like a redesigned piston and optimized combustion chamber shape, enhanced the CBR650R's engine performance. Moreover, asymmetric piston skirts and an advanced cylinder sleeve design minimized friction. New twin ram air ducts fed a greater volume of air to the airbox, while the exhaust system incorporated a larger bore tailpipe to improve gas flow and deliver the engine's sound more directly to the rider.
An assist/slipper clutch is now incorporated into the motorbike's many perks, making upshifts easier and managing rear-wheel lockup during rapid downshifts. Additionally, HSTC (Honda Selectable Torque Control) is introduced for rear-wheel traction management and can be adjusted or deactivated at the rider's discretion.
The CBR650R frame was updated with lighter swingarm pivot plates, reducing its weight by 1.9 Kg and lending to a more responsive and balanced handling experience. The motorbike's suspension system also included a new 41-mm Showa Separate Function Fork (SFF) USD fork, enhancing rider comfort and control and making the CBR650R more agile and maneuverable.
Honda CBR600RR
2009
The CBR600RR's frame was updated to improve rigidity and reduce weight, resulting in a more responsive and agile ride. Suspension components were also upgraded to include a new 41-mm Showa Big Piston Fork (BPF) in the front and a Unit Pro-Link rear suspension.
2013
This year's model received an updated Dual-Stage Fuel Injection (DSFI) system that improved throttle response and fuel efficiency. This technology optimized the air-fuel mixture at various engine speeds and loads, resulting in better performance and smoother power delivery.
Honda introduced the Electronic Combined Anti-lock Brake System (C-ABS) system as an option for the CBR600RR. The system enhanced braking performance and safety while reducing the risk of wheel lockup, improving stability, and providing more precise control under hard braking.
Alongside technical improvements, the bike also received a refreshed design. Its bodywork and styling were updated to give it a more aggressive and aerodynamic appearance, while new dual headlights and a slimmer tail section contributed to the thumper's modern and sporty look.
2017
The firm introduced a more advanced electronics package for the CBR600RR. The package included selectable engine power modes, traction control, and improved throttle response. These electronic enhancements not only allowed riders to customize the bike's performance to their preferences and riding conditions but also positioned the Honda CBR600RR as a more competitive option in the supersport category.
CBR650R vs. CBR600RR Specs & Features
Engine
Both sportbikes feature liquid-cooled, transversely mounted 4-stroke DOHC power mills. They also share similarities like high compression ratios, an electric starting system, fuel injection, and mid-fuel efficiency ratings (note that mpg figures are not EPA estimates).
Configuration-wise, the CBR650R has a slightly longer stroke than its cousin. Despite having a larger displacement engine, both motorcycles share similar top-speed ratings. Furthermore, the CBR600RR boasts better power and torque outputs than the former — largely due to its more advanced Dual Stage Programmed Fuel Injection system featuring "an automatic cold-start and warm-up enrichment system."
| Description | CBR650R (2019) | CBR600RR (2020) |
| --- | --- | --- |
| Carburetion Type | PGM-FI®, 32-mm throttle bodies | PGM-DSFI®, 40-mm throttle bodies, Denso 12-hole injectors |
| Displacement | 649 cm³ (39.6 in³) | 599 cm³ (36.5 in³) |
| Bore-Stroke Ratio | 67 x 46 mm | 67 x 42.5 mm |
| Compression Ratio | 11.6:1 | 12.2:1 |
| Top Speed | 159 mph (256 km/h) | 160 mph (257.5 km/h) |
| Horsepower | 93.8 hp (70 kW) @ 12,000 RPM | 118 hp (88.1 kW) @ 13,500 RPM* |
| Torque | 64 Nm (6.5 kgf-m, 47 lb-ft) @ 8,500 RPM* | 66 Nm (6.7 kgf-m, 4.6 lb-ft) @ 11,250 RPM* |
| Fuel Mileage | 48 mpg (4.9 L/100 km, 20.4 kmpl) | 44 mpg (5.3 L/100 km, claimed) |
* Source: 
Motorcycle Specs
Fuel & Lubrication
For these motorcycles, it's recommended to use fuel with no more than 15% MTBE, 10% ethanol, or 5% methanol, provided they include appropriate co-solvents and corrosion inhibitors. You can also opt for Reformulated Oxygen Gasolines (RFGs) or gasohols of the same specification.
As for engine oil, your chosen variant should meet the API certification of SJ or higher and adhere to JASO T903 MA standards. Make sure to avoid oils labeled as "Energy Conserving" or "Resource Conserving." You can select different viscosity grades as specified in the owner's manual following changes in ambient temperatures, altitude, and riding conditions.
Description
CBR650R (2019)
CBR600RR (2020)
Fuel Type & Rating
Unleaded gasoline, PON 86 or higher
Unleaded gasoline, PON 91 or higher
Tank Capacity
15.4 L (4.1 USgal)
18 L (4.8 USgal)
Lubrication System
Forced lubrication (wet sump)
Oil Type & Capacity
SAE 10W-30 Pro Honda GN4 4-stroke
2.3 L (2.4 US quarts, at draining)
2.6 L (2.7 US quarts, filter change)
3 L (3.2 US quarts, disassembly)
SAE 10W-30 Pro Honda GN4 4-stroke
2.7 L (2.9 US quarts, at draining)
2.8 L (3 US quarts, filter change)
3.5 L (3.7 US quarts, disassembly)
Drivetrain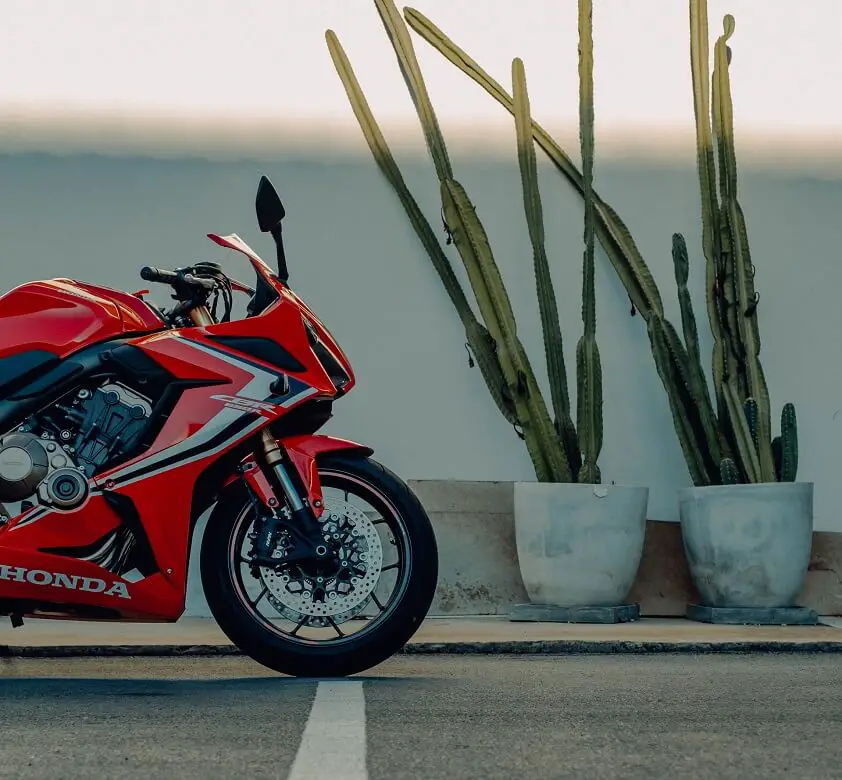 Both Honda motorcycles have a 6-speed close-ratio transmission to power them, and a cable-operated, multi-plate wet clutch assembly ensures power is efficiently transferred to the ground. To manage wheel traction, they employ a #525 O-ring chain (view on Amazon).
| Description | CBR650R (2019) | CBR600RR (2020) |
| --- | --- | --- |
| Primary Reduction Ratio | 1.690 | 2.111 |
| Gear Ratio — I | 3.071 | 2.750 |
| Gear Ratio — II | 2.352 | 2.000 |
| Gear Ratio — III | 1.888 | 1.666 |
| Gear Ratio — IV | 1.560 | 1.444 |
| Gear Ratio — V | 1.370 | 1.304 |
| Gear Ratio — VI | 1.214 | 1.208 |
| Final Reduction Ratio | 2.800 (15/42T) | 2.625 (16/42T) |
| Chain (Final Drive) | D.I.D. 525V11 or RK 525KRW, 118 links | D.I.D. 525HV or RK 525ROZ6, 112 links |
Ignition & Electricals
Although both motorcycles operate on a 12V electrical system, it's essential to note that their electrical components significantly differ due to the CBR600RR's advanced DSFI® system and its specific demands. However, both bikes share a common feature in their use of a single-phase A.C. alternator (rated output is 370 watts for the CBR650R and 340 watts for the CBR600RR).
Description
CBR650R (2019)
CBR600RR (2020)
Ignition
Digital transistorized with electronic advance
Digital transistorized with electronic advance & independent four-cylinder 3D-mapped computer controller
Battery Format
12 V-8.6 Ah (10 HR) FTZ10S or YTZ10S (view on Amazon)
Battery Dimensions
150 x 87 x 93 mm
Spark Plug, Gap
NGK IMR9E-9HES or DENSO VUH27ES, 0.8–0.9 mm (0.031–0.035 inch)
DENSO VUH27D, 0.8–0.9 mm (0.031–0.035 inch)
Tires & Brakes
Honda CBR650R and CBR600RR models share 17-inch wheels with street-legal, tubeless radials. However, a notable difference can be found in the rear brake setup, where the Honda CBR600RR features a slightly smaller hydraulic disc compared to the CBR650R.
On a positive note, their tires are of the exact same size and are thus interchangeable. These knobbies are designed for driving speeds of at least 168 mph (270 km/h) and have front-and-rear load-bearing capacities of 236 Kg (520 lbs.) and 365 Kg (805 lbs.), respectively. In the event of puncture or wear, these factory tires can be easily substituted with same-spec Michelin Road 6s (view on Amazon).
Description
CBR650R (2019)
CBR600RR (2020)
Tire Brand (F/R)
Dunlop D214F Z / Dunlop D214 Q
Dunlop D214F K / Dunlop D214 K
Front Tires
120/70ZR17M/C (58W)
Rear Tires
180/55ZR17M/C (73W)
Rim SIze (F/R)
17M/C x MT3.5 / 17M/C x MT5.5
Cold-Tire Pressure (F/R)
250 kPa (2.5 kgf/cm², 36 psi) / 290 kPa (2.9 kgf/cm², 42 psi)
Front Brakes
310-mm floating discs w/ 4-piston & sintered metal pads x 2
Rear Brakes
240-mm petal disc w/ single-piston & resin mold pads
220-mm petal disc w/ single-piston
Engine Braking
dual-channel ABS
unspecified
Suspension
The CBR600RR boasts superior suspension geometry compared to the CBR650R. Designed as a supersport model for high-performance riding and racing, the former features fully adjustable front forks that enable riders to fine-tune compression, rebound, and preload. Its rear suspension is similarly adjustable, offering additional customization options.
In contrast, the Honda CBR650R, while still delivering a sporty and capable ride, leans more towards everyday street riding. That said, it lacks the advanced features and adjustability found in the CBR600RR. This distinction in suspension design and customization reflects the difference in purpose and target demographic for these two motorcycles. While the CBR650R is an excellent daily driver, the CBR600RR caters to riders seeking precision handling and top-tier track performance.
| Description | CBR650R (2019) | CBR600RR (2020) |
| --- | --- | --- |
| Wheelbase | 1,450 mm (57.1 inches) | 1,370 mm (53.9 inches) |
| Minimum Road Clearance | 130 mm (5.1 inches) | 135 mm (5.3 inches) |
| Caster Angle / Trail | 25.5°; 101 mm (4 inches) | 23° 55' / 98 mm (3.9 inches) |
| Turning Radius | 9.8 ft (3 m) | 10.6 ft (3.2 m) |
| Front Suspension, Travel | 41-mm Showa Separate Function Fork (SFF) USD forks; 120 mm (4.7 inches) | 41-mm USD Big Piston forks w/ spring preload, rebound- and compression-damping adjustability; 110 mm (4.3 inches) |
| Rear Suspension, Travel | Showa single shock w/ adjustable preload; 127 mm (5 inches) | Unit Pro-Link® HMAS™ single shock w/ spring preload, rebound- and compression-damping adjustability; 130 mm (5.1 inches) |
Dimensions & Capacities
Description
CBR650R (2019)
CBR600RR (2020)
Dimensions (L x W x H)
1,990 x 710 x 1,120 mm
2,030 x 685 x 1,115 mm
Seat Height
31.9 inches (810 mm)
32.3 inches (820 mm) (powersports.honda.com)
Curb Weight (Combined)
207 Kg (456 lbs., II CM Type);
208 Kg (459 lbs., II AC Type)
187 Kg (412 lbs., California);
186 Kg (410 lbs.);
197 Kg (434 lbs., CBR600RRA)
Payload Capacity
154 Kg (340 lbs.)
166 Kg (366 lbs.)*
Estimated GVWR
361—362 Kg (795—798 lbs.)
352—363 Kg (776—800 lbs.)
* Inclusive of 14-Kg luggage capacity
Exterior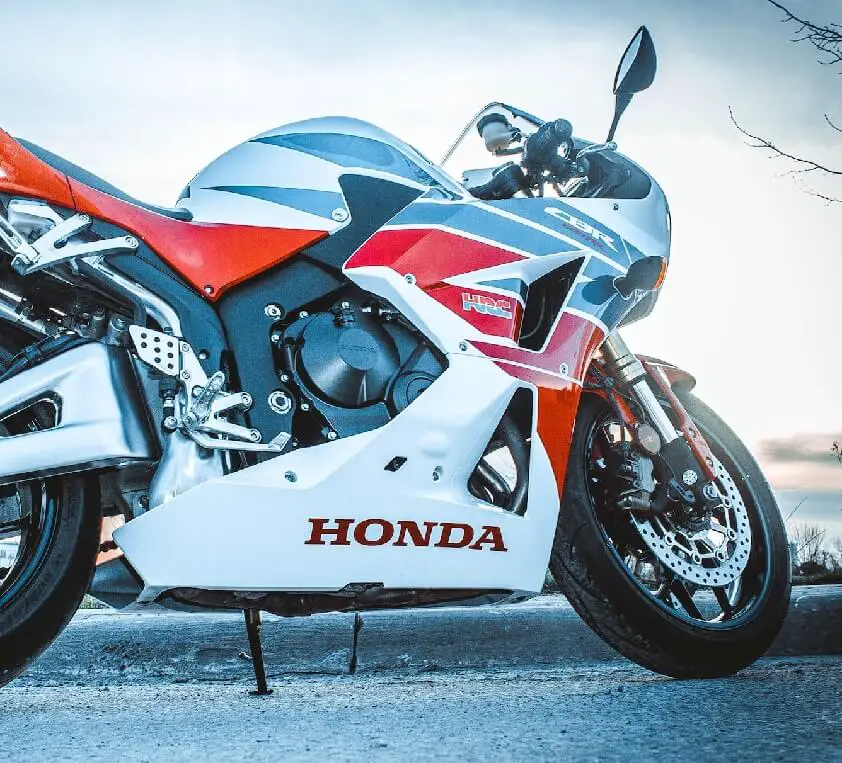 As earlier established, the CBR650R's design heavily borrows cues from the CBR1000RR Fireblade. Its upper front fairing carries an aggressive appearance, while the riding position has been tweaked to improve handling. All lighting now utilizes LED technology, and the updated instrumentation includes a Gear Position and Shift Up indicator for added convenience. Notably, the bike also underwent alterations in its frame and suspension components to help shed a few kilos off its overall weight.
In contrast, the CBR600RR boasts a distinctive, compact design with a shorter wheelbase and improved aerodynamics — a deliberate move by Honda to enhance the motorcycle's power-to-weight ratio. Weight-saving efforts, however, extended beyond the engine, affecting various components that lay in the transmission, suspension, and chassis.
CBR650R vs. CBR600RR Cost
Although the CBR650R has a larger displacement and is a more recent product offering, it's significantly cheaper than the Grand-Prix-mannered CBR600RR. Taking into account 2019 to 2022 MSRPs, the CBR650R is priced between $9,399 and $9,799, with an average retail of $6,395—$9,295.
Conversely, the CBR600RR's list price spans from $8,599 to $12,099. The 2023 version of this supersport bike has seen an MSRP reduction to $11,490 from 2013, and it remained at this price until 2016. In the following year, it increased to $11,799 and maintained this pricing structure, with gradual $100 increments each year. On average, the retail price falls from $2,575 to $11,680.
Shared Benefits & Drawbacks
Pros
Both motorcycles benefit from Honda's reputation for producing reliable and well-built machines.
They feature sporty and aggressive designs, appealing to riders looking for eye-catching motorcycles.
The CBR650R and CBR600RR offer responsive and precise handling, making them enjoyable to ride.
As sportbikes, they provide good fuel efficiency relative to their performance levels.
Both models are equipped with quality suspension components that contribute to their excellent handling (although the CBR600RR's is more advanced).
They come with advanced braking systems that provide strong, reliable stopping power.
The inline-four engines on both models offer smooth power delivery.
Both motorcycles have modern digital displays that provide the rider with essential information.
Their designs incorporate aerodynamic features to enhance stability and reduce wind resistance.
While they are street-legal, both models have the potential for track use, satisfying riders who enjoy occasional track days and off-road detours.
Cons
Being sportbikes, CBR650R and CBR600RR models can have higher insurance premiums compared to other types of motorcycles.
Their aggressive riding positions may be uncomfortable for some riders during extended journeys.
Both models have limited space for passengers, which may not be suitable for two-up riding.
Their sport-oriented nature may limit versatility for riders seeking a more all-around two-wheeler.
Engines can be less torquey at low RPMs, requiring higher revs for optimal performance.
The advanced features and performance of these Honda supersports come with premium price tags.
Maintenance costs can be relatively high, especially when considering specialized components.
The sophisticated technology and features of these motorcycles may pose a learning curve for certain riders due to their complexity.
Sportbike fairings are often thinner and more vulnerable to damage in case of a fall.
Due to their compact designs, they offer limited storage, making them unsuitable for touring.
Conclusion — Honda CBR650R vs. CBR600RR
In the battle of Honda's CBR series, the CBR650R and CBR600RR shine brightly (although they cater to different riders). The CBR650R is an excellent choice for those who want a taste of sportiness in their daily riding routines. Meanwhile, the CBR600RR is a track-focused beast that promises unparalleled thrills. Your choice between these two highly-capable machines — CBR650R and CBR600RR — ultimately depends on your riding aspirations and whether you seek them on the racetrack or the open road.