Suzuki Bandit 1200 (GSF1200) Specs and Review
Disclosure: We may get commissions for purchases made through links in this post.
Despite having neither a liquid-cooled engine, sharp details, nor advanced tech, the Suzuki Bandit 1200 became the definition of muscle bikes up until the early 2000s. And naturally, its huge aftermarket demand spawned numerous businesses worldwide. Given its stature as the 'Forefather of Muscle Bikes,' it'd be interesting to know how its simplistic nature piqued an entire industry's interest into its untapped potential.
The Suzuki Bandit 1200 (a.k.a. Suzuki GSF1200) was the 2nd largest displacement of all motorcycles in the Suzuki Bandit series. Released from 1996 to 2006, this sport-tourer featured a 106-hp power output and 71.6 ft-lb maximum torque and came in full-faired and naked versions.
Smooth handling, massive power, and excellent backroad/on-road mannerisms are just some of the highlights that make this sport-tourer outshine its counterparts. And though it may look dated, it offers a great package comparable to modern two-wheelers.
The Suzuki Bandit 1200 is undeniably a superb machine for daily driving, weekend drag races, and touring holidays. And as you will later learn in this guide, it is still a viable budget option.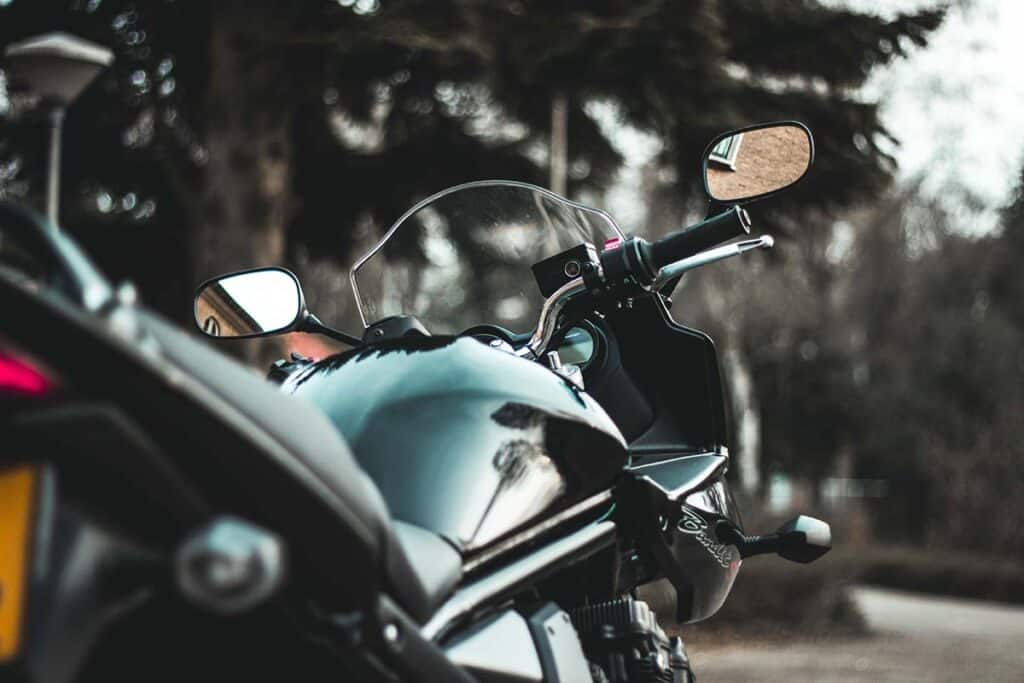 More Than a Sum of Its Parts
The Suzuki Bandit 1200 (fondly called the Bandit or B12) is a 1,157-cc, dual-purpose machine initially designed to fill the performance middleweight motorcycle class. Introduced by Suzuki in January 1996, it was offered as a larger-displacement version of the 'bargain-basement' GSF600 – the almost-negligible but highly-popular wheeler that amazed sportsbike fans and road testers the world over.
Like its predecessor, the Bandit was aimed at the budget-conscious consumer and had to be affordable. To do this, Suzuki kept costs down with its construction by getting bits and bobs from other motorcycles and bolting them down into a simple, tubular steel double-cradle frame.
One can say that the bike was a 'Frankenstein' of sorts but in a good way. Its forks, brakes, and mudguard were inspired by the RF600, and its motor and exterior were lifted from the GSX-R1100.
Significant Model Improvements
1996: The Bandit's first set of developments (against its 600-cc namesake) included a fuel gauge in the instrumentation, TPS (Throttle Position Sensor) on its four carburetors, large-diameter front discs, and higher-spec suspension.
1997: Some non-U.S. versions of the Suzuki GSF1200S were equipped with ABS (Anti-lock Braking System).
2001: S models received new fairing with twin headlights. All models got a new rear bodywork, fully electronic, LED-lit instrumentation, new carbs, Suzuki PAIR (Pulsed Air Injection), six-piston Tokico brake calipers, an uprated alternator, an extra fuel filter, 1.0-L increase in fuel tank capacity, and improvements to the bike's frame and steering geometry.
2004: Some models had a two-way catalytic converter to the exhaust system (making a conversion to a cat-back possible). The exhaust metalwork received minor upgrades.
2006: All Bandit 1200 production models received a newly-shaped fuel tank, fairing, side panels, adjustable seat height, and a longer hexa-section swingarm. The headlight assembly was also redesigned to have over-and-under beams instead of a side-by-side system. ABS was made optional in other markets and offered as a standard in the UK. Transmission gear ratios saw minor revisions.
Suzuki Bandit 1200 Specs & Features (1996 – 2000)
Engine
The Suzuki GSF1200 is powered by an oil/air-cooled, 16V DOHC 4-stroke I4 engine lifted from the firm's GSX-R1100 sportsbike. It has a bore-stroke ratio of 79 x 59 mm (3.1 x 2.3 inches). Piston displacement is 1,157 cm3 (70.6 in3), while compression ratio is 9.5:1.
Four slingshot-type Mikuni BST36SS carburetors handle air-fuel mixture, supplemented by a non-woven fabric-element air filter.
This power mill configuration lends to a horsepower of 106 bhp (79 kW) @ 8,400 RPM for Naked trims and 98.6 bhp (74 kW) @ 8,500 RPM for full-faired versions or S models, as well as a Suzuki Bandit 1200 top speed of 132–142 mph (212–228 km/h).
Torque output is either 97 Nm (9.9 kgf-m, 71.6 ft-lb) @ 6,100 RPM or 91 Nm (9.3 kgf-m, 66.9 ft-lb) @ 4,000 RPM, depending on the bike's iteration.
Fuel & Lubrication
Fuel tank capacity is 19–20 L (5–5.3 US gallons, inclusive of a 4.4-L/1.2-US gallon reserve) of unleaded gasoline with a minimum PON 87/RON 91 rating. Variants containing less than 5% MTBE (Methyl Tertiary Butyl Ether), 10% ethanol, or 5% methanol with appropriate corrosion inhibitors and cosolvents are permissible.
Lubrication-wise, the bike requires either 3.3 L (3.4 US quarts – oil change), 3.5 L (3.6 US quarts – filter change), or 4.6 L (4.9 US quarts – overhaul) of engine oil. For best results, use SAE 10W-40 motor oils with a minimum API grade of SJ meeting JASO T903 MA/MB standards. Viscosity grades other than what is specified in the manual are permitted, following ambient temperature.
Drivetrain
A 5-speed constant mesh manual transmission and a wet, multi-plate clutch assembly (with a 1-down-4-up gearshift pattern) deliver power to the ground for the GSF1200. A Takasago RK GB50MFOZ1 O-ring chain with 110 links handles wheelspin for GSF1200T/ST to Y/SY models (later changed to a 116-link RK GB50GSVZ3 drive chain for post-2000 iterations).
An RK GB530XSOZ1-114 Racing Chain (view on Amazon) can replace it should the stock chain be worn out or damaged. The corresponding sprocket sizes for the final drive are 15/45T, which lends to the bike's superb handling and compact but usable powerband.
For reference, below are the stock gear ratios for all Suzuki Bandit 1200 production models:
| | |
| --- | --- |
| Primary Reduction Ratio | 1.565 (72/46) |
| Transmission Gear Ratio (Low) | 2.384 (31/13) |
| Transmission Gear Ratio (2nd) | 1.631 (31/19) |
| Transmission Gear Ratio (3rd) | 1.250 (25/20) |
| Transmission Gear Ratio (4th) | 1.045 (23/22) |
| Transmission Gear Ratio (Top) | 0.913 (21/23) |
| Final Reduction Ratio | 3.000 (45/15) |
Ignition
The Bandit is brought to life by a fully transistorized electronic ignition system with a timing of 7° BTDC @ 1,200–1,300 RPM (initial "F" mark) or 40° BTDC @ 4,000 RPM (full advance). It also has a triple-phase A.C. generator serving as its charging system and a 12V 36 kC 10 Ah/(10 HR) battery powering lighting and electronic accessories.
An NGK JR9B spark plug with a 0.6–0.7 mm (0.024–0.028 inch) gap and torque spec of 11 Nm (1.1 kgf-m, 8.0 ft-lb) is responsible for spark ignition.
The recommended battery for the Suzuki Bandit 1200 is a YT12A-BS battery. Although this format has the exact measurements as a YTX9-BS battery, it is not advisable to interchange the two because the latter has a lower Amp hour rating. Conversely, you may look into the YTX12-BS battery (view on Amazon) format, as it shows compatibility with the Bandit.
Tires & Brakes
Factory rubber consists of 120/70 ZR17 (58W) and 180/55 ZR17 (73W) Dunlop D218FN/N tires. These tubeless tires mount on 17 MC x MT3.50 spoke rims, front and rear, and require a cold-tire pressure of 250 kPa (2.50 kgf/cm2, 36 psi, solo or dual riding).
310-mm front hydraulic discs with Nissin 4-piston opposed calipers and 240-mm rear hydraulic discs with Nissin dual-piston opposed calipers provide the two-wheeler halting power and complete its tire-and-wheel assembly.
Suspension
Enclosed in a tubular steel double-cradle chassis (35° caster angle, 107 mm trail) is a front suspension consisting of 43-mm telescopic front forks with adjustable spring preload and a 130-mm/5.1-inch wheel travel. At the back is a progressive-rate/Full Floater linkage with a 134-mm/5.3-inch wheel travel and adjustable preload and rebound damping.
The steering angle is 25° 20′, and the turning radius is 2.8 m (9.2 feet). Minimum ground clearance is a miserly 130 mm (5.1 inches), mated to a 1,435-mm (56.5-inch) wheelbase.
While there is much to be had with the bike's stock suspension, it is enough to support ease of maneuverability during turns and stop-and-go traffic.
Dimensions
Overall dimensions are 82.5 x 31.1 x 47.8 inches (2,095 x 790 x 1,215 mm – L x W x H), with the mirrors included in the width measurement. Seat height is 32.9 inches (835 mm) and can accommodate tall riders and even those of medium height.
Curb weight is 220 Kg (485 lbs.), while dry weight is 214 Kg (472 lbs.) – this increased by 6 Kg (13.2 lbs.) for post-2000 Bandit models. Meanwhile, GVWR (Gross Vehicle Weight Rating) is estimated at 446 Kg (983.3 lbs.). This figure includes a full tank, rider weight, payload, and accessories.
Note: There are minimal variances in dimensions between the unfaired (Naked) and full-faired versions of the Suzuki Bandit 1200 throughout its production run.
Exterior
For a bike of its displacement, the Suzuki GSF1200 is not exactly huge. Novice riders may find it hard to tell the 1,157-cc and 599-cc models apart.
It comes in two trims – the S model with full fairing and the Naked trim with half fairing (also called unfaired). It is available in Maroon, Candy Daring Red, Green/Teal Green, Blue, Brown, Silver, Glass Sparkle Black, and Pearl Glacier White (some of these colors are exclusive to certain non-U.S. markets).
Its exterior is reminiscent of the 4-stroke GSX-R1100 and earlier Suzuki GS motorcycles (or UJMs), except for its more prominent scalloped fuel tank, higher-placed mirrors, and tamer body finish.
Suzuki Bandit 1200 Worth
The list price of the Suzuki GSF1200 started at $7,099, going up by only $300 in its outgoing year (a price increase equivalent to less than $35 annually).
If sold today, it would have an approximate worth between $10,560 and $12,350 (or higher). However, the '05 model is not the most expensive of the lot – it was actually the 1997 Suzuki GSF1200SA with an introductory price of $8,599. And with add-ons such as a high-performance exhaust, engine guards, saddlebags, and a windshield (view on Amazon), this price could easily go up to at least $10,000.
| Year – Model – Trim | List Price | Retail/Trade-In Values |
| --- | --- | --- |
| 1996 Suzuki GSF1200ST | $9,359 | N/A |
| 1997 Suzuki GSF1200SV | $7,099 | $465 – $3,805 |
| 1997 Suzuki GSF1200SA | $8,599 | $530 – $4,445 |
| 1998 Suzuki GSF1200SW | $7,199 | $515 – $3,985 |
| 1999 Suzuki Bandit 1200 | $7,199 | $625 – $4,315 |
| 2000 Suzuki Bandit 1200 | $7,249 | $790 – $4,525 |
| 2001 Suzuki GSF1200K1 (Naked) | $6,999 | $920 – $4,740 |
| 2001 Suzuki GSF1200SK1 | $7,399 | $940 – $4,790 |
| 2002 Suzuki Bandit 1200 (Naked) | $6,999 | $1,450 – $1,905 |
| 2002 Suzuki GSF1200SK2 | $7,399 | $1,695 – $2,230 |
| 2003 Suzuki GSF1200K3 (Naked) | $6,999 | $1,490 – $1,960 |
| 2003 Suzuki GSF1200SK3 | $7,399 | $1,740 – $2,290 |
| 2004 Suzuki GSF1200SK4 | $7,399 | $1,875 – $2,465 |
| 2005 Suzuki GSF1200SK5 | $7,399 | $2,325 – $3,060 |
Between the two trims the Bandit offered, the Naked trim sold for $6,999 and the S model (full-faired iterations) for $7,399. And while the latter looked more like a sportsbike on the outside, the cheaper trim was a much better buy.
Not only did it have similar specs, but it also offered better performance figures as the engine could breathe more – thanks to the lack of a full fairing. Pre-loved units, on the other hand, currently sell for $2,800 to $4,000.
Known Bandit Issues
Despite being a game-changer and a well-received motorbike, the Suzuki Bandit 1200 was not without its flaws. That said, let us cover some of the most common issues with the bike in this section:
Oil-Burning Problem
Earlier models, especially those produced between 2000 and 2001, were reported to have huge amounts of blue smoke in their exhaust fumes. As it turned out, this was due to oil seeping through control rings, traveling into the combustion chambers, and mixing with the fuel.
At the time, the only way to address this drawback was to equip the Bandit with new pistons, rings, and sleeves. Eventually, Suzuki put out TSBs regarding these defective pistons and corrected the problem by fitting 2003 production models onward with pistons used on 1997–2000 Suzuki GSF1200s.
Unreliable Carburetor
The engine was probably the most lauded part of the Suzuki Bandit 1200 – well, except for the carburetors. The factory BSR36SS/BST36SS carbs became easily plugged with contaminants, taking away from how efficiently the motorbike started. Unlike its counterparts, the Bandit had carbs that warranted more frequent cleaning and potentially a premature carb rebuild.
Shifting Problems
Many believe that only used Bandits are known to randomly resist upshifts, probably caused by bad clutches. But in truth, the B12s have had a weak clutch set up from the onset. The clutch frictions fitted into the Bandit were the same ones used in the GSX-R750s (not too reputable).
Moreover, the clutch basket is aluminum with a little strap that tends to loosen over time. Either that or the culprit is a clogged banjo bolt.
If you are using your B12 as a cruiser, getting new frictions and a steel clutch basket should quickly resolve things. But if it is intended for racing/performance riding applications, changing to a clutch hub setup from a GSX-R1100 (1989–1992 models) would be better.
It is highly advisable to rebuild the clutch slave cylinder and master cylinder while you are at it, given that the bike is over two decades old.
Corroded Exhaust Pipe
Rust formation in the Suzuki bandit 1200's exhaust was another problem associated with earlier models, but it was not entirely the bike's doing. Apparently, rust only formed on the exhaust if the bike was not thoroughly cleaned then dried after.
Furthermore, riding conditions played a big role, as an accumulation of road salt hastened corrosion. Although it eventually got fixed for post-2001 models, the rust issue seemed to have transferred to the wiring loom – leading to electrical problems.
Voltage Spikes
A voltage fluctuation/spike is more of an acquired issue than a pre-existing one. Often, it is caused by old wiring and connectors building up a resistance and resulting in a voltage drop. The alternator then thinks the battery is not aptly charged and overcharges it. And when this happens, the bike hesitates to run continuously.
Taking a feed with your multimeter (view on Amazon) directly from the positive battery terminal should help you get accurate readings – provided your fuse is not blown and spark plugs are not wet or fouled.
Sub-Par Components
Factory shock absorbers that came with the Bandit were of poor quality and often swapped out for aftermarket alternatives like stiffer springs or jack-up kits with longer swingarms by most owners. The bike's brakes and drive chain were similar, which did not work effectively or easily broke.
Thankfully, brakes on post-2001 iterations were improved with six-piston opposed calipers. As for the stock chain, riders were better off opting for more durable aftermarket options (not OEM units).
Vibration/Shuddering
As soon as the motorcycle hit its higher range of RPMs, these tremors became evident and led to a rather uncomfortable riding experience. For some riders, the vibrations got really bad to the point where it felt disturbing to put their leg over the bike. Interestingly, this behavior only occurred on GSF1200s that were not frequently ridden and was easily resolved by adjusting the carburetor and pilot screw settings.
Other complaints about the Suzuki Bandit 1200 are pretty minor and included easily chipped body paint, thin plastics, and poorly angled side mirrors – the latter fondly described as only providing "a good view of your elbows." While these little misses should not be dismissed, they are more a result of the 'bargain-basement' build of the bike instead of being an actual mechanical issue.
Suit Up for the Drag
Bone-stock, the Suzuki Bandit 1200 is an excellent daily driver but can feel a bit restricted as a drag bike. If you want to tap on its full potential, the mods in this non-exhaustive list (or at least one of them) are sure to help whip this bad boy into a motorcycle befitting the tracks:
Ported 30/27 cylinder head with arms, retainers, springs
GSX-R600 airbox/Busa boots, shocks, rear sets, pass sets
Hayabusa tie rods, calipers, EBC, complete swingarm
GSXR-1100 or Kawasaki ZX14 master cylinder
GSX-R1100 intake boots, clutch
80-mm Nitrous Oxide pistons
Suzuki RF900 forks, strapped
38-mm flat-slide carburetors
MSD coils, MC-4, shift light
Akrapovic exhaust header/can
Drag-style handlebars
0.100 base gasket
Balanced crank
Vortex 15/50
V/H cams
About Suzuki
Suzuki Motor Corporation is the 2nd of the 'Big 4' Japanese manufacturers to join the motorcycling industry and is currently headquartered in Hamamatsu, Japan. In 1909, the firm started as a weaving loom business and eventually ventured into small-car manufacturing in 1937. After another 15 years, it produced its first motorized bicycle in 1952.
The company has not looked back since and diversified its product offerings to include ATVs, motorcycles like the Suzuki Bandit 1200, and automobiles. Suzuki has come a long way from producing textile machinery during its early years and is now among the most successful automakers by production – with over 133 distributors in 192 countries worldwide.
Conclusion – Suzuki Bandit 1200 Review
The Suzuki Bandit 1200 is so much more than just a 'bargain-basement' motorbike. It may have simple features and appear lackluster on the outside. Still, it is one heck of a machine that, despite its age, holds a lot of promise.
Like many other two-wheelers, it does have shortcomings and can do better with an unrestrained exhaust system or a more aggressive overall design. But hopefully, we do not overlook the competencies or impressive performance of this hot rod.