Yamaha YZF-R25 Specs & Review (Sport Bike)
Disclosure: We may get commissions for purchases made through links in this post.
Regarded by many as a 'baby superbike,' the Yamaha YZF-R25 can be easily passed off as superfluous. It is, after all, sandwiched between two similarly-small displacements — the R15 and R3.
While the western world may find the iteration redundant, cramped Asian cities with an urgent need for 'half-sized' two-wheelers have made the bike vital to everyday transportation.
Produced in 2014, the Yamaha YZF-R25 is a 249cc entry-level motorcycle first marketed in South Asia. It is among the first in the lineup to feature all-LED indicator lights and an offset cylinder design. The bike boasts 35.5 hp (36 PS, 26.5 kW) and a 116.8-mph top speed rating.
Though design upgrades are to be least expected, consumers are still looking forward to the updated ergos and livery of the latest model. YZF-R25 iterations for 2023 are set to launch on February 22 in Indonesia and on tentative dates in India, Malaysia, and Japan.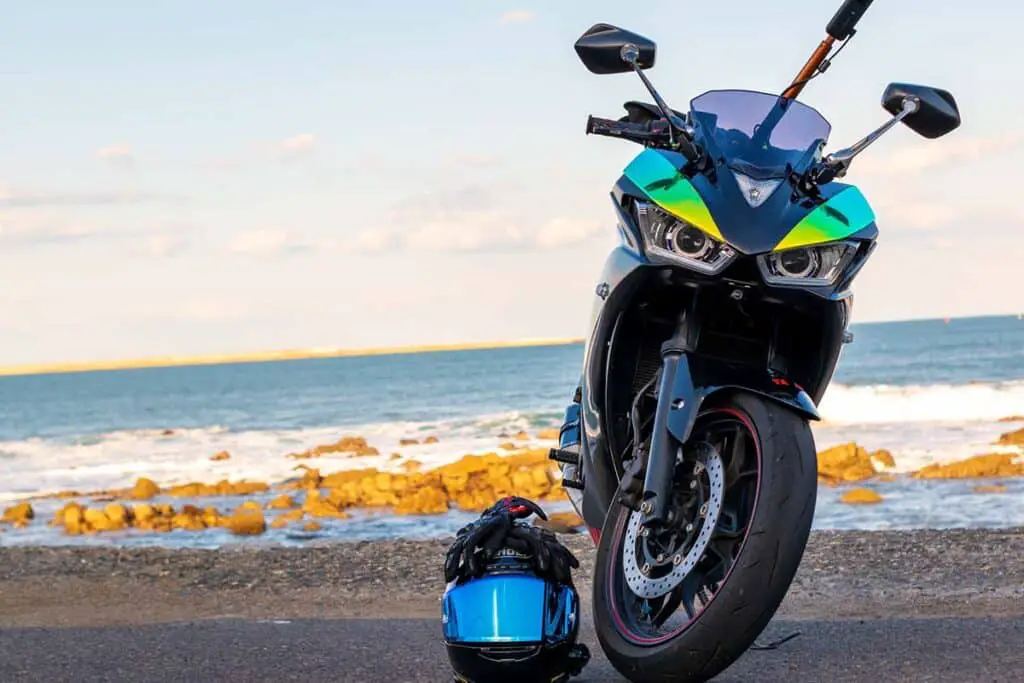 Yamaha's "Baby R"
Dubbed "The Everyday Superbike" by the Japanese manufacturer, the Yamaha YZF-R25 is 4th in the line of sport bike models released under the YZF-R series. It was launched alongside the R3 in 2015 and is among the first Yamaha twins to sport an "offset cylinder design."
Initially targeted at Indonesian and other developing markets, the R25 eventually became a global offering (but never reached the U.S.).
Personally, it may have to do with American roadways being mostly highways and interstate roads — but we can only speculate. What is certain, though, is that its naked counterpart — the MT-25 — reached American and Japanese shores.
Throughout its production, the Yamaha YZF R25 underwent a few revisions. Its biggest overhaul happened in 2019 when it received front suspension and damping rate upgrades and minor cosmetic changes.
These revisions aside, everything else about the sport bike remained untouched — including capacities and overall dimensions. Except for the YZF-R25 ABS WGP 60th Anniversary livery last year, the 250cc wheeler did not offer any other limited-edition incarnations.
2015 Yamaha YZF-R25 Specs & Features
Engine
The Yamaha YZF-R25 has a liquid-cooled, 4-stroke DOHC inline twin with fuel injection handling air-fuel mixture. Bore-stroke ratio is 60 x 44.1 mm (2.36 x 1.74 inches), with a compression ratio of 11.6:1.
The engine uses DiASil (Die casting Aluminum-Silicon) forged piston cylinders and has a displacement of 249 cm³ (15.2 in³).
Overall, the above configuration yields the following performance figures:
| Description | |
| --- | --- |
| Top Speed | 107.5—116.8 mph (173—188 km/h) |
| Horsepower | 35.5 hp (36 PS, 26.5 kW) @ 12,000 RPM |
| Maximum Torque* | 30 Nm (3.06 kgf-m, 22.1 ft-lbf) @ 10,000 RPM |
| Fuel Economy (average)** | 61—70.6 MPG (3.3—3.9 L/100 km) |
| Fuel Tank Range (approximate) | 225—261 miles, 334—374 km |
* Maximum torque is reduced to 22.6 Nm for 2023, according to 
Yamaha
.
** Gas mileage is increased to 87 MPG (2.7 L/100 km) for 2023, according to 
Moto Tech India
Fuel & Lubrication
Tank capacity is 14 L (3.7 USgal, 3 L/0.79 USgal reserve included) of unleaded gasoline with a minimum PON 87/RON 91 rating. EU releases require premium unleaded petrol — either E5 or E10 fuel is permissible.
Variants containing less than 5% MTBE or less than 10% ethanol (strictly no methanol) are preferred for all markets.
Lube-wise, the YZF-R25 has the following requirements for its wet sump system:
| Description | Quantity |
| --- | --- |
| Engine Oil (disassembled) | 2.4 L (2.5 US quarts) |
| With oil filter replacement | 2.1 L (2.2 US quarts) |
| Without oil filter replacement | 1.8 L (1.9 US quarts) |
Recommended lubrication is Yamalube SAE 10W-30, 10W-40, 10W-50, 15W-40, 20W-40, or 20W-50 engine oil or their equivalent. Minimum API certification should be SJ, meeting JASO T903 MA/ACEA/ILSAC standards.
Drivetrain
A constant-mesh, 6-speed wide-ratio manual transmission mated to a wet, multi-disc clutch delivers power to the ground. Meanwhile, a Daido 520VF chain (112 links + joint) with a 35—45 mm slack handles wheelspin.
The clutch assembly has a rack-and-pinion release method and is left-hand-operated. And depending on the year and trim, some models have Traction Control System and ABS.
See below stock gear ratios for reference:
| Description | |
| --- | --- |
| Primary Reduction Ratio | 3.043 (70/23) |
| Transmission Gear Ratio — 1st | 2.667 (40/15) |
| Transmission Gear Ratio — 2nd | 1.882 (32/17) |
| Transmission Gear Ratio — 3rd | 1.455 (32/22) |
| Transmission Gear Ratio — 4th | 1.200 (30/25) |
| Transmission Gear Ratio — 5th | 1.037 (28/27) |
| Transmission Gear Ratio — 6th | 0.920 (23/25) |
| Secondary Reduction Ratio | 3.071 (43/14) |
Ignition & Electricals
The bike's ignition system is a Transistor Controlled Igniter (TCI) with a timing of 5.0 ° B.T.D.C. @ 1,400 RPM. An A.C. magneto with a nominal output of 14V, 21.3 A @ 5,000 RPM serves as its charging system.
For spark ignition, all models utilize an NGK CR9E plug with an electrode gap of 0.7—0.8 mm (0.028–0.031 inch) and tightening torque of 13 Nm (1.3 m·kgf, 9.4 ft-lbf).
To power lighting and electronic accessories, the R25 uses a 12V, 7 Ah/(10 HR) GTZ8V battery, equivalent to a Yuasa YTZ8V format. This battery format has assembled dimensions of 113 x 70 x 130 mm (4.44 x 2.75 x 5.12 inches — L x W x H, sans mounting hardware and accessories).
As for its fuse and lighting assembly, see the tables below:
| Description | Wattage x Quantity |
| --- | --- |
| Headlight | 12V, 55.0 W × 2 |
| Auxiliary Light, License Plate Light | 12V, 5.0 W × 1 (each) |
| Tail/Brake Light, Meter, Neutral Indicator, Turn Signal Indicator, Oil Pressure Warning, High Beam Indicator, Engine Trouble Warning Lights | LED |
| Turn Signal Light (F/R) | 12V, 10.0 W × 2 (each) |
| Fuse | Amperage |
| --- | --- |
| Main, Spare | 30 A |
| Headlight, Ignition, Spare | 15 A |
| Signaling System, Radiator Fan Motor, Backup, Spare | LED |
Tires & Brakes
Factory rubber consists of tubeless IRC/RX-01 tires (view on Amazon) measuring 110/70-17M/C (54S) at the front and 140/70-17M/C (66S) at the back. These tires mount on five-spoked cast-aluminum wheels measuring 17M/C x MT2.7 and 17M/C x MT4.00 (front and back).
Recommended cold-tire pressure is 200 kPa (2.00 kgf/cm², 29 psi) for the front tire and 225 kPa (2.25 kgf/cm², 33 psi) for the rear tire, regardless of doing solo or pillion riding.
Triple hydraulic disc sizes (298 mm at the front and 220 mm at the back) provide the Yamaha YZ-R25 its stopping power and take after its YZF-R6 sibling.
Suspension
Enclosed in a diamond Deltabox frame (25° caster, 34° steering angle, 95 mm/3.7 inches) are 41-mm conventional telescopic front forks and a monocross rear suspension, both with adjustable spring preload. Each setup provides 130 mm (5.1 inches) and 45 mm (1.8 inches) of short-wheel travel.
Despite working well with a 1,380-mm (54.3-inch) wheelbase, 160-mm (6.3-inch) ground clearance, and 2.7-m (106.3-inch, 8.9-foot) turning radius, there is still much to be had with the two-wheeler's sporty suspension geometry.
To improve bump absorption on uneven, rough terrain, upgrade your rear suspension with an Öhlins HO 424 Shock Absorber (view on Amazon).
Dimensions & Capacities
The overall dimensions of the Yamaha YZF R25 are 2,090 x 720 x 1,135 mm (82.3 x 28.3 x 44.7 inches — L x W x H). Seat height is 780 mm (30.7 inches) across all model years and feels comfortable for both small and slightly tall riders.
Curb weight is 166 Kg (366 lbs.), while GVWR is estimated at 326 Kg (719 lbs.) — including a full fuel tank, cargo, accessories, and rider/passenger weight.
The 2023 R25 model retains the same measurements and weight limits.
Exterior
From the get-go, the full-faired YZF-R25 is intended to charm sporty riders with its sleek lines and aggressive riding position. A naked version, the Yamaha MT-25, was released the following year, appealing to enthusiasts in search of a better power-to-weight ratio.
Available colors during its debut included Blue and White/Black/Red. Conversely, Purple will replace the discontinued Orange Lynx/Cyan color scheme from 2021. Racing Blue, Predator Black, and Diablo Red are still offered in various Southeast and South Asian markets.
Worth of a Yamaha YZF-R25
The original MSRP for a standard 2015 Yamaha YZF R25 was approximately $3,850 (Indonesian selling price: IDR 53M). This value slightly increased for trims with dual-channel ABS (although references to the bike's listing price that year are pretty difficult to come by).
This amount increased by roughly $1,465 in eight years (or $183 per annum) — with the 2023 model priced at $5,315 and the 2022 YZF-R25 ABS WGP 60th Anniversary at $5,400.
On the other hand, auction listings sell for an average of $2,945—$4,270+ — a clear indication that the sport bike holds its value pretty well.
Model years posted online are random and typically do not affect the bike's resale value. However, expect an increase of around $400 if the trim has ABS or an aftermarket tailpipe like KAJIMOTOR Slip-On Exhaust with Removable dB Killer, Black (view on Amazon).
Lowdowns of the YZF-R25
The YZF-R25 has been well-celebrated since its launch in July 2014 in Indonesia. However, this is not to say that the sport bike's design and performance are faultless.
That said, below is a non-exhaustive enumeration of the pros and cons of the Yamaha YZF R25 that prospective buyers and new owners should know:
Pros
Lightweight and easy to drive around town
Boost confidence and works intuitively with the rider's senses
The rear monocross suspension's damping rate has been revised for 2019, translating to reduced rebound and improved rear shock absorption.
It behaves like a standard (albeit lackluster for advanced riders) commuter bike below 7,000 RPM.
The two-wheeler features classical lines with styling cues reminiscent of the Ducati Panigale.
Full fairing keeps riders from getting winded.
Handlebars clipped on risers instead of the front forks (as seen in showrooms pre-launch) make for a less-aggressive riding position, perfect for the less experienced.
Although not a design element, the swingarm adds to the sport bike's overall appeal and is right on the money.
Fuel tank capacity increased from 13 L to 14.3 L on later-year iterations.
Cons
Did not receive Yamaha's trademark 'perimeter' frame, unlike its smaller-displacement siblings
Falls behind rivals Kawasaki Ninja 250R and KTM RC250 in acceleration
The suspension would have been better if the bike had USD instead of conventional front forks for pre-2019 production models.
A quarter-twist race throttle would be much appreciated since the factory throttle requires 'wringing' to get past 8,000 RPM and to the meat of its powerband.
It may not be ideal as a beginner's bike since it is difficult to make small turns at low speeds.
Saddle height is manageable for smaller-built to average-height riders but may feel uncomfortable for taller motorheads.
Forward-leaning riding posture can leave riders sore around the shoulders and on the back (especially if they have not been riding or exercising for a while)
Riders feel the protruding dome-like fuel tank is not a worthy trade-off for the capacity increase.
The rear mudguard (view on Amazon) and number plate holder are a tad too long for bumper-to-bumper traffic situations.
Offers limited load capacity but can be augmented by aftermarket saddlebags or a rear box
Performance
There is an observed lag in bike responsiveness between rider input and engine reaction — which means that overtaking should always be intentionally and carefully executed.
The said dilemma also requires opting for racing boots over regular riding boots if a rider were to avoid missed/lagged shifting and false neutrals.
Moreover, motorheads should have a certain degree of bull-headedness when riding. There is no room for indecisive shifting nor half-hearted footwork when putting your leg over this 250-class thumper.
Fuel Efficiency
The average gas mileage for the YZF-R25 is 61—70.6 MPG (3.3—3.9 L/100 km). But according to some online sources, fuel economy can get as bad as 34 MPG (6.9 L/100 km).
However, note that the latter is based on running the bike into its redline revs (13,000—14,000 RPM). It is not something anyone would do daily. But clearly, this shows the R25 is not designed for high-speed, long-distance cruising.
About Yamaha
Yamaha Motor Company Ltd. is a multinational company headquartered in Shizuoka, Japan, and one of the automotive world's "Big 4" powerhouses.
Originally the motorcycle division of Nippon Gakki Co., the firm did not get incorporated until July 1955, when it decided to part ways with its parent company after almost 70 years.
The Japanese OEM is globally recognized as one of the forerunners of the motorcycling landscape and a powerhouse in the manufacture of ATVs, intelligent machinery, and water vehicles.
Many of its breakthroughs, like the Yamaha YZF-R25, have been derived from racing prototypes and later transformed into road-legal two-wheelers.
This design adaptability has made it possible for Yamaha to continue its legacy and evolve its product offerings to the highly-capable thumpers we see on the road today.
Conclusion — Yamaha YZF-R25 Review
Given its conservative upgrades and intact specifications, it is understandable that many riding enthusiasts deem the Yamaha YZF R25 lackluster. But then again, aggro-riders are not exactly the target demographic for the two-wheeler.
There is good reason the bike is offered only in emerging markets — and it is not redundancy of the production model.
The rest of North America (especially nouveau riders) is clearly missing out on this nifty and sweet-handling sport bike — whether folks admit it or not.
The region may have adequate representation of 250cc wheelers in the showrooms and used-bike market. However, it takes an odd-sized, imperfectly perfect, and sound motorcycle to inculcate on-road lessons in the heads of young riders.