Ducati Monster 696 (Il Mostro) Specs & Review
Disclosure: We may get commissions for purchases made through links in this post.
The Ducati Monster 696 hails from the series regarded as the "bike that made Ducati what it is today." The namesake goes back to 1993. And from that time until 2008, not a lot has changed.
Originally a 900-cc street bike, this breakthrough two-wheeler had since been offered as a mid-weight, entry-level motorcycle with the same overall styling and feel as its predecessors.
The Ducati Monster 696 (a.k.a. II Mostro) is a mid-weight, naked tourer produced from 2008 to 2014. A brainchild of Miguel Galluzzi, it not only featured a Desmodue engine, 80-hp power output, up to 140-mph top speed, and a sharp, aggressive aesthetic but also defined modern-day naked bikes.
Let this guide fill you in on the rest of the details.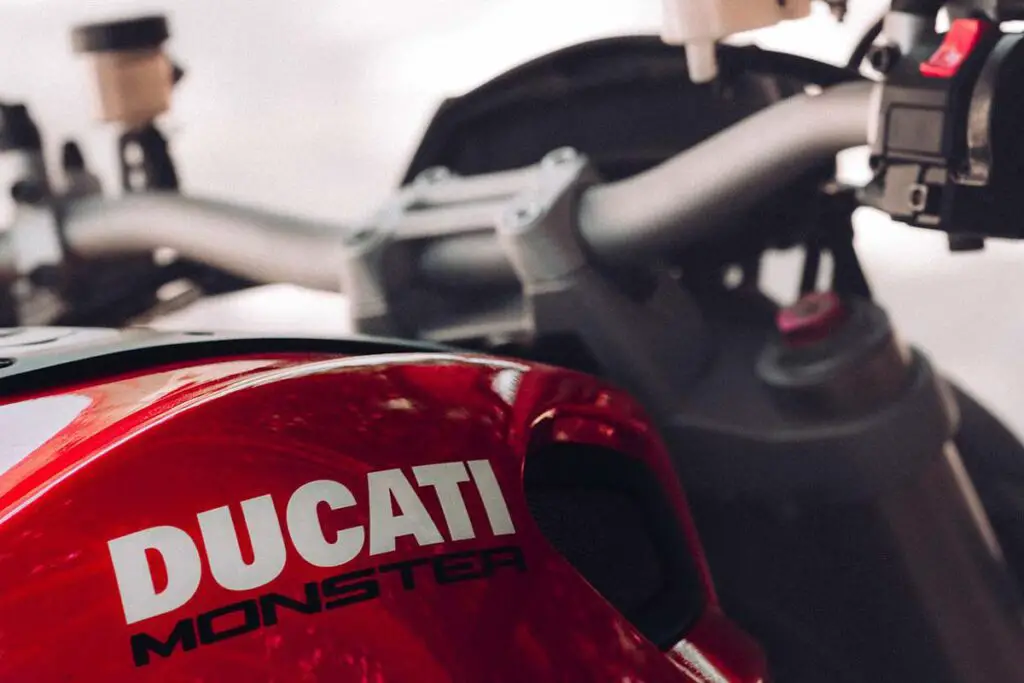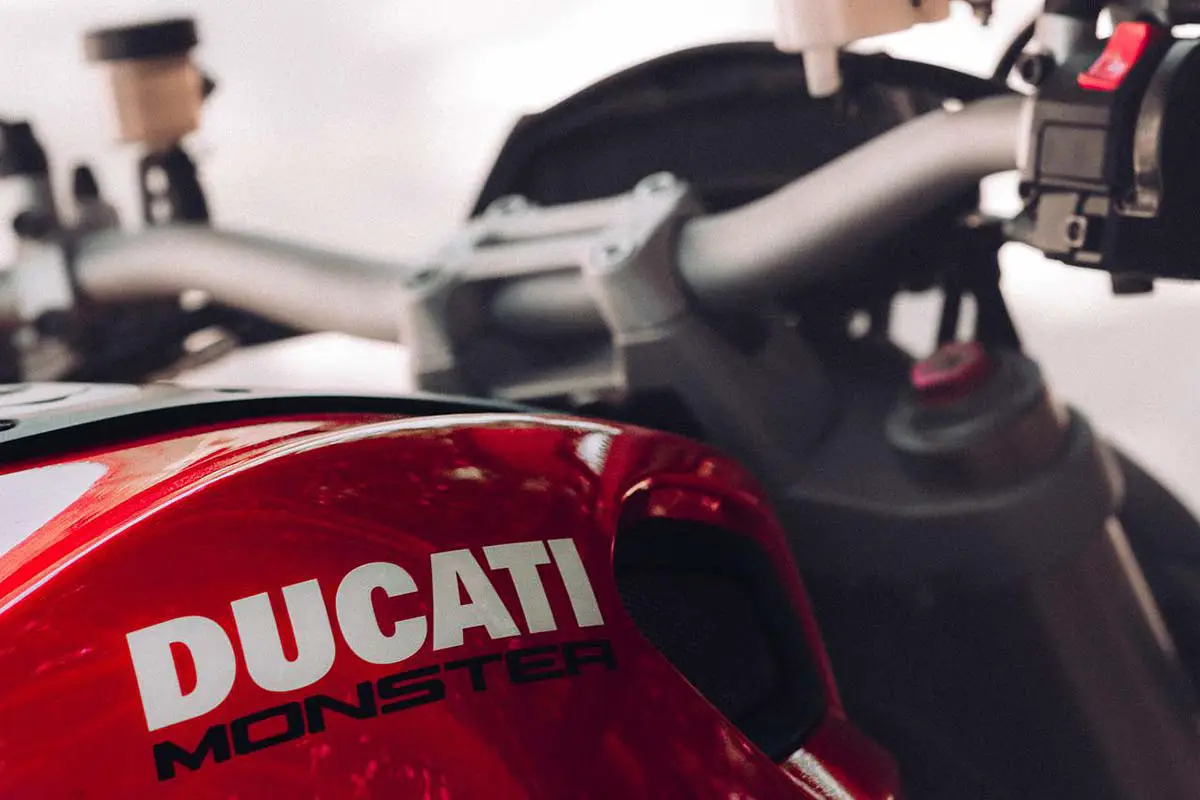 The Forerunner of Naked Motorcycles
The advent of naked bikes has solved the ordeal of motorcyclists torn between wanting a sports bike and a trusty daily commuter. Gone are the days when hobbyists and enthusiasts had to own different motorcycles to enjoy their dual lives. And the Ducati Monster 696 is largely responsible for the beginning of this era.
Introduced in 2008, the 696-cc Ducati Monster is a successor to its 695 sibling and the 1993 iteration known for its understeering and ground clearance issues. It is not exactly the first-ever naked bike released in the market – stripped-down, liter-class motorcycles have been around since the early '80s.
However, it is the motorcycle that popularized the segment. Compared to older naked bikes that were either too big, too powerful, or too expensive, the Monster was a 700-class, lightweight, budget motorcycle.
Improvements From the Ducati 695:
The 695 chassis was re-engineered into a hybrid trellis frame, with its front section bolted to two aluminum castings, resulting in a sleek and more rigid structure.
Front suspension changed from Showa to Marzocchi inverted front forks.
New cylinder heads (adopted from Multistrada and Hypermotard power mills) gave the 696-cc Monster the best horsepower-per-liter ratio out of all its air-cooled units, according to Ducati. Additionally, they boosted power output by 9%, from 73 hp (54.5 kW) to 80 hp (59 kW).
"The pistons and combustion chamber were revised to optimize fluid dynamics of the bike's ports."
Bearings were eliminated, and camshafts rotated on bearing surfaces directly in the cylinder head, supported by oil pressure.
The motorcycle's weight was considerably reduced, and its layout was simplified.
Cooling fins were reshaped, and the casting process was augmented to improve thermal exchange.
(2009) Digital instrumentation was upgraded to include a fuel gauge.
(2012) The Ducati Monster received an 11% increase in torque to 50.6 ft-lbf.
2008 Ducati Monster 696 Specs & Features
Engine
An air-cooled, 4-stroke Desmodue SOHC engine (longitudinal 90° L-twin) brings the Ducati Monster 696 to life. Piston displacement is 696 cm3 (42.5 in3), compression ratio is 10.7±0.5:1, and bore-stroke ratio is 88 x 57.2 mm (3.46 x 2.25 inches).
Siemens indirect electronic injection with a 45-mm throttle body (supplemented by paper-element air filtration and 2-into-1 aluminum mufflers) handles the air-fuel mixture.
Overall, the above configuration lends to the following performance figures:
| Description | Performance Figure |
| --- | --- |
| Top Speed | 128–140 mph (206–225 km/h) |
| Horsepower (at crankshaft 95/1/EC) | 64 hp (47.7 kW) ; 73–80 hp (54.5–58.8 kW) @ 9,000 RPM |
| Maximum Torque | 62–69 Nm (6.3–7.0 kgf-m, 45.7–50.9 ft-lbf) @ 7,750 RPM |
| Fuel Economy (average) | 52.4 mpg (4.49 L/100 km) |
(Horsepower and torque lower-limit values taken from the owner's manual; upper-limit values derived from WebBike World and other sources.)
Fuel & Lubrication
The Ducati Monster 696 requires 15 L (3.96 USgal, including 3.5 L/0.92 Usgal reserve) of unleaded fuel with a RON 95–98 rating (minimum). Gasohol variants with no more than 5% MBTE, 10% ethanol, or 5% methanol are generally permitted for Ducati motorcycles. Lube-wise, the recommended capacity is as follows:
| Description | Quantity |
| --- | --- |
| Sump and Filter | 3.1 L (0.82 USgal) |
| Front Forks | 538 ± 2.5 cm3 (per leg) |
Recommended engine oil is SAE 15W-50 Shell – Advance Ultra 4 for the sump and filter and Shell – Advance Fork 7.5 or Donax TA for the front forks. Full-synthetic equivalents or other viscosity grades mentioned on page 95 in the owner's manual are permissible following ambient temperatures, provided they have a minimum API grade of SJ or higher and meet JASO T903 MA/MB or ACEA standards.
Ignition & Electricals
The ignition system is an inductive electronic ignition integrated into the Ducati Monster's Siemens indirect fuel injection system. An NGK DCPR8E plug with an electrode gap of 0.7–0.8 mm (0.028–0.031 inch) is responsible for spark ignition.
A 12V 480 W triple-phase alternator serves as its charging system, while a sealed, maintenance-free 12V 10Ah/(10 HR) YT12B-BS battery (view on Amazon) – with assembled dimensions of 150 x 69 x 130 mm (6.00 x 2.75 x 5.12 inches) – powers lighting and electronic accessories.
Lighting assembly and fuse details are below:
| Description | Wattage |
| --- | --- |
| Headlight (low beam) | H7 (12 V-55 W) |
| Headlight (main beam) | H1 (12 V-55 W) |
| Headlight (side light) | H6 (12 V-6 W) |
| Turn Indicators (lampade tipo) | RY10W (12 V-10 W) |
| Tail/Brake Light | LED |
| Number Plate Light (bulb) | C5W (12 V-5 W) |
| Fuse | Rating |
| --- | --- |
| Fuel injection, Spare | 20 A |
| Side lights, High/low beam, Devices | 15 A |
| Key ON | 10 A |
| Instrument panel, ECU, Spare | 5 A |
Drivetrain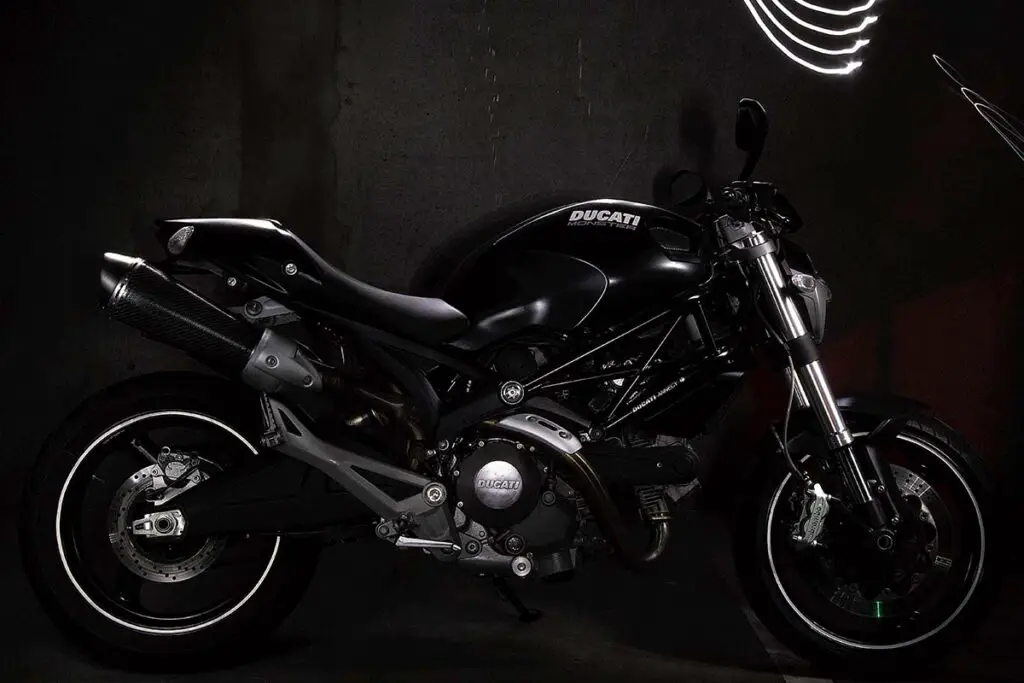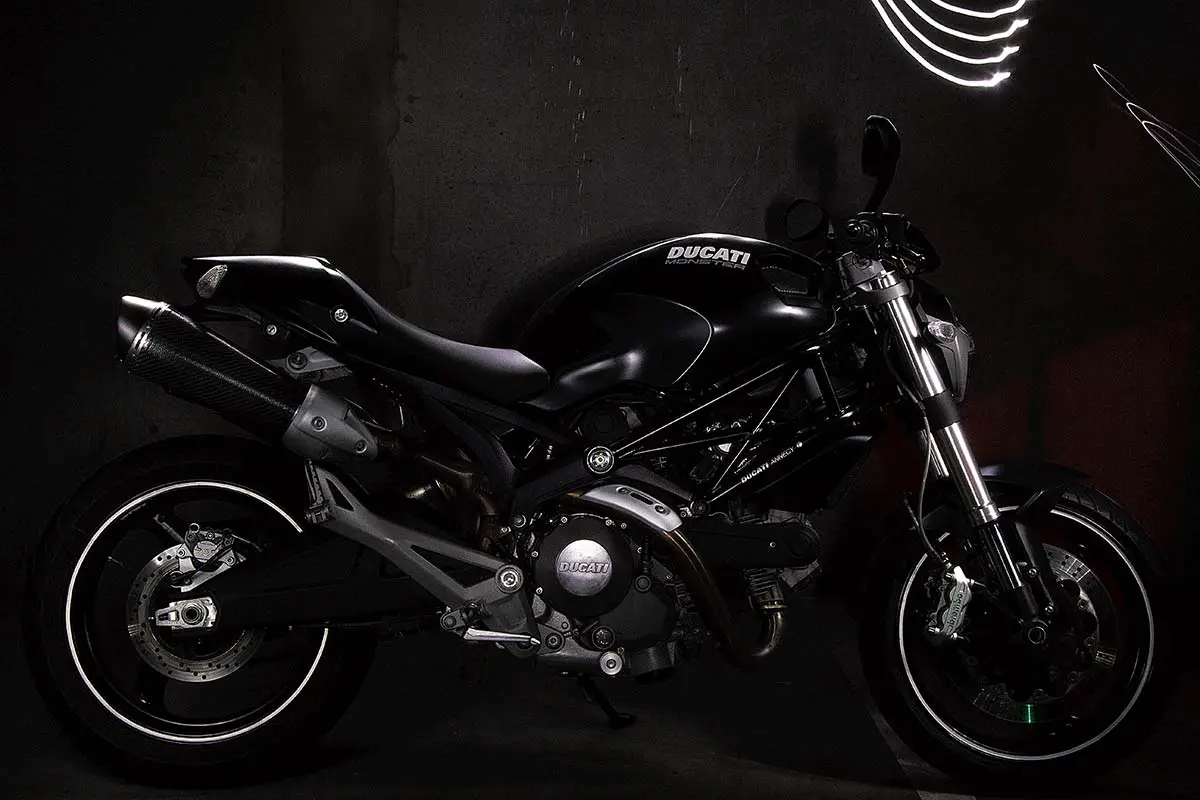 Like most Ducati superbikes, the Monster 696 features a Desmodromic timing system. It also retained the 695's advanced APTC down-shift slipper clutch, which makes down-shifting/frequent shifting safe and convenient. This oil-bathed, wet multi-plate clutch assembly with hydraulic control and a 6-speed constant mesh transmission delivers power to the ground.
Primary drive is made possible via straight-cut gears, while the final drive is transmitted from the gearbox to the rear wheel via chain. The Ducati Monster 696 chain size that handles wheelspin is a 5/8″ x 1/4″ DID 520 V6 with 107 links + joint.
This chain drive has a front/clutch sprocket ratio of 33/61T (again, similar to the Ducati 848) and a final drive ratio of 15/45T. It may be replaced with a compatible #520 O-ring chain like DID 520VX3GB-120 Gold High-Performance VX Series X-Ring Chain (view on Amazon) in the event of wear or damage.
See below for stock transmission gear ratios:
| Description | Gear Ratio |
| --- | --- |
| Transmission Gear Ratio – I | 2.461 (13/32) |
| Transmission Gear Ratio – II | 1.666 (18/30) |
| Transmission Gear Ratio – III | 1.333 (21/28) |
| Transmission Gear Ratio – IV | 1.130 (23/26) |
| Transmission Gear Ratio – V | 1.000 (22/22) |
| Transmission Gear Ratio – VI | 0.923 (26/24) |
Tires & Brakes
Stock tires consist of tubeless Pirelli radials – 120/60 ZR 17 M/C at the front and 160/60 ZR 17 M/C at the rear mounted on three-spoke, light alloy Brembo wheels. Recommended cold-tire pressure for each is 225 kPa (2.3 kgf/cm2, 32 psi) and 235 kPa (2.4 kgf/cm2, 34 psi), respectively.
Adjust cold-tire pressure by an additional 2.90–4.35 psi when riding on bumpy roads or air down accordingly when going off-road.
As for brakes, semi-floating, 320-mm dual hydraulic discs (front) and a single fixed 245-mm hydraulic disc (rear) – with respective P4.32 K 4-piston and P34 C Brembo® calipers – provide the Monster's halting power and complete its tire-and-wheel assembly. Dual-piston brake calipers are optional on ABS models.
Suspension
Enclosed in a Chromoly-coated hybrid trellis frame with a rear aluminum subframe (32° steering angle; 87 mm/3.4 inches trail) are 43-mm Showa USD front forks and a progressive Sachs rear linkage with adjustable compression, rebound, and spring preload.
Each unit provides a respective wheel travel of 120 mm (4.7 inches) and 148 mm (5.8 inches). The wheelbase is 1,452 mm (57.2 inches), while the ground clearance is a miserly 117 mm (4.6 inches).
Dimensions & Capacities
All production models had overall dimensions of 2,058 x 784 x 1,012 mm (81 x 30.9 x 39.8 inches – L x W x H), except for the 20th Anniversary Special Edition trim, whose width measured 830 mm (32.7 inches). The seat height is 770 mm (30.3 inches) and can accommodate medium-height to tall riders. Footpeg height is 334 mm (13.1 inches) off the ground. Meanwhile, handlebars are positioned at 960 mm (37.8 inches) to support a more upright riding position.
Dry weight without fuel but in riding order is 161–163 Kg (354.9–359.3 lbs.), while wet weight is 185–187 Kg (407.9–412.3 lbs.). Fully laden, the bike weighs 390 Kg (859.8 lbs.) – similar to a Ducati 848. As for GVWR (Gross Vehicle Weight Rating), it is safe to assume the same value or approximately 405 Kg (892.9 lbs.), with fuel, fluids, and ABS accounted for. However, GVWR is unspecified in the owner's manual.
Exterior
The Ducati Monster 696 sports clean, sport-oriented lines, body-matching fuel tank, color-coded rear seat cowls, and "other sophisticated in-house designer additions." The bike's micro-bikini fairing complements its exposed trellis frame.
Its 2-into-1 exhaust pipes are slightly raised to an angle and tucked away neatly under the rear seat. The two-wheeler also provides decent instrumentation, although it can do better by including a fuel gauge and gear indicator.
Colors Schemes:
Ducati Anniversary Red + lacquer; Red frame with black wheels
Matte Black or Dark Stealth; Black frame and wheels
Pearl White + lacquer; Black frame and wheels
Stone White
20th Anniversary Special Livery (Ducati Red); Bronze frame, gold brake calipers/front disc carriers, champagne front fork bodies, gray swingarm/engine casings/lower triple clamp, and black wheels
OEM Accessories:
Titanium homologated silencers kit – The ECU and high-efficiency air filter supplied in the kit help optimize engine power output at low revs and keep the bike EURO3-compliant.
Carbon racing exhaust system kit
Rear bag – Its faux leather fabric is expandable up to 18 L, with an upper pocket and side pockets deal for small personal belongings and other trip essentials.
Touring seat
LED turn indicators
Carbon fuel tank protector
Short-tail guard in ABS with number plate holder
Carbon front sprocket cover and rear mudguard
Carbon tank top and bottom covers
Carbon instrument panel cover
How Much Is a Ducati Monster 696?
The MSRP for the Ducati Monster 696 lineup ranged from $7,995 to $9,995 during its 7-year production run – with little to no movement in pricing between 2010 and 2014. The most expensive was the 2010 ABS model, even pricier than the 2013 20th Anniversary Special Edition.
Per Nada Guides data, the two-wheeler's resale values are between $1,975 and $5,585. This range is lower than the listings posted on auction and trader sites across North America, which fall between $3,500 and $8,995 (with average mileage within 1,162 to 15,000+ miles). In Europe, Ducati Monsters sell from £4,195 to £11,699.
Pre-loved Monsters usually for sale are 2009, 2011, and 2012 models in Matte Black. There is a handful with ABS, although most listings are standard iterations of the two-wheeler. Secondhand units worth $6,000 and above may include the following:
Upgraded memory foam comfort saddle
Öhlins shocks
Custom SBK, Apro, Delkevic (view on Amazon), or Danmoto exhausts
Termignoni carbon exhausts (popular add-on for Ducati Monsters used mainly for touring)
Ducati Monster 696 heat shield or side tank covers (view on Amazon)
High windshield
EBC front and rear brakes
Adjustable clutch and brake levers
Kaoko throttle lock cruise controls
Rizoma bars or a raised handlebar kit
Oxford Heaterz Premium (view on Amazon)
Rear swingarm spools
New Rage Cycles Fender Eliminator Kit (view on Amazon)
New clutch and voltage regulator
Meanwhile, bikes priced below $4,000 typically have minimal to moderate cosmetic damage and may need a new battery, headlight, taillight, or a front rim replacement.
Ducati 696 Monster Pricing (2008 – 2014)
| Year – Model – Trim | List Price | Retail/Trade-In Values |
| --- | --- | --- |
| 2008 Ducati Monster 695 | $7,995 | $1,975 – $2,600 |
| 2009 Ducati Monster 696 | $8,995 | $2,760 – $3,630 |
| 2010 Ducati Monster 696 | $8,995 | $3,235 – $4,255 |
| 2010 Ducati Monster 696 (ABS) | $9,995 | $3,425 – $4,505 |
| 2011 Ducati Monster 696 | $8,495 | $3,355 – $4,415 |
| 2011 Ducati Monster 696 (ABS) | $8,995 | $3,490 – $4,595 |
| 2012 Ducati Monster 696 | $8,795 | $3,435 – $4,520 |
| 2012 Ducati Monster 696 (ABS) | $9,295 | $3,595 – $4,730 |
| 2013 Ducati Monster 696 (ABS) | $9,295 | $3,800 – $5,000 |
| 2013 Ducati Monster 696 20th Anniversary | $9,795 | $3,860 – $5,080 |
| 2014 Ducati Monster 696 (ABS) | $9,295 | $4,245 – $5,585 |
Ducati Monster 696: Pros and Cons
Pros
The Ducati Monster 696 has a respectable 0-100 mph time at 9.52 seconds, almost matching the Ninja 650.
It offers good outright and in-gear acceleration, which can be further improved by adding a high-performance aftermarket exhaust and performing a tune-up.
Re-routed exhausts helped resolve the understeer feeling and poor ground clearance of the original Ducati Monster.
The bike's ergonomics make for a more aggressive, forward stance that is not too different from the feel of riding an adventure bike (once you have gotten used to the bike and the location of the controls).
A down-shift slipper clutch comes standard on all iterations of the bike, making clutch pull easy and feather-light.
The factory brakes on standard models are responsive and offer superb stopping capabilities.
It offers premium build quality and great value for money.
Cons
ABS trims had a smaller fuel tank capacity at 13.5 L (3.6 USgal).
A flat spot in the bike's powerband becomes noticeable, beginning at 4,000 RPM until the 6,000-RPM mark (but passes quite quickly as the naked tourer goes up to 9,500 RPM).
Because of the flat spots in the Monster's thrust curve, acceleration only improves when the bike reaches 70–80 mph.
The 696 Monster requires second gear each time to hit optimal acceleration speeds, which would have been much quicker if a gear change was not necessitated. This gap between 1st and 2nd gears is also why the Ducati Monster 696 is not the ideal ride on rough roads and switchbacks.
The Monster's leg angle offsets the wide saddle, making pillion riding not as comfortable as it should be.
Servicing the battery or accessing a loose battery connection has proven troublesome for many owners.
Aftermarket support is relatively scarce and a complaint from Ducati enthusiasts.
Conclusion – Ducati Monster 696 Review
So, one question remains – "Is the Ducati Monster 696 reliable?"
My honest opinion on this would be that it is. It is of premium build, with a well-thought design, rider-friendly ergos, and straightforward features. It is well-suited for bumpy roads as it is for fast urban riding. But ultimately, it depends on you.
The Monster is a solid piece of work that is fun to ride and great to show off. But then again, many factors will impact its on-road performance. Are you into pillion riding? Will the bike be your daily commuter? Or are you planning to take it to racetracks and adventures?
Depending on your priorities, its reliability may or may not fall short of your expectations. But if you use it for a little bit of everything, the Ducati Monster 696 is a jewel.