2021 Yamaha TMAX 560 Scooter (Specs and Review)
Disclosure: We may get commissions for purchases made through links in this post.
The 2021 Yamaha TMAX 560 is a remarkable addition to Yamaha's line of sporty maxi-scooters. From the get-go, this iconic model has been revered for its sleek design, exceptional performance, and innovative features. In this article, let us explore the story behind its launch, as well as its lowdowns, competencies, and history.
The 2021 Yamaha TMAX 560 is a maxi-scooter with a history dating back to the turn of the millennium. The label has been manufactured specifically for Yamaha's European market and, despite changes in displacement, remains strong in both sales and presence in Italy, Spain, and France.
Building upon the success of its predecessor, the TMAX 530, the 2021 Yamaha TMAX 560 was met with great anticipation as it promised enhanced performance, improved technology, and a refined riding experience. Not quite convinced that these attributes can come from a maxi-scooter? Then stick around and learn more about the fairly-new two-wheeler on the block.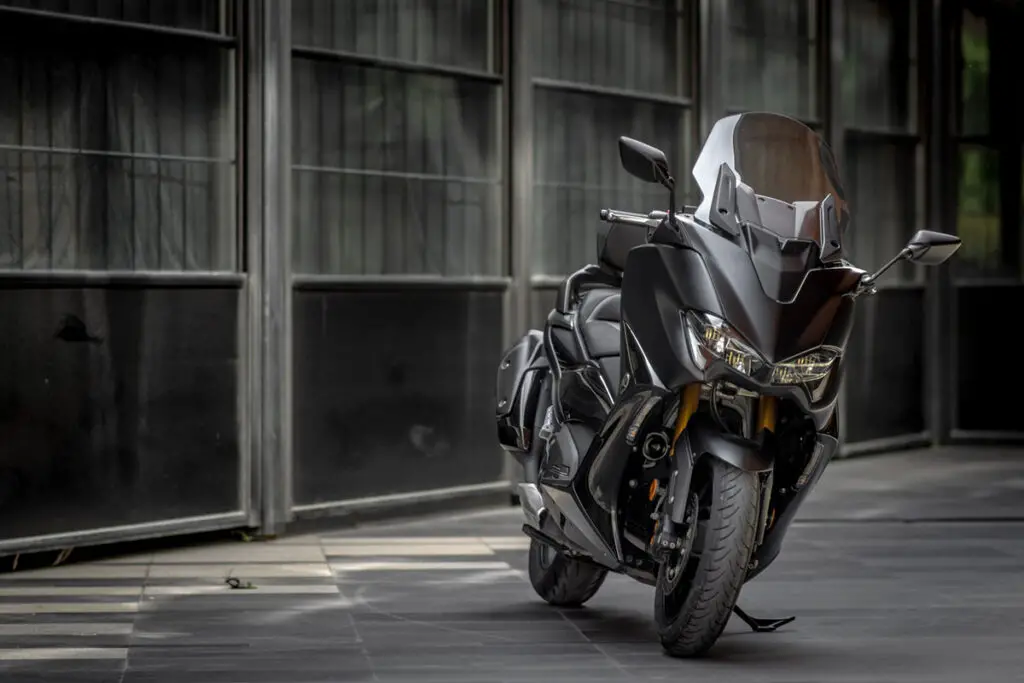 The Forerunner of the Maxi-Scooter Class
While not exactly the trailblazer that gave life to the motorcycle segment, the 2021 Yamaha TMAX 560 hails from the illustrious lineup. Counting from the 1st generation XP500 TMAX, it would be the 6th iteration of the label.
Generations of the Yamaha TMAX
Since its groundbreaking debut in 2000, the TMAX (or T-Max) series has embarked on an exhilarating journey of constant evolution. Each new generation of this scooter has continuously fused performance, style, and cutting-edge technology into its design.
The launch of the TMAX rocked the motorcycling landscape to its core, with its engine being the largest and most powerful ever equipped in a production scooter.
But it was in 2004 that the two-wheeler started its ascent to greatness. Engine enhancements and a higher compression ratio (among other things) propelled its power and torque outputs to new heights. Similarly, the suspension and tire-and-wheel assembly upgrades for larger fork tubes and dual disc brakes.
Building upon this momentum, Yamaha released the 3rd generation TMAX four years after, reinventing the maxi-scooter landscape. This new TMAX flaunted a sleek bodywork and embraced a lightweight cast aluminum frame, allowing weight savings and enhanced maneuverability.
Tank capacity was increased to support extended adventures. The front suspension also underwent further refinement (again) with larger fork tubes and a 15-inch front wheel.
In 2012, the 4th generation TMAX flaunted a revamped body, sleek lines, and a 530cc power mill. The increased displacement, in particular, delivered heightened performance and an even more thrilling ride. Additionally, Yamaha replaced the chain drive with a belt drive system, reducing maintenance frequency while enhancing the two-wheeler's overall efficiency.
2015 and 2016 saw further innovations in the 5th generation TMAX. A redesigned front suspension with USD telescopic forks and radial-mounted brake calipers guaranteed precise handling and reliable stopping power.
The OEM's introduction of the special-edition IRON MAX within the same year added a touch of exclusivity and sophistication for riders. Meanwhile, the scooter's stylish bodywork received subtle yet captivating updates.
The 2021 Yamaha TMAX 560
While the 5th generation iteration received further fine-tuning in subsequent years, the series' commitment to compliance did not manifest until the launch of the 2021 Yamaha TMAX 560. This newest installment retained its predecessors' perks and unrivaled performance while meeting the latest emissions regulations.
Black/White MAX Special Edition Trims
Introduced in 2006, the Yamaha BLACK MAX Special Edition showcased a sleek and bold black color scheme that exuded an air of sophistication and mystique. This dark, blacked-out visage was enhanced by subtle accents and exclusive details, making it a true standout among its peers.
Meanwhile, Yamaha released the WHITE MAX Special Edition in 2010 to celebrate the TMAX's 10th anniversary. In contrast to the preceding special-edition trim, this package radiated elegance and refinement with its pristine white bodywork and distinctive features. Although it embodied style and grace, the WHITE MAX commanded as much attention and awe as the BLACK MAX.
2021 Yamaha TMAX 560 Specs & Features (TMAX Tech Max XP560D)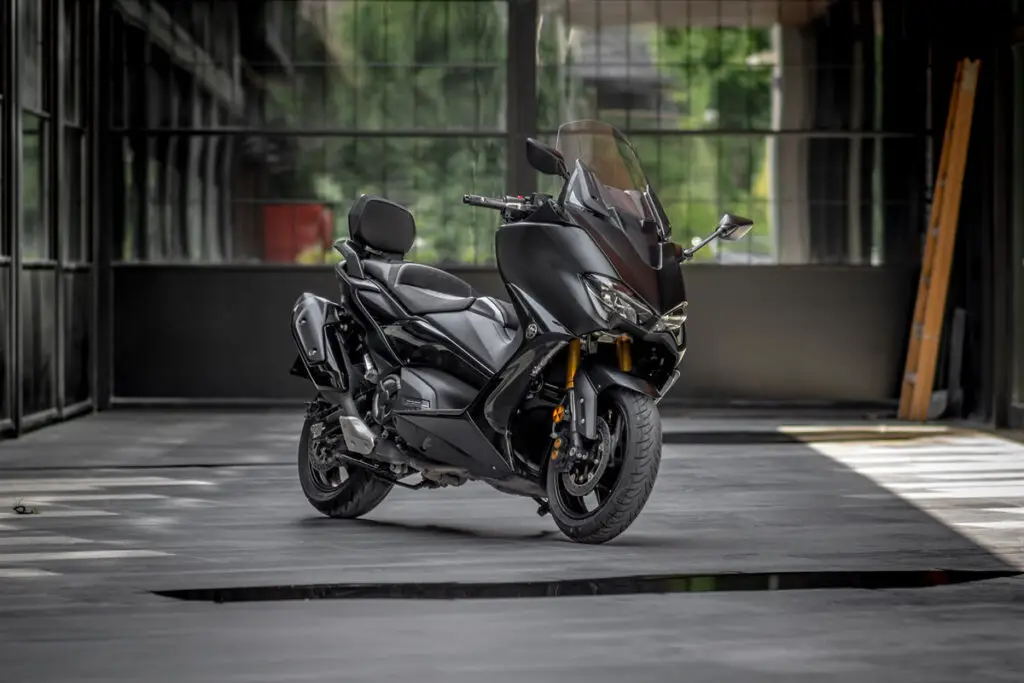 Engine
The Yamaha TMAX comes to life via a liquid-cooled, EURO5-compliant 4-stroke DOHC power mill with a twin-cylinder arrangement. This engine has a bore-stroke ratio of 70 × 73 mm (2.756 × 2.874 inches), a compression ratio of 10.9:1, and a piston displacement of 562 cm3 (34.3 in3).
The air-fuel ratio is handled by a fuel injection system with a B7M1 throttle body and is supplemented by a disposable, oil-coated paper air filter.
Performance figures:
| Description | |
| --- | --- |
| Top Speed | 115 mph (185 km/h) |
| Horsepower* | 47.6 PS (35 kW) @ 7,500 RPM |
| Maximum Torque* | 55.7 Nm (5.7 kgf-m, 41.1 lb-ft) @ 5,250 RPM |
| Fuel Economy | 49—55 mpg (5.1—5.8 L/100 km) @ 80—90 mph |
| Approximate Tank Range | approximately 194—217 miles, 312—349 km |
* Data sourced from 
Living with Gravity
Fuel & Lubrication
It has a forced pressure (dry sump) lubrication system with the following requirements:
Oil change: 2.6 L (2.75 US qt)
With filter removal: 2.9 L (3.07 US qt)
For best results, engine oil should have a viscosity grade of SAE 10W-40 (ideally Yamalube 4-stroke motor oil or its equivalent). Your oil variant must also have a minimum API certification of SJ, meeting JASO T903 MA standards.
Depending on changes in ambient temperature, altitude, or riding conditions, you may go for other multigrade oils specified in the owner's manual. Otherwise, use the OEM-recommended 4-stroke oil variant.
As for the scooter's fuel requirements, the tank capacity is 15 L/3.96 USgal (including a 3-L/0.79-USgal reserve) of unleaded gasoline or petrol with a PON 91/RON 95 minimum octane reading. Gasohol fuels are permissible, provided you keep within E10 variants. Note that fuels with methanol content are prohibited.
Drivetrain
A Poly-V automatic belt drive and an oil-bathed centrifugal clutch assembly deliver power to the rear wheel for the TMAX, with the same final belt drive handling wheel spin.
This powertrain layout utilizes "a 360° crank with a horizontally opposed reciprocating piston balancer" for a smooth and sporty performance. In addition, the two-wheeler comes standard with Cruise Control and Traction Control System that work in conjunction with YCC-T (Yamaha Chip Controlled Throttle) and a fly-by-wire APSG (Accelerator Position Sensor Grip).
Ignition & Electricals
The Yamaha XP560D has a Transistor Controlled Ignition or TCI and an electric starting system. An NGK LMAR7G spark plug with an electrode gap of 0.7–0.8 mm (0.028–0.031 inch) is responsible for spark ignition.
As for its charging system, the scooter employs an alternator. Unfortunately, the type and rated output are unspecified on the Yamaha website and in the owner's manual.
The recommended battery for this maxi-scooter is a 12V 11 Ah/(10 HR) YTZ12S battery format. According to the manual, this is a VLRA (Valve Regulated Lead Acid) AGM type, which requires a special battery charger like an AFU 24V 8A 27.6V Lead Acid Battery Charger (view on Amazon).
Tires & Brakes
Factory rubber consists of tubeless tires measuring 120/70R15M/C 56H at the front and 160/60R15M/C 67H at the back. Depending on the market where the bike is sold, the tire brand fitted to your TMAX could be Battlax SC or Bridgestone radials (view on Amazon).
Respective cold-tire pressures are 225 kPa (2.25 kgf/cm², 33 psi) and 250 kPa (2.50 kgf/cm², 36 psi). However, if riding with a passenger, the rear requires adjusting to 280 kPa (2.80 kgf/cm², 41 psi).
Dual hydraulically-operated disc brakes — 267 mm at the front and 282 at the rear — complete the TMAX 560's tire-and-wheel assembly and provide the two-wheeler its stopping power.
Suspension
Front telescopic forks and a rear swingarm are enclosed in a hybrid frame design. The rear suspension, in particular, is mated to a mono shock absorber. Both units provide wheel travel of 120 mm (inches) and 117 mm (inches).
The distance between the wheels (wheelbase) is 1,575 mm (62 inches). The turning radius is 9.2 feet, and the ground clearance is a miserly 125 mm (4.9 inches).
Dimensions & Capacities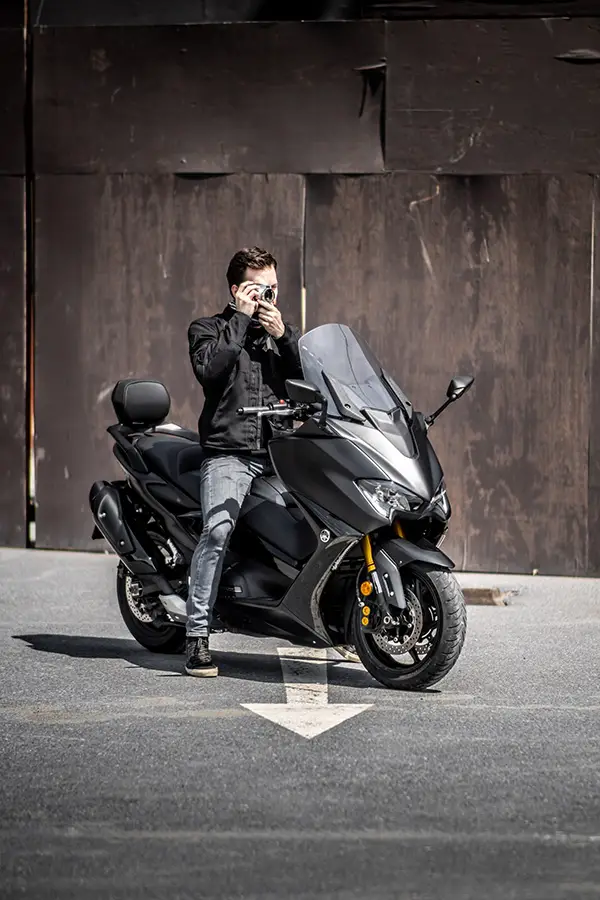 Overall dimensions of the 2021 Yamaha TMAX 560 are 2,200 x 765 x 1,420 mm (86.6 x 30.1 x 55.9 inches — L x W x H), with the factory windshield (view on Amazon) adjustable to 1,555 mm (61.2 inches). The seat height is 800 mm (31.5 inches) and provides a spacious (not to mention comfortable) seating arrangement for pillion riding.
Meanwhile, the curb weight is 220 Kg (485 lbs.), making for an estimated GVWR of 415 Kg (915 lbs.) when combined with the scooter's maximum weight limit, cargo, and accessories.
Exterior
Tech-wise, the 2021 Yamaha TMAX 560 has all the bells and whistles you would want in a scooter. It has a locking center stand, slim LED headlights, large air intakes, forged wheels, and aluminum handlebars.
As if that were not enough, the TMAX also boasts a full-color 7-inch TFT screen with a full-map Garmin navigation. Best of all, the two-wheeler offers heated grips and seat — perfect for riding in chilly weather!
Color Schemes (color schemes may be called differently, depending on market):
How Much Is a Yamaha TMAX 560?
According to online sources, the MSRP of the Yamaha TMAX 560 was $16,749 when it debuted. Unfortunately, very few sites reiterate the same listing price. Hence, consider this information an estimate.
As for auction and resale listings, there are surprisingly several posts for the maxi-scooter despite being fairly new. The Parking Motorcycles shows 23 secondhand TMAX scooters with price tags between €7,999 and €20,999. (Note that units valued over €13,000 are 2022 Yamaha TMAX Tech Max trims.) These pre-loved scooters are mostly in good working condition, with 1,700 to 22,100 km showing on the tach.
About Yamaha
Yamaha Motor Company Ltd., a renowned Japanese manufacturer with a rich history, has consistently been at the forefront of innovation and engineering excellence in various automotive fields. With a legacy spanning decades, the company has earned a reputation for creating high-quality, reliable machines that captivate riders globally.
Yamaha's dedication to pushing the boundaries of what a scooter can achieve is exemplified in the 2021 Yamaha TMAX 560 — highly acclaimed for its meticulous design and attention to detail. From the aerodynamic bodywork to the advanced electronics and rider aids, every aspect of this maxi-scooter was carefully crafted to ensure optimal performance, comfort, and functionality.
Conclusion — 2021 Yamaha TMAX 560
The 2021 Yamaha TMAX 560 is a force to be reckoned with in the world of maxi-scooters. With its powerful engine, advanced technology, and sport-oriented design, the TMAX 560 provides casual riders and enthusiasts with an exhilarating experience on urban streets and open highways.
Although it has a slightly higher price than some of its counterparts, the Yamaha TMAX 560's exceptional performance and standout features make this added premium worthwhile. So whether you are a seasoned rider or a motard recently introduced to scooters, the 2021 Yamaha TMAX 560 is sure to cater to your whims and impress you with its unmatched power and riding comfort.