BMW R65 Specs, Review, Pros & Cons (Light Touring Motorcycle)
Disclosure: We may get commissions for purchases made through links in this post.
Within BMW's collection of motorcycles lies the R65 — an enthralling albeit less popular fusion of timeless aesthetics and cutting-edge engineering. In this article, let's explore the two-wheeler's specifications and distinctive features, as well as what comprises its charm — trademark blued pipes, vintage bike quirks, dry clutch, and all.
The BMW R65 is a light touring motorcycle with an updated version of the Type 247 Airhead and is a precursor to the German OEM's R80 "Beemer/Bimmer" and K100 series. It was produced from 1978 to 1984 and was considered by many as "the most delightful boxer engine" BMW ever made.
Boasting mechanical simplicity, ease of maintenance, and dependability, the BMW R65 embodies the aphorism "Less is more." It was the perfect 'springboard' for the German manufacturer to venture into the uncharted waters of the explorer/adventure market later on. This manifestation became a reality when its successor, the R80, inspired a new wave of hybrid motorcycles for hobbyists and enthusiasts.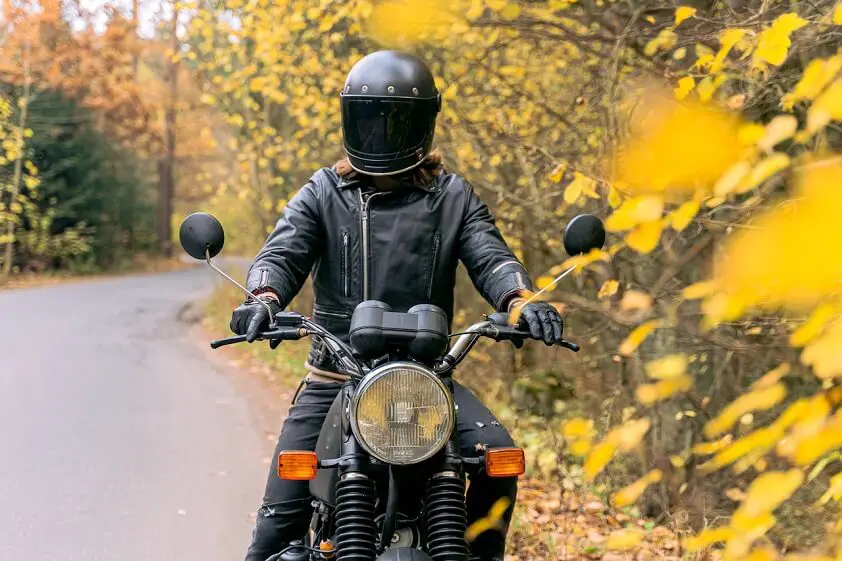 The Forerunner of BMW's Multi-Sports
The BMW R65, introduced in 1978, is a versatile member of the BMW motorcycle lineup. Built as a balanced performer, it embodies the German manufacturer's approach of creating motorcycles that excel in various roles rather than chasing sheer power.
This statement is exhibited in its conservative yet broad RPM range and power delivery, emphasizing a comfortable and smooth riding experience. Moreover, the R65's design is practical, with features like fiberglass fenders (view on Amazon), injection-molded side panels, and a steel fuel tank — all catering to durability and ease of maintenance.
Throughout its production years, the BMW R65 received refinements and updates that enhanced its usability and handling. With its air-cooled, horizontally opposed 4-stroke engine and user-friendly design, the R65 reflects the firm's commitment to producing reliable, adaptable, and enjoyable motorcycles.
Its unique blend of performance, comfort, and quality has positioned it as a distinctive choice for riders seeking an all-rounded and approachable motorcycle option.
Design Highlights:
New styling and engineering render the R65 lighter than its bigger-displacement siblings.
The moniker' short stroke' is owed to the bike's 61.5 mm stroke length, considerably shorter than the R80's 84.8 mm and the R100's 94 mm.
Its tank capacity has been revised to 5.7 USgal with a single petcock, as opposed to the R80's larger tank with dual petcocks.
BMW R65 features a single-row roller timing chain with an oil-damped automatic tensioner, replacing the previous dual-row timing chain with a spring-loaded tensioner.
The electric starter/flywheel gear ratio overhaul for BMW's entire range in 1978 allowed the bike to utilize a smaller battery.
Cylinder base sealing was enhanced by adding O-rings around the cylinder stud holes, which manage oil flow to and from the top end, and a larger O-ring surrounding the entire cylinder base.
Given the R65's reduced power, it made do with the absence of oval down tubes and extra gussets.
The passenger grab rail was replaced with a grab strap and smaller, reshaped snap-on plastic side covers.
The fuel tank's underside is asymmetrical, as BMW relocated electrical connections and relays to the main frame tube — resulting in a notched area on the right-hand side of the tank to accommodate the said components.
Main wiring harnesses were moved from their traditional location and separated into sub-harnesses for better serviceability.
BMW R65 Specs & Features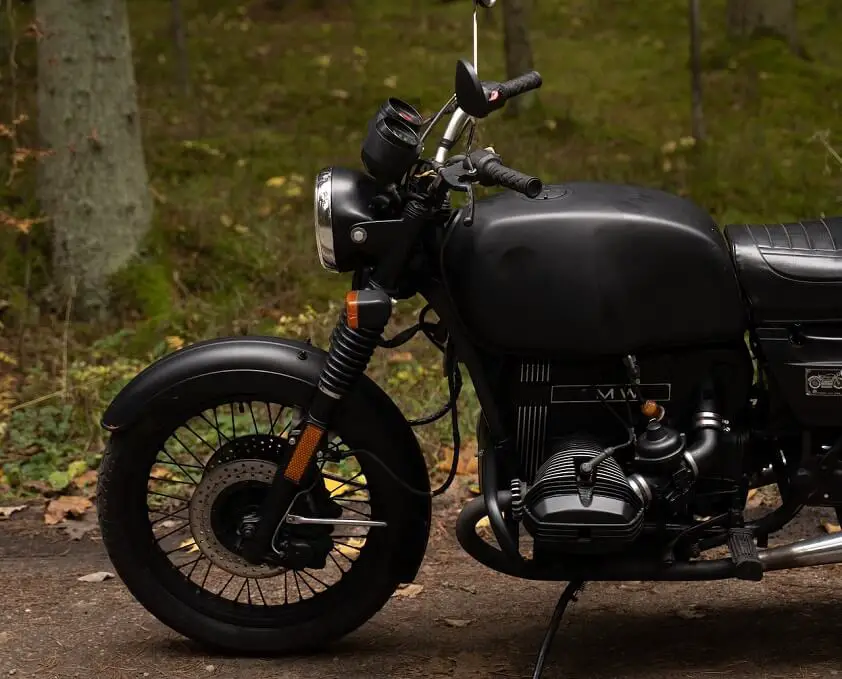 Engine
The BMW R65 is driven by a horizontally opposed 4-stroke OHV "Airhead" twin that is air-cooled. With a bore-stroke ratio of 82 x 61.5 mm (3.228 x 2.421 inches) and a piston displacement of 649.6 cm3 (39.6 in3), it boasts a compression ratio of 9.2:1, matching that of the R80. Managing the air-fuel mixture are dual 32-mm Bing V 64/II constant-velocity carburetors.
Overall, the mill configuration of the R65 lends to the following performance figures:
| Description | |
| --- | --- |
| Top Speed | 103–109 mph (165–175 km/h) |
| Horsepower | 45 hp / 32.8 kW @ 7,250 RPM; 20 kW for German market |
| Maximum Torque | 45 Nm (4.6 kgf-m, 33.2 ft-lbf) @ 6,000 RPM 56.7 Nm (5.8 kgf-m, 41 ft-lbf) @ 5,000 RPM* |
| Approximate Tank Range | approximately 226–287.7 miles on a full tank** |
* Lower-limit values are true for hard riding; upper-limit values are for riding constantly @ 65 mph
** Veteran riders advise never to run the tank empty but rather keep within 200-250 miles tops before refueling
Fuel & Lubrication
Tank capacity is 22 L (5.8 USgal) with a minimum PON 87/RON 91 rating (based on the German DIN 51607 standard). Lube-wise, the R65 makes use of a pressurized oil circuit system and an Eaton system hypotrochoid-gearing oil pump with the following approximate requirements:
Oil change: 3.5 L (3.7 US quarts)
With filter change: 3.75 L (4 US quarts)
Transmission: 0.5 L (0.53 US quarts)
Rear-wheel drive: 0.25 L (0.26 US quarts)
And here are the drivetrain's lubrication requirements:
Final drive: 0.25 L (0.26 US quarts)
Telescopic forks: 0.17 L (0.18 US quarts) for each fork
Gearbox oil: 0.8 L (0.84 US quarts)
Driveshaft oil: 0.15 L (0.16 US quarts)
Final drive: 0.35 L (0.37 US quarts)
For optimal performance, choose a high-quality SAE 20W-50 motor oil with at least an SJ API certification and meets ACEA standards. You can also consider other multi-grade engine oils specified in the owner's manual, contingent on changes in ambient temperature, altitude, and riding conditions.
Drivetrain
Power is transmitted to the rear wheel through a 5-speed gearbox, intricately linked to the engine block, employing a hook-claw gearshift setup and incorporating drive torque damping across all gears. The rear wheel's force is harnessed by a single dry-plate clutch equipped with a diaphragm spring.
A pre-stretched, continuous single roller chain (3/8 x 7/32 with a removable link) manages wheelspin. The final drive is managed by a Cardan shaft mechanism, accompanied by sprocket sizes of 31/9T (Europe), contributing to the reliability and surefooted handling attributes of the touring motorcycle.
For reference, the BMW R65 shares similar stock transmission gear ratios with the R80:
| Description | |
| --- | --- |
| Transmission Gear Ratio – 1st | 4.40 |
| Transmission Gear Ratio – 2nd | 2.86 |
| Transmission Gear Ratio – 3rd | 2.07 |
| Transmission Gear Ratio – 4th | 1.67 |
| Transmission Gear Ratio – 5th | 1.50 |
Ignition & Electricals
An electronic breaker-less battery ignition breathes life into the R65. Its charging system is a triple-phase Bosch G alternator with a rated output of 14 V 20A 280 W. Conversely, a Bosch W 225 T 30 or Beru 225/14/3A spark plug is for spark ignition.
Different-sized batteries power lighting, instrumentation, and electronic accessories, depending on the model year of your R65. The Yuasa Powersports Battery catalog specifies using a 12V 17.7 Ah/(10 HR) YT19BL-BS battery (view on Amazon) for 1st-generation R65s and 12V 30 Ah/(10 HR) YIX30L-BS formats for post-1984 versions.
These power sources have dimensions of 184 x 81 x 170 mm ( 7.25 x 3.19 x 6.69 inches) and 166 x 126 x 175 mm (6.56 x 5.00 x 6.88 inches), sans wiring harness and mounting accessories.
Tires & Brakes
Factory rubber consists of 3.25 S 18 (front) and 4.00 S 18 (rear) tires. These 18-inch Metzeler knobbies (view on Amazon) mount on pressure-cast light alloy rims. For brakes, the 649-cc BMW has a 260-mm front disc brake and a 200-mm loading and trailing and shoe drum (full-width hub).
Recommended front-and-rear cold-tire pressure is 190 kPa (1.9 kgf/cm2, 27.5 psi) to 210 kPa (2.1 kgf/cm2, 30.4 psi) for the front tire and 200 kPa (2 kgf/cm2, 29 psi) to 230 kPa (2.3 kgf/cm2, 33.3 psi) for the rear.
Lower and upper-limit values apply to solo and pillion riding, respectively. And thankfully, adjusting tire air pressure is easy with a Milton Precision Digital Pressure Gauge S580 e-Kit (view on Amazon).
Suspension
Enclosed in a twin-loop, oval-section welded steel tube, with a bolted-on rear section (42° steering lock angle), are front telescopic forks. A rear swingarm with 3-way spring struts incorporates double-acting hydraulic dampers.
Each suspension unit offers a respective front-and-rear wheel travel of 175 mm (6.9 inches) and 110 mm (4.33 inches). These figures remained unchanged even for post-1981 models.
Dimensions & Capacities
According to the OEM manual, the R65's overall dimensions are 85.8 x 27.1 x 42.5 inches (2,180 x 688 x 1,080 mm), excluding side mirrors. The seat height at curb weight is 30.3 inches (770 mm), suitable for mid-height to tall riders, but those over 6'3″ might find it a bit challenging. The wheelbase at curb weight measures 1,390 mm (54.7 inches), accompanied by a ground clearance of 105 mm (4.1 inches).
Permissible wheel loads are 160 Kg (353 lbs.):245 Kg (540 lbs.) for solo and 178 Kg (392 lbs.):270 Kg (595 lbs.) for pillion riding. That's an estimated 39%:61% load bias (front and rear) for both setups. For 1981 iterations of the BMW R65 onwards, this wheel load distribution changed to a 34%:66% front-to-rear ratio.
Furthermore, the German firm's drive for weight savings is apparent in the R65, weighing 206.4 Kg (455 lbs.) according to Cycle World — that's roughly 5% lighter than the Yamaha XS650E Twin and 8.3% lighter than the Kawasaki KZ650 Four (including lubricants and tools). Combined with the maximum load limit, this gives the R65 an approximate GVWR (Gross Vehicle Weight Rating) of 654.4 Kg (1.442.7 lbs.).
Exterior
The BMW R65 showcases distinctive styling with its fiberglass front and rear fenders. The black rear fender complements the two-wheeler's aesthetic and downplays its back end. The side panels are made from injection-molded plastic, while the 5.8-gallon steel gas tank features a single petcock.
The headlight has a Bosch H4 quartz-halogen bulb, offering impressive illumination. The bike's design emphasizes comfort and functionality, making it a unique choice in the motorcycle market.
Worth of an R80 BMW 
Sources for the MSRP of the BMW R65 and R65LS are a bit obscure. However, resale values are available in JD Power and range from $1,330 to $6,085. There is not much difference in pricing between the standard R65 and the R65LS versions — except when comparing 1978 models in pristine condition.
As for auction listings, the motorcycle's low-to-average retail pricing seems to fall within the same range. Bring a Trailer has recently sold a single-owner 1980 R65 for $4,100 and a dealer-owned R65LS for $5,000. There are special cases, however, where the classic motorcycle sells for so much more.
BMW R65 — Highs & Lows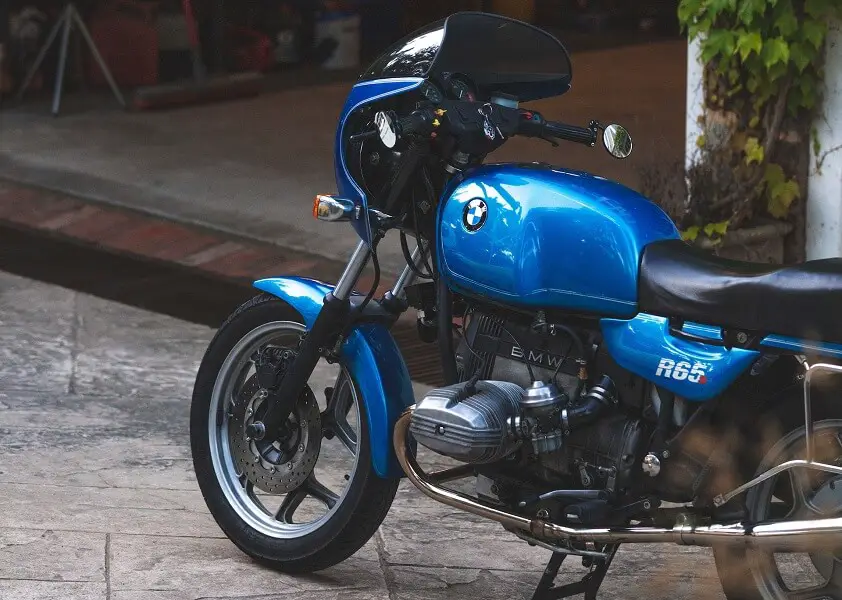 Pros
BMW R65s serve the whims of motorheads and savants taking a break from their liter-class behemoths and wanting something light and nimble to take on a relaxing cruise.
It "makes good power above 4,000 RPM and runs best over 6,000 RPM."
Due to the bike's age and inherent simplicity, owners and dealers find it easy to access and repair its parts, effectively keeping repair and replacement costs in check.
The 'twin boxers' look sleeker, resulting in a leaner and slimmer look.
A substantial 20 kg weight reduction was achieved by replacing the heavy flywheel with a lighter unit and making other adjustments.
Peak power was enhanced from 45 to 50 bhp through improvements to the air filter and exhaust.
The upgrade from ATE swinging brake calipers to the Italian Brembo opposed-piston system led to a lighter, faster, and better-braked R65.
Due to its narrower profile, the R65 exhibited superior cornering capabilities compared to its larger-displacement siblings and counterparts.
While the BMW R65 already has good fuel mileage, a TSB issued in August 1984 aimed to address reported fuel economy issues with the bike by changing its factory air-cleaner housing to one with unequal intake orifice sizes (snorkels) alongside doing carb jetting adjustments.
Although "Beemers" are generalized as having clunky transmissions, the R65's gearbox shifts very smoothly.
The motorcycle is less prone to rust due to its sparse chrome components.
Cons
The tourer was full of potential that never materialized due to its price point and a marketing miscalculation — it was "sold as an entry-level naked bike" for approximately £2,300 versus Honda's CB650 (£1,500) and CX500 (a bit over £1,000).
Its subsequent iterations received seemingly unnecessary updates — for instance, its 1981 version featured a "Katana-esque droop-snoot fairing" meant to reduce a non-existent front wheel lift.
Apart from reduced windblast on the rider's chest, then-new fairings provided no other mechanical benefit.
Engine vibration through the handlebars and footpegs is between 4,500 and 5,000 RPM.
Some early R65s had weak gear lever return springs that got stuck in 4th gear unceremoniously.
Its electronic rev counter had a propensity to malfunction, further exacerbated by moisture and corrosion affecting the contacts.
Earlier incarnations of the R65 had soft alloy wheels prone to damage from minor impacts and were later replaced in a public recall.
Similarly, early R65LS models had matte black exhausts easily stripped of their paint after being subjected to inclement weather or rainstorms — these exhaust systems eventually changed to chrome.
If not reassembled with adequate copper grease, the bike's finned manifold clamps can seize, and its threads can get damaged (translating to costly repairs).
The BMW R65's short-lived run was largely brought about by the appearance of the monolever boxers in the mid-1980s.
Base R65 versions kitted with RS and RT fairings may be posed as LS models and sold for a higher-than-normal price.
Due to the absence of a model designation plaque on the engine casting, distinguishing the BMW R65 engine from others can prove challenging if you haven't ridden the motorbike.
About BMW
Founded in 1916, BMW (Bayerische Motoren Werke GmbH or Bavarian Motor Works) has carved a niche for itself in the automotive and motorcycle industry. Known for producing vehicles emphasizing performance and luxury, BMW's motorcycles share the same dedication to excellence.
Among its renowned models, the BMW R65 holds a distinct place. The R65 is a middleweight member of the air-cooled boxer twin family, embodying BMW's signature engineering prowess and attention to detail.
Conclusion — BMW R65 Review
Without a doubt, the BMW R65 occupies a unique space as a model that bridges classic design with modern technology. Its blend of power, handling, and safety features makes it an appealing choice for riders who seek a balance between performance and comfort.
With BMW's legacy of innovation and craftsmanship behind it, the R65 stands as a testament to the brand's commitment to delivering exceptional motorcycles that captivate both enthusiasts and everyday riders alike.