Ducati 1299 Superleggera (Specs and Review)
Disclosure: We may get commissions for purchases made through links in this post.
Ducati is among the world-renowned automotive brands or manufacturers based in Italy. Hence, it isn't surprising to know that the Ducati 1299 Superleggera has competed well with its competitors and continues to do so up to this day. Racers, collectors, and enthusiasts still have their eyes on this unit, not just because of the brand name but for the many other things it has to offer its users.
So, what does the Ducati 1299 Superleggera have to offer its drivers or users? As its name implies, this limited-edition race bike from a famous brand is super lightweight. It combines a sophisticated style, innovative engineering and technology, and efficient performance.
Definitely, this information won't be enough to help you decide whether the Ducati Superleggera 1299 is the perfect ride for you or your loved one. As such, let's get into further details by reviewing the key features, specs, and drawbacks of the bike.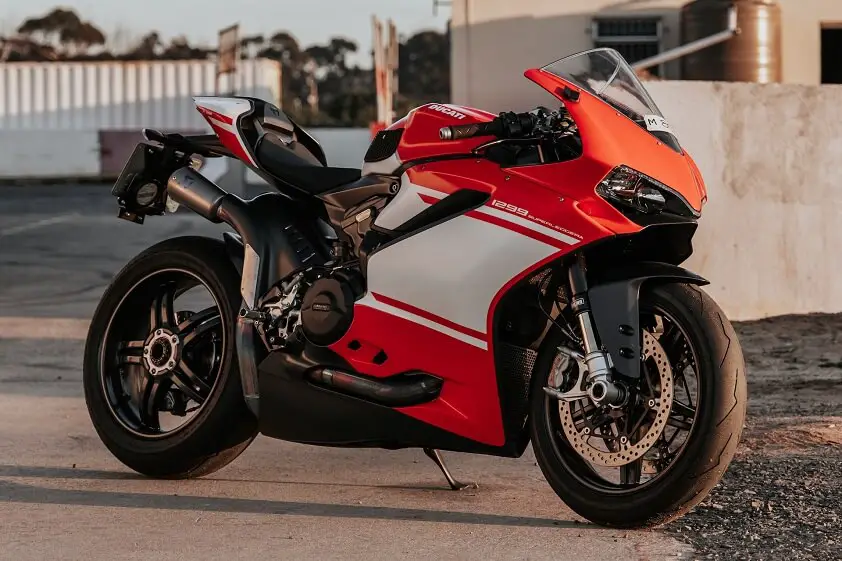 Ducati 1299 Superleggera Review
Yes, we can break down all the features of the 1299 Superleggera to ensure you become familiar with it. However, it can become too overwhelming, especially for beginning motorcycle drivers and those with little to no technical knowledge.
With that said, I have divided this brief but detailed review into four sections: construction and design, performance and reliability, instrumentation, and race kit included.
Construction and Design
This Ducati creation boasts masculinity from its standout red and black color to its eye-catching panels. Add it to the fact that the bike's headlights have an angry alien look right below its clear bubble screen.
With these aesthetics, even female riders will feel like a daredevil once they drive this beast.
But what makes the Ducati Superleggera 1299 stand out is its durability and lightweight. These are all thanks to the carefully chosen materials used in the bike's construction.
The main frame, subframe, fairing, swingarm, and wheels are all made from carbon fiber. Meanwhile, Ducati crafted the crankcase with sand-cast magnesium.
The superbike has titanium valves, rods, springs, aluminum inserts, and an aluminum fuel tank. Ducati also switched from the Panigale alloy sleeves to steel-made cylinder liners.
Performance and Reliability
While looking at the Ducati Superleggera 1299 would make you want to bring it home, you have to dig deeper to ensure it performs as well as you would expect from a famous brand. Not only that, but you have to ensure it will keep you safe on the track or road.
Engine
The Ducati superbike has a two-cylinder, liquid-cooled engine with a huge bore and stroke. These engine features significantly contribute to the superbike's amazing maximum torque, power, and speed.
The superbike also boasts improved airflow and a Euro 4-certified exhaust system with standard, WSB-style dual, under-seat pipes. These well-thought-off features add around 12% more torque and power at 6,500 RPM to the superbike!
Also, thanks to the superbike's power-to-weight ratio, you won't have to worry about acceleration. It won't fall short during a race as long as you maintain and have prepared it well before a race.
Brake and Clutch
An efficient brake system with Brembo discs, a two-piston rear caliper, and four-piston front calipers supports the Superleggera's powerful engine.
Additionally, the bike's clutch system is equipped with an aluminum clutch basket and slipper and self-servo system. These features not just provide sufficient stability to the bike but also a heightened feeling that makes riding feel more comfortable and safe.
For better stability, especially during turn-ins, Ducati installed an EBC (Engine Brake Control) that does the following:
Monitors selected gear, throttle position, and crankshaft deceleration rate during heavy braking
Administers ride-by-wire throttle openings that help balance the torque force on each tire
If these features aren't enough, the superbike has a re-calibrated, improved Bosch Cornering ABS for effective deceleration and braking. That is especially true when cornering or when the bike leans over during turning.
Rider Aids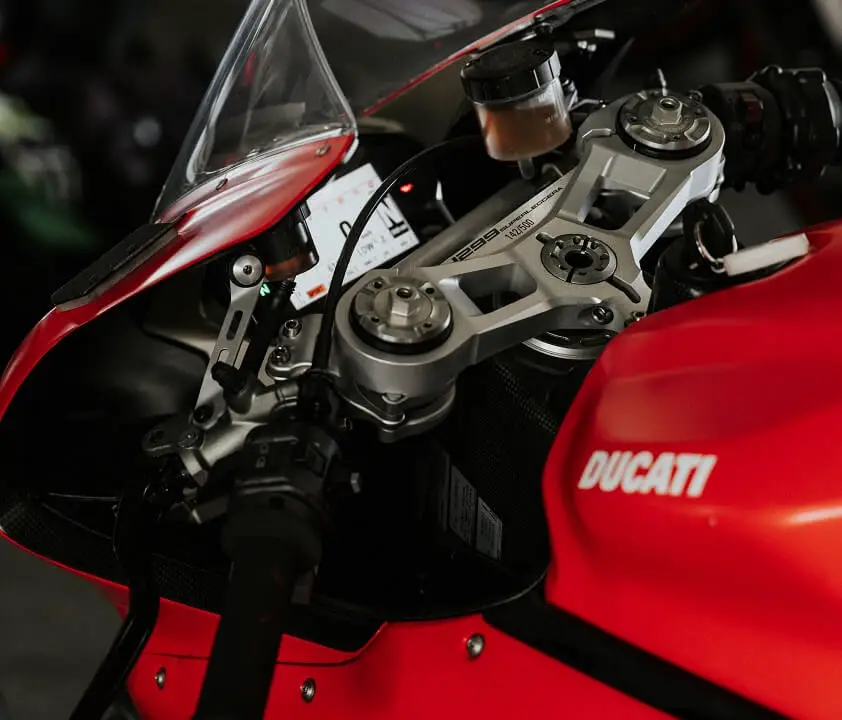 DTC and DWC (Ducati Traction Control and Ducati Wheelie Control) EVO
This system plays crucial roles in terms of the Ducati 1299 Superleggera superbike's performance and reliability and your safety as a rider.
It helps reduce rear wheel oscillation magnitude, especially during grip or traction changes, such as when you have a worn-out wheel. Another is it allows the bike to pivot around the front wheel and successfully complete a turn in a curve or corner.
DSC (Ducati Slide Control)
While the DSC feature also plays a role in the motorcycle's throttle reduction control, its most notable function is slide angle prevention through engine torque control. Using the designated left-handle keys, you can change the settings from 1 to 3, depending on the current situation.
DPL (Ducati Power Launch)
A system with three-level settings, the DPL ensures quick starts to help you focus on clutch release. It stabilizes the superbike's engine during clutch release modulation and controls torque when you release the clutch completely. Needless to say, it provides assistance during takeoff from the bike's standing start position.
DQS (Ducati Quick Shift)
Clutchless shifting is also made easy and safe when driving the Ducati Superleggera 1299, thanks to the installed Ducati Quick Shift system. You will also love that you won't experience any throttle reduction when shifting gears using the DQS, making it perfect for racers!
6D IMU (Inertial Measurement Unit)
In order for the installed control systems to work efficiently and safely, Ducati equipped the superbike with the Bosch's 6D IMU. Not only does this technology manage the said systems, but it also reads and monitors the Ducati 1299 Superleggera's position.
Ducati Data Analyzer (DDA) With GPS
This standard system installed in the Superleggera comes with a USB-ready data retrieval card and software. Aptly named, it records and stores data that can be beneficial, especially for racers.
These data include speed, throttle opening, gear selection, engine RPM and temperature, lap time, laps, and distance traveled. You'll also find a channel that can record torque reduction.
All these are presented in a graph, which you can download. It means that you can analyze and monitor your and your bike's performance during a certain race, allowing you to identify where to improve.
Instrumentation
The instrumentation features available in the Ducati Superleggera 1299 ensure you have everything you need while on the road or track. It has a colored TFT screen or instrument panel that's easy to read in high and low-light conditions.
To make everything more straightforward, Ducati also installed a digitalized tachometer, odometer, trip meter, and speedometer. Running out of gas won't also be an issue with the 1299 Superleggera, thanks to the reliable fuel indicator installed in the bike.
Race Kit Included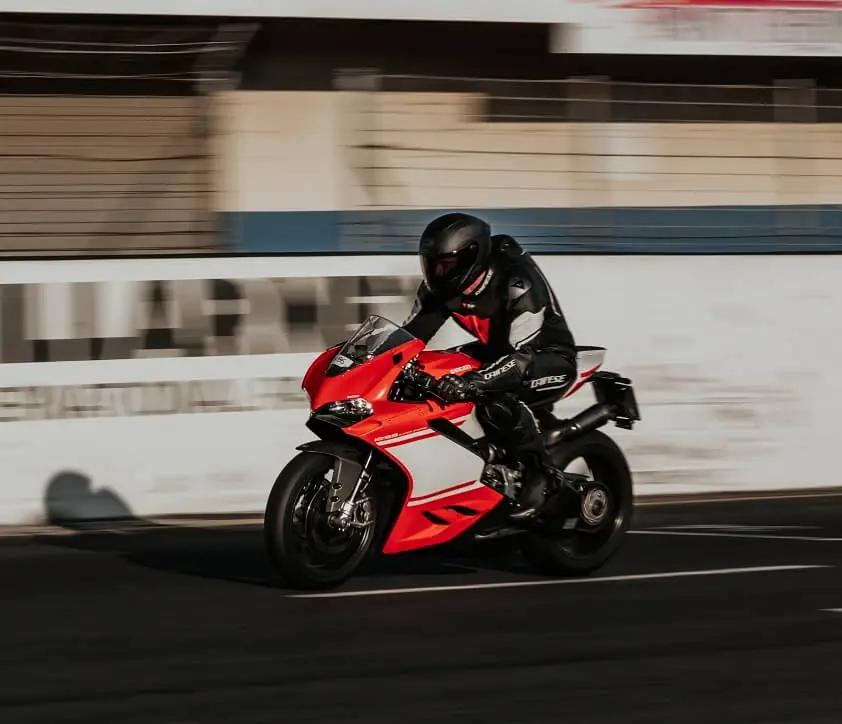 Apart from the DDA With GPS that can help improve your performance on the track, other features make the Superleggera one of the best bikes for racers or tracks. They include:
Akrapovic Titanium-made Exhaust System: This exhaust system from a renowned brand is high quality, ensuring you won't need to replace it each time you drive it on the track.
Taller Windshield or Screen: Your safety is crucial when riding your bike on the track, even when wearing the best helmet, as debris like rocks can come flying toward you. The taller screen installed provides such protection.
Machined Aluminum Mirror Block-off Plates: Designed to seal off the bike's valve cover ports, these not only enhance its aesthetics but also avoid damage to the framework.
Number Plate Removal Kit: Racing organizers have rules and regulations you need to abide by; you need to either remove the plate number or place it in front or back of the bike.
Side-stand Removal Kit: Like with number plates, some racing organizers require you to remove the side stand. This kit will come in handy to ensure you don't damage your bike while removing the side stand.
Track-only Carbon Belly Pan: This accessory provides some protection against small debris and dust. It also helps reduce lift and airflow. However, you can't attach this with the side stand installed.
Front and Rear Paddock Stands: If you want to keep your bike's tires off the ground when parking it, these accessories will come in handy.
Ducati 1299 Superleggera Specs
Now that you have a general idea of what you'll get when you own a Ducati 1299 Superleggera, here are the specifics if you want the more technical side of it:
| Features | Specs |
| --- | --- |
| Dry Weight | 343.92 lbs (156 kg) |
| Curb Weight | 368.17 lbs (167 kg) |
| Seat Height | 830 mm (32.67 inches) |
| Wheelbase | 1,456 mm (57.32 inches) |
| Fuel Capacity | 4.49 US gal (17 liters) |
| Battery | Ultra-lightweight lithium-ion battery |
| Engine | Liquid-cooled, desmodromic, L-twin, 4-valve cylinder |
| Bore x Stroke | 116 x 60.8 mm |
| Compression Ratio | 13.0:1 |
| Transmission or Gear Box | 6-speed with DQS |
| Gear Ratio | First: 37/15Second: 30/16Third: 27/18Fourth: 25/20Fifth: 24/22Sixth: 23/24 |
| Primary Drive | Straight cut; 1.77:1 |
| Final Drive | ChainRear sprocket 39Front sprocket 15 |
| Front Suspension | Fully adjustable, 43mm Ohlins forks FL 936 |
| Rear Suspension | Fully adjustable, single Ohlins rear shock |
| Front Tire | Pirelli Diablo Supercorsa SP 120/70 ZR17 |
| Rear Tire | Pirelli Diablo Supercorsa SP 200/55 ZR17 |
| Front Wheel | 3.50 x 17 inches, 10-spoke carbon fiber |
| Rear Wheel | 6.00 x 17 inches, 10-spoke carbon fiber |
| Front Wheel Travel | 120 mm (4.72 inches) |
| Rear Wheel Travel | 130 mm (5.11 inches) |
| Rake and Trail | 24°; 98 mm (3.85 inches) |
| Clutch | Hydraulically controlled. multi-plate slipper-self-servo wet |
| Front Brake | 2 x 330 mm discs; Brembo 4-piston monobloc radial caliper |
| Rear Brake | 245 mm disc, 2-piston caliper |
| Maximum Speed | 190 mph (305.77 kph) |
| Maximum Power | 215 bhp (158.10 kW) at 1,000 RPM |
| Maximum Torque | 108 ft-lb (146.5 Nm) at 9,000 RPM |
What You Might Not Like About the Ducati Superleggera 1299
One issue I and most riders noticed with the Superleggera 1299 is the little weaving that occurs when driving in a straight line. This makes it challenging to accelerate through the third and fourth gears.
Also, as you would expect from a feature-rich superbike from a trusted brand, the 1299 Superleggera has a high price tag.
Is Ducati 1299 Superleggera a Worthy Investment?
Whether you're looking for a superbike that you can drive on the track for a friendly or competitive race or on the streets for daily errands, the Ducati 1299 Superleggera won't disappoint.
It's undoubtedly built with quality in mind and keen attention to detail, so you won't have to worry about it breaking down a few years after you bought it. It comes with state-of-the-art rider aids to ensure no engine power is wasted on the wheelies or slides.
Needless to say, it will help you save money in the long run, even though you will need to pay for it at a high price. Just make sure you check the unit's maintenance record and have a trusted mechanic check it before purchasing a second-hand Ducati 1299.
Start driving this street-legal superbike from Ducati with complete protective gear like a full-face helmet and riding boots, and you'll know you made a good investment!
References: