BMW K1200S Motorcycle (Specs and Review)
Disclosure: We may get commissions for purchases made through links in this post.
The BMW K1200S is celebrated for its enduring style and unwavering reliability. And why not? This two-wheeler laid the groundwork for the BMW K1300S and subsequent touring models. Beyond its attributes and reputation, however, the K1200S stands tall as one of the pillars of the liter-class sport-touring segment.
Produced from 2004 to 2008, the BMW K1200S is a liter-class bike considered among the forerunners of BMW's sport-touring lineup. Featuring a redesigned power mill, ABS, EVO brakes, and ESAOE II, the K1200S became many a rider's go-to motorcycle for conquering open highways and urban streets.
While the K1200S is undeniably impressive, it's essential to get familiarized with its specs and attributes and consider its maintenance requirements. Like any other bike with advanced features, it still demands conscientious driving habits, periodic servicing, and attention to detail. That said, let's revisit the basics of this two-wheeler in today's guide.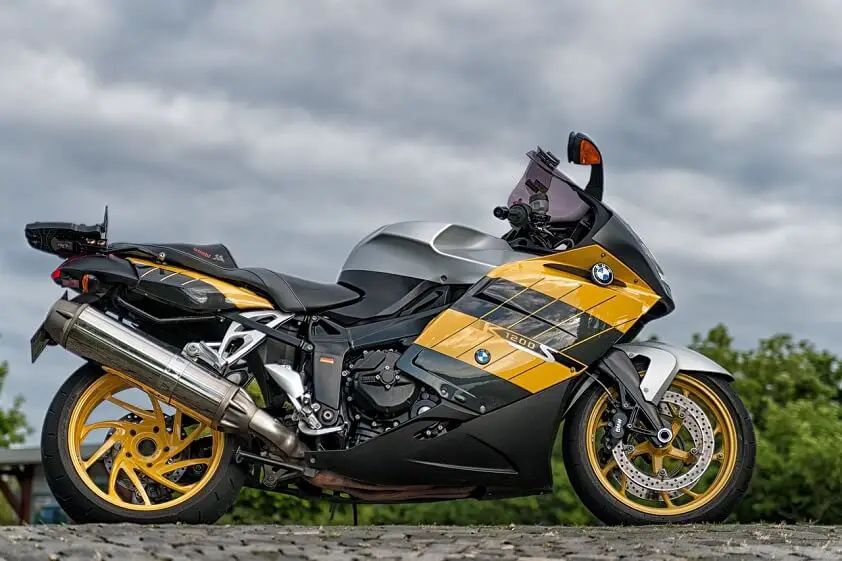 The End of BMW's Boxer Era
Introduced in 2004 for the 2005 model, the BMW K1200S is a testament to BMW's commitment to engineering excellence, luxury, and performance.
The K1200S was a game-changer for BMW, as it represented a significant departure from their traditional boxer engine configuration. Instead, it featured a transversely mounted 1,157cc four-cylinder inline engine — marking a shift towards high-performance sportbikes. This innovative power mill delivered a staggering 160 hp (167 hp @ 10,250 RPM claimed), making the K1200S one of the most powerful motorcycles of its time.
Another standout feature of the K1200S was its unconventional suspension system. Unlike traditional telescopic forks, it employed a revolutionary front-wheel suspension with two parallel links (a.k.a. the Duolever), resulting in exceptional sensitivity, precision, and rigidity. Additionally, the two-wheeler introduced Electronic Suspension Adjustment (ESAOE), a hydraulic servo-operated system that allowed riders to fine-tune the suspension on the fly — a pioneering feature in production motorcycles.
2005 BMW K1200S Specs & Features
Engine
The K1200S is driven by a liquid-cooled, 4-stroke power mill arranged in a transverse-mounted DOHC configuration, featuring four cylinders tilted at a 55° angle at the front. It boasts a bore-stroke ratio of 79 × 59 mm (3.110 × 2.322 inches), resulting in a piston displacement of 1,157 cm3 (70.6 in3). This engine operates with a compression ratio of 13:1 and relies on an electronic fuel injection system with 46-mm throttle bodies, ensuring precise fuel delivery and air-fuel mixture control.
Overall, this engine layout yields the following performance figures:
| Description | Specs |
| --- | --- |
| Horsepower | 167 hp (122.8 kW) @ 10,250 RPM; 101—107 hp (74.3—78.7 kW) @ 7,000—8,750 RPM* |
| Maximum Torque | 130 Nm (13.3 kgf-m, 96 lb-ft) @ 8,250 RPM |
| Top Speed | 124 mph (200 km/h) |
| Fuel Economy (average) | 36.1 mpg (6.5 L/100 km) |
| Fuel Tank Range | approximately 160—207 miles, 257.5—333 km |
* with OE Power reduction
** 
Rider Magazine
 recorded a lower peak power and torque output than claimed by OEM
Fuel & Lubrication
The tank capacity is 19 L (5 USgal, 4 L/1.1 USgal – reserve) of super unleaded gasoline. For units released in North America, it's recommended to use fuel with a minimum rating of 91 AKI (98 ROZ/RON) in accordance with regional fuel standards. Conversely, models sold in Europe require a minimum rating of 89 AKI (95 ROZ/RON), based on German DIN 51600 standards, for optimal performance.
Lube-wise, the BMW K1200S has the following requirements:
| Description | Quantity |
| --- | --- |
| With oil filter replacement | 3.7 L (3.9 US qt) |
| Difference between Min and Max | 0.5 US qt |
For optimal performance, BMW suggests using Castrol GPS SAE 10W-40 motor oil or equivalent with a minimum API grade of SJ, meeting JASO T903 MA and ACEA standards. It's crucial to avoid engine oil containing molybdenum additives, as this can be detrimental to clutch operation. Other viscosity grades specified in the owner's manual may be acceptable to use following variations in ambient temperatures, altitude, and riding conditions.
Drivetrain
The K1200S features a claw-shifted, 6-speed gearbox that is seamlessly integrated into the engine housing, along with an oil-bathed, multi-disc clutch assembly responsible for transmitting power to the rear wheel. Meanwhile, the final drive mechanism is a shaft drive system with bevel gears. An ignition-cut rev limiter redlining @ 11,000 RPM keeps top speed and the motorbike's operability within a secure range.
As for stock gear ratios, see the table below (these figures were slightly detuned in later-year iterations):
| Description | Specs |
| --- | --- |
| Transmission Gear Ratio — 1st | 2.521 |
| Transmission Gear Ratio — 2nd | 1.842 |
| Transmission Gear Ratio — 3rd | 1.455 |
| Transmission Gear Ratio — 4th | 1.287 |
| Transmission Gear Ratio — 5th | 1.143 |
| Transmission Gear Ratio — 6th | 1.015 |
| Final Drive Ratio | 2.82:1 |
Ignition & Electricals
The BMW K1200S utilizes an advanced all-electronic ignition system managed by an Engine Control Unit (ECU). This system is responsible for initiating engine operation and relies on a Bosch YR5DDE spark plug — with an electrode gap of 0.8 mm (0.031 inches) — to facilitate spark ignition. Meanwhile, a triple-phase alternator rated at 580 W @ 5,000 RPM serves as its charging system.
It also employs a variety of lighting elements and electronic components, including 55-watt halogen H7 headlight bulbs, a 5-watt side light, a 21-watt tail/brake light, and 10-watt turn signals. These components are powered by a 12V 16Ah/(10 HR) YT19BL-BS battery (view on Amazon). This format has assembled dimensions of 184 x 81 x 170 mm (7.25 x 3.19 x 6.69 inches — L x W x H, sans wiring harness and mounting accessories).
Tires & Brakes
120-70 ZR17 and 190-55 ZR17 tires like Pirelli Diablo Rosso IIIs (view on Amazon) mounted on 3.5″ x17″ and 6.0″ x17″ front and rear cast aluminum rims comprise the K1200S' factory tires. These wheels have a permissible load bias of roughly 35%:65% and require a front-and-rear cold-tire pressure of 36 psi (2.5 bar) and 42 psi (2.9 bar). Furthermore, this configuration can handle speeds exceeding 149 mph (240 km/h), like a "W" speed-rated tire.
As for brakes, the K1200S is equipped with a hydraulic braking system that includes twin 320-mm floating discs with 4-piston calipers at the front and a fixed 265-mm disc with dual-piston calipers at the rear (a.k.a. EVO brakes). These discs are augmented by brake pads constructed from sintered (front) and organic (rear) material, ensuring the motorbike's effective stopping power and complementing its tire-and-wheel setup.
Suspension
Enclosed in a composite with IHU/extruded section and diecasting is BMW's Duolever with a central spring strut (front) and Paralever with progressive damping mono-shock (rear). Each suspension unit offers a wheel travel of 4.5 inches/115 mm (static) to 4.9 inches/125 mm (dynamic) and 5.3 inches/135 (on wheel), respectively.
Other handling-affecting elements include:
A wheelbase of 61.9 inches (1,572 mm).
A minimum ground clearance of 5.7 inches (145 mm)*.
BMW's ESAOE II (Electronic Suspension Adjustment II) system.
* normal load (full tank of gas, plus rider not weighing more than 85 Kg/187 lbs.)
Dimensions & Capacities
The overall dimensions of the K1200S are 86.7 x 35.6 x 47.7 inches (2,202 x 905 x 1,211.5 mm — L x W x H). Saddle height ranges from 790—820 mm (31.1—32.3 inches, low), depending if the seat is standard or lowered. Compared to the R1200RT, the K1200S offers a narrower profile but features a taller seating position. (Note that seat height values are without a rider, at unladen weight.)
GVWR (Gross Vehicle Weight Rating) is 450 Kg (992 lbs.) — a combined total of a full tank and fluids, rider and passenger weights, cargo, and accessories. This figure takes into account the empty DIN weight or curb mass of 248 Kg (547 lbs. (ready for operation, 90% full tank capacity) and the maximum payload of 202 Kg (445 lbs.).
Exterior
The BMW K1200S boasts a sporty exterior design with an aerodynamic fairing, asymmetrical headlights, and a sleek front cowl. Its overall bodywork is undeniably sculpted to enhance aerodynamic efficiency. Moreover, the bike's clean and minimalist rear showcases an integrated tail section, connecting with a beefy fuel tank via the rider's seat. All in all, these design elements result in a visually striking motorcycle.
The most practical aspect of its styling, however, is its exposed drivetrain. This, including the distinctive Paralever single-sided swingarm on the right side, added a unique and functional aspect to the thumper's appearance. It also made rear wheel maintenance more accessible.
Color scheme-wise, the motorcycle was made available in the following hues:
2005-2006:
Indigo Blue Metallic
Granite Grey Metallic
Crystal Grey Metallic
Sun Yellow
2007:
Lupin Blue Metallic
Crystal Grey Metallic
Sun Yellow
2008:
Magma Red
Crystal Grey Metallic
Sapphire Black Metallic
Cost of a BMW K1200S
During its launch, the BMW K1200S was priced at an MSRP of $15,750 (approximately $24,760+ with inflation factored in). However, 2007's list price dipped to $14,495. All its models had incremental rate increases throughout their production — until the product's exit in 2008:
BMW K1200S MSRPs and retail pricing from 2005 to 2008 (source: JD Power):
Base: $14,495—$15,800
Low Retail: $3,240—$4,015
Average Retail: $4,265—$5,280
There are tons of auction and trader sites where you can check and potentially score a rare find.
BMW K1200S Problems
Throttle Response
Some early K1200S models experienced glitchy throttle response. While this issue was mostly corrected, there were still reports of abrupt power reactivation when the throttle was closed above 3,000 RPM.
Stalling and Rough Idling
The BMW K1200S occasionally experiences stalling and rough idle issues, which can be more common as the engine ages. Stalling typically occurs in city settings, especially at slow speeds or when coming to a stop at traffic lights. The engine loses power and stalls when downshifting from higher gears to 1st gear with the clutch engaged.
This problem is observed to occur sporadically, making it challenging to diagnose. Moreover, it's often attributed to a faulty fuel level sensor, which may require replacement. Early models of the K1200S experienced this problem more frequently, but later models were improved.
Valve Adjustment Complexity
Valve adjustments required specialized equipment and a technician to connect to the bike's diagnostic connector. This made DIY valve adjustments difficult and costly.
Vibrations
Despite twin balance shafts, the K1200S exhibited moderate vibrations between 5,000 and 6,000 RPM, adversely affecting ride comfort. This problem was later addressed with the release of the BMW K1300S.
Brake System and Sensor Malfunction
The K1200S brakes utilize both pneumatic and hydraulic systems. But when they act up, they can become a costly problem. Owners of bike models from 2004 to 2007 are likely familiar with the challenges associated with factory brakes. Those new to BMWs, however, may find dealing with malfunctioning brakes daunting.
EVO brakes are known to perform well initially. However, they require substantial, meticulous maintenance after approximately 10,000 miles. Components may deteriorate, leading to reduced braking efficiency, rapid wear of brake pads and discs, piston rust, and degradation of fluid lines. In addition, a malfunctioning ABS sensor may cause intermittent brake application and trigger warning lights.
At this point, replacing the ABS sensor is necessary (although it doesn't guarantee improved efficiency). In some cases, riders may need to replace the ABS module, which can be expensive (even if done as a DIY).
Design Limitations
The K1200S rear hub is designed with only a single filling hole at the top, initially intended for a lifetime oil fill. Also, due to the engine's forward tilt, accessing and changing spark plugs requires removing the radiator. While these design choices have their merits, they have proven disadvantageous. For one, they caused refilling the radiator to necessitate a vacuum pump to prevent airlocks in the cooling system — making the process more tedious than it needs to be.
Ergonomics
Although a lower seat option was available, the saddle height was not adjustable. As if that were not annoying enough, footpegs were placed a bit high. To add, the handgrips were positioned forward and too low for extended rides.
Windscreen Noise
The mid-height windscreen directed airflow at the bottom of the helmet, resulting in significant wind noise that some riders found bothersome.
Braking System Noise
The braking system, while powerful, generated more noise than desired at low speeds. Unfortunately, it's an inherent characteristic of the bike's braking system design.
Other less common problems with the BMW K1200S include chain-related issues, engine cam cover rust, ignition coil failures, and fuel mixture irregularities. They may not be due to inherent characteristics of the K1200S but can be minimized through proper care and regular upkeep of the liter-class motorcycle.
Difference Between K1200S and K1300S
Apart from piston displacement (which is the most obvious), their disparities have already been extensively covered in my post on the BMW K1300S. The design improvements made to that subsequent model underscore aspects of the K1200S that needed modification or enhancement. Optional HP Gearshift Assistant, a lighter engine and exhaust system, and next-gen controls are key differences between these two-wheelers.
About BMW
Established in 1916 as Bayerische Motoren Werke GmbH (a.k.a. Bavarian Motor Works), BMW has earned a prominent position in the automotive and motorcycle sectors. The German manufacturer is synonymous with high-performance and luxury vehicles, and this commitment extends to its motorcycles. A key model in the firm's lineup is the BMW K1200S. As one of the forerunners of its sport-touring offerings, the K1200S reflects BMW's hallmark engineering excellence and meticulous craftsmanship.
Conclusion — BMW R1200RT Review
With the BMW K1200S, enthusiasts and riders find a flawless combination of exceptional performance, cutting-edge technology, and timeless design. This sport-tourer not only pushes the boundaries of engineering but also captures the hearts of avid riders and daily commuters.
Even today, secondhand versions of the motorcycle continue to stand the test of time. That said, you can trust that the K1200S will deliver an exceptional riding experience — whether navigating bustling city streets or embarking on an epic cross-country adventure.